I have to admit, I have never really paid much attention to the inside of my oven door. I simply ignored the fact that baked-on food has been accumulating for years. However, I started to notice that other people actually clean their oven doors. While there are a bunch of  tips and tricks out there, one caught my eye; not only was it easy to do, it required only one pantry ingredient. If you're like me and have never tried to clean an oven door, I am here to tell you this method works like a charm.
Hello and Happy Tuesday to everyone! I'm still trying to recover from a busy weekend of musicals, work, and birthday celebrations (did you know a group of 11 year old girls can stay awake chit-chatting until midnight and then wake up at 6?). Somehow through all the crazy, I managed to try something I'd never done before… clean my oven door.
What You Need to Clean An Oven Door
Affiliate links may be used. Please see our advertising disclosure for more information.
I know. It's crazy how easy this is.
How to Clean An Oven Door
Let me start by showing you an embarrassing picture of my oven door. As noted, I have never cleaned it the 5+ years we've lived in this house, and, let's be honest, I'm guessing the previous owners probably didn't clean it often either. That means, I could potentially be dealing with 14 years of greasy, grimy, baked-on food. Lovely.
Yuck!
Start by liberally sprinkling baking soda all over the glass. Keyword: Liberally.
Then wet down a scour pad and start moving the baking soda around the glass until you get a thick paste-like substance. Just as an FYI, the baking soda tends to stay in clumps, so just do your best to evenly smear it around the glass door. Feel free to add more water to the scour pad in order to thoroughly wet the baking soda.
After you've got that all smeared around, let it sit for 30-60 minutes.
Once your time is up, grab your scour pad once again. Wet it down and start to scrub in small sections. You can already see how well this worked in the image above. Keep going until you have completed the entire glass door.
When I was done, the middle still had some spots remaining that were really difficult to get off, so I repeated the process, but left the moistened baking soda on overnight (and let's just pretend that I didn't start up my oven with it on the inside of the door and smell up my whole house, okay?). Here's the end result.
It's like a mirror!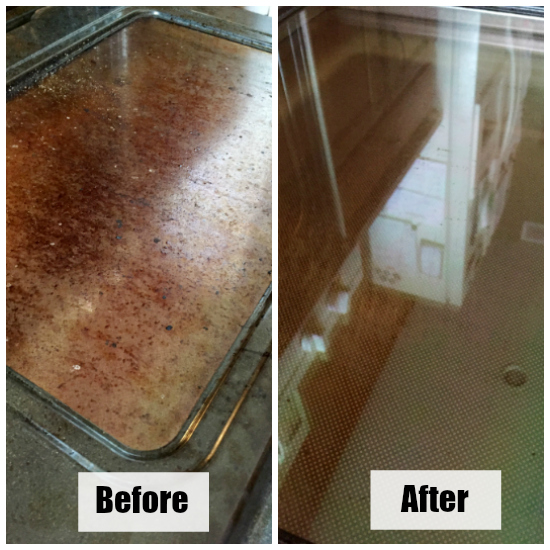 I'd say that was one successful cleaning tip! For more ways to clean with baking soda, check out this post!
Love it? Pin it!