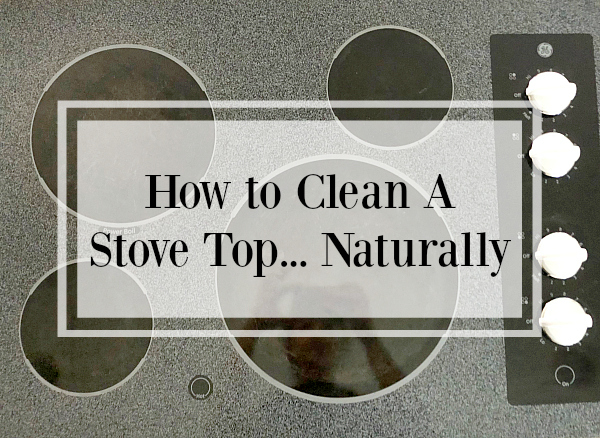 If you have a glass stove top, you know how easily it gets dirty. Every time I boil a pot of potatoes, it boils over, leaving a rim of burnt potato starch around the burner. Admittedly, I'm not great at regularly deep-cleaning my stove top. I give it a good wipe-down every day with all-purpose spray, but I ignore the ever-growing rim of black surrounding my burners. I finally decided it was time to figure out how to really clean a glass stove top, and my goal was to do it as naturally as possible.
What You Need to Clean A Glass Stove Top
Affiliate links may be used. Please see our advertising disclosure for more information.
How to Clean A Glass Stove Top
I always like to start with a before picture. You know. Show how gross I let things get around my house…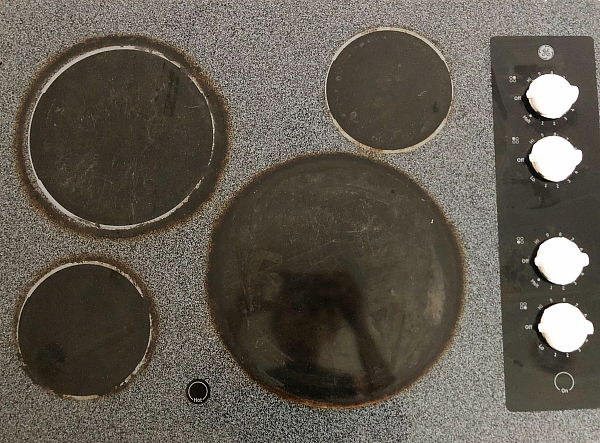 It may not look totally terrible because, as I said, I do wipe it down each day, however, you'll notice that around the two bigger burners there are black rims. That is burnt on food.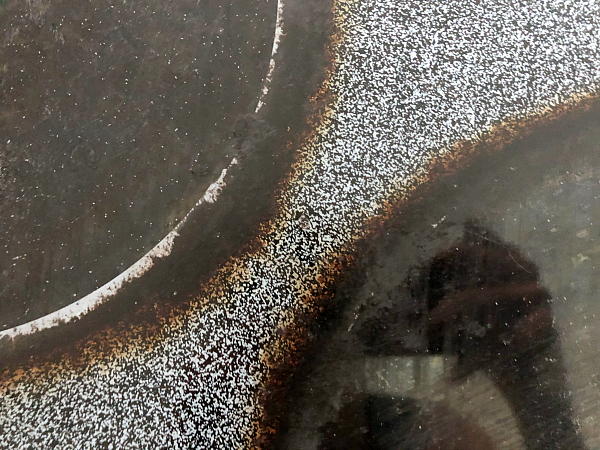 I am always one to look for natural ways to clean things around my house, so I thought back to my post on cleaning an oven door. All I used was baking soda and water, so I thought I'd give that same method a try on the stove top.
I started by generously sprinkling baking soda all over the top. Baking soda is a mild abrasive that works well on delicate surfaces. It also seems to have a magical ability to lift grime from multiple surfaces.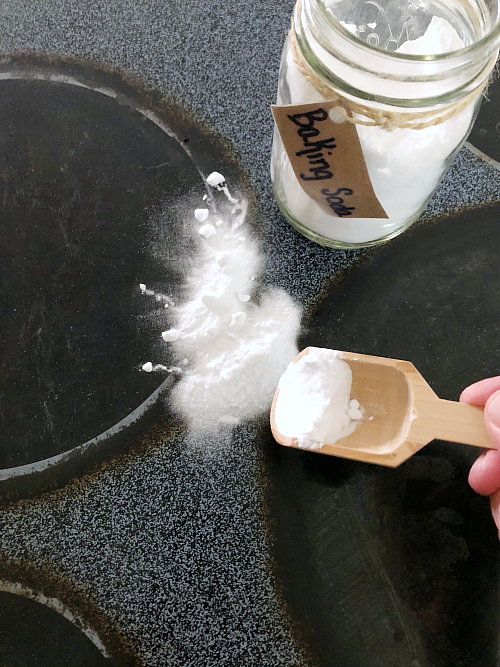 Next, I sprayed on some water. This wets down the baking soda so it starts to form a paste that will act as your surface cleaner.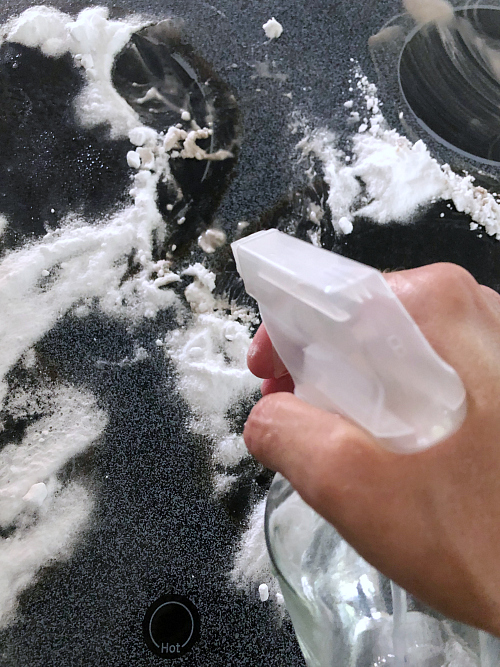 I grabbed my scour pad and got to work. Immediately the baking soda started to turn brown as it lifted the burnt-on mess from the stove top. Please note, that you will most likely need to rinse the scour pad multiple times throughout this process in order to clean off the dirty baking soda.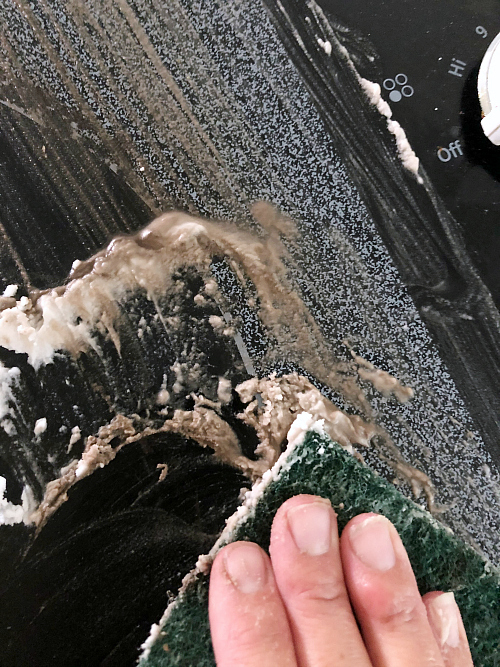 This method completely cleaned my two smaller burners that are not used as regularly, and without much effort. However, the two larger burners (that get a lot more use) were a little trickier. I decided to sprinkle on more baking soda and allow it to sit for awhile. When I came back, they were easier to clean, but there were still parts that required quite a bit of elbow grease. For the last few areas that were really stubborn, I grabbed a metal spatula, making sure to keep it flat against the surface to avoid scratching. This got everything completely clean. (I would recommend trying a plastic razor instead of a metal spatula to avoid scratches on the surface. While I haven't tried a plastic razor, it seems a safer way to go.)
I used paper towels to clean up the baking soda "paste" and then sprayed it down with an all-purpose spray to shine things up.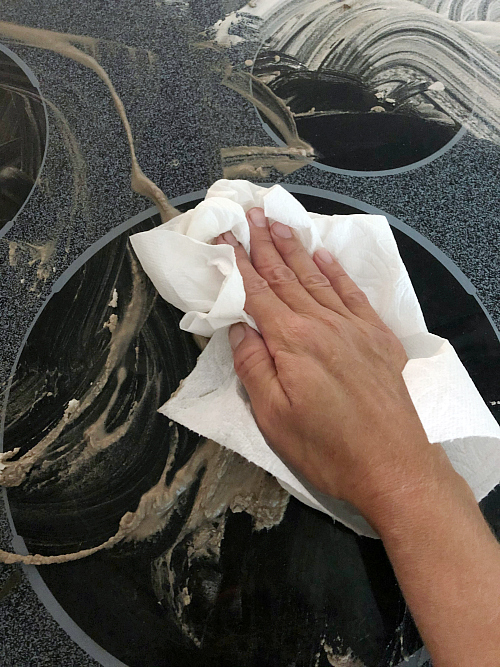 So, let's take a look at the results.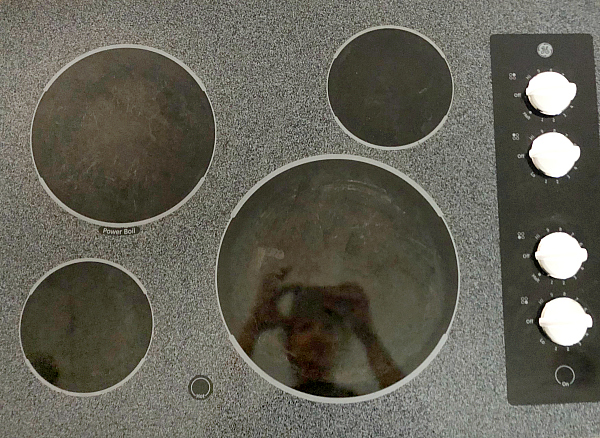 Before & After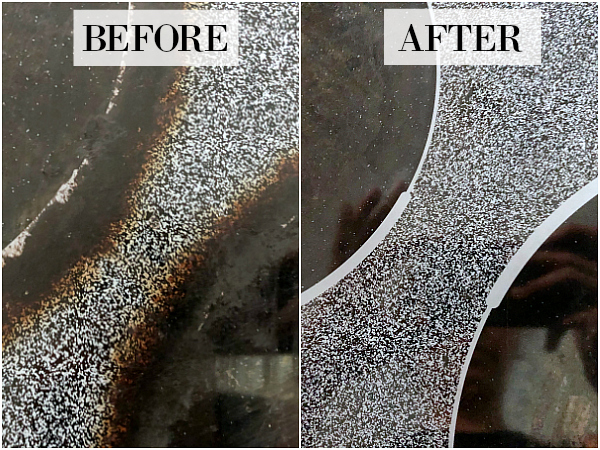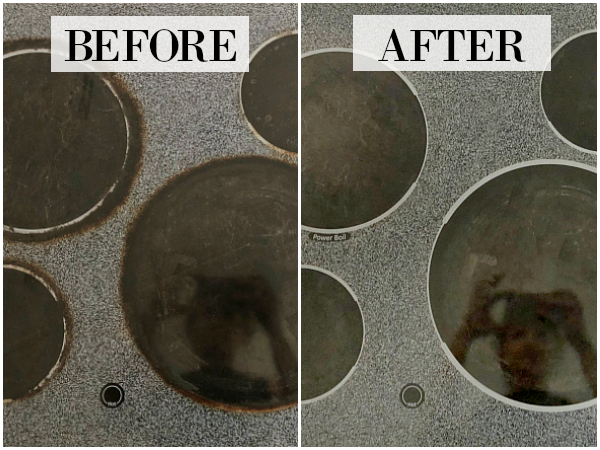 I don't want to paint a picture that this process was easy; it really did require some work in the scrubbing department, however, as I mentioned above, I truly believe if I were to make this "deep clean" a part of my regular cleaning routine (like, once a month), I think I would find this method to work amazingly well, without all the work.
Love it? Pin it!