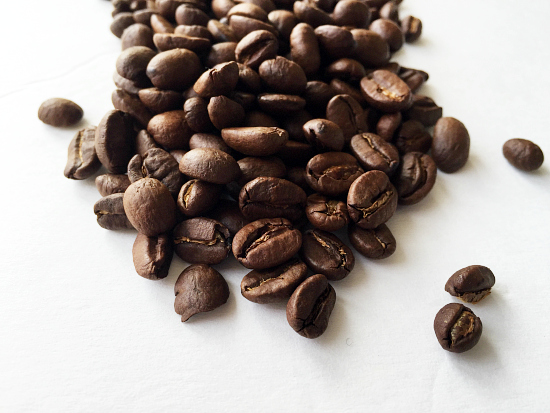 And suddenly, it's week 3! Eek! In case you're just tuning in, I am participating in the One Room Challenge hosted by the blog Calling It Home. During this 6 week challenge, I am creating a coffee station in our dining room. Let's start with a little bit of progress and then I'm going to show you some of the most amazing ideas for styling a coffee station ev-er! Ready?
Last week I shared some of the buffet tables I was looking at… and then I told you how I found this amazing website that shares free furniture plans… and how I found this gorgeous buffet table… and how my husband said he'd actually make it for me… Well, here's the buffet table in progress…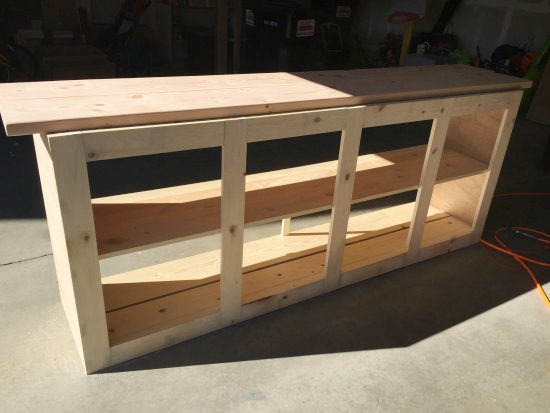 … and last night, stain was applied to the top…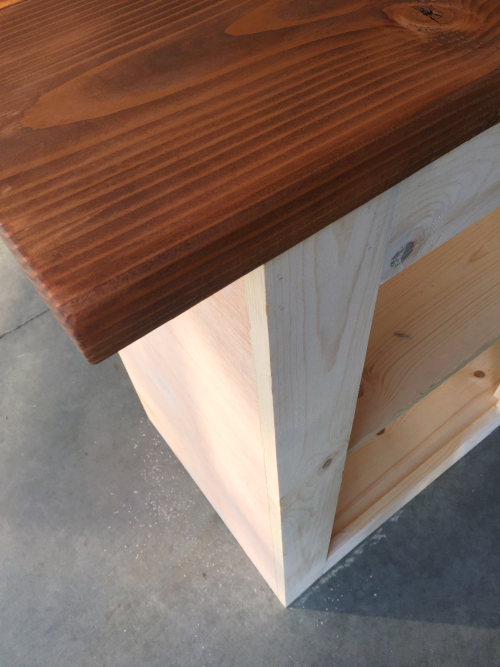 Can you even believe it? I have to give my hubby a standing ovation because, seriously, I told him I'd do the coffee station and he wouldn't have to lift a finger… Ahem. I guess I lied found an amazing buffet table that I couldn't make myself. I think we have the paint picked out, but I haven't actually bought it yet, so feel free to weigh in with your thoughts…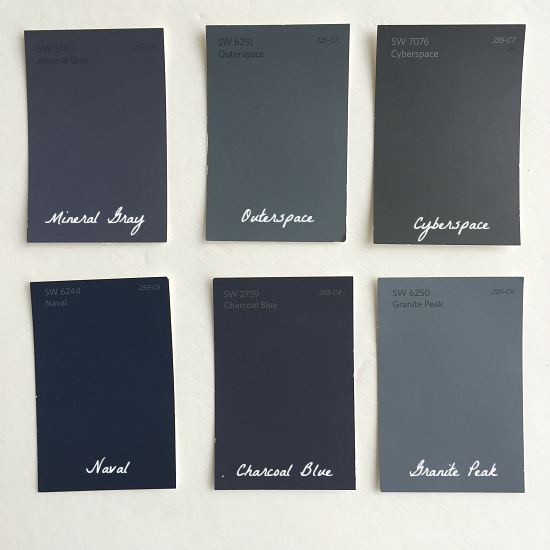 So, we've got the buffet table underway, which is the biggest project for sure. With the paint chosen (almost), I started thinking about how to actually style the table. This thing is massive. Seriously. The top is 8 feet long. Eight. Feet. So, where do I go for inspiration? Hello Pinterest and Instagram! Check out these amazing spaces!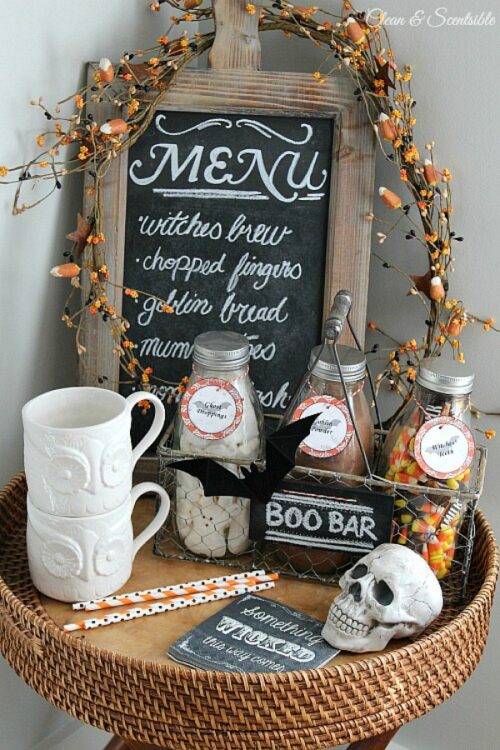 Source: Clean and Scentsible
How can you not love this set-up for Halloween? Definitely think that Holiday styling is a necessity.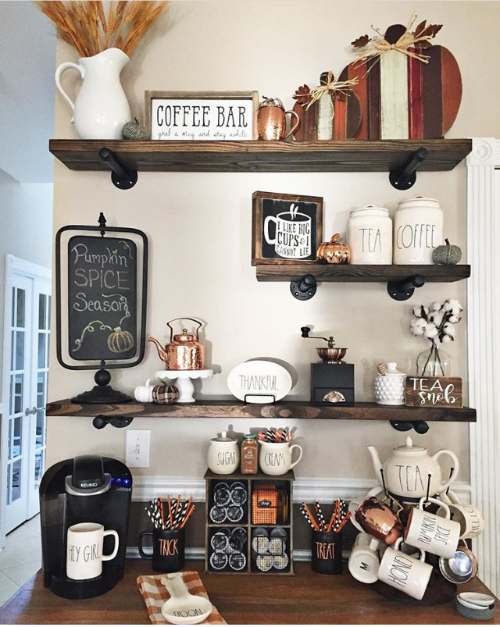 Source: Instagram @mylifeondoecourt
I love, love, love the wire drawers holding all the k-cups. And can I just say RAE DUNN? I love all those mugs and the sugar and creamer holders… as matter a fact, I just bought this one (not Rae Dunn, but close)… and these (actually Rae Dunn 🙂 )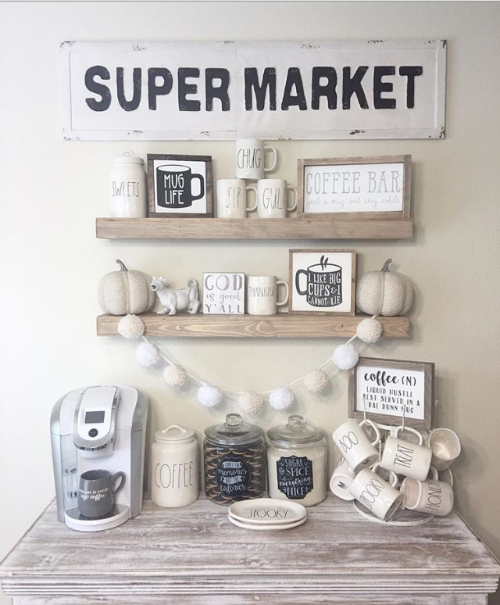 Source: Instagram @agratefulsoul
Again, with the Rae Dunn items! I have looked tirelessly for that coffee canister, and I cannot find it anywhere. If you happen to find it, let me know 🙂 Love all the wooden frames with coffee quotes!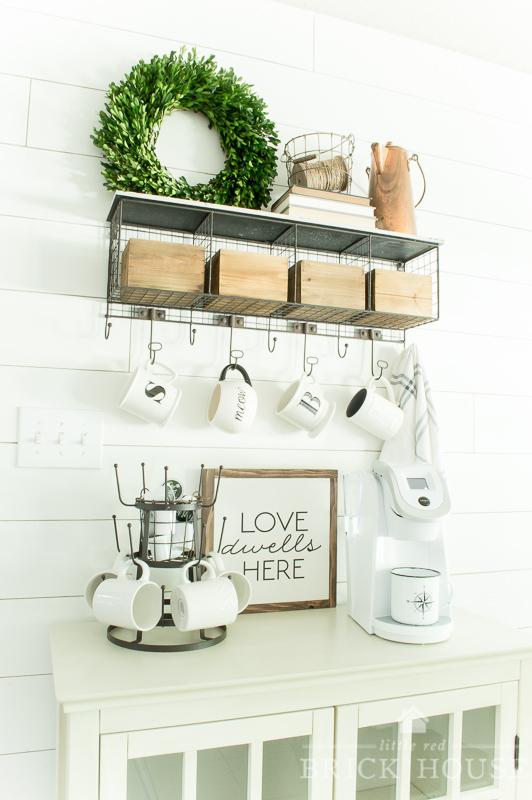 Source: Little Red Brick House
Even though I'm not installing shiplap, I love it! And I love the wreath and I love the wooden framed sign and I love the little wooden boxes in the wire crate. Seriously? What's not to love?
Source: Vintage Romance Style
While this coffee station is a lot smaller than ours will be, I am loving the fabric-lined wire bins. And, I think I actually have those smaller bins from the Target Hot Spot. Woot!
Source: Elizabeth Joan Designs
How cute is that mug holder? I need that, right? I also love the addition of the hand towels and a little bit of greenery to brighten the space.
Wanna Catch Up or Jump Ahead?
Week 1 // Week 2 // Week 3 // Week 4 // Reveal
Love it? Pin it!