This DIY Carpet Freshener is truly amazing (see the story below). Requiring only a few simple ingredients, this carpet deodorizer will make carpet smell fresh naturally.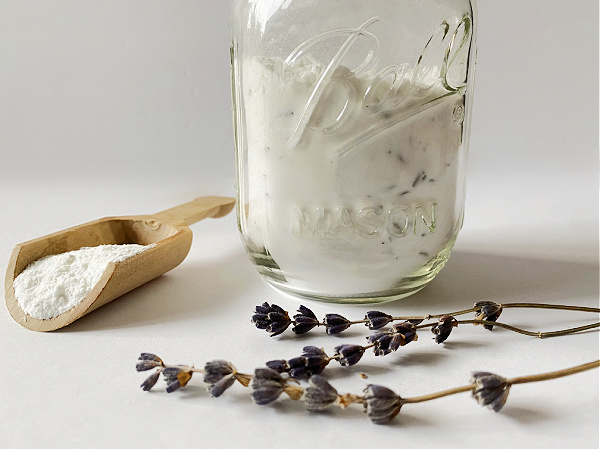 A few years ago, our family became owners of the sweetest puppy, and (per usual) our newest family member came with a few "accidents". One particular night I woke up to an awful smell in our bedroom. I turned on the lights to discover a puddle of poo on the carpet. (I use the word puddle on purpose… you get the idea.) There was no way we were going to fall back to sleep with such a horrible odor permeating our room. (Plus, I wasn't about to let that little poo puddle sit on the carpet all night). Problem was, even after removing the puppy poo, the smell remained… and it was horrible. I grabbed my DIY Carpet Freshener, sprinkled it on, let it sit for a few minutes and vacuumed it up (hoping not to wake our kids at 3:00 in the morning). This homemade carpet deodorizer is nothing short of a miracle. It completely eliminated the odor in the carpet.
What You Need to Make DIY Carpet Freshener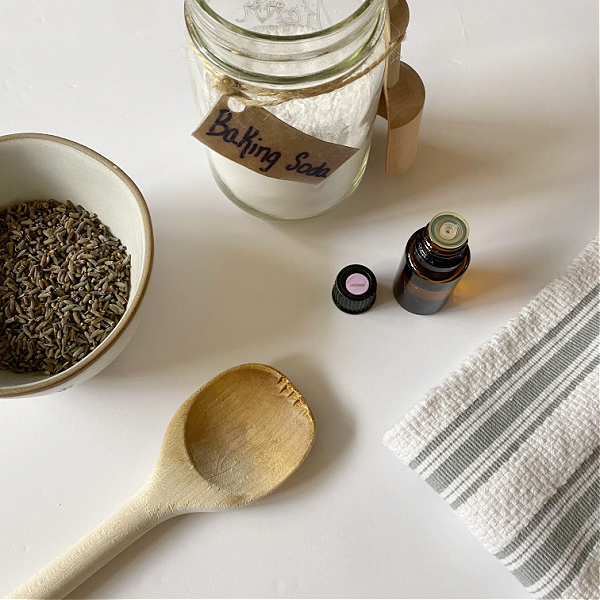 Affiliate links may be used. Please see our advertising disclosure for more information.
Ingredients Needed to Make Homemade Carpet Deodorizer
Baking Soda– Baking soda is used in this carpet freshener because it absorbs odors, drawing unpleasant smells out of the carpet.
Essential Oil– I chose a lavender, but you can use anything you'd like. Essential oils will help reduce unpleasant smells, leaving behind a pleasant scent, even after vacuuming. If you are unsure where to buy essential oils, check out this post to help you find a brand that works best for you.
Dried Herbs/Flowers (Optional)- For a little extra fragrance, feel free to add dried herbs or flowers. If you have pets, you need to use caution with essential oils as some can be toxic to our furry family members. (See the FAQ section for more on this). If you'd rather forego the essential oil all together, using dried herbs and/or flowers will add a little burst of scent to the carpet powder. I highly suggest dried lavender buds as they are super fragrant and smell delightful. You can even pair them with dried rosemary for a lavender rosemary carpet powder.
Supplies Needed to Make Homemade Carpet Freshener
How to Make DIY Carpet Deodorizer
This Carpet Powder recipe makes 1 cup, however, you can certainly double the recipe to make more.
Start by pouring 1 cup baking soda into a glass mixing bowl. Then add in 20-30 drops of essential oil. (If you desire a milder scent, feel free to use less essential oil.) Make sure to thoroughly mix the essential oil into the baking soda so the scent is evenly distributed throughout the mixture.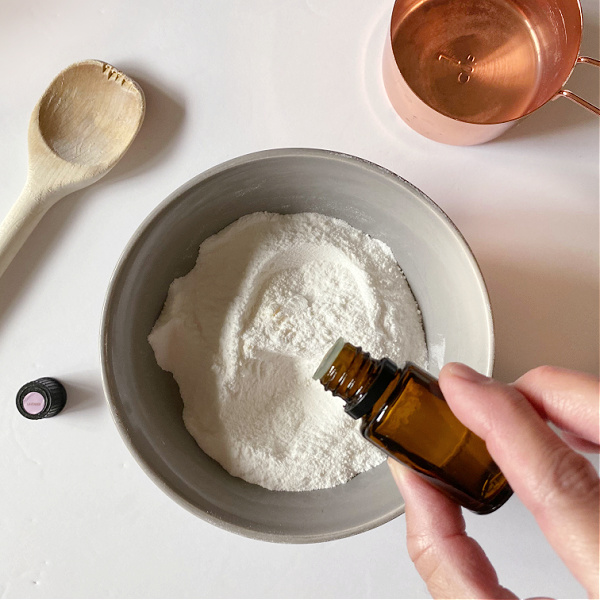 If you'd like to add in a few dried herbs or flowers, add 1 Tablespoon and stir. I went with dried lavender buds for this recipe.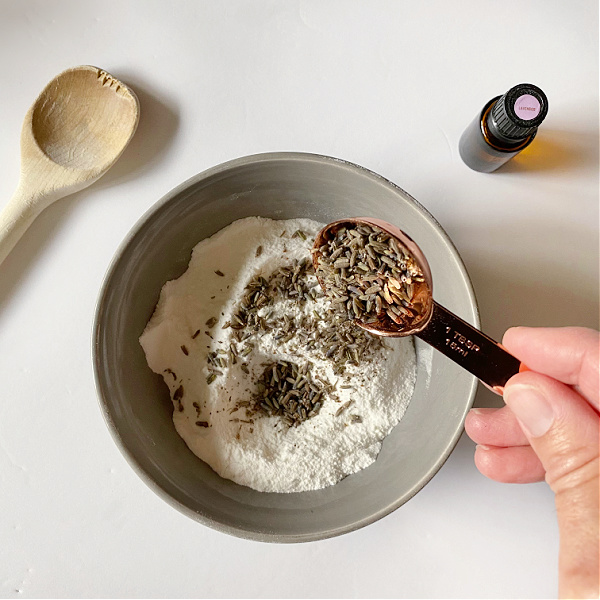 Transfer the DIY Carpet Freshener into a glass jar for storage. To avoid spills, you can use a funnel to help with this process.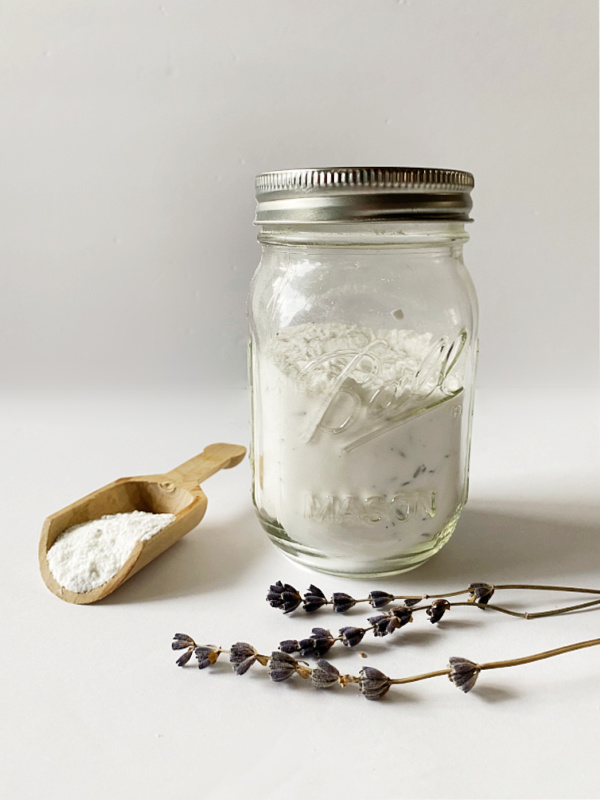 How to Make Carpet Smell Good Naturally
Prior to trying any cleaning product, it is strongly recommended that you test the product on a small, inconspicuous area to make sure there is no change to your finish (other than getting it cleaner). Please see our disclaimer statement for more details.
To naturally freshen carpet, sprinkle the DIY carpet deodorizer onto any area emitting odor. (You can use a mesh top for the mason jar to help evenly distribute the carpet powder.) Allow the carpet freshener to sit for at least 15 minutes. This allows the baking soda time to absorb the odors. After allowing the carpet deodorizer to sit, simply vacuum it up. If you are working in a larger area, use a regular vacuum cleaner; for smaller areas, a hand-held vacuum works well.
Common Questions About DIY Carpet Deodorizer
Are There Other Uses for Homemade Carpet Deodorizer?
Yes! This DIY Carpet Freshener can definitely be used in other ways as well.
Freshen A Mattress– While washing your sheets, go ahead and sprinkle a little of this deodorizer onto your mattress, allow to sit for 15+ minutes, and then vacuum it up. (I would definitely suggest something like lavender as lavender has a calming scent, perfect for a good night's sleep.
Freshen Upholstery– If puppy (or your child) happens to have an accident on your couch or favorite (upholstered) recliner, this deodorizer can be used to freshen things up. Just follow the same instructions as above.
Freshen Rugs– While this may seem obvious (as rugs are almost like small pieces of carpet) feel free to sprinkle a bit of this homemade deodorizer on rugs, especially if someone brought in something unpleasant from the outdoors 🙂
Is DIY Carpet Freshener Safe to Use Around Pets?
We all know pets tend to be a bit curious and will sniff around (and likely eat) anything they find. Therefore, you should keep pets out of the area while the carpet freshener is being applied (and sitting on) the carpet and/or upholstery. Certain essential oils can be toxic to pets (whether they inhale, touch, or consume it), so you should use caution if you have any furry friends at home; especially cats. Here are a couple articles that may help you learn more about essential oil use around pets.
Essential Oils and Dogs | Essential Oils and Cats | Safe & Unsafe Essential Oils for Dogs
If you would rather forego the essential oil for the sake of your pets, that is perfectly fine. Simply use dried herbs and/or flowers in its place. If you choose to use the baking soda and herb/flower approach, still keep pets away until it's been vacuumed up.
Is Homemade Carpet Freshener Safe to Use Around Kids?
As with pets, kids can get curious and put all sorts of things in their mouths, therefore, keep little ones away from this carpet freshener when you apply it, as well as while letting it sit.
Does this DIY Carpet Powder Clean Carpet?
This carpet freshener is made to freshen carpet, not clean it. So don't expect dirt and grime to be eliminated with its use.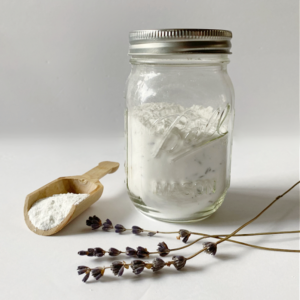 Homemade Carpet Freshener
This DIY Carpet Freshener uses simple ingredients to make carpet smell good naturally.
Ingredients
1

Cup

Baking Soda

20-30

Drops

Essential Oil

1

Tablespoon

Dried Herbs or Flowers

(Optional)
Supplies
Glass Mixing Bowl

Glass Mason Jar (for storage)

Funnel (Optional)

Mesh Mason Jar Lid (Optional)
Instructions
Add one cup baking soda to a glass mixing bowl

Mix in 20-30 drops of essential oil, making sure to thoroughly distribute the essential oil throughout the baking soda

If you'd like to add dried herbs/flowers, go ahead and stir in 1 Tablespoon (this is a great option if you'd prefer not to use essential oils)

Pour the mixture into a glass jar for storage

To use, sprinkle the carpet freshener onto the carpet, allowing it to sit for at least 15 minutes. After 15+ minutes, vacuum up the carpet powder.
Love it? Pin it!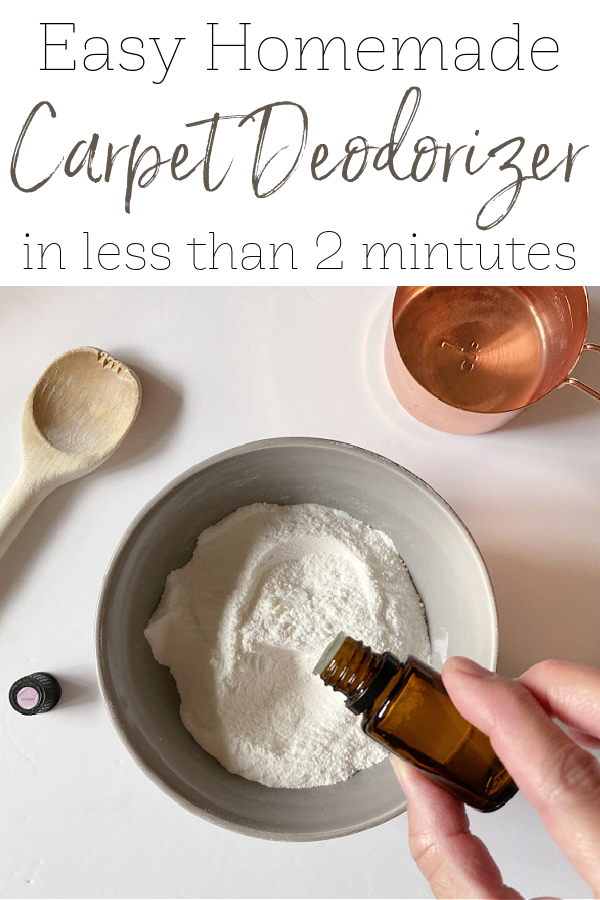 This post was originally published at Clean and Scentsible on April 8, 2016.