Confession: I have super brittle nails. And then, in the winter months, my finger tips start cracking from the dry air. So, this year I am committing to try something to (hopefully) help nourish my dry nails: A natural DIY cuticle oil made with jojoba oil.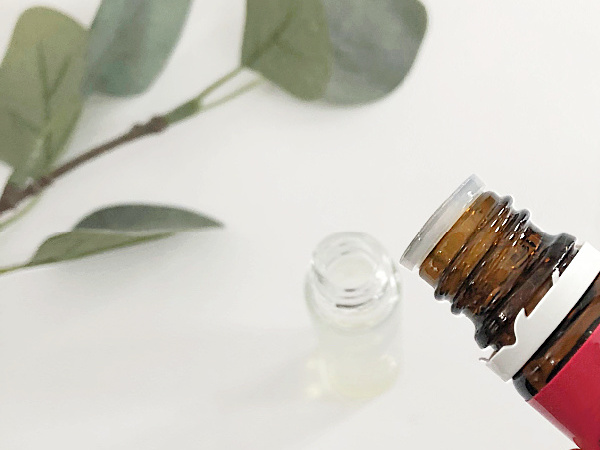 I went on a little "cuticle oil" hunt to see which ingredients are used in store-bought cuticle oils and here is what I found:
No ingredient information was available- This does not mean there is truly no information provided, however, it was not available to view online.
Long list of ingredients I couldn't pronounce- Again, just because I cannot pronounce something doesn't mean it's harmful, but I like to use simple ingredients in my recipes and I'm not sure I could find Ethylhexyl Palmitate, Diisostearyl Malate, Polyethylene, and Hydrogenated Polyisobutene anywhere. (And yes… these are the first 4 ingredients in one of the store-bought cuticle oils I found. To be fair, they all score a 1 with EWG)
Fragrance- When the word "fragrance" is used in a product, it could be any combination of over 3,000 chemicals. They could all be perfectly safe… or not. We just don't know because company's fragrance combinations are considered proprietary, meaning they don't have to disclose which fragrance ingredients they use in their products.
This is why I love creating my own recipes… because I know exactly what's in them.
What You Need to Make Homemade Cuticle Oil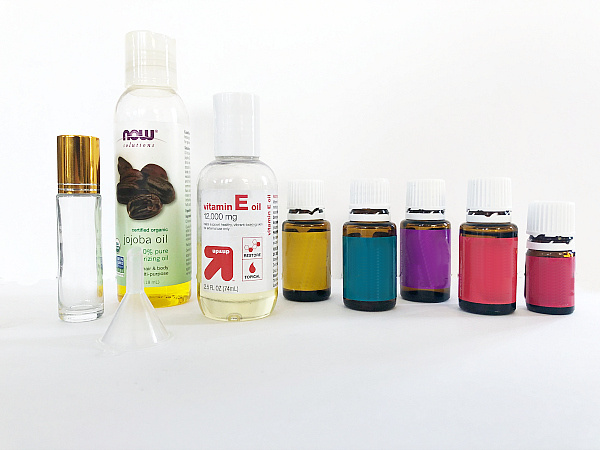 Affiliate links may be used. Please see our advertising disclosure for more information.
Ingredients Needed for DIY Cuticle Oil
Carrier Oil– While you can use a variety of carrier oils for this cuticle oil recipe, I went with Jojoba Oil because it is the oil that comes closest to our skin's natural oil. (See FAQ section for other carrier oil options)
*Essential Oils– I looked up the best essential oils for nail care and I found most mention Lavender, Lemon, Frankincense, Myrrh, and Rosemary, so that's what we'll be adding. If you are unsure where to buy essential oils, check out this post to help you find a brand that works best for you.
Vitamin E Oil– According to Medical News Today, "Vitamin E oil's moisturizing benefits may… support nail health by preventing cracked cuticles and dry skin around the nail bed."
*I link to essential oil brands I believe provide high quality oils and are transparent with their testing (in other words, the company publicly provides GC/MS results). I also try to link to the essential oil that will give you the "biggest bang for your buck" (often times buying a 30ml bottle of oil means greater savings per ml than purchasing a 10ml bottle). I provide more information on where to buy essential oils so you can choose a brand you feel is right for you.
Supplies Needed for Homemade Cuticle Oil
Roller Bottle or Glass Dropper Bottle– If you plan to store your cuticle oil where it is exposed to sunlight, choose a darker bottle such as cobalt or amber. If you plan to store it in a drawer or cupboard, a clear bottle is fine.
Small Funnel (Optional)- Helps when adding carrier oil to the bottle.
How to Make Natural Cuticle Oil
The following recipe is for a 10ml bottle, but feel free to double or triple it for larger bottles.
Start by adding the essential oils to your bottle. I went with 2 drops Lavender, 2 drops Lemon, 2 Drops Frankincense, 2 drops Myrrh, and 1 Drop Rosemary.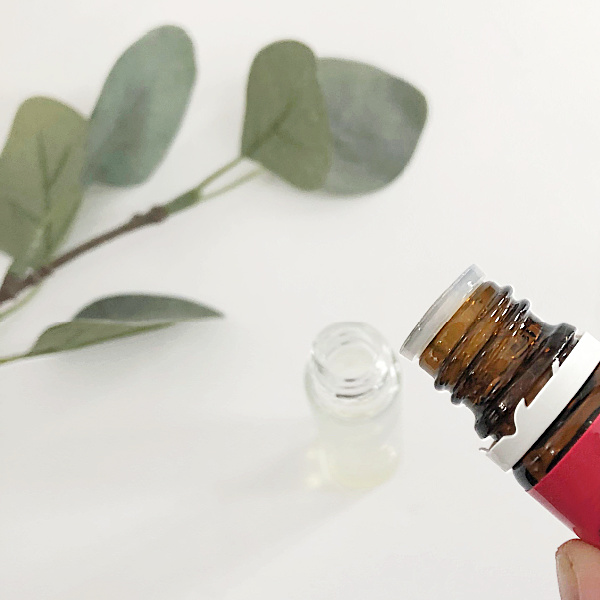 Once you have added your essential oils, go ahead and add in 5 drops of Vitamin E Oil; then give your bottle a little swirl to combine.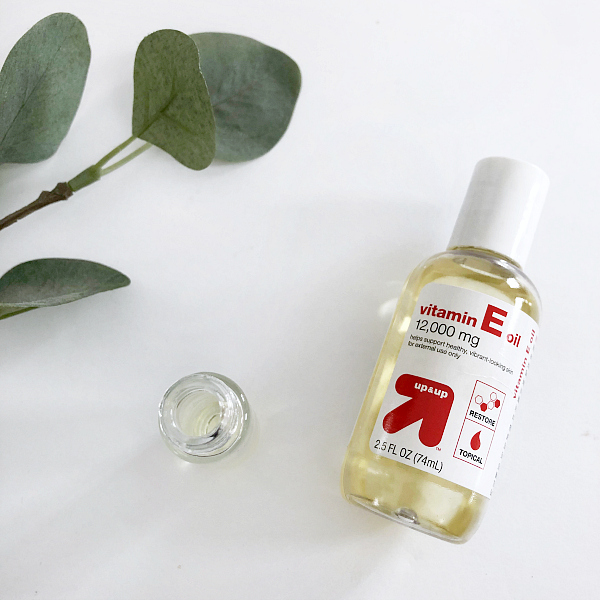 Fill the remainder of your bottle with carrier oil. As noted, I went with Jojoba oil. This is where a small funnel comes in handy 🙂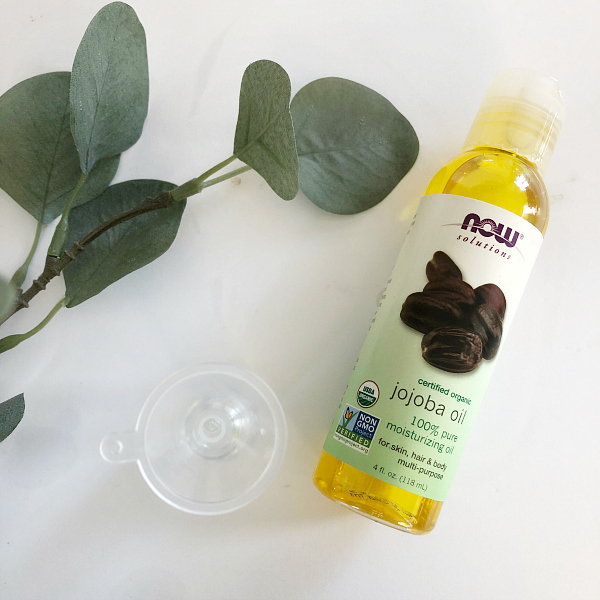 Place your roller ball back on the bottle and give it a little shake to combine everything, and you're done.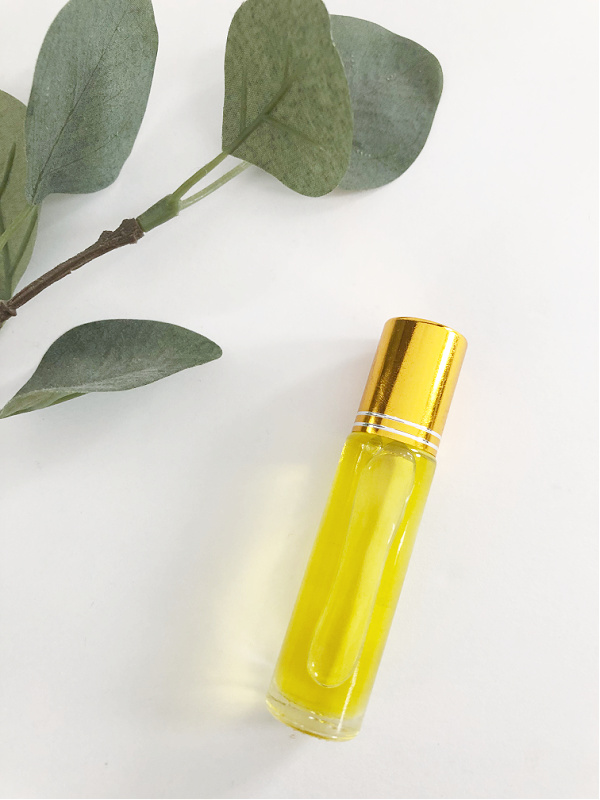 Prior to trying any skin care product, it is strongly recommended that you test the product on a small patch of skin to make sure there is no reaction. Please see our disclaimer statement for more details.
To use, simply roll the oil onto your cuticles and fingernails, massaging it in for a minute or two.
Looking for more recipes to help nourish your skin? Try these ideas!
Homemade Body Butter | Homemade Coffee Scrub | Homemade Lip Balm | Homemade Lip Scrub
Common Questions About DIY Cuticle Oil
Which Carrier Oils Are Best for Making Cuticle Oil?
As mentioned above, I chose to use jojoba oil for this cuticle oil recipe because jojoba oil actually mimics skin's natural oils. However, if you would rather use a different carrier oil, you can certainly do so. The ones I would recommend as an alternative to jojoba would be olive oil or almond oil. You can also do a combination of carrier oils. For example, 50% jojoba mixed with 50% olive oil.
Which Essential Oils Are Best for Nails?
As I mentioned above, I looked in several places to find out which essential oils are best for nail care and almost all sources mentioned the following essential oils:
Lavender | Lemon | Frankincense | Myrrh | Rosemary
If you do not have all these essential oils on hand (or choose not to use one or two) that is completely fine. Simply add an extra drop or two of the essential oils you choose to use in order to make up for any missing essential oils.
How Often Should I Use Cuticle Oil?
You can actually use cuticle oil on a daily basis. I, personally, will be adding it to my night routine so the oils have a chance to soak in while I sleep.
Does Cuticle Oil Expire?
Luckily DIY Cuticle Oil should last quite awhile as it is an oil-based recipe. As long as it is stored in a cool, dark environment, it should last up to one year. If you notice a rancid odor or change in color/consistency, it's time to toss it and make a new batch.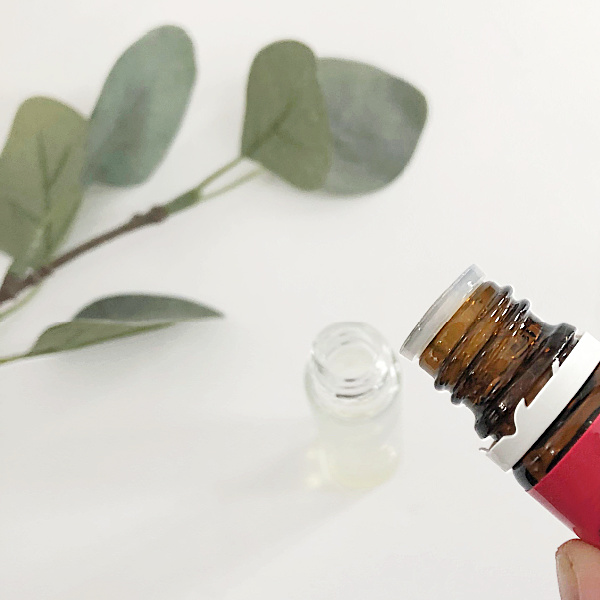 Homemade Cuticle Oil
This cuticle oil recipe uses natural ingredients to support healthy nails and cuticles.
Ingredients
2

Drops EACH

Lavender Essential Oil, Lemon Essential Oil, Frankincense Essential Oil, and Myrrh Essential Oil

1

Drop

Rosemary Essential Oil

5

Drops

Vitamin E Oil

Jojoba Oil
Supplies
10 ml Roller Ball

Small Funnel (Optional)
Instructions
Add all drops of essential oils to a roller ball bottle

Add 5 drops vitamin E oil and give the bottle a gentle swirl to combine

Fill the remainder of the bottle with jojoba oil (or a carrier oil of your choosing). A small funnel comes in handy for this part

To use, roll the cuticle oil onto nail beds and massage it in for a minute or two
Love it? Pin it!