For the One Room Challenge, I wanted to hang some "art" in the powder room (and by "art", I mean framed scrapbook paper), but I didn't want the typical "pound a nail in the wall, hang the picture" look, I wanted something different. I started to brainstorm and came up with the idea of hanging the frames by a rope from drawer knobs. There was a lot of trial-and-error, so I thought I'd share my experience; that way you can skip the "error" part and just have the lovely end result.
What You Need to Hang Art from Knobs
Affiliate links may be used. Please see our advertising disclosure for more information.
How to Hang Frames from Knobs
First, I had to figure out a way to attach the rope to the frame so I could hang it. I started by screwing "screw eyes" into the top of the frames, but some of the frames started to crack (not good). I tried going with a smaller "screw eye", but they would break off as I was turning them.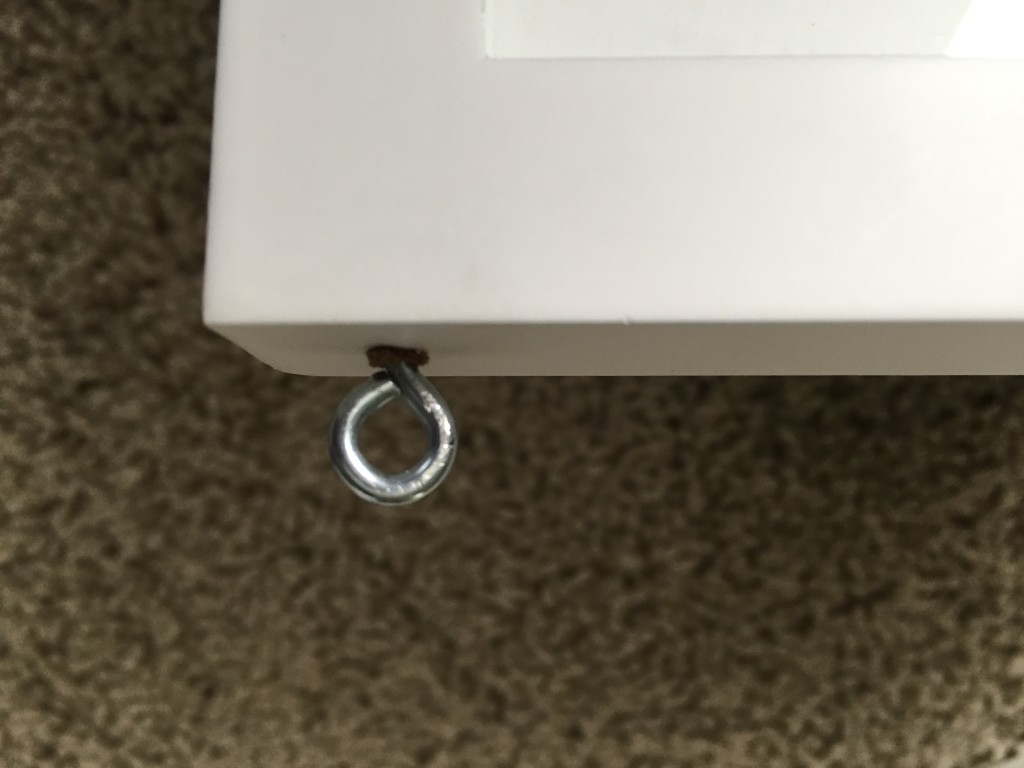 Scrap that idea! I decided to just loop the rope through the hanger on the back of the frame instead.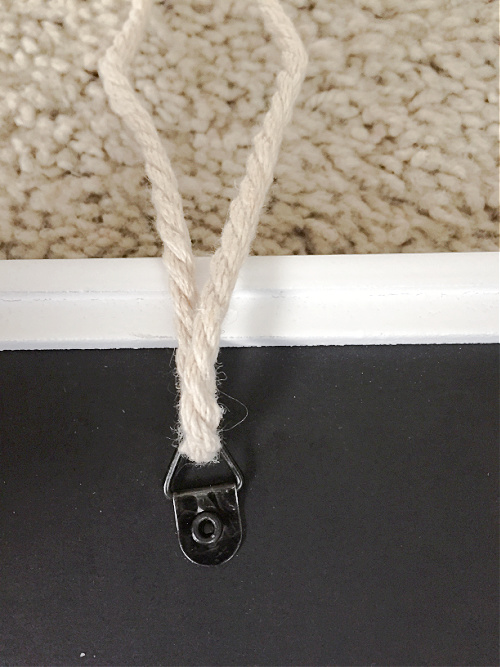 This obviously was not going to give me the same look, but I like a bit of a twist on the usual. I made sure to cut each piece of rope the same length. (I used 14 inches of rope, but you can make it longer or shorter depending on the look you want). Knot each piece of rope to form a loop.
.
Next, screw each knob into the hanger bolts.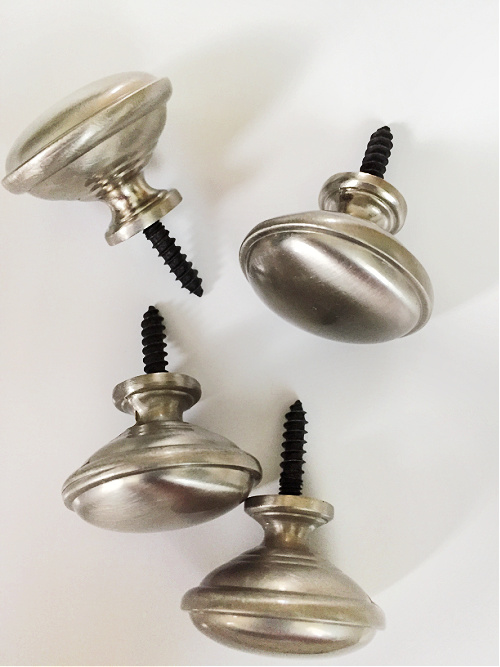 Measure out where you want to hang your frames so you know exactly where to place the knobs on your wall. Once you have that mapped out, screw the hanger bolt into the wall. I found it helpful to pound a nail just a little bit into the wall as a starting point for the screw to turn into.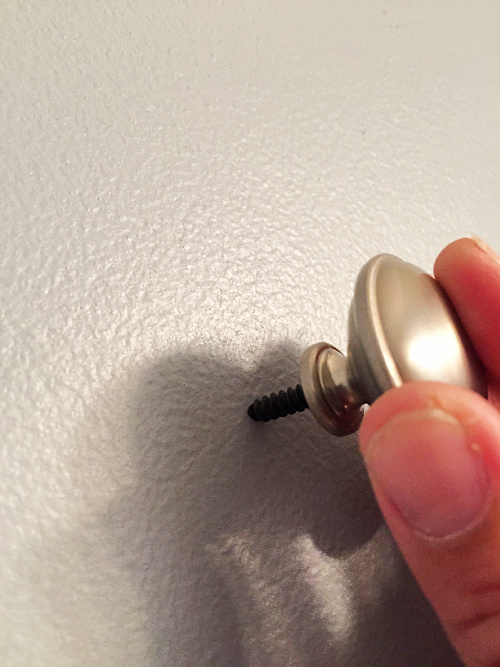 Remember that you can always adjust the rope to shorten or lengthen the frames to match the other frames, but you don't want to move the knobs once in place… better to level your knobs, not the frames. Once all my loops were even, I trimmed the ends and dipped the knots in Elmer's glue to harden the knots in order to avoid them unraveling or coming undone.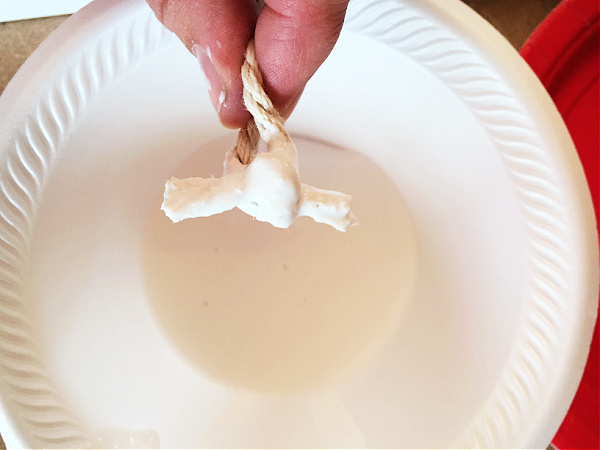 Once dry, I slipped the knot to the bottom of the loop so it would be covered by the frame, and I hung it on the knob.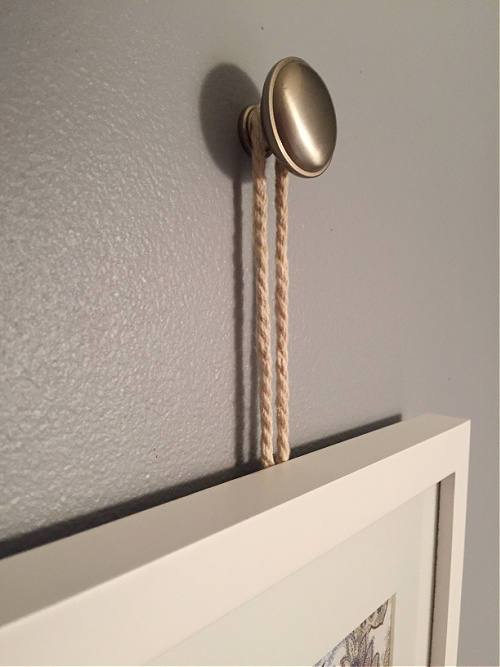 And here's the finished product!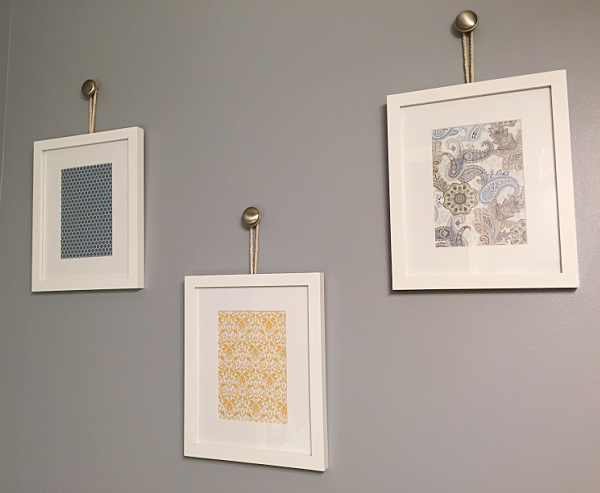 Love it? Pin it!