These easy farmhouse style DIY wood coasters are perfect for a hot cocoa bar during the cold winter months.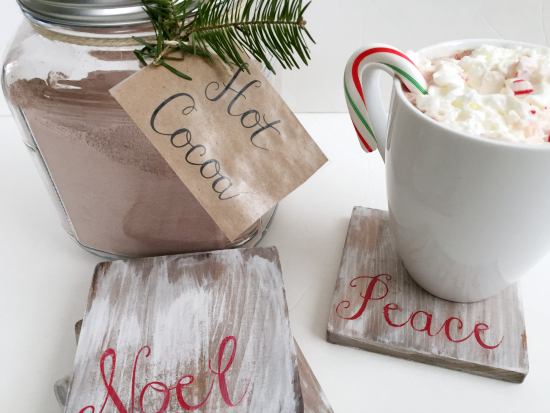 I'm pretty excited, because today I'm joining in on a virtual cocktail party with some of my amazing blogger friends. (Thank you 2 Bees in a Pod for hosting 🙂 )Each of us are inviting you into our homes to share some drinks and spread a little holiday cheer.
You may remember that we just finished up our coffee station in November and it has gotten a lot of use since its reveal. I decided to give it a little twist and use some of it for a hot cocoa bar this winter.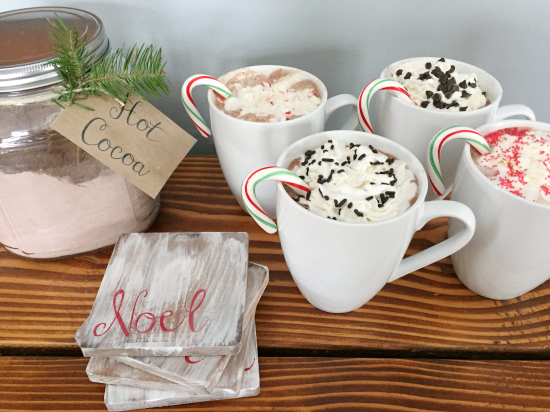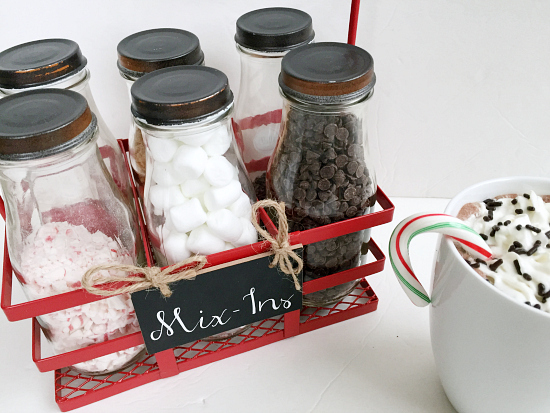 To go with all the chocolate-y goodness, I made some white-washed wooden coasters. Obviously these have a very "holiday" feel to them, but you can always add your own twist, no matter the season.
What You Need to Make Rustic Wood Coasters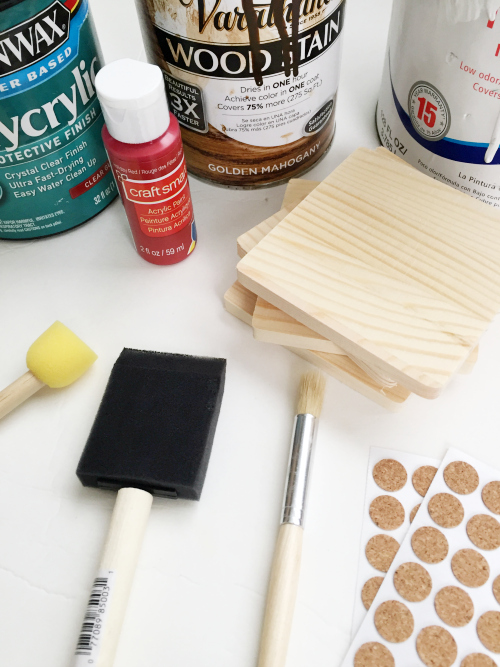 Affiliate links may be used. Please see our advertising disclosure for more information.
How to Make Farmhouse Style Wood Coasters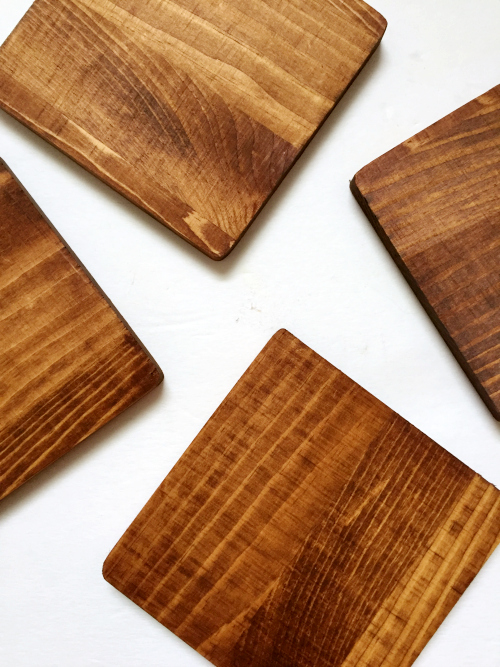 I wanted a darker color to the wood that would be underneath the white-wash, so I decided to stain my wood coasters. When applying stain, I grab an lint-free rag (or t-shirt) and rub it on (while wearing gloves!) and allow the stain to sit on the wood for about a minute, then I wipe it off. If you want a darker shade, leave the stain on longer; for a lighter shade, wipe it off immediately.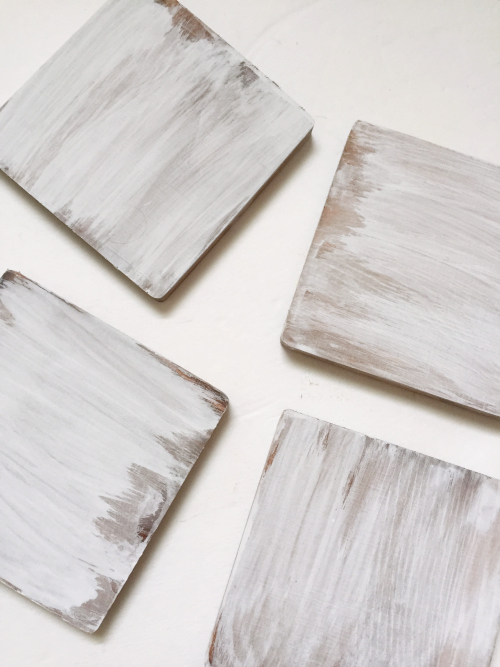 To create a white washed finish, I grabbed some white paint and mixed it with water in a 2:1 ratio (two parts paint to one part water). I quickly painted on the mixture and then, before it dried, I wiped it off and allowed it to dry. You can continue to repeat these steps until you get the level of white-wash you prefer. Once this is achieved, you can sand it down a bit for a more rustic finish if desired.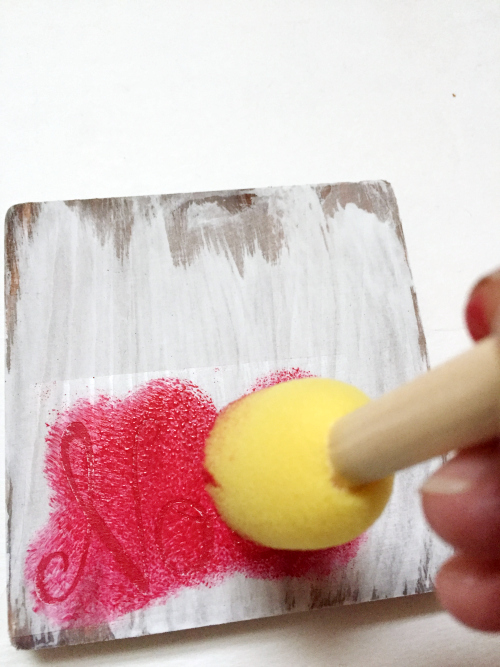 I created a couple stencils using my Cricut and contact paper, however, you can also purchase a stencil. I applied the stencil where I wanted it and, using a small round sponge brush, I dabbed on a little of the red acrylic paint. Just so you don't get too much paint onto the coaster, dab the sponge brush on a paper towel to remove any excess paint. Once you have filled in the stencil, carefully remove it, and wait for it to completely dry. To seal everything up, apply a coat of polycrylic with a small sponge brush.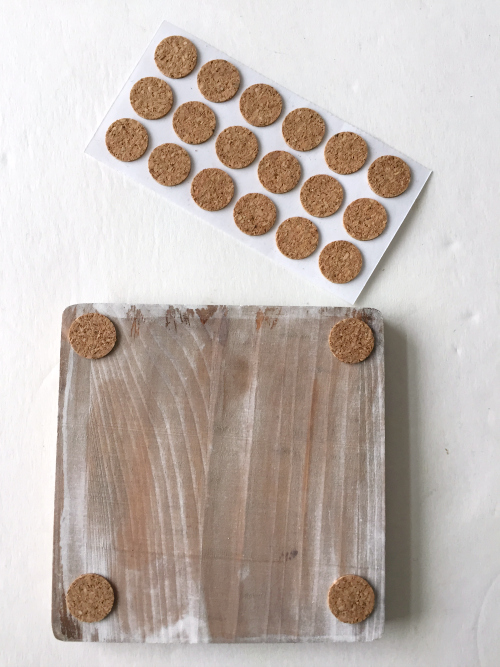 The last thing is adding a few cork pads to the bottom to avoid scratches on the furniture, and you're set.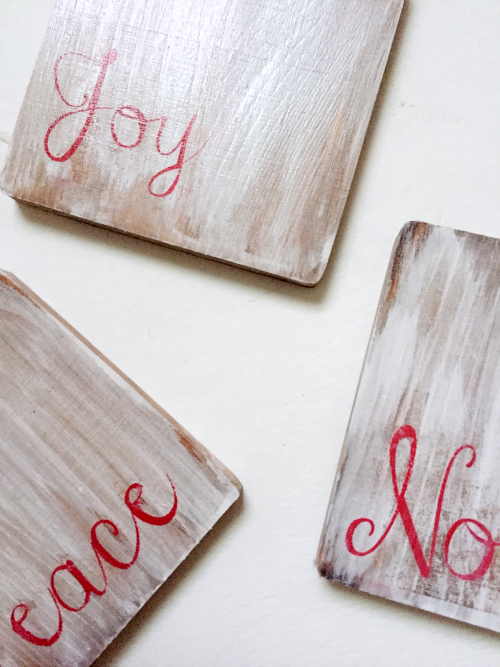 Now you can use these DIY wood coasters for all those wonderful hot cocoa creations.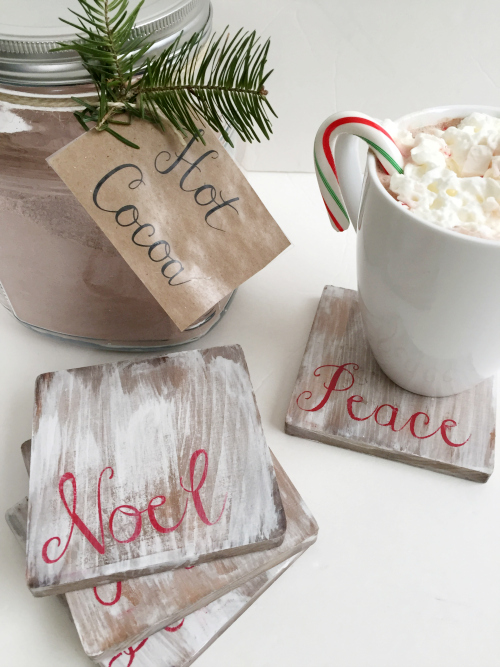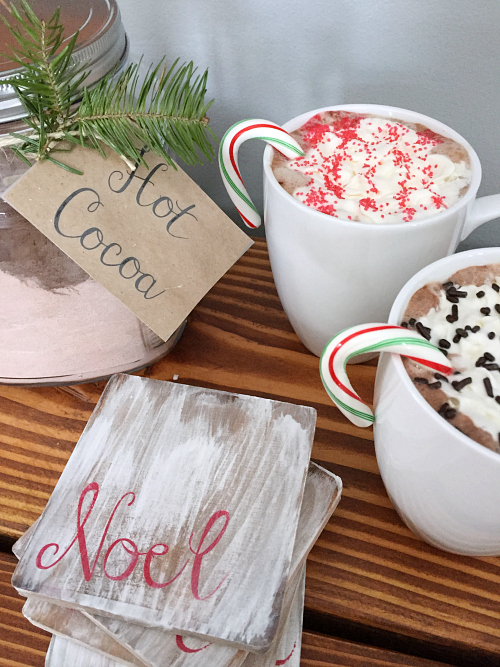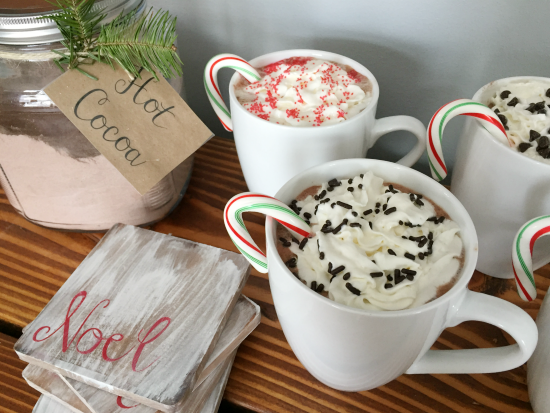 Hope you are enjoying a wonderful holiday season! May your days be warm and cozy this winter.
Join the Party!
Click Here for More Holiday Party Ideas
Love it? Pin it!