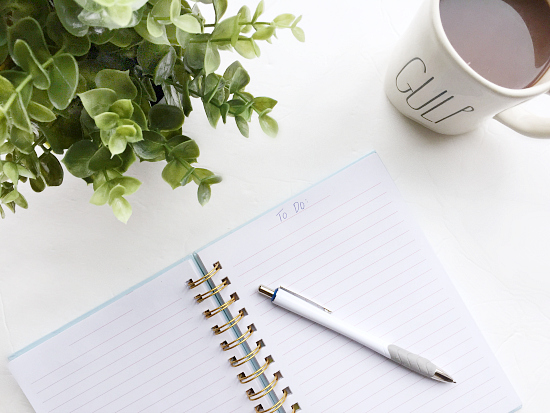 Thank you to Lamps Plus for providing a gorgeous light fixture for this challenge. And thank you also to Sherwin Williams for providing paint to lighten and brighten this space.
Not sure if you noticed, but there was no week 3 progress for this challenge, however, I have a good excuse… I was down in Phoenix, AZ with my 10 year old son. We soaked up some sun, visited with friends, ate a lot of Mexican food, and caught a Diamondbacks game (which they won… 13 to 5!). Therefore, progress on the office space didn't happen… I didn't even bring my laptop with me to work on the blog 🙂
A little time away only meant that I needed to do some serious work this past week… and that I did.
Accomplishments
Paint
I broke open some fresh cans of paint, turned on some tunes, and got to work. Let's look back at where this space started, in case you forgot.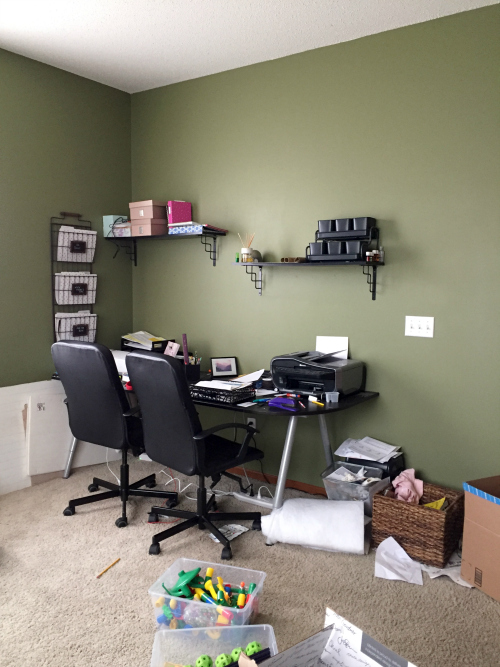 That, my friends, is what we call a disaster with green walls.
This week I removed all but one piece of furniture (which is part of my dilemma… We'll talk about that in a second.) I also said goodbye to those green walls. This space is now light, and bright, with Agreeable Gray by Sherwin Williams. I love this color!
Pardon the mess… That's what happens when you remove all your office furniture 🙂
Lighting
Not only do we have painted walls, we also changed out our former lighting situation. Remember the prior "boob light"?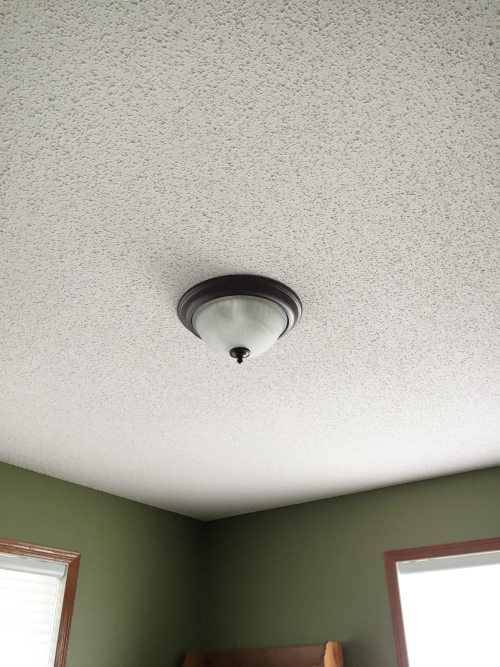 It has been replaced with this amazing farmhouse style fixture from Lamps Plus. Yay!!!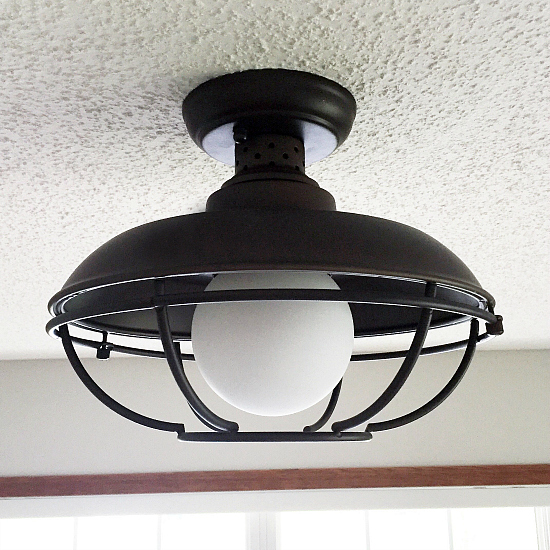 Franklin Park Metal Cage Bronze Ceiling Light
Dilemmas
Now for the dilemmas… I seriously need some help, so let's brainstorm!
Here's the layout of our office (No judgment on the poor quality of this layout image… I am not a graphic designer… Not even close 🙂 ):
Shelving
Originally, I was going to create bookshelves using these Hyllis Shelf Units from IKEA.
My plan was to spray paint them oil-rubbed bronze and add stained wood to the existing shelving to create a more "industrial farmhouse" look… but they look a little small in the space. I could definitely still do this, just not sure it's quite right… Thoughts? (You can see them in the room if you scroll up to our current office image.)
My other thought was to buy Hemnes bookcases (in white) and place one on either side of the window on the adjacent wall… or I could buy just one, but I feel like that would be unbalanced…
What do ya'll think? DIY Industrial shelving? White Hemnes Bookcases? Something else?
Wait… there's more.
Filing System
I'm struggling to figure out what to do about filing… I could buy a filing cabinet, but where do I put a filing cabinet? I could buy file boxes and put them on the Hemnes bookshelf, but the Hyllis Shelf Units are too small for files boxes.
Image via IKEA
Something like this Kvarnvik box (Again, from IKEA… Yes. A whole lot of online "window shopping" at IKEA this week 🙂 ) I'm not actually sure this box will house hanging files, but you get the idea.
Or I could do some sort of storage unit with "file drawers" and place it under the command center. Again, all thoughts are welcome.
On the bright side, I am picking up my desk at World Market today, so there's one thing crossed off the list.
Hopefully next week we'll have a room full of perfect office furniture. (Fingers crossed.)
Need to catch up or want to skip ahead?
Week 1 // Week 2 // No Week 3 // Week 4 // Week 5 // Week 6
You can also pop over the Calling It Home and check out how other bloggers are coming along with their rooms 🙂
Want to Follow Along with Lemons, Lavender, & Laundry?
Subscribe!
Social media more your style?
Facebook // Pinterest // Instagram // Twitter