Five weeks ago we had a space with pea-green walls and mismatched furniture… but not anymore. Check out our (pretty incredible) farmhouse office makeover.
A special thank you to Sherwin Williams, Minted, and Lamps Plus for providing product for this office makeover.
I honestly don't think I have ever been so excited about a room reveal… Most of the time I am making over rooms with only $100 to spend (You can learn more about the $100 Room Challenge here), but twice a year I join in with the One Room Challenge and get to make over a space with a bigger budget. Over the past 5 weeks I have been working on our office space…. I'm going to try to stay away from gabbing too much, and let the pictures do most of the talking, but before the pretty, you have got to see what this space looked like 5 weeks ago…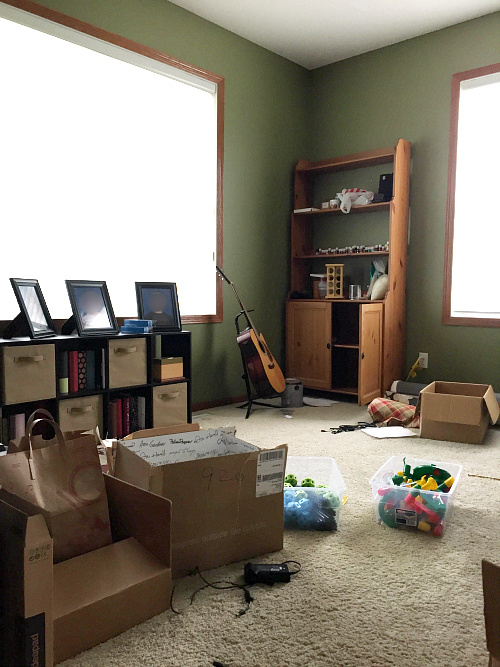 Total disaster: Mismatched furniture, green walls… Not great…
Our Farmhouse Office Makeover
Ready to see our farmhouse office makeover?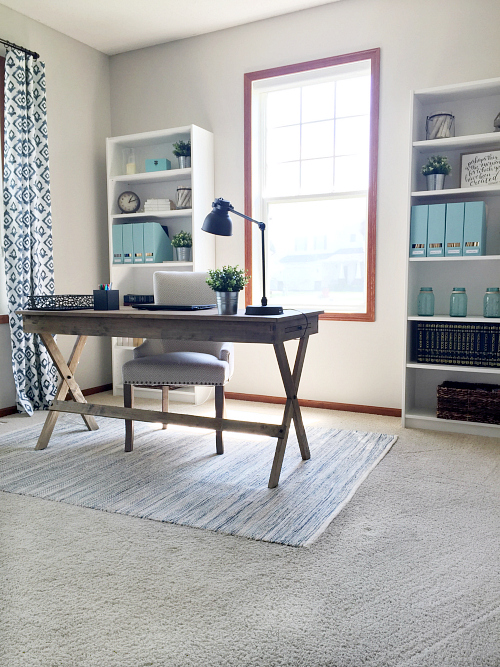 Can you even believe that is the same room?! Neither can I!
Let's take a little tour around the room, and just 'cause it's fun to see how different a space looks, I'll throw in a few more "before and afters" too 🙂 (Sources provided at the end of this post.)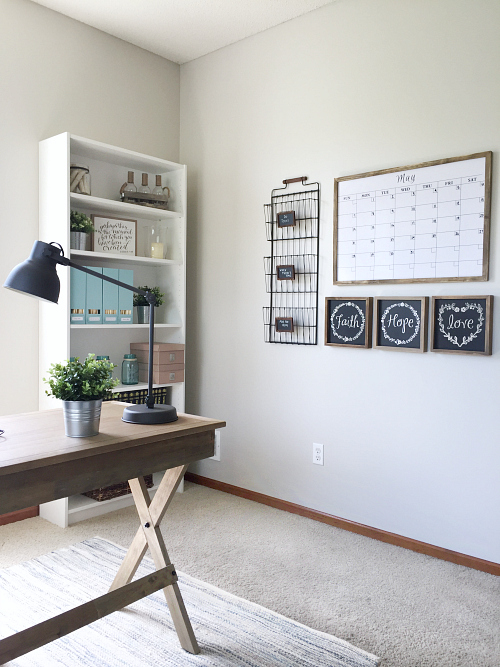 This is the space directly to your right when you walk in the doors. One of my goals was to create a command center. While I had thought of adding more, I realized this was all I really needed; a whiteboard calendar and a tiered paper holder… along with a couple framed words to make it pretty 🙂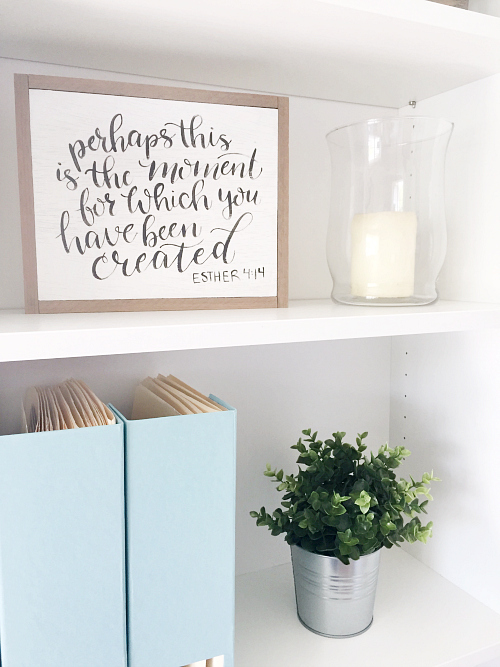 If you follow on Instagram, then you know the story behind that gorgeous (hand-painted) sign by Averie Lane Boutique. (Long story, short: I really wanted a sign like this, but I couldn't find any with a saying that I loved. I basically asked every blogger I know if they had (or knew of someone with) an Etsy shop that sells them, and Amber was not only willing to custom-make one for me, she got it to me in record time 🙂 )
When it came to a shelving, I decided to forego my original plan (to makeover some galvanized steel pantry shelves) and, instead, purchased some white bookshelves that fit the room much better. For filing, I decided to use magazine holders and store our files vertically. Loving the end result 🙂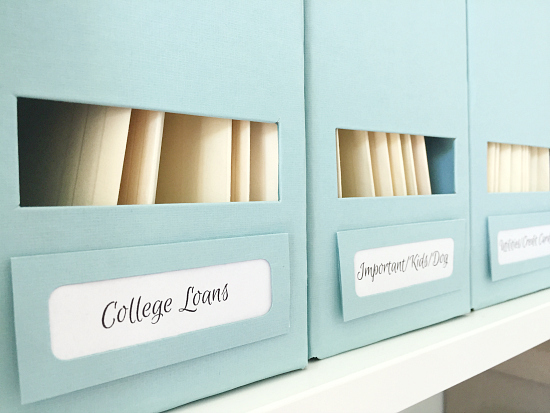 And the other bookcase…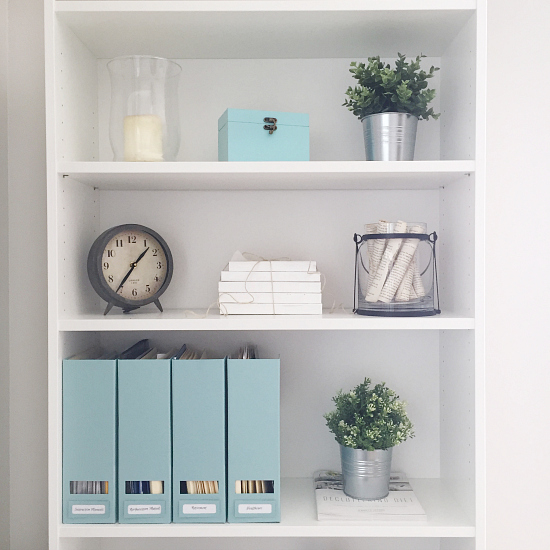 Moving on to the desk area…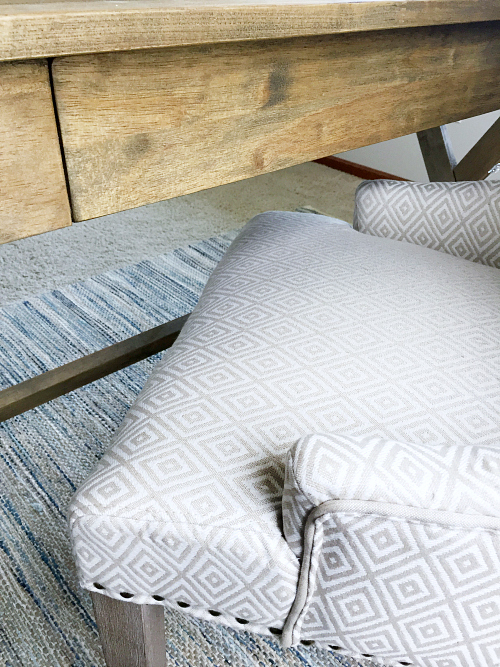 This chair was a last minute (yesterday) purchase. I had another one bought and assembled, but it just wasn't exactly what I wanted. Walk into Home Goods, and bam, there it was; and it was perfect.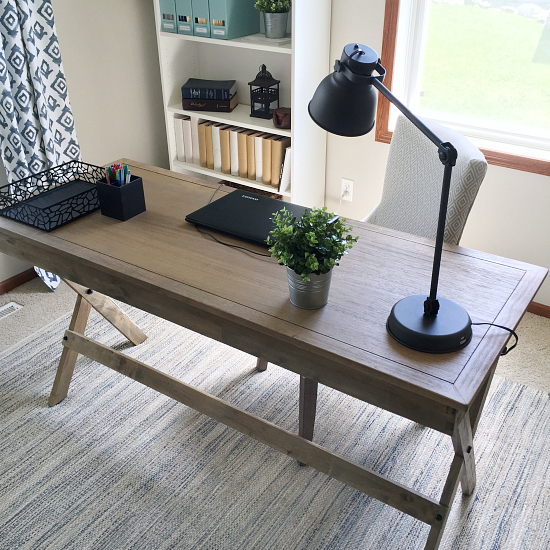 My view from the desk…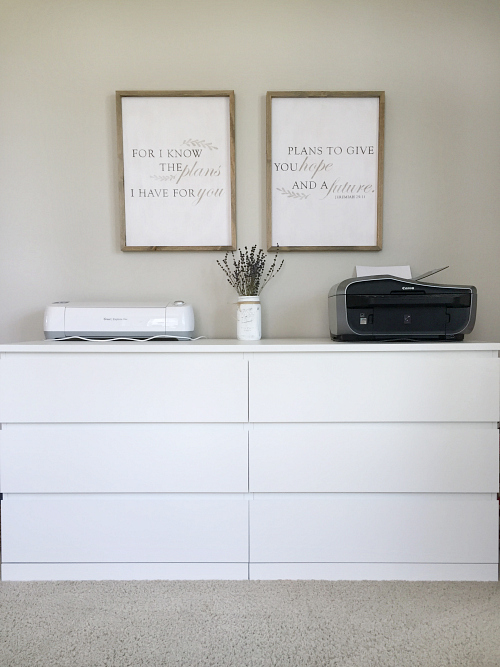 In order to create more storage, I purchased a 6 drawer dresser from IKEA (which I'm pretty proud to say, I assembled by myself 🙂 ) This also gives me a place to put the printer and Cricut.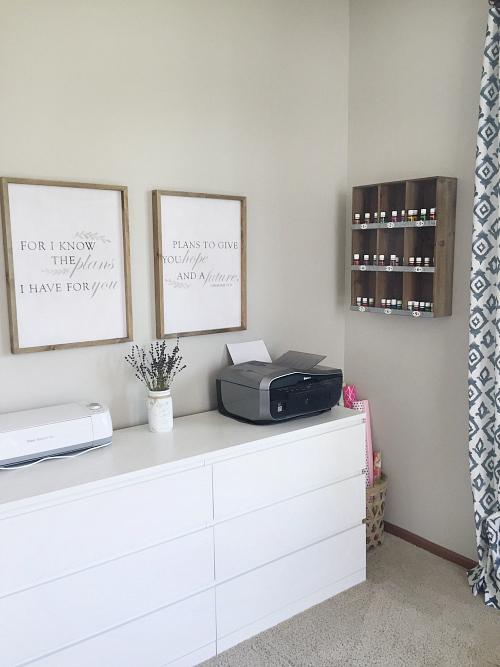 Just to the right of the "printing station", I have a numbered cubby to hold all my essential oils. (The cubby used to be in our cleaning closet, but it's too cute to keep behind closed doors 🙂 ) Below the cubby is a cute basket I found at Hobby Lobby to hold all our wrapping paper.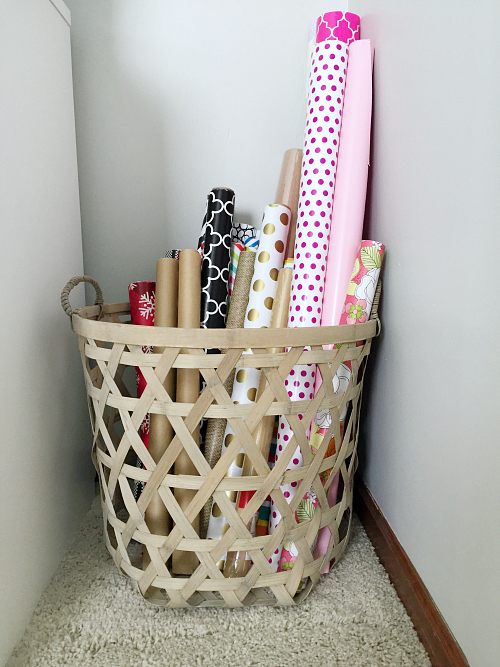 Let's talk curtains…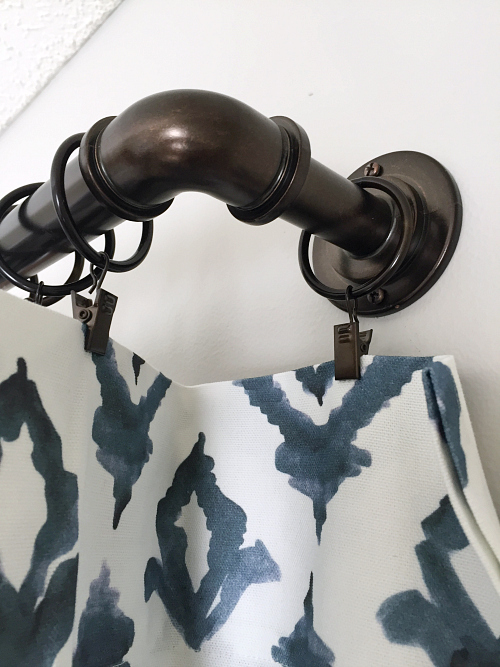 I love the bold pattern of these curtains from Minted… and while I love the industrial look of "pipe rods", I always thought they'd be really heavy to hang… No worries though… Target figured out how to make some great looking rods that I was able to hang myself.
Ready for a few more before and afters? Here you go!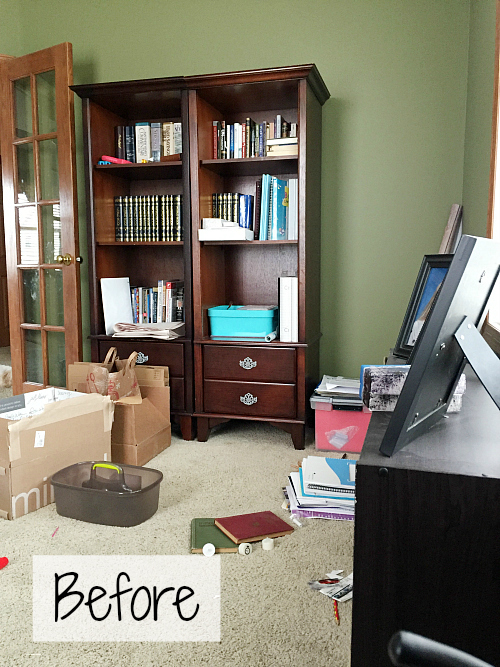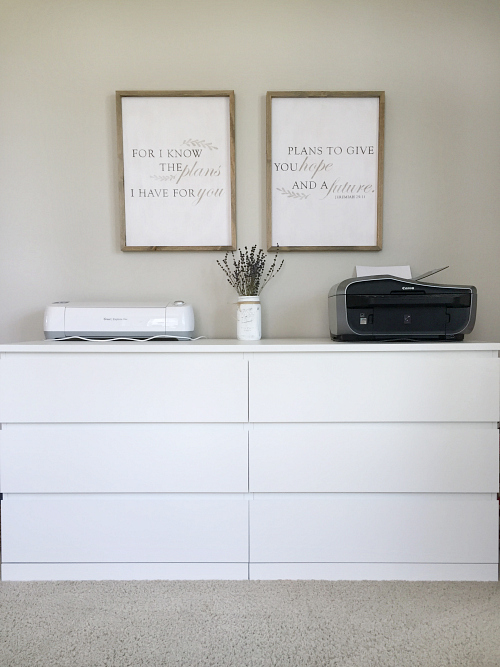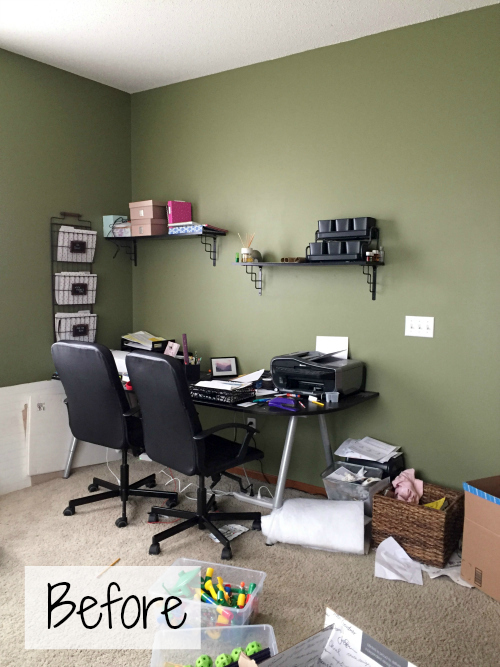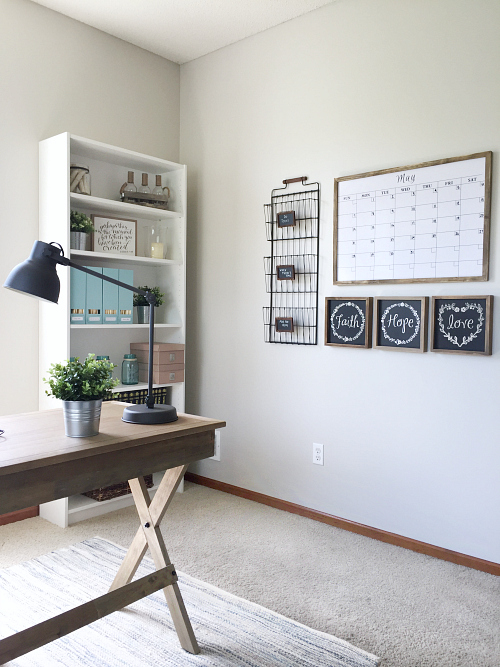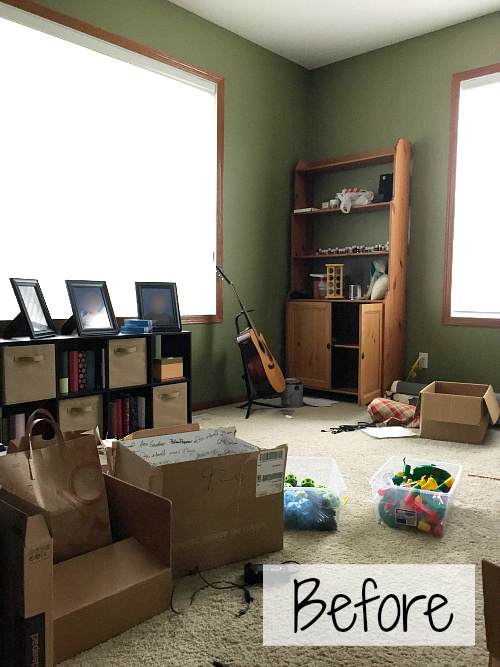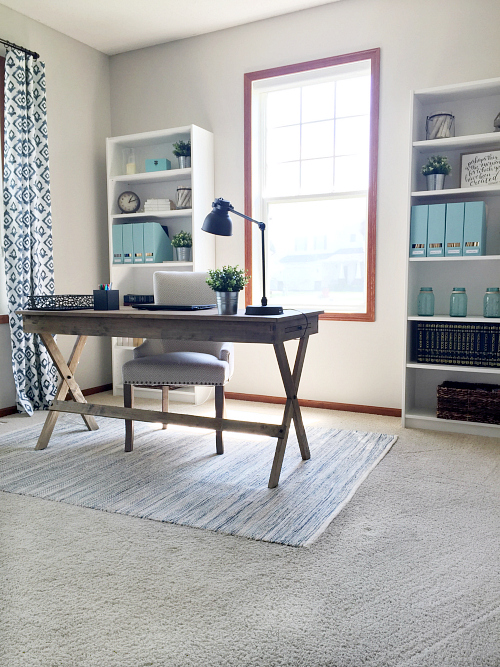 For a list of sources, scroll on down past the "Pinterest Image" 🙂
A special thank you to those that sponsored this office makeover! And thank you to Calling It Home for hosting this bi-annual event.
Love it? Pin it!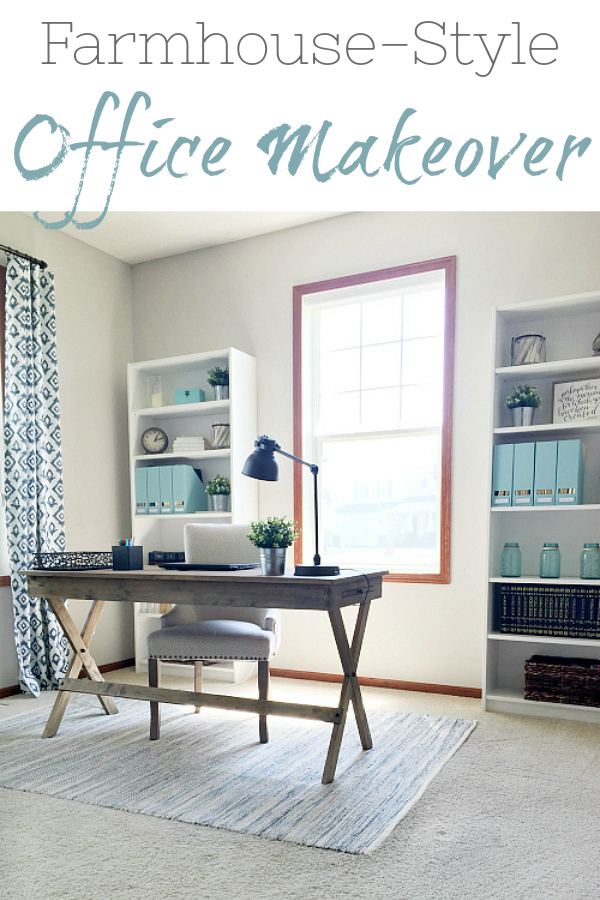 Sources For This Farmhouse Office Makeover
The Basics
Paint: Agreeable Gray– Sherwin Williams
Light Fixture: Franklin Park Metal Cage 12″ Wide Bronze Ceiling Light– Lamps Plus
Curtains: Moroccan Diamonds Curtains in Indigo– Minted
Curtain Rod: French Pipe Drapery Rod by Threshold™– Target
Curtain Rings: Curtain Clip Rings Set – Oil Rubbed Bronze – Threshold™– Target
Rug: Woven Rug by Threshold™– Target
Desk: Campaign Desk– World Market
Desk Chair- Home Goods
Dresser: Malm 6 Drawer Dresser– IKEA
Bookcases: Billy Bookcases (White)– IKEA
Bookcase Styling
Esther 4:14 Hand-Painted Wood Sign (Custom Made)- Averie Lane Boutique
Small Charlie Clock– World Market
Glass Lanterns- Discontinued at Target (Similar)
3 Twine Wrapped Glass Bottles in Wood Box- Michaels
Wicker Baskets- Michaels
Glass Hurricane Candle Holder– Hobby Lobby
SOCKER Plant Pot, Galvanized– IKEA
FEJKA Artificial Potted Plant– IKEA
Wall Décor
Numbered Cubby- Discontinued at Target (Similar)
3 Tier Wire Sorter- Home Goods (Similar)
Jeremiah 29:11 Wood Wall Decor Set- Hobby Lobby
Monthly Calendar Dry Erase Board– Hobby Lobby
Love Wood Sign // Faith Wood Sign // Hope Wood Sign- Hobby Lobby
Miscellaneous
HEKTAR Work Lamp– IKEA
Nest Paper Tray- The Container Store
Wrapping Paper Basket: Cannot Find Exact Item Online- Hobby Lobby