It's another $100 Room Challenge reveal! I love these days because it means another space in my home looks a whole lot better than it did a few weeks ago. This time, I took a space that was being used for holiday/gift supplies and transformed it into a cleaning closet. As always, let's take a look at where we started: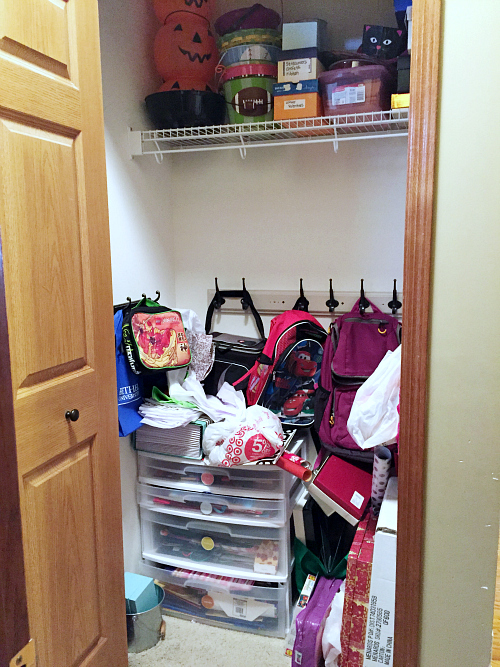 Yikes! Total disaster! My first goal was to clean out the closet… which I did. Then, I wanted to do something fun with the walls. My original plan was to create a wallpapered look with a stencil, but, alas, I didn't hear from the company I reached out to, so no stencil. I did, however, paint the closet using leftover paint from the kids' bathroom. My next goal was to remove the wire shelving and replace it was something simple and practical. This was accomplished last week… and speaking of last week, do you remember how I had a whole lotta stuff to create with, but nothing was actually done? I created a guessing game of sorts, and here's the answer key:
I really wanted something to hold my mop and broom. I started by looking at items similar to this on Amazon, and while they certainly look like they work well, I wanted something a little "cuter". So I grabbed a piece of barn wood, hooks, and suede.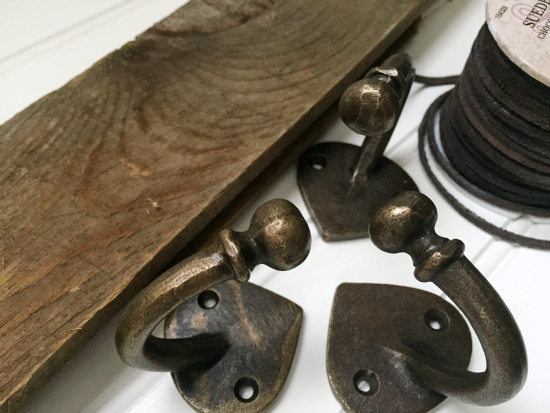 And here's what I ended up with: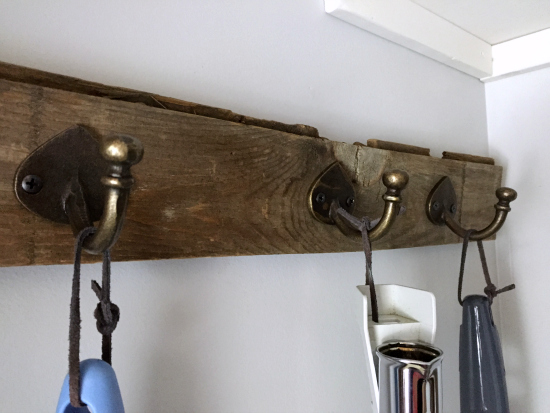 Great job to Sharon for getting this one right in the blog comments, and to jackiemcgrail42 for the right answer on Instagram!
While this wasn't actually a goal from week 1, I always think things look better when they are in similar containers, so I headed out and bought mason jars and twine. I momentarily thought of buying scrapbook paper, but realized a paper bag would suffice, (You know, save myself 29¢. 🙂 )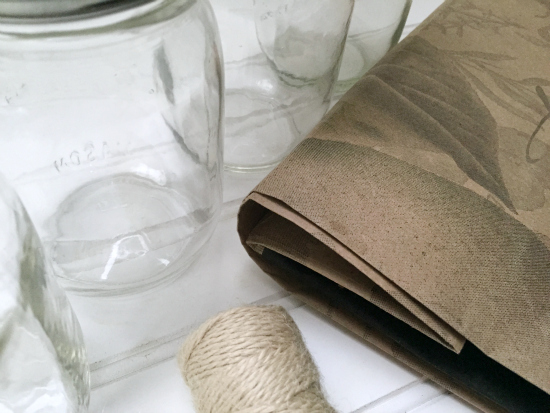 If you're an Instagram follower, you got a sneak peek at this project: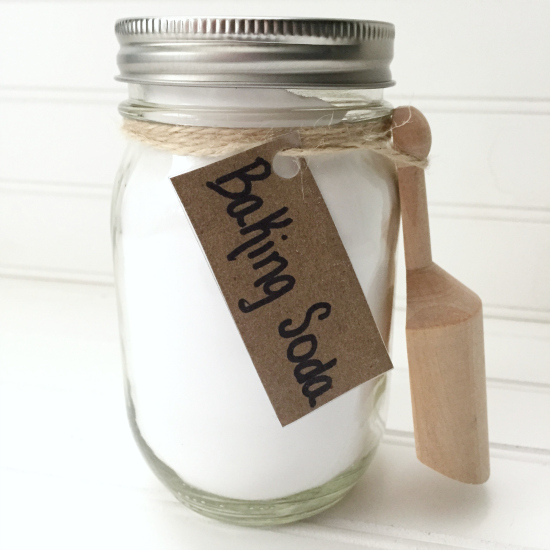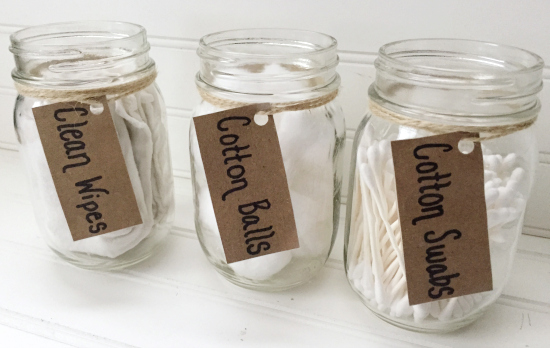 Congratulations to Jenni for getting this one right in the blog comments, and to jackiemcgrail42, on Instagram. She got this one right as well!
To go along with the cute mason jars, I found some plastic containers to store many of the liquids I use to make my DIY cleaners. Add a fun label, and I was set. Are you following on Instagram? Because this was another sneak peek over there.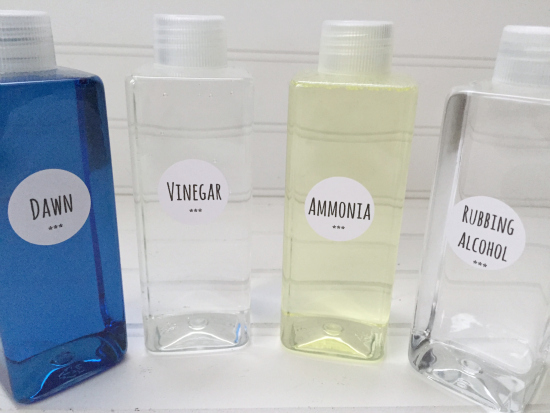 But seriously, you can't have cute containers without a cute dispaly, right… This was the biggest splurge I've ever made doing these $100 Room Challenges:
The last picture was this one: cardboard, binder clip, and scrapbook paper.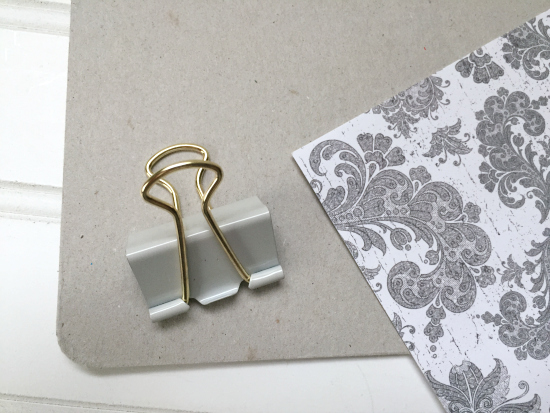 And here's the end result: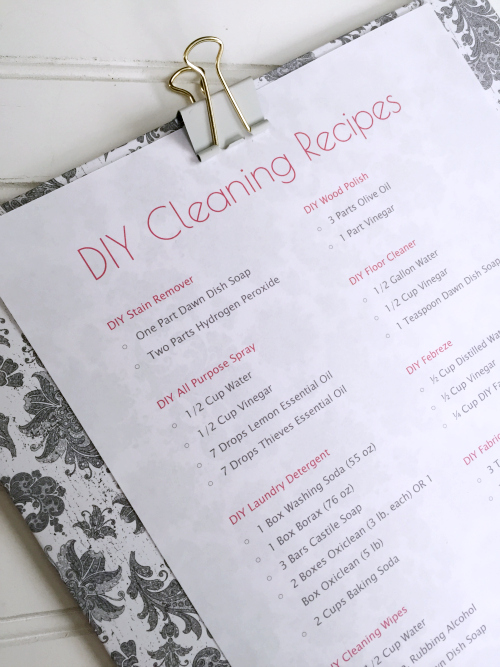 Great job to Annette for getting this one right in last week's blog post!
Can you believe that I actually go to my own blog to get my cleaning recipes? I have serious memory issues. I love that they're all here for me to find, but I wanted a quick reference, so I DIYed myself a clipboard and created a DIY Cleaning Recipes List to clip on it. Want a copy for yourself? Here you go! DIY Cleaning Recipes Printable
The very last goal I had was to get the jumbled up vacuum hose off the ground. My first thought was a hose reel type thing, but the ones I found would stick way out from the wall. When I was asking my hubby for advice, he says, "I think we have the mount down in the basement." Good to know. I took it off the wall in the basement and it's now in my closet. Perfect.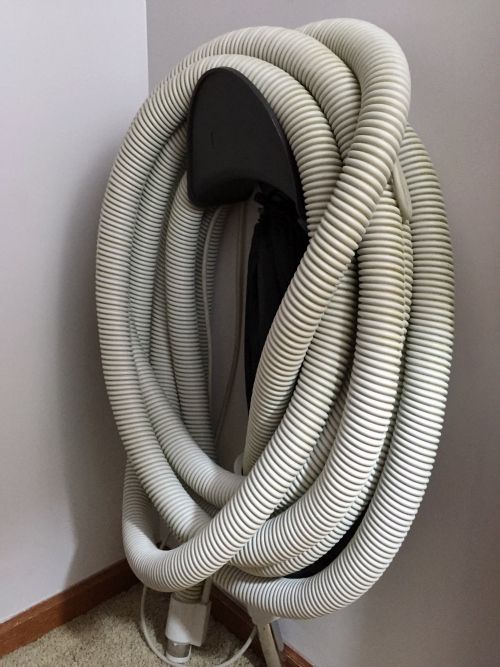 I know… get to the reveal already! Let me introduce you to my new cleaning closet! (P.S. Photographing a closet of this size is no small task, so bare with me.)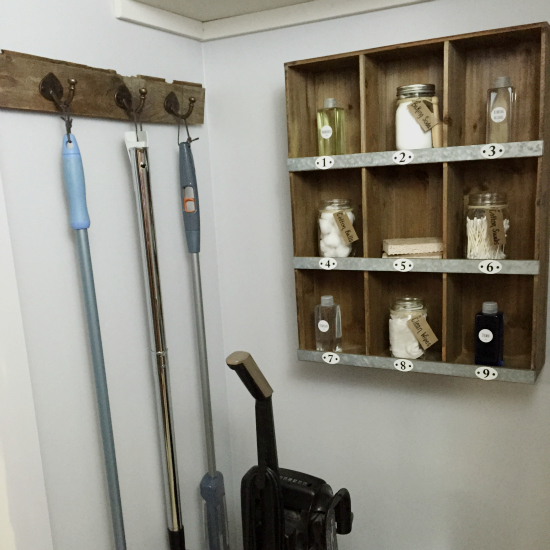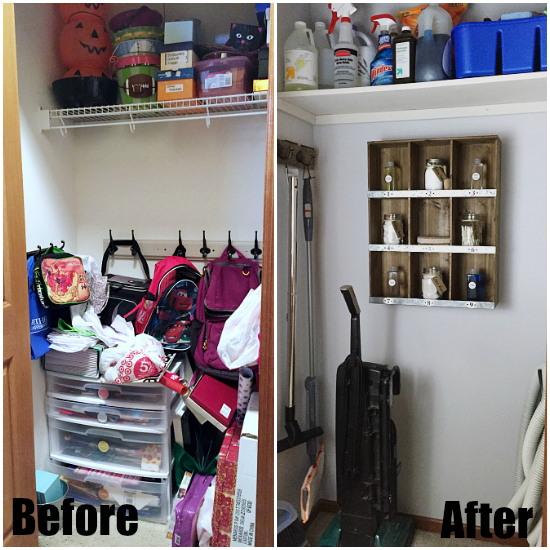 The Budget
We left off last week having spent $48.01. Here are the final expenses:
Plastic Containers for Liquid Cleaning Products x2 packages: $3.98 ($1.99 for each package of 2)
Drywall & Stud Anchors: $1.49
D Rings: $2.99
9 Hole Wall Cubby (similar): $42.75 (After 5% Redcard Discount). This was a last minute splurge. I actually had wire baskets that I was trying to make work on the sidewall. I wasn't super happy with them, but they had only cost $6.00 total. Then, of course, I head over the target.com and see this. I loved it. Bought it. And hung it up. Good thing I'd been so frugal up to that point!
Total Spent: $99.22! Whew. 78¢ under budget!!!
Another $100 Room Challenge on the books.
Enjoy the rest of your week!
Erin
Week 1 // Week 2 // Week 3 // Week 4
Want to Follow Along with Lemons, Lavender, & Laundry?
Subscribe!
Social media more your style?
Facebook // Pinterest // Instagram // Twitter