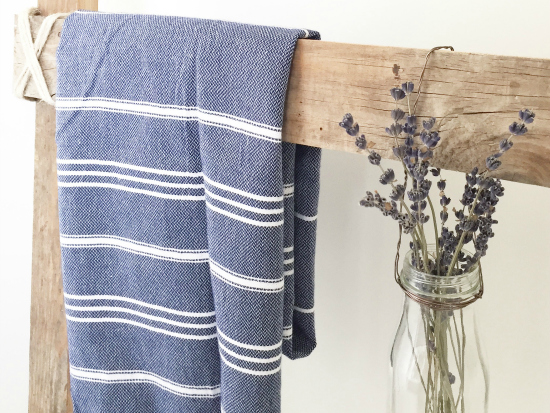 It's heeere! Reveal day! For those just joining in, during the month of March, myself, along with a couple dozen other bloggers, took on one room in our homes and gave it a makeover… with $100. (You can read more about the $100 Room Challenge here.) I decided to work on our master bathroom and it looks nothing like it did a few weeks ago. I can't wait to show you!!!
I always start with a before picture, so here it is: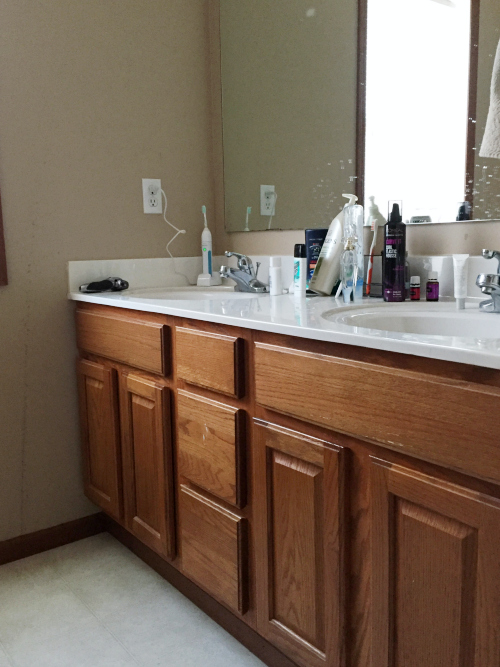 This bathroom was builder-grade beige and boring.
And here's what it looks like today: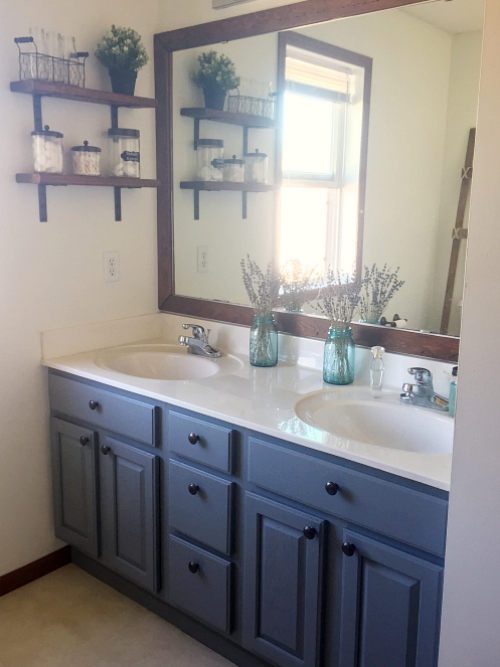 Let's see how we got to this point… and there's a whole lot more before and afters to see as we go.
Goals
Here were my goals from week 1:
1.) Paint the Walls and Vanity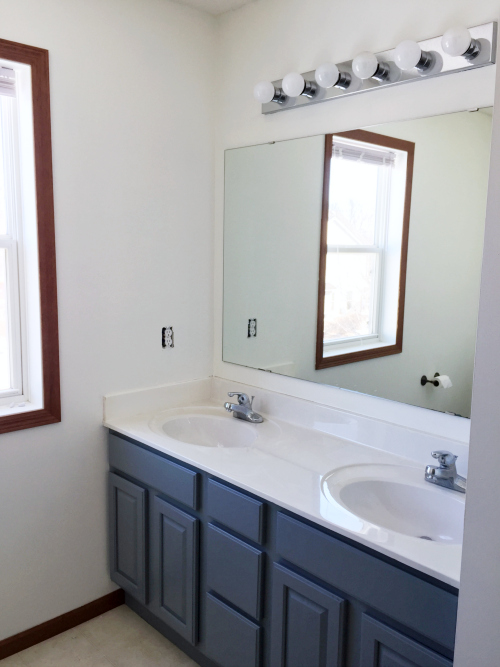 Week 2 was all about painting the vanity. It was much easier than I expected, and I discovered that I love painting "furniture". It made such a huge difference in the room. Week 3 I got those walls painted white, which brighten up this space so much. This past week I added knobs to the vanity. If you are an Instagram follower, then you know that I used my first power tool drilling holes for these knobs. It did not start out well. However, I didn't let it stop me. I pushed through, and here's where everything ended up. (Don't mind the messy counter top… it's gotta get messier before it gets better 🙂 )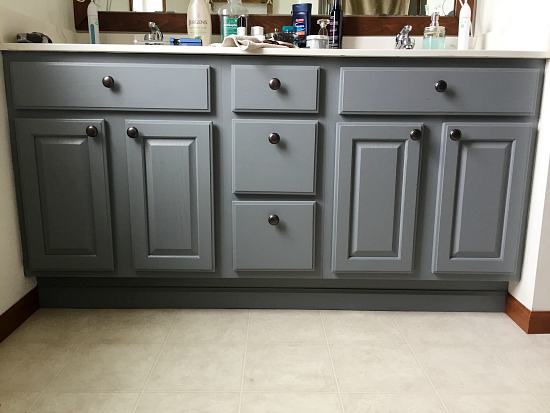 I know most pictures read the vanity color as more blue, but this one shows you how gray it appears. Maybe it's bluer on bright, sunny days and gray-er on cloudy days? I'm not sure.
2.) Shelving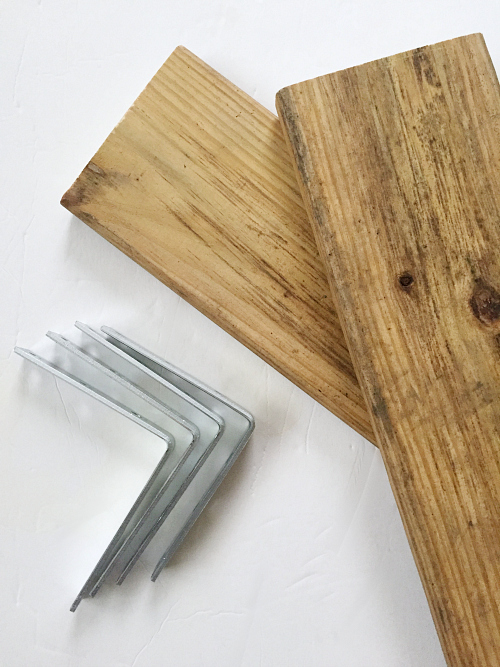 This was a project that was completed this week. We had to keep on budget, so we shopped the "leftovers" at our local hardware store. We got 2 pieces of wood for $1.90 (Yep. Ninety-five cents each.) Then, instead of buying shelf brackets, we bought corner braces and spray painted them with Oil Rubbed Bronze spray paint. Using some drywall anchors, we screwed the braces into the wall and wood (after staining); and we had ourselves two shelves. Total cost for both shelves? $10.50.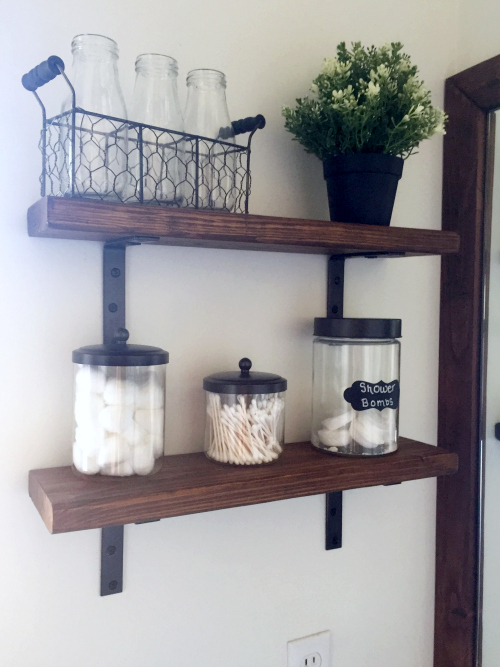 3.) Storage/Decor Around the Toilet
Last week, I shared this rustic ladder addition. I love the weathered barnwood with the twine accents, but it was definitely plain. I bought a few accessories this week, and if you are following on Instagram, you already got a sneak peek. Here's what it looks like now: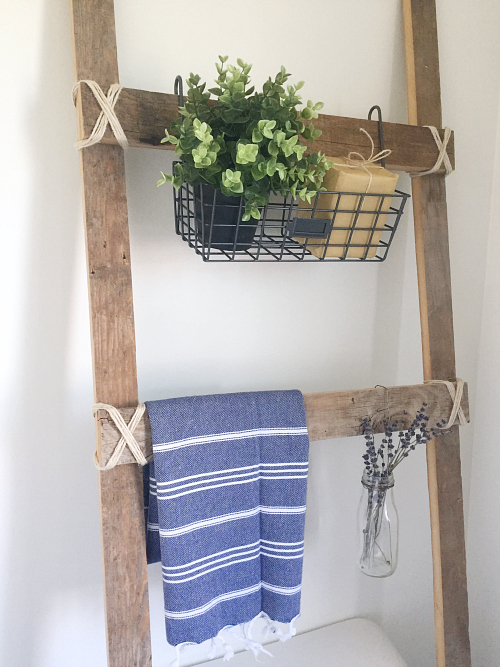 4.) Frame the Mirror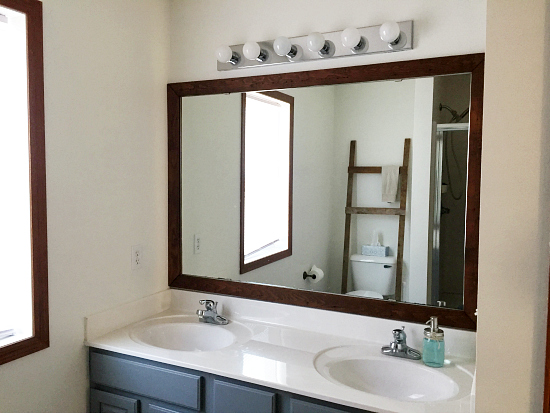 Our poor mirror was so plain, so last week, my husband created a frame out of barnwood, and we got it installed. Love how it turned out!
5.) Wall Decor/Art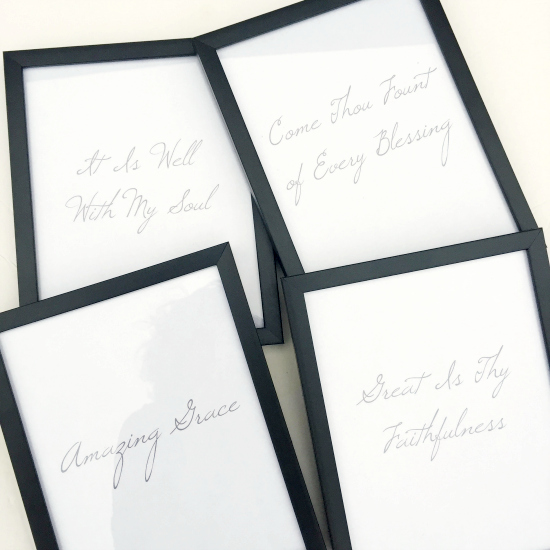 I started out with the idea of framing some free botanical printables I found on Pinterest, but whevn they printed, the coloring was really weird, and I was not loving them. I decided to keep searching my Pinterest Printables Board and found a few hymn lyrics that I liked; but when printed, they didn't look cohesive. Time to try something on my own. I played around in PicMonkey, and found a font that was perfect. I ended up going simple, and I love them.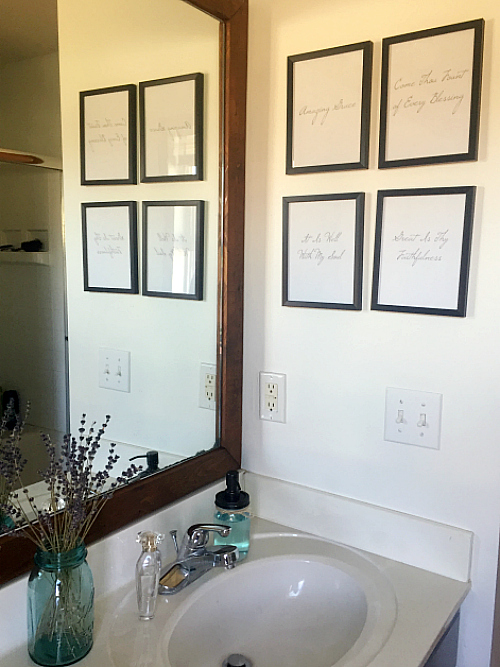 Here are a few more before and afters…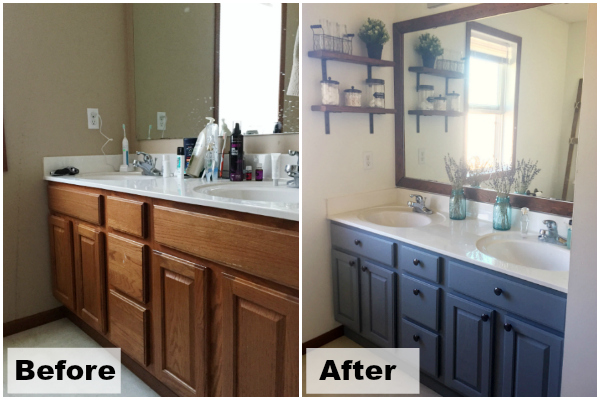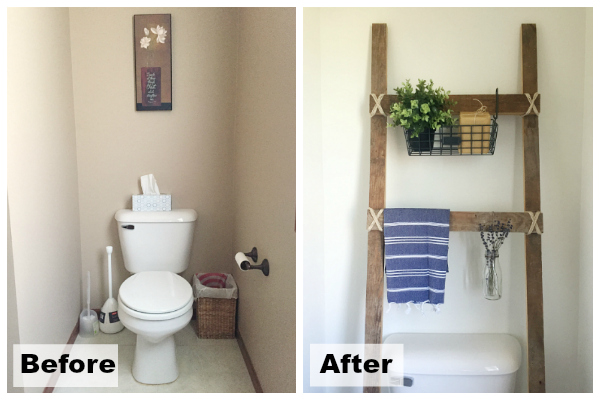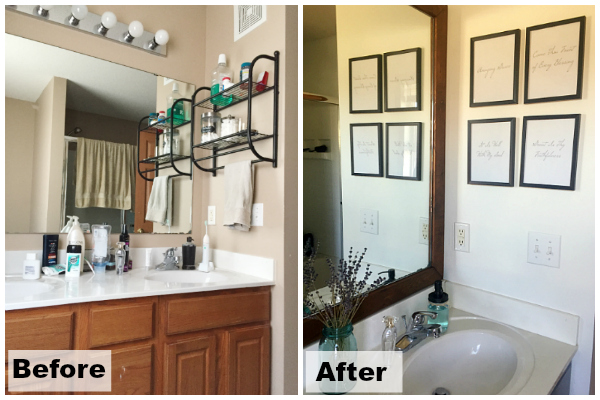 The only thing that didn't get done was the addition of a towel hook under the shelves. I actually have everything I need to make it (a pallet I got free from a Facebook group and a hook I removed from our cleaning closet makeover), but time just didn't allow for it.
Final Budget
Last week, I had spent a total of $40.68. Let's take a look at this week's purchases:
Shelves: $10.50
Hymn Wall Gallery: $2.00
Frames x4- $2.00 (These would typically cost $4, but because you cannot return anything to the Dollar Tree, only exchange, I made a return for my husband and exchanged the two locks he'd bought for the frames… Is that cheating? )
Accessories: $48.44
Vanity

10 Pack of Knobs for the Vanity– $17.38 (After 5% discount for using my Target Redcard)
Package of Screws- $1.18 (One drawer had a double layer of wood, so I needed the knob screw with a flat head. Ugh. Had to buy a pack of 8 for one little screw 🙂 )

Rustic Ladder

Turkish Towel– $10.41 (This price has gone up a bit since I bought it)
Wire Basket for the Top Rung of the Ladder- 12.99
Wire to Hang the Milk Jar- $1.49 (After applying a 40% off coupon)
Milk Jar- FREE (Secret: I keep Starbucks Frappuccino bottles and reuse them for decor 🙂 )

Shelves

Chicken Wire/Milk Jar Container- $4.99 (On sale for 50% off at Michael's)

Remainder- FREE (Shopped my house)
Total Spent: $101.62
Just a little over budget.
Make sure to check out all the reveals using the link-up below! And if you want to win $100 to try your hand at this challenge (or to buy a new pair of shoes 🙂 ), pop on over to my Instagram account and enter the $100 giveaway.
Enjoy the rest of your week!
Erin
Week 1 // Week 2 // Week 3 // Week 4 // Week 5
Want to Follow Along with Lemons, Lavender, & Laundry?
Subscribe!
Social media more your style?
Facebook // Pinterest // Instagram // Twitter
Love it? Pin it!