This post on purse organization has compensated by Collective Bias, Inc. and its advertiser. All opinions are mine alone.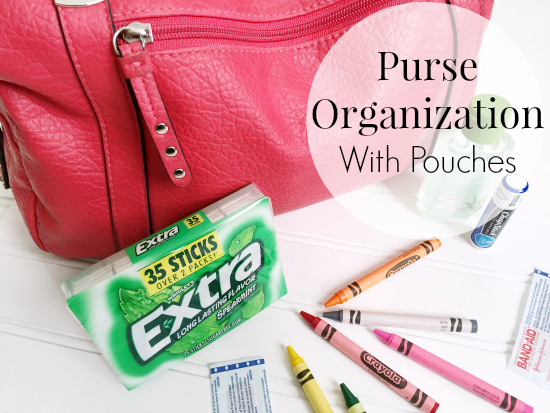 Not long ago, I emptied my purse out on the floor of my living room. The stuff I discovered hiding in there was nothing short of ridiculous: a hot pink kazoo, a plastic "spy watch" (gotta love kids' meals, right?), gum wrappers, and a slip of paper explaining how to finger knit. It was time to organize. If you find yourself in a similar situation, I've got some ideas for getting your purse back in order.
The first thing you need to figure out is what you do want in your purse, and once you have that figured out, grab some pouches. (I decided to go with clear pouches so I could easily see what was in each one, but mesh or fabric pouches will do a great job as well.) Now you can create a "category" for each pouch. Everyone has unique needs, so I've put together a couples ideas for you to start with, and you can certainly expand upon them if you wish.
Organize Your Purse with Larger Pouches
Kids' Activities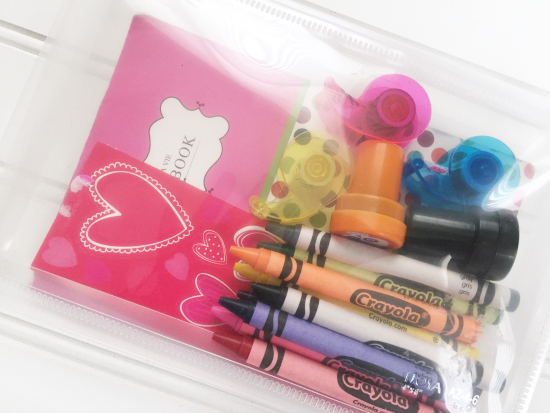 If you are ever in the doctor's waiting area for hours… and hours, then you are very familiar with the phrase, "I'm bored." If you have ever been on a car ride lasting longer than 2.4 minutes, you are also familiar with the term, "I'm bored." In an effort to minimize this particular statement, I created a pouch to include a couple kid-friendly items: a small notebook, a few crayons, stickers, rubber stamps, and small patterned tape dispensers.
Freshen Your Breath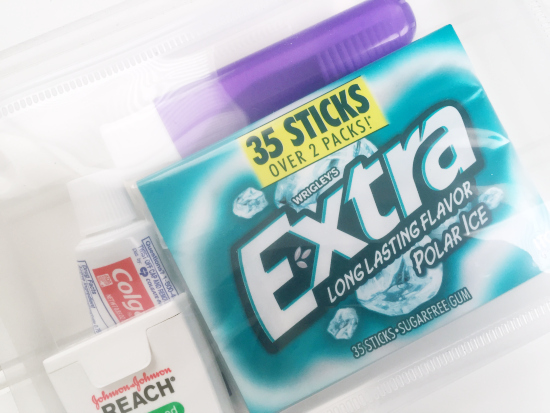 Have you ever been out to an Italian restaurant: garlic enhanced salad dressing, garlic bread, garlic sauce, garlic, garlic, garlic? While delicious, it also makes you kinda want to need to freshen your breath. For this pouch, I included a small tube of toothpaste, a travel toothbrush, dental floss, and new Extra® 35-stick packs of gum. The reason I love this particular gum is because it has durable packaging, so gum isn't falling out all over my purse, and there's 35 pieces of gum in it… enough to share with all your friends that just ate chicken fettuccine with you.
First Aid Kit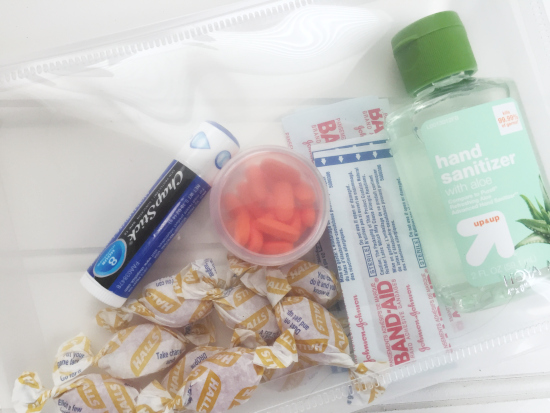 Although I certainly don't consider myself overly concerned about germs, I do want my kiddos to apply hand sanitizer after petting animals at the zoo. And how many times have I dealt with a cut or scrape at the park? I'm sure it's something like 527. This little pouch holds a few "medical necessities": Band-Aids®, pain reliever, cough drops, lip balm, and yes, sanitizer.
Writing Materials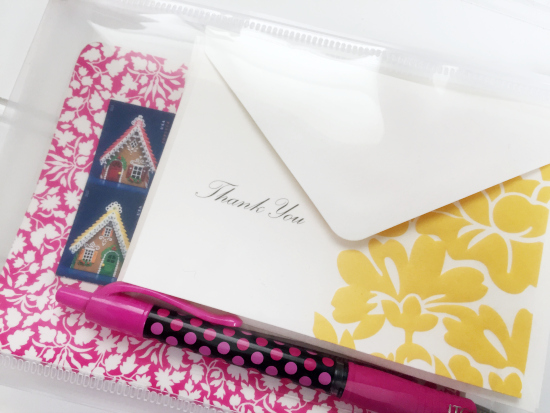 I constantly think of ideas while I'm out-and-about, so I carry a notebook and pen in my purse, but I decided to add a couple things to this pouch, so I am ready for anything: a couple thank you cards, envelopes, and stamps.
Organize Your Purse with Smaller Pouches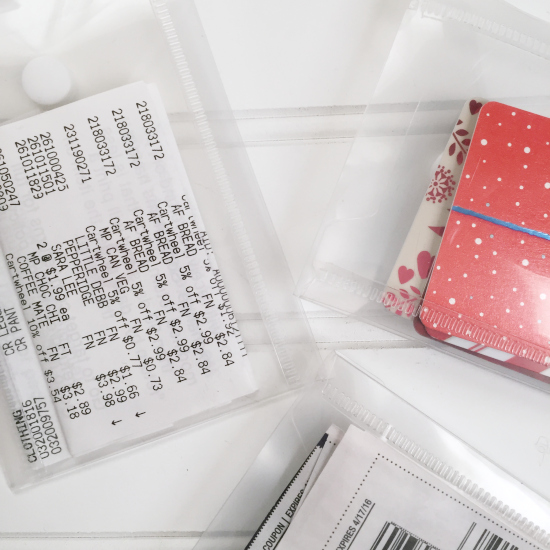 I also bought a few smaller pouches to hold gift cards, receipts, and coupons.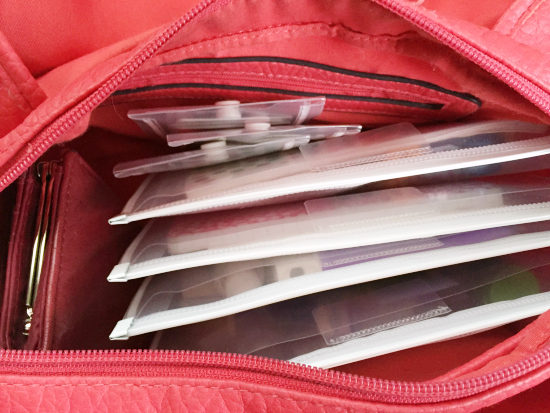 So much better! … and, no, I didn't keep the hot pink kazoo 🙂
Want to Follow Along with Lemons, Lavender, & Laundry?
Subscribe!
Social media more your style?
Facebook // Pinterest // Instagram // Twitter
Love it? Pin it!