This post on Easy Menu Planning has been compensated by Collective Bias, Inc. and its advertiser. All opinions are mine alone. #OrganizeWithBrilliance #CollectiveBias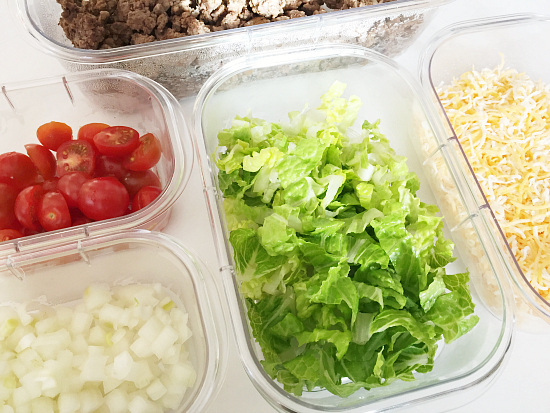 Menu planning. Some people love it. Some people hate it. I happen to be the latter category. However, over the years, I have tweaked my menu planning process, and found a few strategies that have made menu-planning a whole lot easier. When I implement these ideas into my life, everything runs a whole lot smoother come 5:00.
Menu Planning Made Easy
Plan Out An Entire Month of Menus
Alright. Alright. I know. Planning a month's worth of menus can feel a little overwhelming, especially if you don't enjoy the planning process. But think about it: If you are able to come up with 20-25 dinners in one sitting, you don't have to think about it again for another month… and that sounds amazing. Here's what I do to keep my menu-planning process organized…
What You Need As You Plan Menus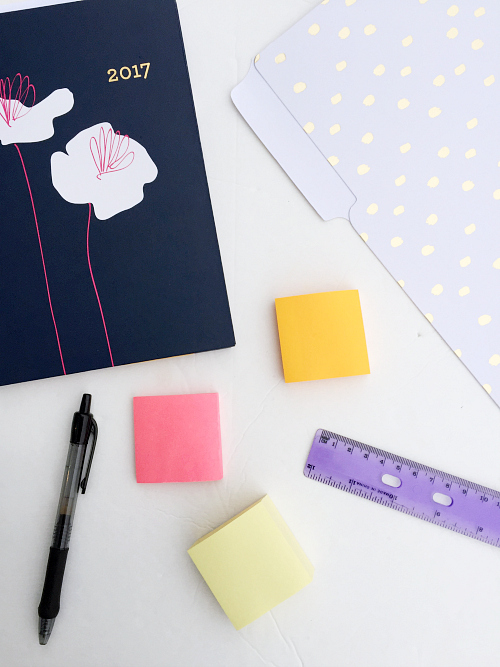 File Folder (I chose to use 2 page dividers since I am storing my meal plan in a 3 ring binder)
… and probably some recipes and/or cookbooks for inspiration
How to Menu Plan for a Month
Start by figuring out how many nights a week you need to make dinner. I typically plan for the just the weekdays since Saturdays are "date night" (and by "date night", I mean getting take-out and binge-watching Netflix) and I work every-other Sunday evening. Your life may look different, so think about your "average week" and plan accordingly.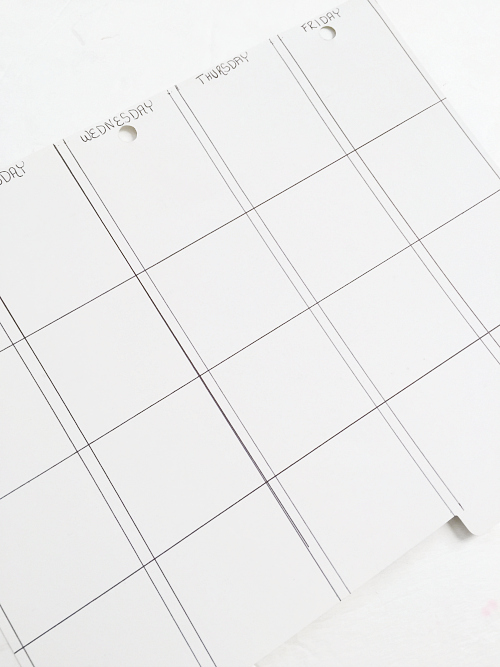 Grab a file folder. It doesn't have to be anything fancy; a simple manila file folder is fine. Inside the folder, create a blank calendar (according to your needs) for menu-planning.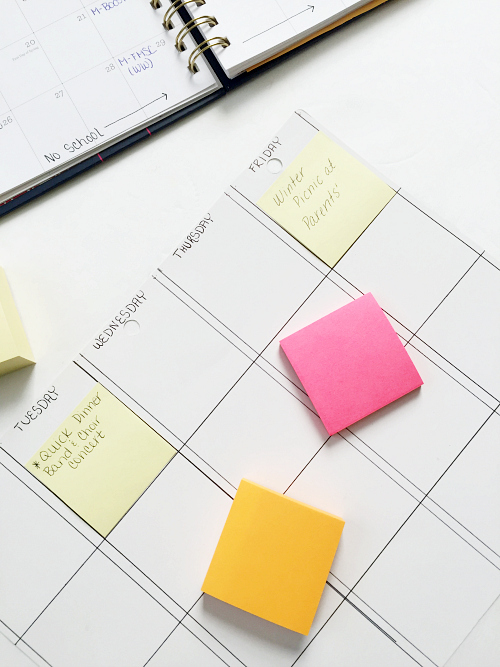 Now grab your family planner/calendar and some sticky notes. Start by marking off dates in which you already have dinner plans, as well as dates in which a quick dinner is required due to evening activities. By using sticky notes you can reuse this same file folder month after month.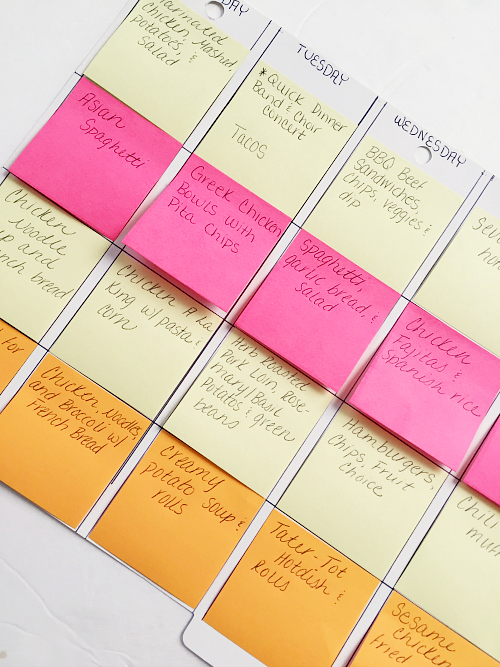 Once you have your scheduled dinner plans marked off, start to write down menu ideas on more of the sticky notes. Remember to include quick meals for nights that are busier, and save those requiring more time for nights in which your evening is open.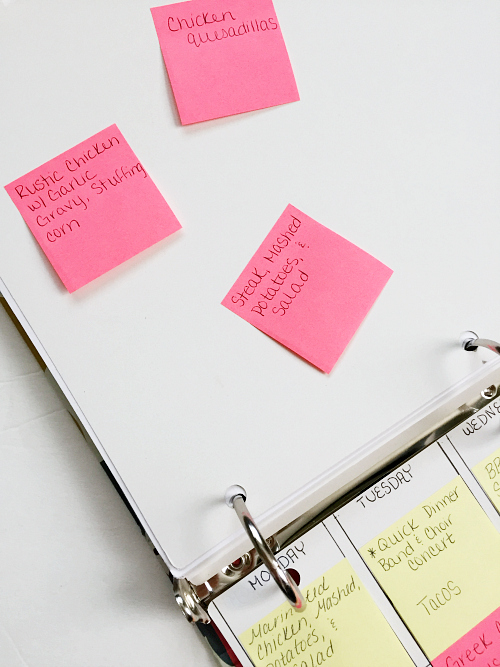 Stick all those meal ideas on your calendar, and keep it somewhere with easy access. Because you are using sticky notes, you can easily change around the meals to work with any schedule changes. If there are some meals you didn't get to, you can reuse them the next month. Keep your favorites forever cycling by sticky them to the top of the file folder for continued use.
Write Down Ingredients to Make Grocery Shopping A Cinch
When planning your menus, make sure to write the required ingredients on the sticky note as well. This saves a ton of time when it comes to making your grocery list. If you head to the grocery store once each week, make sure you have all the ingredients needed for the whole week of meals. Writing the ingredients as you plan provides you with a list of what you need so you don't have to search for the recipe come shopping day.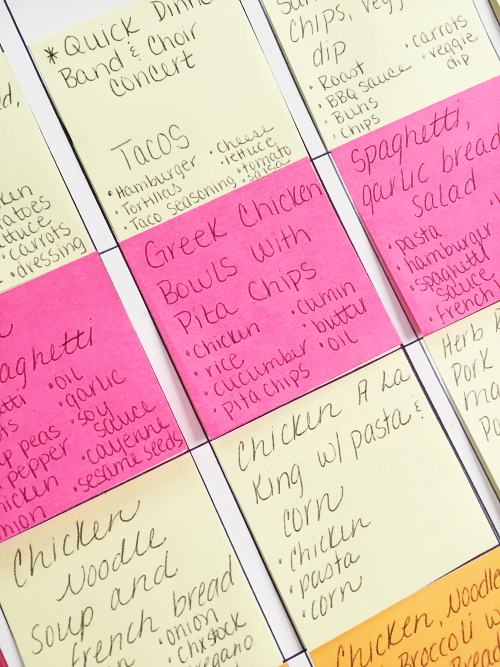 Pre-Prep the Food
Taking a few hours to prepare food for the week can save you a ton of time each night. Instead of browning hamburger for tacos one night, and spaghetti another night, brown all the hamburger at once. Grab a package of chicken breasts and throw them in the slow cooker with a few seasonings. Once done, shred the chicken and use it for soups, sandwiches, casseroles, etc. Chop up veggies for salads, soups, stews, etc. all at once. It's a game-changer.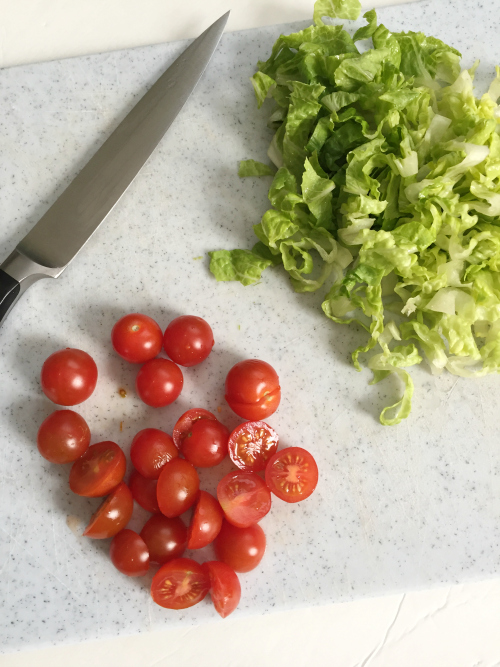 To store food for the week, I use Rubbermaid®'s BRILLIANCE™ 10 piece set. They are clear, which makes finding what you need super easy.
… and they stack perfectly on top of each other, saving space in the fridge.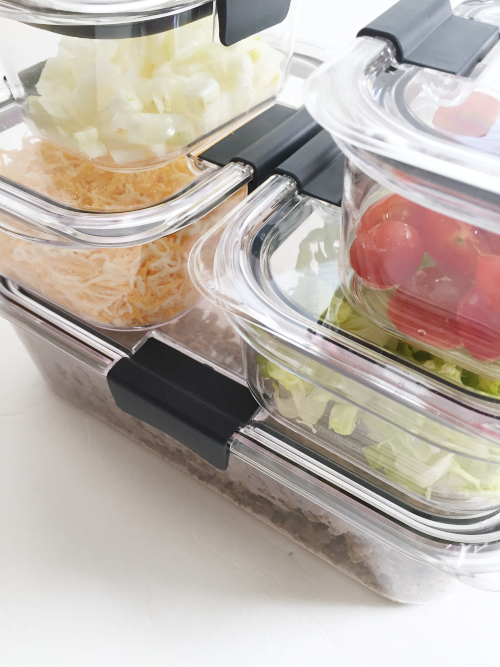 They are 100% leak-proof (guaranteed), which make them perfect when marinating steaks or storing soups, sauces, or dressings. ('Cause who has time to be cleaning up spills? Not this girl.)
Use them to store leftovers as well. Just open the clasps on the sides to allow the containers to vent properly, and heat in the microwave for splatter-proof cooking.
Have you found some helpful tricks to make meal planning easier? I'd love to hear them!
Want to Follow Along with Lemons, Lavender, & Laundry?
Subscribe!
Social media more your style?
Facebook // Pinterest // Instagram // Twitter
Love it? Pin it!