Many of us have outdated vanities living in our bathrooms. While some may love the look of oak, others are looking for a way to update. Check out exactly how I did a quick vanity makeover for less than $25.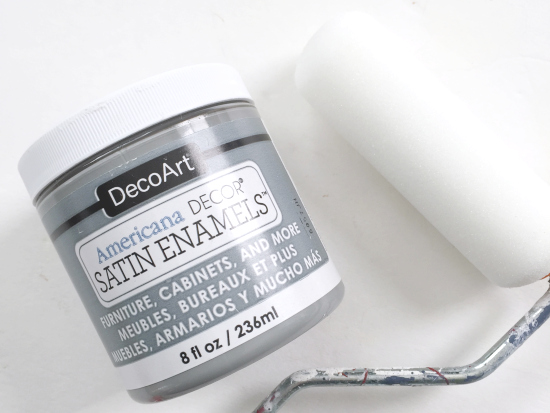 Did you guys see all the rooms that are getting their $100 makeovers this month? There are bedrooms, and bathrooms, and a whole lot of craft rooms. I cannot wait to see what happens. If you are new to this challenge, let me briefly explain: Myself, along with (approximately 25) other bloggers are taking one space in our homes and giving it a makeover, but there's a catch: Everyone can only spend $100. (To read more about this challenge, click here.)
Last week, I shared my plans for our master bathroom, and this week I'm going to change those plans; not all of them, but some. I headed out to buy some satin enamel paint for our vanity makeover, and I literally stood in Hobby Lobby for about 45 minutes trying to figure out whether to go with "Dark Denim" or "Smoke Grey" My original plan was to go with a navy, but it was bluer than I wanted… so I went with gray. This, however, changes my wall paint plans. Originally I was going to use some free paint I had leftover from our master bedroom makeover, but I don't think the color is going to work with this new vanity color… plus, I now remember that it was a flat paint, which is no good in a bathroom anyway. So, now I'm shopping whites… Did you know there are, like, 7,148 different whites in the world of paint?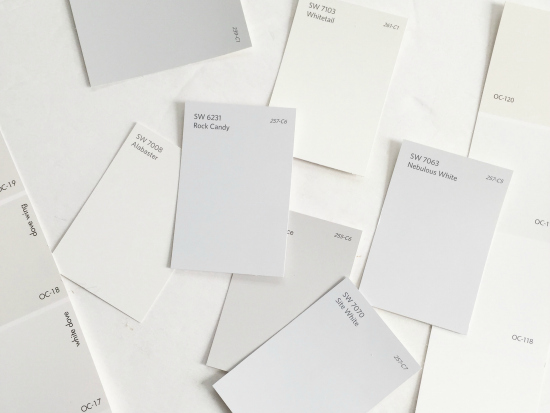 I have never painted a vanity. Never. I have never even painted a piece of furniture… except with spray paint 🙂 . So if I can do this, so can you. When we did the $100 Room Challenge in January, Meredith, from The Palette Muse, shared how she redid her vanity with satin enamel paint. It is cheap, and I'm thinkin' I can probably handle this.
Let's start by taking a look at where we started.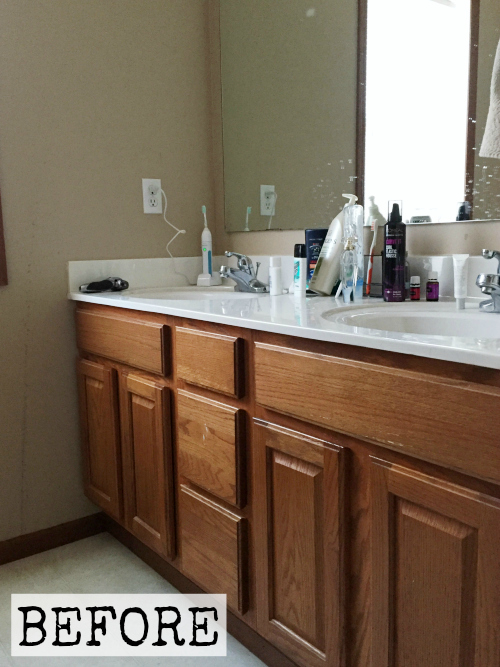 What You Need to Paint A Vanity
Affiliate links may be used. Please see our advertising disclosure for more information.
I am a person that likes a lot of pictures and details, so I'm going to walk you through the process, step by step.
How to Paint a Vanity
Removing the Doors and Drawers
In order to get the best results, you need to remove the doors and drawer fronts on the vanity.
When doing this, remember to mark everything. Label every door and drawer with the correct location, and also place the hardware into Ziploc bags, labeling them as well.
Cleaning
Once you have the doors and drawers removed, you need to clean the areas you plan to paint. I can see some toothpaste splatter on the second drawer, and there's really no need to preserve that in paint. I have heard that TSP is the way to go when cleaning cabinets for painting, so that's what I got.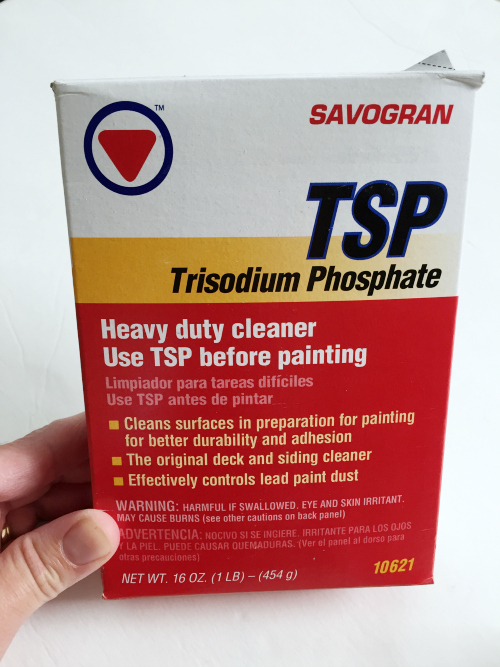 Following the directions on the package, I mixed 1/2 cup TSP with 2 gallons of hot water, allowing it to dissolve. It is recommended that you wear gloves, long sleeves, and eye protection… so, that's what I did. (And by eye protection, I mean I wore sunglasses, 'cause I couldn't find our real eye protection glasses. I'm sure I looked awesome 🙂 ) You simply wash everything down with the TSP mixture, and then wipe it down with clean water.
Sanding
The next step in the process is to lightly sand the vanity, along with the doors and drawer fronts. This allows for the paint to adhere better. After sanding, I did another wipe-down with a damp sponge to remove any dust, and made sure it dried before painting.
Painting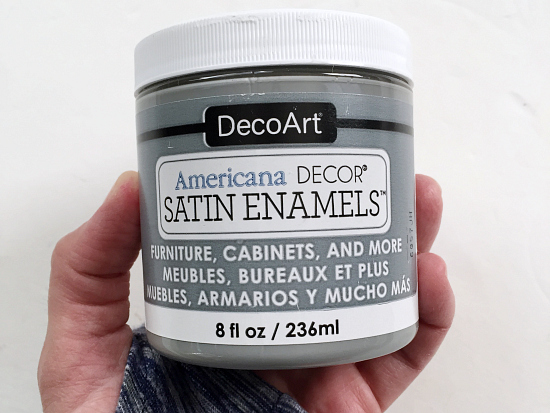 As mentioned above, I bought satin enamel paint. You can use a foam roller or paint brush for applying the paint, but because I don't like brush strokes, I chose the foam roller. For the nooks and corners, I used a small paintbrush. I ended up applying 2 coats of paint, allowing it to completely dry between applications. Prior to the second coat, lightly sand one more time with a high-grit sandpaper. One thing to note is that if there's too much paint on the roller, you get little bubbles. If this happens to you, gently roll the roller over the area. I when I say "gently", I mean with the softest touch possible. Then allow everything to dry.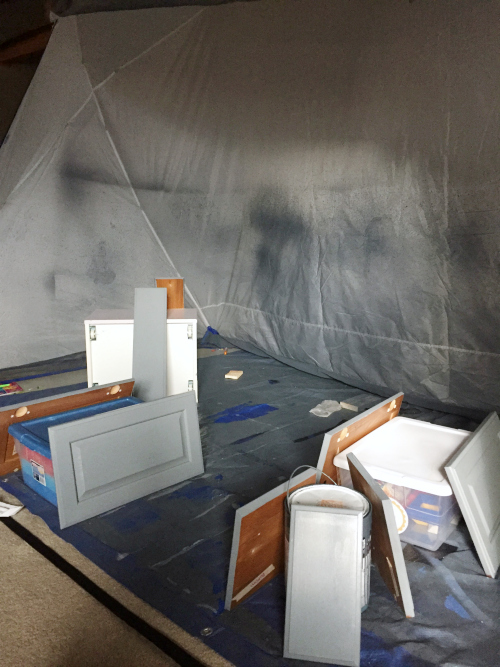 … here are the doors and drawer covers propped up on various totes full of toys, in our basement (where we have a spray shelter set up for the winter 🙂 ).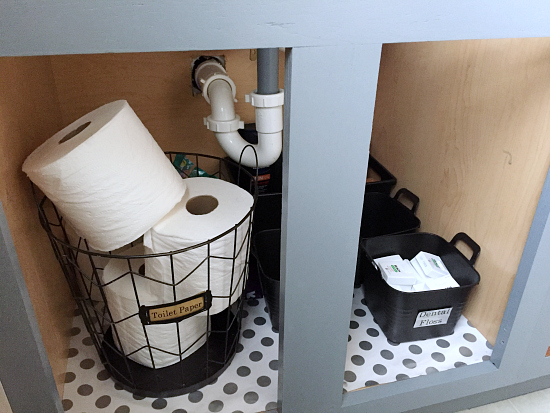 Since the doors are off, here's the vanity… and my "Budget-Friendly Bathroom Organization" is still going strong 🙂
While this is where we left off for the original post, I do want to share what this vanity looks like all finished up… Ready? (P.S. Just ignore that messy countertop 🙂 #reallife)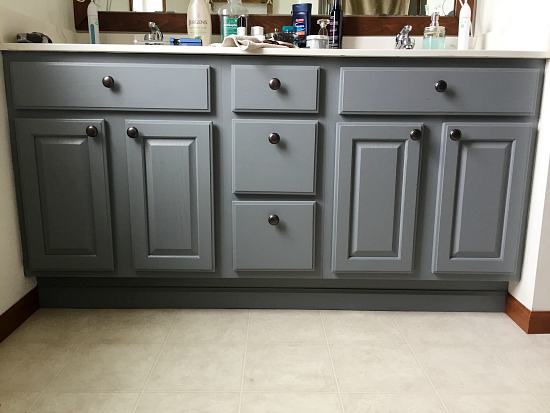 The Budget… So Far
TSP- $3.84
Small Paint Tray- $2.88
Sandpaper & Other Paint Supplies- FREE (Already had 🙂 )
Satin Enamel Paint- $5.39 (After applying a 40% discount coupon)
Total thus far: $12.11
Make sure to check out all the other bloggers that are participating in the $100 Room Challenge.
Check Out Other Participants Here
Wanna Catch Up or Jump Ahead?
Week 1 // Week 2 // Week 3 // Week 4 // Week 5
Love it? Pin it!