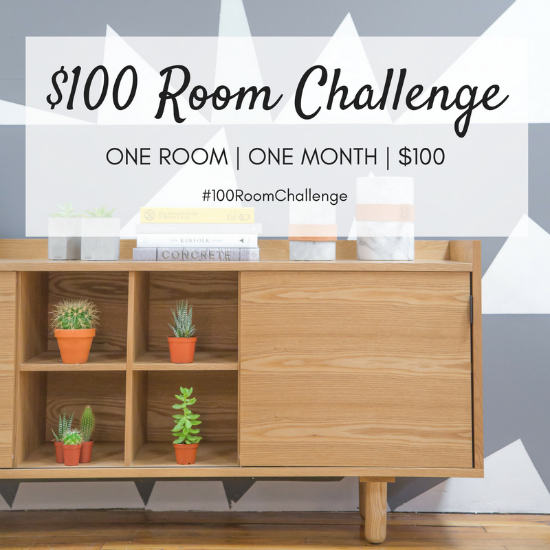 Hello, hello. Welcome to March; the arrival of spring. (Can I get an amen?) This day also marks week 1 of the $100 Room Challenge! I realize some may just be joining in, so let me very briefly explain this challenge. Back in September of 2015, I started a series in which I redid one space in my home, in one month's time, with a $100 budget. In January of this year, I opened up the challenge to other bloggers, and 24 of us took on the challenge. (You can see all those amazing room transformations here.) It was so much fun having others join in that we're doing it again. Some new faces are entering the challenge, and some are back for round two. January produced some jaw-dropping spaces, and I'm sure this month will be no different. I cannot wait!
Let me introduce you to the space I'll be working on this month: Our Master Bathroom. Please be aware, I don't clean up, pick up, scrub down anything for these before pictures. These are just "real life" shots of what I see every day.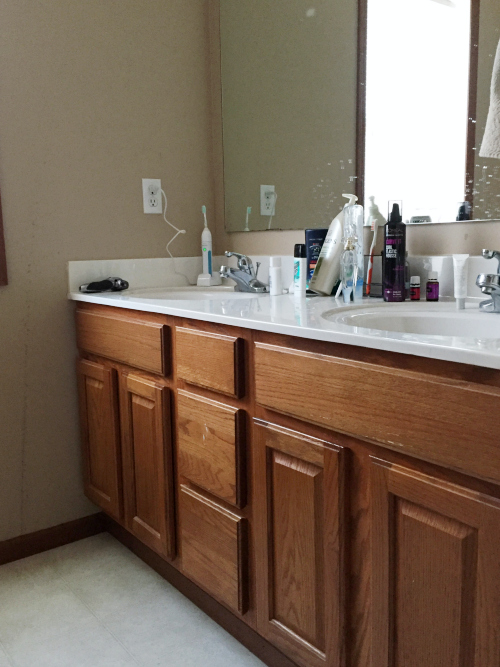 When you walk into our bathroom, there's a door immediately to the right, leading to our master closet. Then comes our vanity. (Someone please remind me to clean that mirror… Yikes!)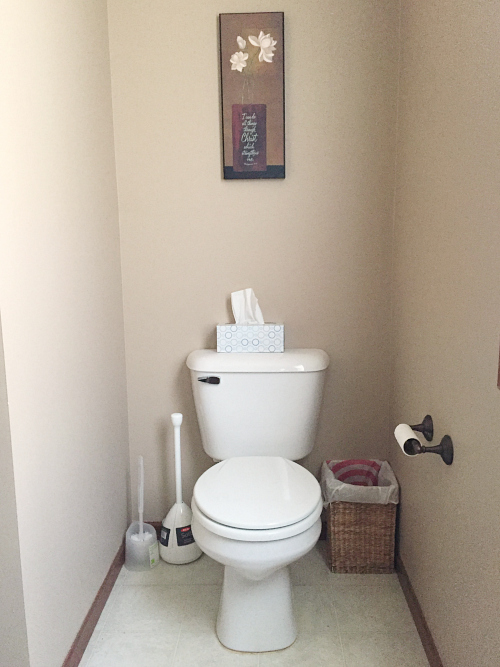 This is our… ummm… toilet nook? What else would you call it?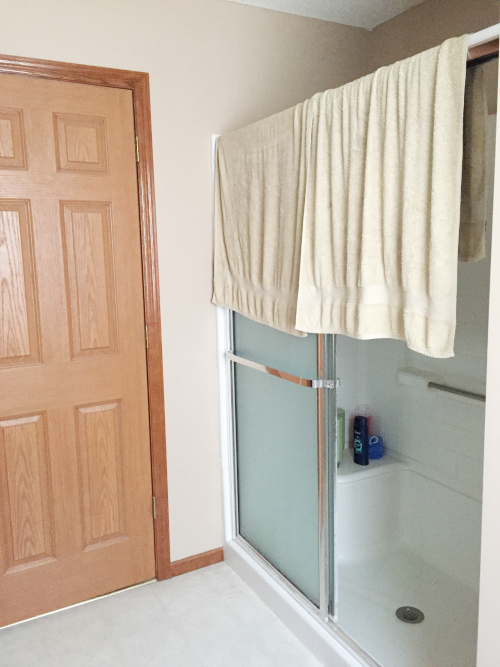 Next to the "toilet nook" is our shower stall…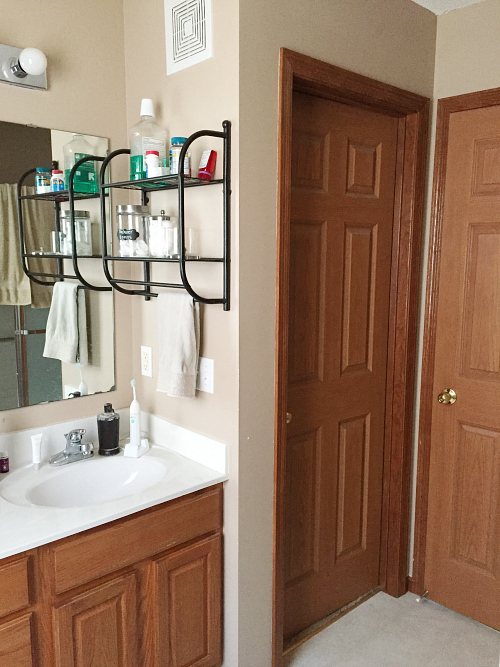 Here's another angle of the vanity in which you can see the closet and master bedroom doors.
Goals
So, let's take a look at what I'm hoping to do in the space, with my mere $100.
Paint the Walls & Vanity
Last March, I redid our Master Bedroom for the $100 Room Challenge, and I got a 5 gallon bucket of paint (free) at my local recycle center. That bucket still contains a whole lotta paint, so I'm hoping I can use the same color in this bathroom. According to the bucket at the recycle center, it's Sherwin Williams Agreeable Gray.
I don't love the honey oak color on the cabinets, so I'm planning to paint the vanity using a satin enamel paint (which I can probably purchase for about $6). I'm looking for a color similar to Benjamin Moore's Hale Navy.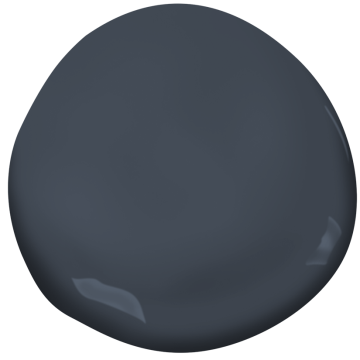 Shelving
Okay, let's be serious right now. What was I thinking when I picked out our current shelving unit? I actually remember hating it the second we put it up, but I felt too bad to make my husband take it down again, so it's been there for at least 5 years. Time to say goodbye. I'd love to DIY our own chunky wood shelves… floating wood shelves, perhaps? Love, love, love these from Blesser House.
Storage/Décor Around Toilet
I'm not sure whether I'd like to create more shelving above the toilet (for decorative items), or maybe I can DIY a storage ladder to create a rustic look, like this one from Elizabeth Joan Designs.
Frame the Mirror
I love the look of framed mirrors. It adds such warmth and texture to the space. I am head-over-heels in love with this framed mirror from Cherished Bliss, and lucky for me, she's got a tutorial on how to make it 🙂
Wall Décor/Art
Our bathroom is so boring! There's nothing but beige, beige, and beige. I'd love to add a little character. I actually found this artwork on Etsy, but it's $48 for the set of prints. Can I do it? Not so sure. If I can't make it work with my budget, I may go with some of the free wall art options found in this post.
You can find more of my Master Bathroom Inspiration ideas on my Master Bathroom Inspiration Pinterest board.
Have any thoughts? Ideas? I'm all ears.
Let the $100 Room Challenge begin!
Week 1 // Week 2 // Week 3 // Week 4 // Week 5
Want to Follow Along with Lemons, Lavender, & Laundry?
Subscribe!
Social media more your style?
Facebook // Pinterest // Instagram // Twitter
Don't forget to check out all the bloggers that are working on this challenge throughout the month, using the links below.