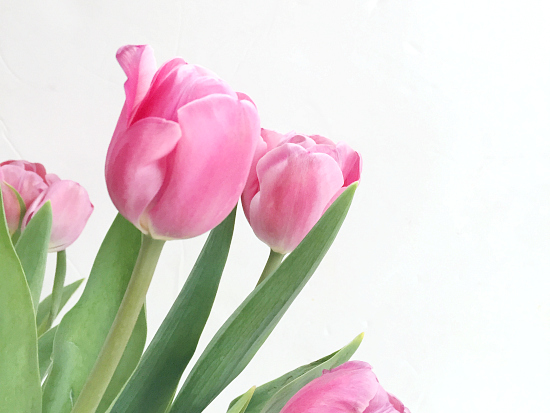 Last winter, I shared some diffuser blends for the holiday season: Those warm notes of cinnamon, clove, nutmeg, ginger, and orange. Yum… But now it's spring, and those cozy scents don't seem quite right when the sun is shining and it's 70° outside. Now that spring is here, we're looking for bright, fresh, floral scents to fill our homes. Over the past few weeks, I've been experimenting with different blends of essential oils in my diffuser, and I thought I'd share my favorites with you today.
Here are a couple things to keep in mind as you try these out, or create your own diffuser blends…
1.) Citrus oils are great for summer, but they tend to have a mild scent when diffused. Adding another oil, like peppermint or lavender, really brings out their bright, fresh scent. Lime seems to be an exception to this rule, however. Its scent is a little more bold and forward.
2.) When diffusing oils, a little goes a long way. I tend to use 5-8 drops of oil in my diffuser at any given time. And did you know it's actually cheaper to diffuse oils than to burn candles? And a whole lot better for your home too 🙂
3.) Not sure where to buy essential oils? Check out this post.
Okay… Let's get started!
Spring Diffuser Blends
Sunshine In My Pocket
I'm starting with my absolute favorite spring diffuser blend. I actually found this one on Rocky Mountain Oil's™ blog and have been diffusing it ever since.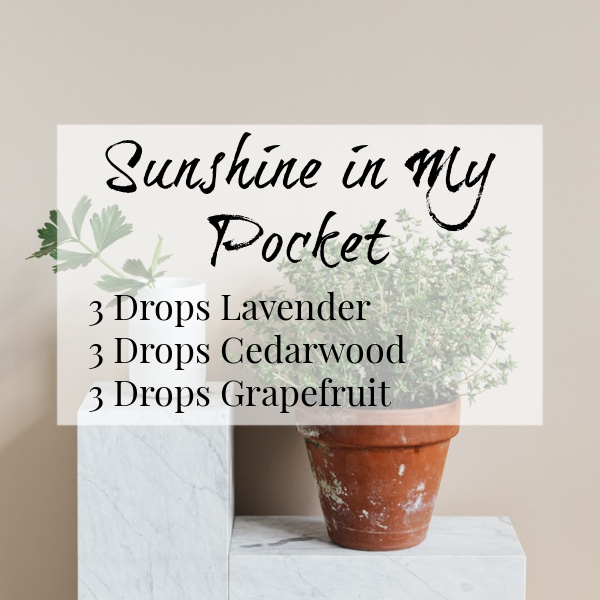 Lavender // Cedarwood // Grapefruit
Pep In My Step
This blend has the perfect combination of citrus and floral, with a little kick of mint for an energizing aroma.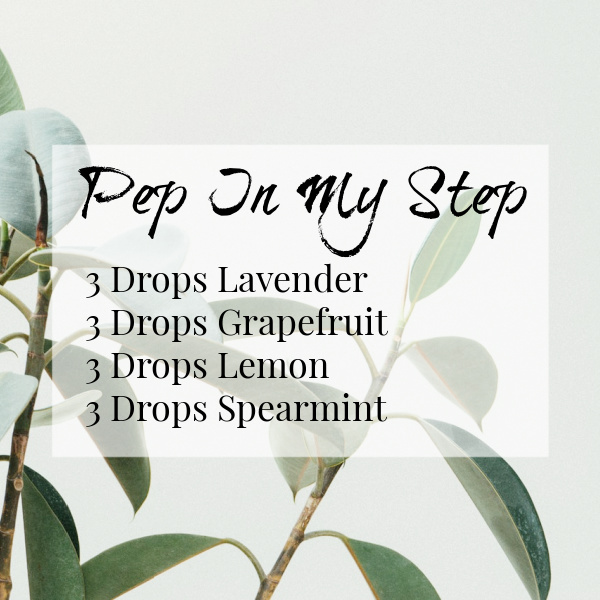 Lavender // Grapefruit // Lemon // Spearmint
Eye-Opener
Citrus oils have a bright, invigorating scent. Citrus Passion combines Bergamot, Mandarin, Grapefruit, Lime, Lemon, Tangerine, Orange and Balsam. Adding a couple drops of Peppermint helps awaken the senses. This combination is a perfect start to your day.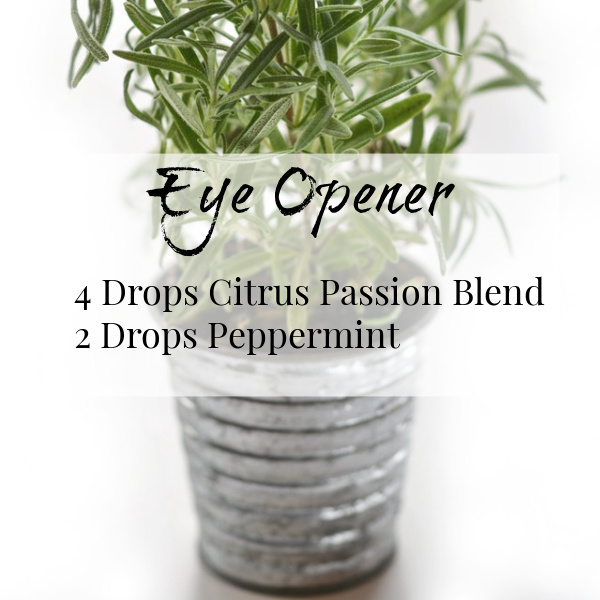 Seasonal Support
This blend is said to help support you through spring and summer; plus it smells ah-mazing!!!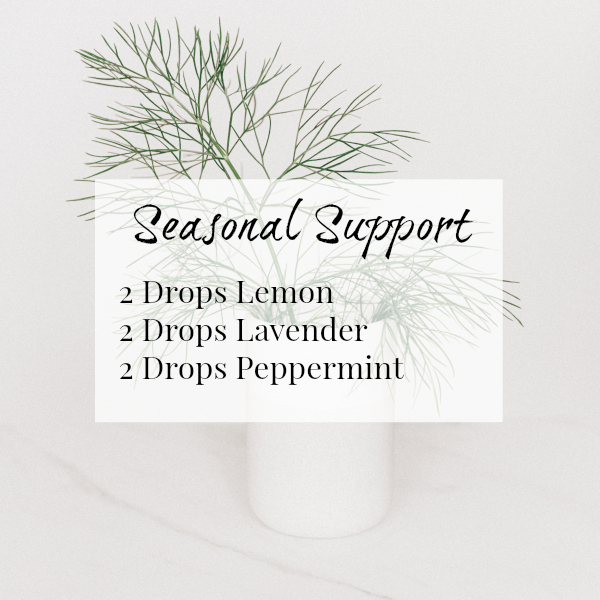 Lemon // Lavender // Peppermint
Spring Rain
The citrus-y scent of Lime combined with the bright scent of Lemongrass brings about an aroma to freshen any space.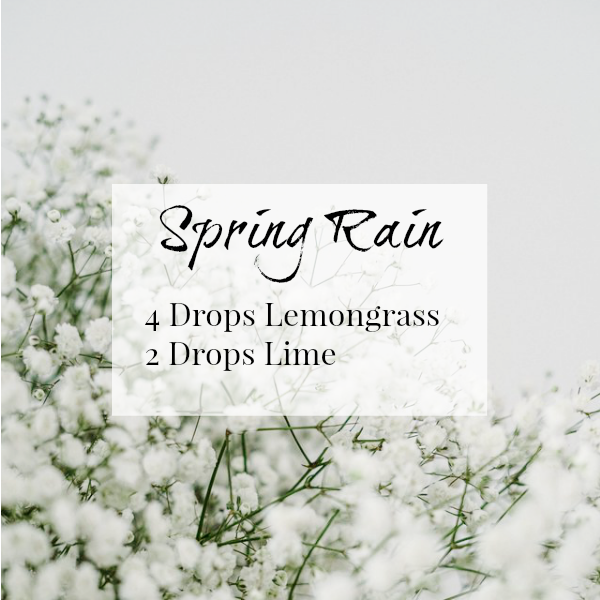 Lemongrass // Lime
Nature Walk
Looking for a little bit of an outdoorsy/woodsy scent? Try this combination.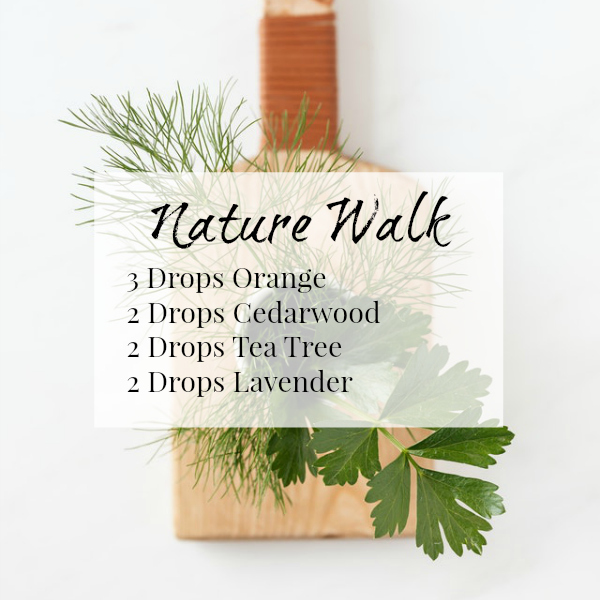 Orange // Cedarwood // Tea Tree // Lavender
What is your favorite diffuser blend for spring?
Love it? Pin it!