Hello everyone! It's the last Wednesday of December and that means it's the final $100 Room Challenge reveal of 2015! I have certainly taken this down to the wire. We have been enjoying so much Christmas, balanced with some viral crud, so the kids' bathroom wasn't touched much this past week. Today, however, I cranked it out to get it done. Are you ready for the reveal?
I always like to start with a before picture so you can see just how far the room has come over the past few weeks.
Lots of monkeys and frogs coupled with seafoam greenish paint.
Back in week one, I listed my goals for the space, so let's see how we did…
1.) Paint the Walls- Done… you can see that change here in week 3.
2.) Replace the shower curtain, soap dispenser, and toothbrush holder- I did, indeed, replace the shower curtain, which you will see a bit later. As for the soap dispenser, I was thinking of doing a mason jar soap dispenser, but the thought of glass on the sink with a five year old made me too nervous, so I just went with some hand soap and called it good. The toothbrush holder, however, is made up of the mason jars I love: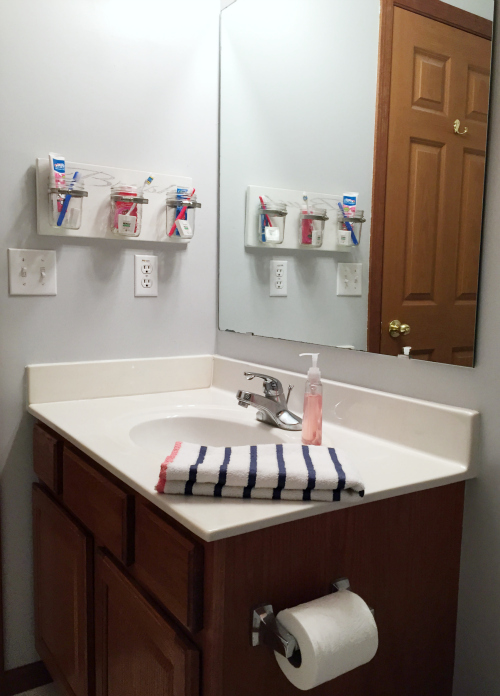 I have a full tutorial on the toothbrush holder HERE.
3.) Organize- This was actually a 10 minute project. I was able to clear a lot of the clutter from the counter with the DIY toothbrush holder. Under the sink was a simple task of just putting some things away.
4.) Towel Hooks Solution- You may remember from the first week's pictures that there were only two hooks for hanging towels on the back of the door, so last week I revealed my solution… this old wood window became my new towel rack.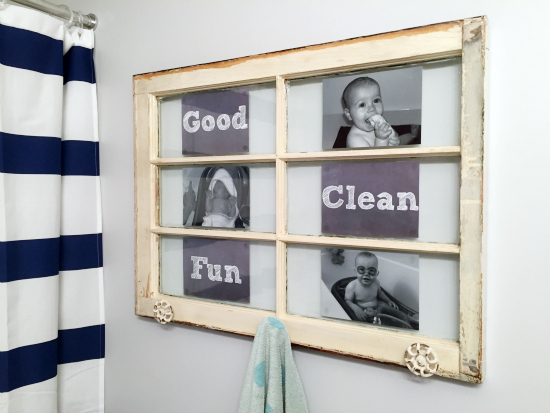 5.) Add some artwork- The above towel rack really is my "artwork". Cute pictures of kids in the tub… does it get any better?
6.) Replace the White Plastic Wastebasket- This was a last minute idea that came together beautifully. You know those popcorn tins you get for Christmas? I kept saving them knowing one day they would come in handy. Today's the day. I bought some navy spray paint and sprayed down the popcorn tin… Now I've got a navy wastebasket!
I decided to add the word "TRASH", but did so with a chalk pen, as I'm not sure whether I like it better plain or with the lettering. I can always wipe it off if I decide to go plain… *Update: I decided I liked it better plain.
7.) Replace the Cream Rug- This wasn't a priority (thankfully) because that cream rug is still in the bathroom being used.
8.) Paint the Vanity and Medicine Cabinet- I knew from the beginning this was wishful thinking, and wishful it was. After week two's budget there was no way I was going to have enough to paint these, so they remain the same.
Here's the bathroom in its full reveal: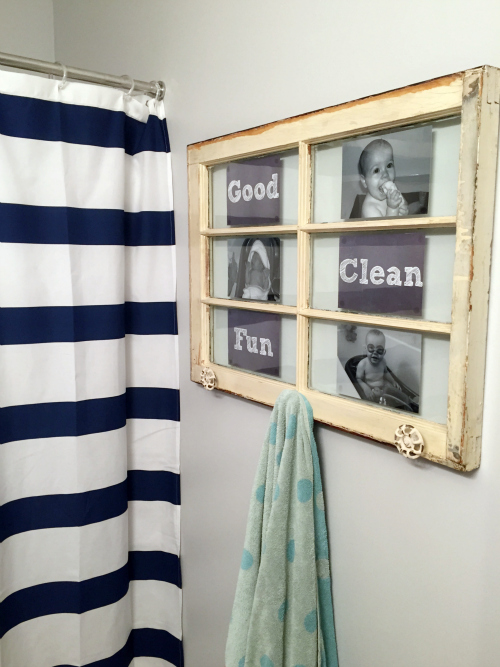 The Budget
If you recall from last week, I was 11¢ over budget, but fear not, I returned the basket/towel rack and got to add that money back into the budget ($14.99). Since I left off with $100.11 last week… after the return, I'm at $85.12. Here's the purchases this week:
Toothbrush Holder:
Wood: FREE- We already had this out in the garage
Mason Jars x3: $1.98- I had one already and bought 2 more at Goodwill for 99¢ each.
Clamps x3: $4.35 ($1.45 each)
White Paint: FREE- We already had some here
D Rings: $1.49 (After 50% off coupon)
Drywall & Stud Anchors: FREE- Already had them from the window as they came in a pack of 4
Spray Paint for the Garbage Can: $3.87
Total Spent: $96.81 ($3.19 Under Budget!!!)
I hope you all enjoy your New Year!
Erin
Week 1 // Week 2 // Week 3 // Week 4 // Week 5
Want to Follow Along with Lemons, Lavender, & Laundry?
Subscribe!
Social media more your style?
Facebook // Pinterest // Instagram // Twitter
Love it? Pin it!