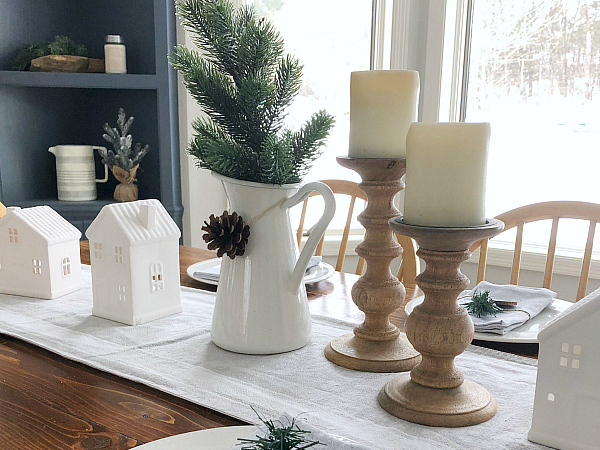 How many of you take a drive through your neighborhood looking at Christmas lights? We do it every year. And each time, a sense of nostalgia sweeps over me. There is something warm and inviting about seeing Christmas tree lights twinkle through the open windows; or watching the flickering of candles in the dark. This is the season where people open their homes to others, inviting them in for cookies and hot chocolate, or for conversation by the fire. So today, I am doing just that… inviting you into my home. So grab your hot cocoa and have a look around.
Simple Christmas Home Tour
Our Christmas Entry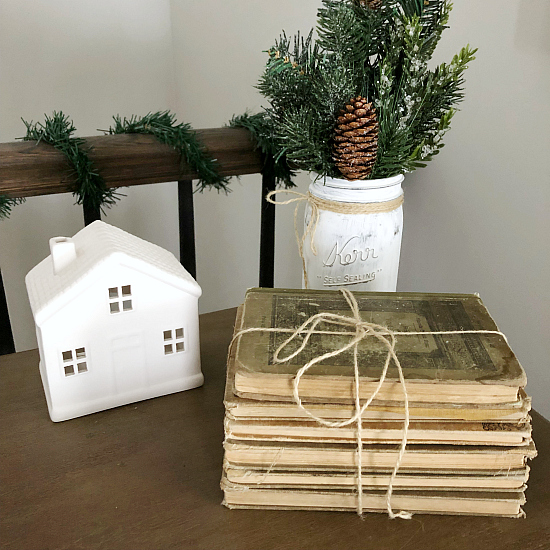 We moved not long ago, and one of the challenges when you move is that the décor that worked in your old home may not find a spot in your new one. On the other hand, there may be a few "blank spots" around the house where you need a little something more. Decorating for Christmas has been a bit more challenging this year because we are finding that some of our old items don't work in the new space, and some of the open spaces need a little cozy-ing up. I, however, have learned not to buy things just for the sake of filling a space. I want the things I bring into my home to tell a story; whether it's a vintage item like my grandfather's school books (pictured above), or a new blanket I buy for its warm texture.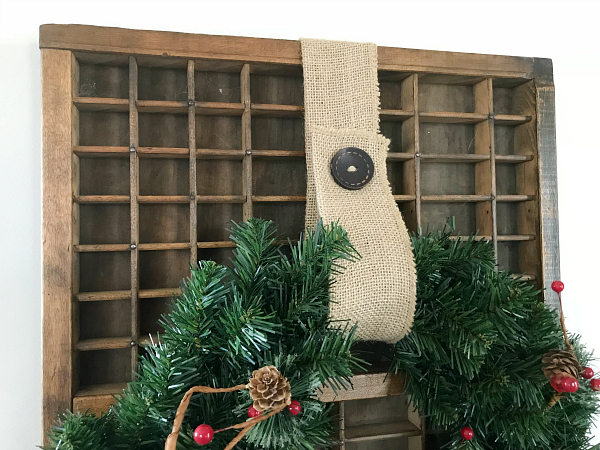 My husband and I recently discovered the joy of online auctions, and for awhile our Saturdays were spent driving around to pick up all the items we had "won". One such auction yielded two printer trays; and I love them! I used a thick piece of burlap to attach a wreath onto the tray with a wooden button.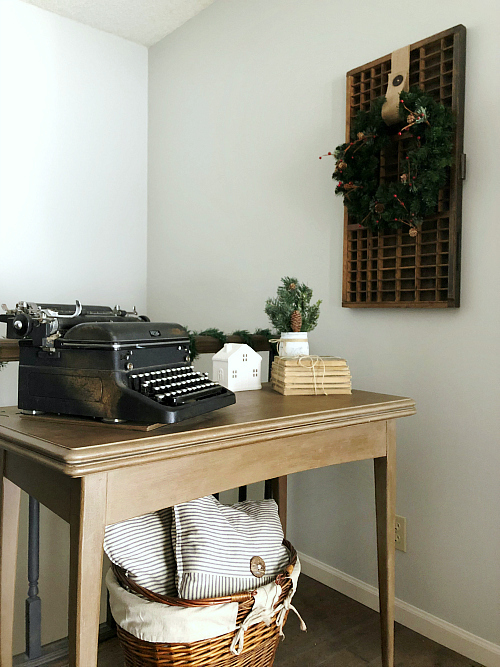 Our Christmas Dining Room
Taking a quick right from the entry, you end up in our dining room. I can't say I have ever decorated a tablescape before, but there's always a first, and I love how this turned out. It's simple, which is how I like things this time of year. Since I'm a complete bargain hunter, I bought the white plates at the dollar store, added a few gray cloth napkins from Home Goods, and then made scented wood slice ornaments for each setting.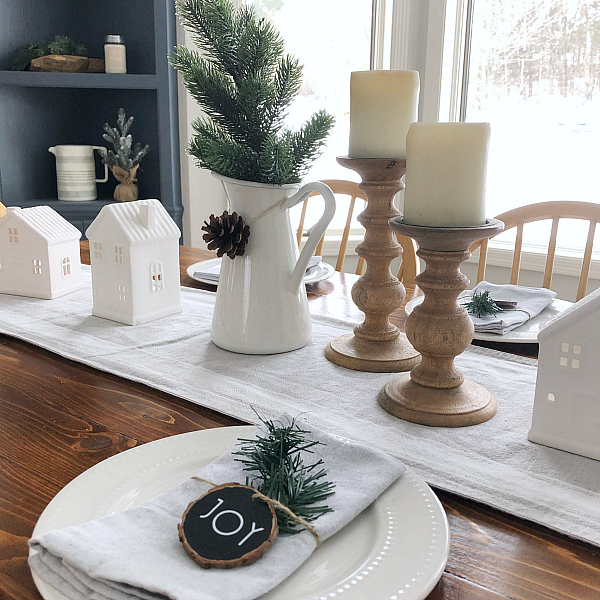 The pitcher and table runner are constants throughout the year, but adding a few candles and white ceramic houses (found in the Target Hot Spot) adds to the feeling of the season.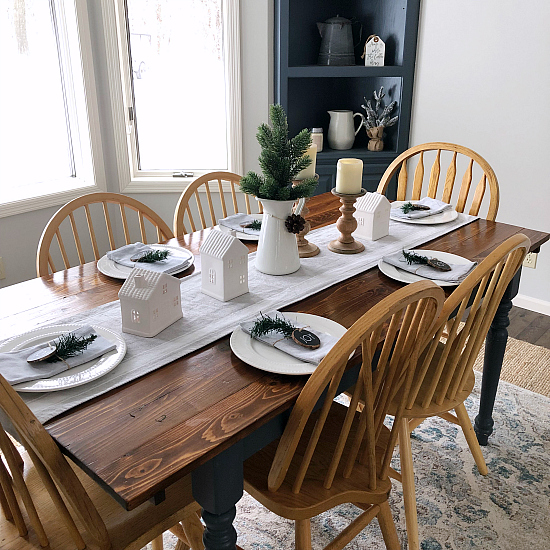 I have built-ins that I recently painted, and I like to keep them simple by using the same items throughout the year. I did add a few burlap wrapped trees and winter greenery to ring in the Christmas season.
Our Christmas Fireplace
Heading downstairs, this is where we cuddle under warm blankets by the fire and watch all those Hallmark movies. As always… it's simple. I found my red Coke crate after years of looking, and it's filled with flocked trees (for now).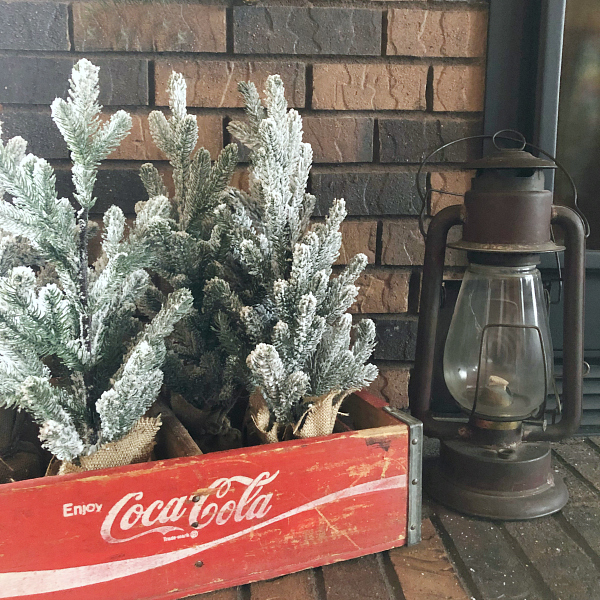 The artwork was created for just a couple dollars using prints from Blesser House and frames from Michaels.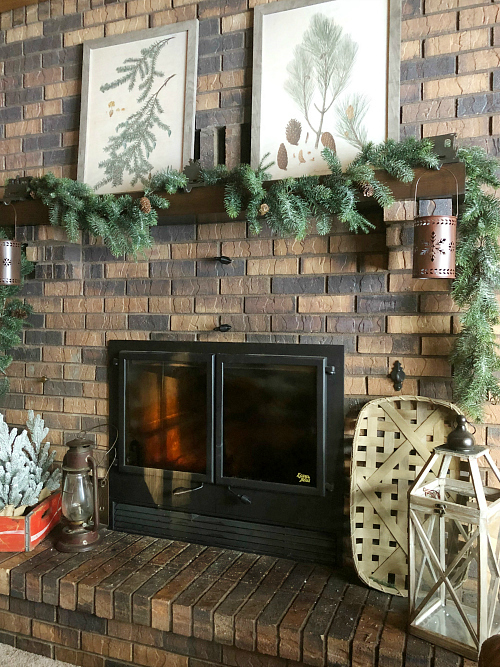 While there are many more rooms around my home, this ends the Christmas tour for this year… three spots I know you would sit if you were to actually come over and sit with a cup of hot cocoa in hand.
I'm not the only one letting you into my home for a warm drink and conversation… head on over to the check out more amazing homes using the links below. A big thank you to Sherry at Savvy Apron, Carol at The Red Painted Cottage, Joy from The Aspiring Home, and Nicki of Sweet Parrish Place for hosting this home tour!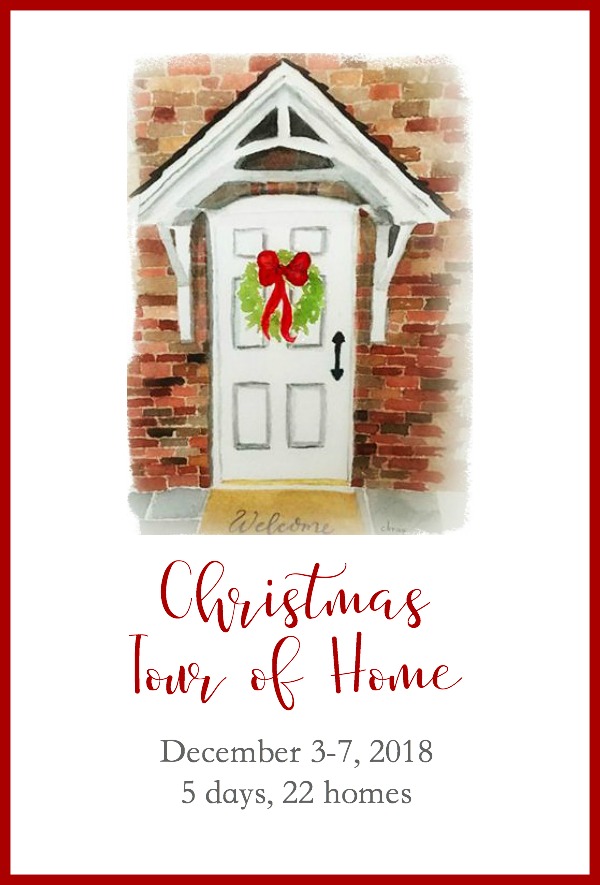 MONDAY
White Arrows Home| The Chelsea Project| Our Prairie Farmhouse|
Noting Grace| The Red Painted Cottage
TUESDAY
Celebrate and Decorate| Rain and Pine| Savvy Apron
WEDNESDAY
Curly Crafty Mom| Camelot Art Creations| Follow The Yellow Brick Home|
Mom Home Guide| Twelve on Main
THURSDAY
County Road 407| Art and Sand| Simple Nature Decor| Sweet Parrish Place
FRIDAY
Deeply Southern Home| First Day of Home| Life on Summerhill|
Lemons, Lavender, and Laundry| The Aspiring Home
Love it? Pin it!