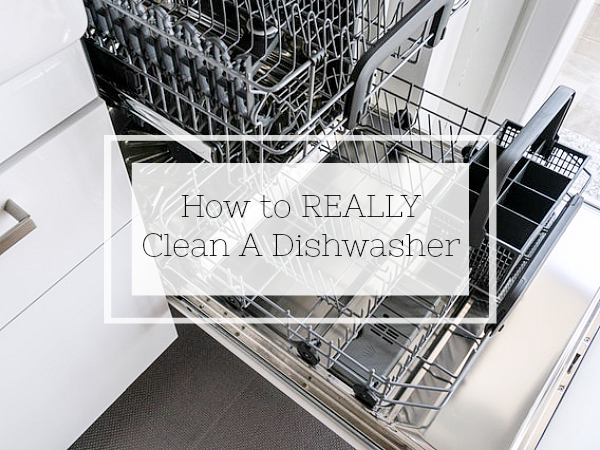 You would think the inside of your dishwasher would be clean, right? After all, it cleans dishes every day with dish-washing detergent. But dishwashers use high temperature water and salts (found in dish-washing detergents)… and guess what thrives in that environment? Mold and fungi! There was a study that found 62% of dishwashers harbor this lovely fungi- yuck! (source). Luckily, vinegar is an acid that kills 82% of molds (source). Aren't you just loving vinegar right now? It does everything from removing hard water stains to cleaning toilets and showers, to freshening your laundry. Cheers to vinegar!
What You Need to Clean A Dishwasher
Affiliate links may be used. Please see our advertising disclosure for more information.
How to Clean A Dishwasher
First thing's first, empty your dishwasher.
I always start by dipping a toothbrush in vinegar and scrubbing around the door and rubber seal- it's disgusting, so beware. Then, I run it through a rinse cycle just to rinse away the gunk that gets loosened.
After the rinse cycle is complete, pour vinegar into a 2 cup glass measuring cup and put it on the top shelf. Run your dishwasher through a normal wash cycle.
Once that is done, sprinkle 1 cup of baking soda on the bottom of the dishwasher and run it through a quick wash/short cycle.
Your dishwasher is now clean! It is recommended that you do this once a month, but honestly I do it every 3 months or so.
*BONUS*
Can anyone tell me what this stuff is in my dishwasher? (*Warning- gross!)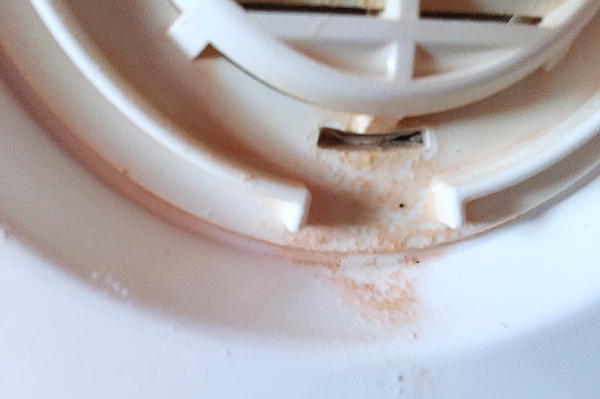 It's this orange-y, slime-y grossness that builds up in my dishwasher. I've entered every search term I can think of in Google, but have found nothing. I have tried using the lemon kool-aid trick, and that did nothing for it. I wash it off as it builds up, but I'd like to know what it is. Do you know? Please tell me if you do!
***UPDATE*** I love when my readers send me links to articles that can answer these tough questions. Turns out this orange slime is biofilm caused by the bacteria Serratia marcescens. Yuck!
Love it? Pin it!