The stomach flu is already a horrible thing to deal with, but cleaning after the stomach flu is just as bad. Today, we're taking a look at how to clean and disinfect your home after the stomach flu makes an appearance. It's not fun, but it's gotta be done.
I, like most people, HATE the stomach flu. I treat it like the plague. My husband laughs at me because of how thoroughly I protect myself while cleaning up after someone with a stomach bug. Today, we'll discuss general cleaning up after the flu, as well as what to do if there is vomit on the carpet or, better yet, the couch… Fun times ahead… aren't you excited to keep reading?
*A little tip before we start: I keep all of our leftover ice cream buckets (the 1 gallon size) and they become our "barf buckets". That way, if a child can't make it to the bathroom, they can use this bucket and I can throw it away when the flu passes…good riddance!
General Cleaning After Stomach Flu
What You Need When Disinfecting After the Stomach Flu
Affiliate links may be used. Please see our advertising disclosure for more information.
Face Mask– You do not need a whole lot of the flu virus to get sick, and breathing it in can get you sick. Therefore, I keep face masks available for times like this.
Gloves– When you touch a surface containing the flu virus, you get it on your hands, so when you touch other items, you just spread the flu around. Using gloves helps prevent you from getting the virus everywhere… just make sure to remove the gloves before touching other items.
Bleach– A reader made me aware of the fact that "scented bleach" is not labeled as a disinfect as it contains less of the active ingredient sodium hypochlorite, so stick with regular bleach.
UPDATE (7/8/2022)– I am not really a fan of bleach, but it is one thing that actually kills Norovirus (AKA the stomach flu). Recently, I discovered Force of Nature, which is a hospital-grade disinfectant made with salt, water, and vinegar! You can read my full review here. If you'd like to give it a try, use the code: ERIN30 for 30% off a Starter Kit or Bundle!
How to Disinfect After the Stomach Flu
UPDATE (7/8/2022)  As mentioned above, I recently discovered Force of Nature, which is a hospital-grade disinfectant made with salt, water, and vinegar! (Full review & discount code here). If you choose to use this instead of bleach (which I highly recommend), you would just need to spray your surfaces and keep them wet for 10 minutes. You can actually let Force of Nature air-dry. No need to go back and rinse. Not only can you use it on hard surfaces, but you can also use it on carpet, rugs, and fabrics! Just make sure to test a small area to make sure there is no change to the color before continuing.
Put on your hazmat suit (or at least the mask and gloves). Dilute your bleach with water according to the instructions on your bleach container, and pour into a spray bottle. Do NOT use straight bleach as it is too concentrated! Spray all hard surfaces with the diluted bleach spray. Remember to spray the toilet handle & rim, the doorknobs, the faucet, and the light switches. Let the solution sit for 15 minutes as this is how long it takes to disinfect. Go back through and use wet paper towels (dampened with just water) to rinse down all the surfaces you sprayed with bleach. The reason I use paper towels is so I can throw them away at the end, and I won't bleach my washcloths. If you/your child used any remotes for the TV or video games, spray a little of the bleach solution directly onto a paper towel and wipe down the remote(s). After 15 minutes, use a damp paper towel to rinse.
Whenever someone has the flu in our house, we put a sheet over the couch where they tend to be during their flu session. After the flu has passed, I wash that sheet as well as all bedding, pillows, and stuffed animals the person had during their bout with the flu. Launder everything in the hottest water tolerated, and dry on high heat (if tolerated). Remember to wear both gloves and a mask when handling infected bedding.
Cleaning Carpet After the Stomach Flu
What You Need to Clean Vomit from Carpet
Why is that that 91.7% of the time, a child misses the toilet or bucket and vomit ends up in places that are not easy to clean? Mainly, the carpet. The fact is, it's gotta get cleaned, so here's the best way to rid the carpet of vomit… are we excited yet?
How to Clean Vomit From Carpet
You all know where to start, right? Gloves and face mask! Once you have those on, grab some paper towels and start by cleaning up as much of the vomit as you can… I know, it's gross, I'm grossed out just thinking about it, but we've got to get this done! Try not to rub the vomit into the carpet, just remove what you can. Next, liberally pour baking soda over the area, and let it sit for at least 15 minutes. You can keep it on longer, and this may be better. The longer it sits, the more moisture and smell the baking soda absorbs. (I admit, I haven't tried baking soda on carpet, but I have tried it on the couch. While researching methods to get vomit out of the carpet, many agree the baking soda works wonders.) You'll want to vacuum up the area to rid it of the baking soda. Next, you can pour some hydrogen peroxide on the stain and blot that up with more paper towels. I have used the hydrogen peroxide, and find it does a great job at getting any remaining stains out of the carpet. You can follow these steps for fabric furniture as well.
*Remember to test your carpet or furniture fabric before applying hydrogen peroxide to the stain. You will want to make sure it doesn't discolor anything first.
Cleaning Microfiber After the Stomach Flu
What You Need to Clean Vomit from Microfiber Furniture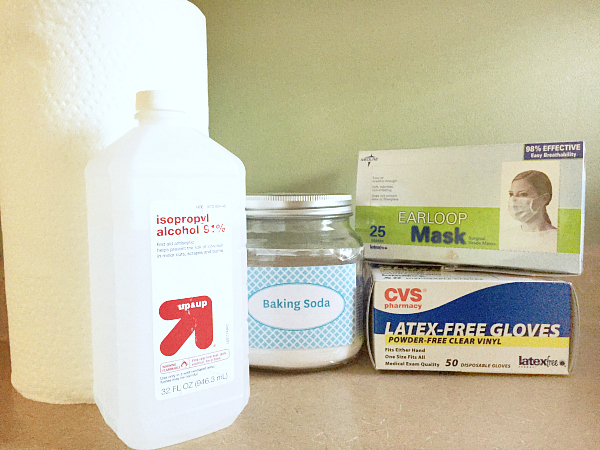 Last time the stomach flu went through our home, my son had just started to drink fluids. Apparently, his stomach was not okay with that, and he threw up all over the couch. Yes, I had the trusty ice cream bucket right next to him, but he missed, and it was seriously in every nook and cranny of the couch. This was new territory for me. I hadn't done vomit removal from the couch, and boy was I excited to try…not!
How to Clean Vomit from Microfiber
What are we doing first? Right, mask and gloves! (I'm really driving this point in, aren't I?) You are going to basically follow the same steps as you would for carpet. Liberally pour baking soda all over the vomit, after removing what you can with paper towels. Let it sit for a minimum of 15 minutes. Vacuum. This time, however, reapply another liberal coating of baking soda and let it sit for 1-2 hours. Vacuum that up and spray rubbing alcohol onto the stain. Using a scrubber brush, work the alcohol into the stain and allow to dry. When dry, you can use a clean scrubber brush and rub the area to loosen the fibers. (For more information on cleaning microfiber, check out this post.)
Apparently some microfiber cannot tolerate the rubbing alcohol, so you'll want to test an area first.
Okay… done with that topic! Wishing you all a beautiful day full of health, and not having to actually use this post for a long time!
Love it? Pin it!