The truth is, microfiber is a pretty durable, easy-to-clean fabric, which is why so many people choose to have it in their homes. Today I'm sharing an easy-to-follow tutorial on how to clean a microfiber couch. Admittedly, I wasn't always doing it right, but I learned that adding distilled water to the cleaning process is the secret to getting microfiber looking good as new.
Today, I thought I'd address a question I got from a reader awhile back, and that's, "How do you clean a microfiber couch?" Microfiber couches can sometimes look stained and worn, and much of that is because water actually stains microfiber; and water is the one innocent beverage we let our kids carry around without worry. So, let get that microfiber couch clean.
What You Need to Clean A Microfiber Couch
Affiliate links may be used. Please see our advertising disclosure for more information.
How to Clean A Microfiber Couch
Before we start, I strongly encourage you to read the instructions for cleaning your microfiber couch, as it may discuss a different method than you see here (some microfiber states that you should not use water based products, while others state you should only use water based). As always, if you choose to try this cleaning tip, please test it on a small area of your fabric first, to make sure there is no change in color or appearance. Okay, here we go…
Start by pouring some rubbing alcohol into a spray bottle and generously spray it on the couch. Don't be shy. Then, using a clean sponge, start scrubbing. If there are visible stains, scrub hard until they disappear. If needed, you can always spray on a bit more rubbing alcohol. You should be able to see the dirt lifting off onto the sponge.
Hint: Working one section at a time seems to be the easier way to go.
(*Just as a little side story: My daughter left the cap off a bright pink gel pen, and got ink all over our microfiber couch. I'm not talking about a few streaks here and there… this pen leaked at least an 8 inch diameter stain). While I wasn't so happy to see a hot pink couch, I was extremely excited that the rubbing alcohol actually got the whole stain out. Pretty impressive!)
Luckily, rubbing alcohol dries pretty quickly. Once it is dry, use a soft bristle brush to loosen the fibers.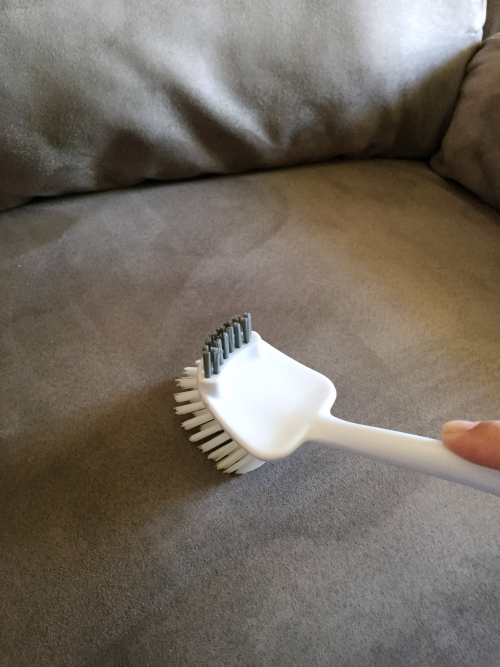 This is always where I used to stop, but I thought I'd try a new approach using distilled water. Apparently, the rubbing alcohol is great at removing dirt and grime, but not so good at taking out water stains, which you can see in the image below. (This was taken after the rubbing alcohol application.)
Pour some distilled water (not tap water!) into a spray bottle and spray it on the couch. Again, use a clean sponge to work it into the couch until you can no longer see the water stains. Allow it to dry, and then use the soft bristle brush to loosen the fibers.
And here are the results!
A definite improvement! I will absolutely be using this method from here on out.
And for the whole process…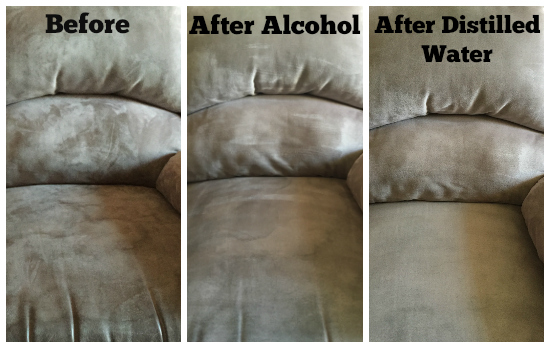 Love it? Pin it!