Today we're making our own DIY Wood Polish, and it couldn't be easier. You literally need two ingredients… and I bet they're already in your pantry.
Happy Tuesday everyone! I feel like I've been a bit quiet on the blog over the past couple weeks, and the next few days will explain why. There has been a lot going on behind the scenes. The first piece of news is that Lemons, Lavender, & Laundry is part of a contest. I don't consider myself to be much of a competitor, but this was a cleaning blogger contest for Casabella! I couldn't resist. You can check out the post I wrote for the contest here!
Today I'm sharing a DIY Wood Polish that I also shared over at Casabella. This is a wood table that was handed down from my grandfather, and it was in rough shape, I mean really rough shape: scratches and water stains everywhere: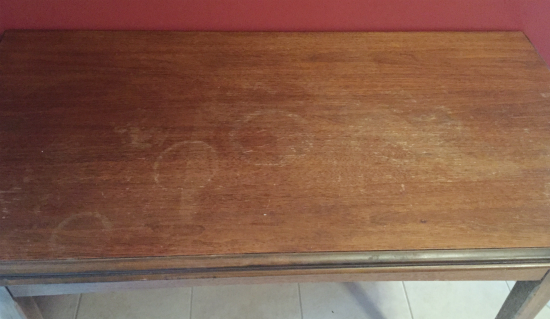 Obviously, it was in desperate need of a little TLC, so, here we go…
Here's What You'll Need for DIY Wood Polish
While vinegar shows up in pretty much every cleaning recipe I make, olive oil is making its debut today.
Directions: DIY Wood Polish
Mix together 3 parts olive oil with 1 part vinegar. Try to make an amount close to what you will actually use because olive oil is a perishable food item. Once you have your mixture, dip in a cleaning cloth and go over your wood furniture. If you notice the surface is a bit oily, take a dry cloth and wipe off any excess. The results were pretty amazing, but I do want to caution you on one thing…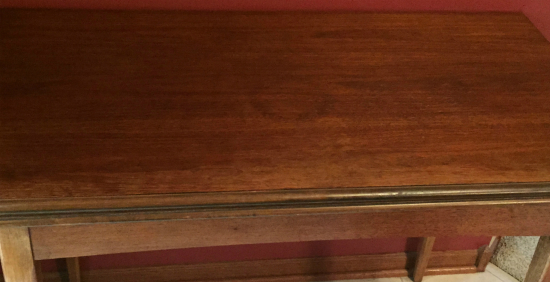 You will notice in the photo above that where there were once light watermarks, there are now darker circles. I, personally, would prefer my table have the darker circles that blend better with the wood, versus the light circles that are really noticeable, but you may not feel the same. This is why I always recommend testing any cleaning product on a small, inconspicuous area first, and see if there is any unwanted color change. If not, continue the application.
I always think side-by-side photos are a good way to see the true results, so here you go (I know the lighting is a bit wonky; that's what you get photographing on a stormy day I guess):
Want to Follow Along with Lemons, Lavender, & Laundry?
Subscribe!
Social media more your style?
Facebook // Pinterest // Instagram // Twitter