Many people are switching out their dryer sheets for dryer balls, but did you know you can make your own DIY Dryer Balls? It is super easy, and they last for years.
I was inspired to make my own DIY dryer balls when I heard about the many benefits of using them. Because they are simply wool, I know there are no questionable ingredients in them, and they shorten drying time; saving money on electricity.
Rather Buy Than DIY?– Here's a wonderful option for purchase. (Use the code LEMONS25 for 25% off. LEMONS15 will get you 15% off for returning customers.)
What You Need to Make Dryer Balls
Affiliate links may be used. Please see our advertising disclosure for more information.
100% Wool Yarn (Remember 100% wool… I found acrylic up the wazoo (do we use that word?) in the craft store, and only a few skeins of 100% wool. This is not going to work with acrylic, because you need the wool to felt)
Essential Oil (Optional)- Not sure where to buy essential oils? Check out this post.
How to Make Dryer Balls
Start by wrapping the yarn several times around your pointer and middle finger.
Pinch it in the middle and wrap the yarn around the pinched area.
Keep wrapping and wrapping and wrapping, working the yarn around in a circle until you get a ball about the size of a tennis ball (mine are probably a little smaller).
Cut the yarn and tuck it under some of the other layers.
I was able to make 6 balls with the 2 skeins of yarn I bought.
Next, you'll want to place each ball into the leg of some nylons, tying a knot in between each ball.
Take the nylon-wrapped wool balls, and throw them into your next load of towels, washing them in HOT water. After washing, throw them in the dryer on HIGH heat. This process is what causes the wool to felt and stick together. Once you remove them from the dryer, cut the nylons to free the wool balls.
If you'd like to add a little scent to your dryer balls, just place a drop or two of essential oils onto a couple of the balls. I, personally, go with lavender, but if you have a different favorite oil, go for it!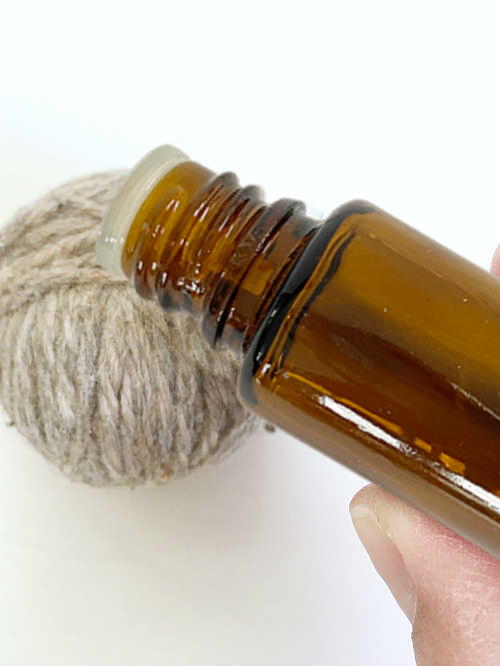 Now you can throw these balls into your dryer in place of dryer sheets. The claim is that dryer balls not only soften your laundry, but also cut drying time because they keep your clothes separated, much like adding tennis balls would. I had to try this theory out for myself, so I timed a load of laundry using a dryer sheet vs. the dryer balls (I tried my best to keep the loads equal in size with 30 items in each load). Here are the results:
Dryer Sheet= 50 minutes, 45 seconds
Wool Dryer Balls= 41 minutes, 41 seconds
That's almost a 20% decrease in dry time. The first 2 items I pulled out of the laundry were a robe and a pair of shorts, and I could hear the static as I pulled them out. I was SO disappointed, but as I removed all the other clothes, they seemed completely static-free. I was a little baffled, so I looked at what others had to say about their experience. I found that, while wool dryer balls work great at reducing static for most fabrics, it doesn't do well with synthetic materials, like Polyester. I checked the label on both the robe and shorts… 100% Polyester. I tried another load with my towels, socks, and undergarments (all 100% cotton items), and when the load was finished, there was NO static. I wanted to let you know my true experience so you have all the information.
UPDATE: I found the easiest trick to minimize static… you can read all about it HERE.
Love it? Pin it!