About a week ago, I was up until midnight researching DIY laundry detergent recipes. I know. Crazy. My goal was to figure out the best ingredients to use, while still making it cost-effective. Typically, I use vinegar and baking soda for my cleaning products, so I was out of my element with items like Fels Naptha and Borax, but in the end I came up with a recipe that I really like, and it lasts forever. (Not really forever, but close…)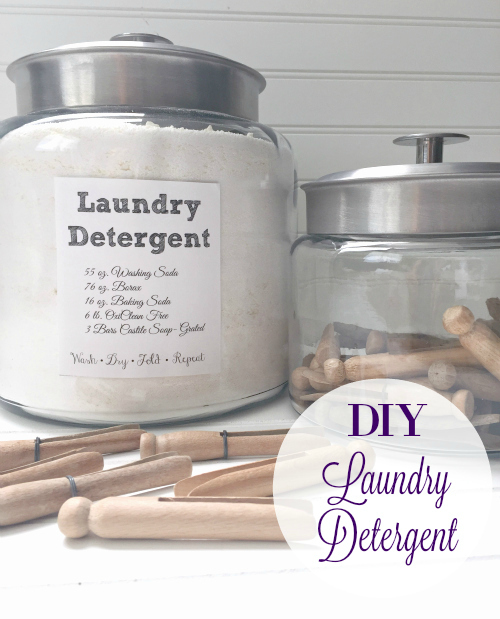 There are so many DIY laundry detergent recipes out there. The first choice you have to make is whether to go with a powder or liquid version. I have never used powder, but most people felt the powder versions did a better job, and I was sold when it meant I didn't have to cook soap to melt it down. I will let you know that the recipe I'm sharing is a hodge-podge of different recipes. I did not find this exact one anywhere else.
What You Need to Make DIY Laundry Detergent
Affiliate links may be used. Please see our advertising disclosure for more information.
How to Make DIY Laundry Soap
You are going to start by grating your soap. Cut the bars of soap into cubes and place them into a food processor. If you don't have a food processor, you can grate the soap by hand; just a little more work.
Allow the food processor to run until you get small pieces of soap (see the picture above for sizing).
Now put a garbage bag into a trash can, just to help stabilize the bag while pouring in the ingredients. Pour all the ingredients into the bag. Yes. All of them. Tie a knot in the bag so nothing can escape. I doubled bagged my mix, and I'm really glad I did because the first bag got a hole in it. Roll it around for awhile so everything has a chance to mix together.
Cut a hole in one of the bottom corners and allow the mix to drain into your storage container. It is best to use an air-tight container with a good seal in order to keep out moisture that could eventually clump and harden the mix. I stored the extra detergent in a gallon Ziploc bag.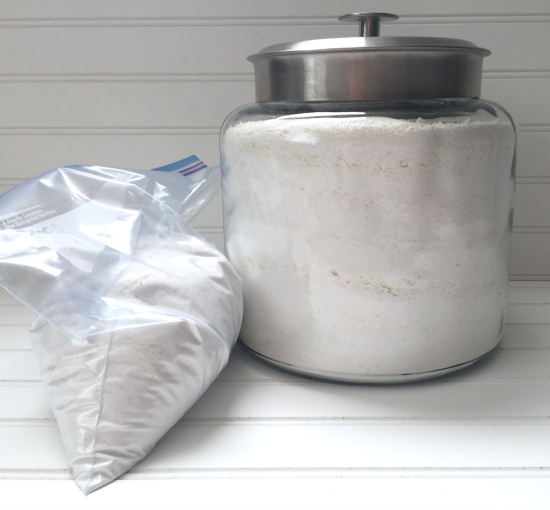 Love Montana Jars for storage! I used the 1.5 gallon jar, but you can get a two gallon jar as well. They are strong and I like the way they look.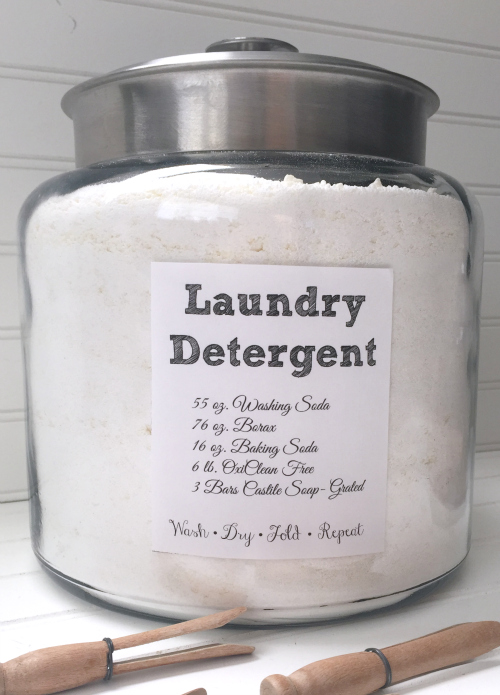 I created a printable, cut it out, and adhered it to the jar with adhesive spray. If you would like one, you can have one for yourself: Laundry Detergent Printable
When you go to do a load of laundry, add 2 Tablespoons of the mix to your detergent dispenser, and that's it.
If you'd rather buy laundry detergent, check out a brand I'd definitely recommend here.
Love it? Pin it!