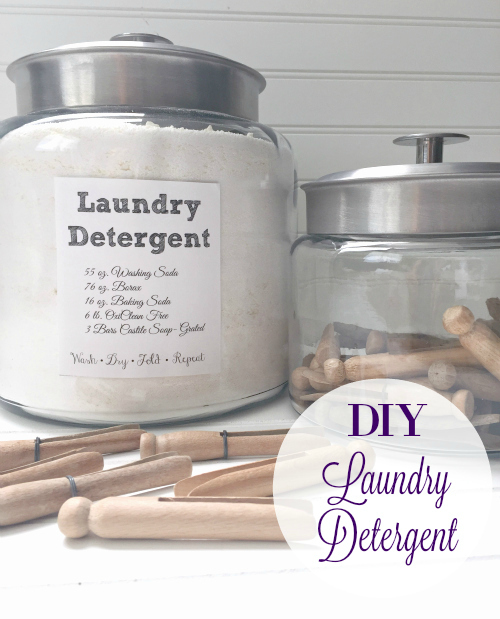 About a week ago, I was up until midnight researching DIY laundry detergents. I know. Crazy. My goal was to figure out the best ingredients to use, while still making it cost-effective. Typically, I use vinegar and baking soda for my cleaning products, so I was out of my element with items like Fels Naptha and Borax… in other words, things not already in my pantry. (Actually, there is baking soda in this recipe 🙂 )
There are many DIY laundry detergent recipes out there. The first choice you have to make is whether to go with a powder or liquid version. I have never used powder, but most people felt the powder versions did a better job, and I was sold when it meant I didn't have to cook soap to melt it down. I will let you know that the recipe I'm sharing is a hodge-podge of different recipes. I did not find this exact one anywhere else.
Here's What You'll Need (With Explanations)
1 Box Washing Soda (55 oz)- This stuff is HARD to come by. I finally found a box at Ace Hardware, of all places. If you are struggling to find Washing Soda, you can order some from Amazon here (it is more expensive on Amazon, but it might be worth the amount you'd spend in gas, driving around, trying to find it).
1 Box Borax (76 oz)- This was a controversial item. Some say it's safe, others argue it's not. This article finally convinced me that it was okay to use, but if you are not comfortable you could leave it out and adjust other ingredients accordingly. Other articles I read state that washing soda can be used on its own because its pH is higher, and therefore it would do a better job cleaning clothes than Borax anyway. Again, up to you.
3 Bars Castile Soap– Many recipes call for using Fels Naptha Soap, and this makes sense because Fels Naptha is a laundry bar used for stain-removal. I, however, wasn't a fan of all the ingredients, so I chose to use Dr. Bronner's Castile Soap which is made with a combination of organic oils. They come in a variety of scents, which adds some natural fragrance. However, you can also purchase unscented from Amazon. (On a completely random tangent, I have always thought I hated the smell of lavender, but while in Colorado, I visited a shop that sold fresh lavender, and loved the smell. This lavender soap reminds me of that store… maybe I just don't like fake lavender smell…) Some recipes also stated you could use Ivory soap, but my fear was the suds in a HE washer.
2 Boxes Oxiclean (3 lb. each) OR 1 Box Oxiclean (5 lb.)- I went with Oxiclean Free which contains no dyes or fragrances as I have a child with sensitive skin, but you could certainly go with a different version if sensitive skin isn't an issue (it'll be cheaper). In all my research, I learned that the active ingredient in Oxiclean is hydrogen peroxide and I know hydrogen peroxide is a miracle at getting things clean when combined with baking soda. (See it work here: cleaning a porcelain sink and cleaning grout).
2 Cups Baking Soda- You saw that one coming, didn't you? Again, some recipes state that adding baking soda to the mix is a moot point because its power to work is minimal in comparison with the washing soda, but I added it to actually help with balancing out the pH, especially for gentle-wash clothes.
Garbage Bag
Directions
You are going to start by grating your soap. Cut the bars of soap into cubes and place them into a food processor. If you don't have a food processor, you can grate the soap by hand; just a little more work.
Allow the food processor to run until you get small pieces of soap (see the picture above for sizing).
Now put a garbage bag into a trash can, just to help stabilize the bag while pouring in the ingredients. Pour everything into the bag. All of it. Tie a knot in the bag so nothing can escape. I doubled bagged my mix, and I'm really glad I did because the first bag got a hole in it. Roll it around for awhile so everything has a chance to mix together.
Cut a hole in one of the bottom corners and allow the mix to drain into a container. It is best to use an air-tight container, with a good seal, in order to keep out moisture that could eventually clump and harden the mix. I stored the extra detergent in a Ziploc bag.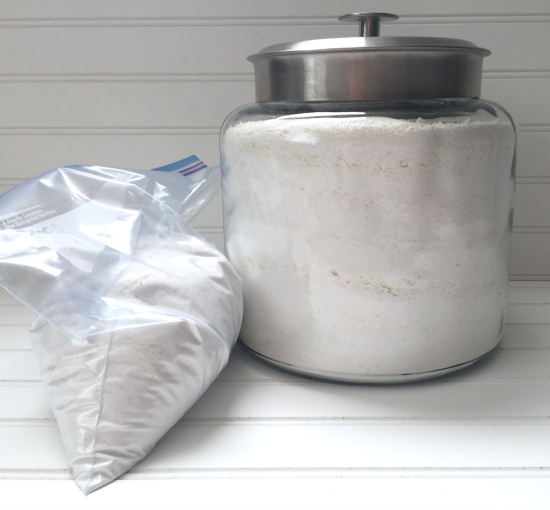 Love these Montana Jars for storage! I used the 1.5 gallon jar, but you can also get a 2 or 2 1/2 gallon jar as well. They are strong and I like the way they look.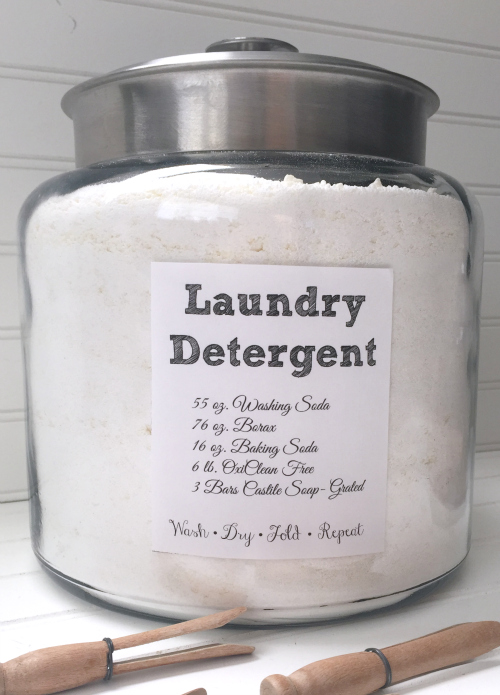 I created a printable, cut it out, and adhered it to the jar with adhesive spray. If you would like one, you can have one for yourself: Laundry Detergent Printable
When you go to do a load of laundry, add 2 Tablespoons of the mix to your washer, and that's it.
Have you ever made your own laundry detergent? I'd love to hear your experience and what ingredients you decided to use.
Want to Follow Along with Lemons, Lavender, & Laundry?
Subscribe!
Social media more your style?
Facebook // Pinterest // Instagram // Twitter
Love it? Pin it!