Do you clean your grout? I never had. However, one day as I was scrolling through Pinterest, I saw that other people are, indeed, cleaning their grout, so I thought I'd give it a try. We do not have much tile in our house, but I can tell you right now, the grout by our front door is gross. Living in Minnesota, you bring in a lot of junk: mud, snow, salt (which they put on the roads to prevent ice), grass, sand… As you well know, I'm all about a homemade version, so here's what I did.
Here's What You'll Need



Remember how well the mixture of hydrogen peroxide and baking soda worked on my porcelain sink? This combination is magical!
Directions
In a small dish or bowl, combine the baking soda and hydrogen peroxide until it forms a paste. I added the baking soda first and then slowly added hydrogen peroxide, a little at a time, until I got a pasty consistency. It doesn't need to be super thick, but you do not want it runny either. When you find the right consistency, dip the toothbrush in and scrub it onto the grout.
Once you have scrubbed the mixture onto all the grout, allow it to sit for 30 minutes. When the waiting time is over, vacuum, or sweep, up the baking soda bits first and then wash the tile floor as you normally would.
UPDATE: We recently moved into a new house, and the bathroom grout was disgusting… so I tried this trick again, but this time, I snapped a picture while working so you could see just how amazing this recipe really works. On the left is the untouched grout. (Yuck!)… On the right, you can see how well the grout turns out.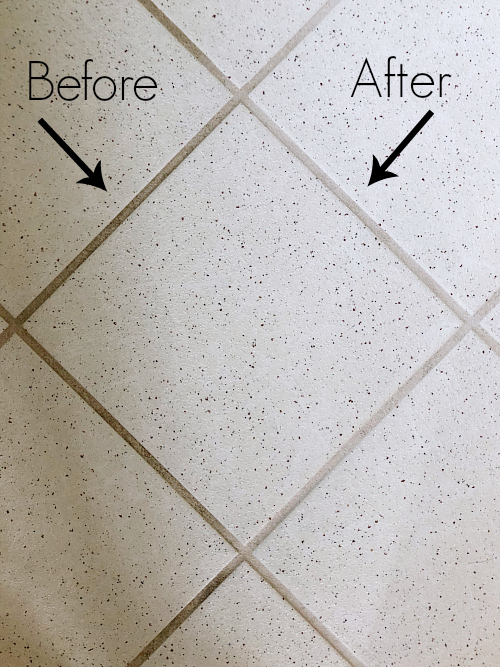 One thing I would do differently next time, is remove any of the baking soda/hydrogen peroxide mixture that gets on the tile with a wet cloth. The reason for this is that the tile around the grout got so clean that it looks whiter/cleaner than the rest of the tile. #cleaningproblems
Hope you all enjoy the rest of your Tuesday!
Erin
Want to Follow Along with Lemons, Lavender, & Laundry?
Subscribe!
Social media more your style?
Facebook // Pinterest // Instagram // Twitter
Love it? Pin it!