Do you clean your grout? I never had. However, one day as I was scrolling through Pinterest, I saw that other people are, indeed, cleaning their grout, so I thought I'd give it a try. We do not have much tile in our house, but I can tell you right now, the grout by our front door is gross. Kids bring in a lot of junk on their shoes: mud, snow, grass, sand… As you well know, I'm all about a homemade version, so here's what I did to make my own DIY Grout Cleaner.
I am not even kidding you when I say this DIY Grout Cleaner works like magic. My grout went from dirty brown to "like new" status with just a little scrubbing.
What You Need to Make DIY Grout Cleaner

Affiliate links may be used. Please see our advertising disclosure for more information.
Remember how well the mixture of hydrogen peroxide and baking soda worked on my porcelain sink? This combination not only removes dirt and grime, but also whitens and brightens.
How to Make Grout Cleaner
In a small dish or bowl, combine the baking soda and hydrogen peroxide until it forms a paste. I added the baking soda first and then slowly added hydrogen peroxide, a little at a time, until I got a pasty consistency. It doesn't need to be super thick, but you do not want it runny either. When you find the right consistency, dip the toothbrush in and scrub it onto the grout.
You should see almost immediate results. Remove any excess "scrub" with a clean wet cloth.
UPDATE: We recently moved into a new house, and the bathroom grout was disgusting so I tried this trick again, but this time, I snapped a picture while working so you could see just how amazing this recipe really works. On the left is the untouched grout. (Yuck!). On the right, you can see how well this grout cleaner works.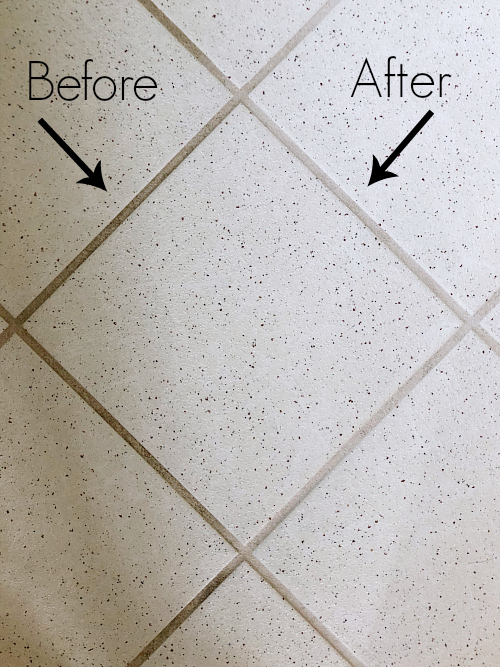 Isn't that crazy? Love a good cleaning hack!
Love it? Pin it!