This easy DIY Lavender Sugar Scrub Recipe works wonders on dry hands and feet.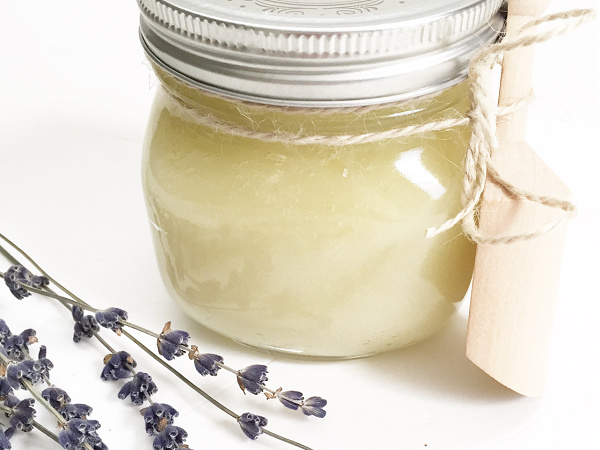 Ready for a little self-care? This DIY Lavender Sugar Scrub is perfect! You only need four ingredients and about 3 minutes of time to whip up this recipe. Apply it to hands and/or feet for a relaxing spa day at home.
What You Need to Make DIY Sugar Scrub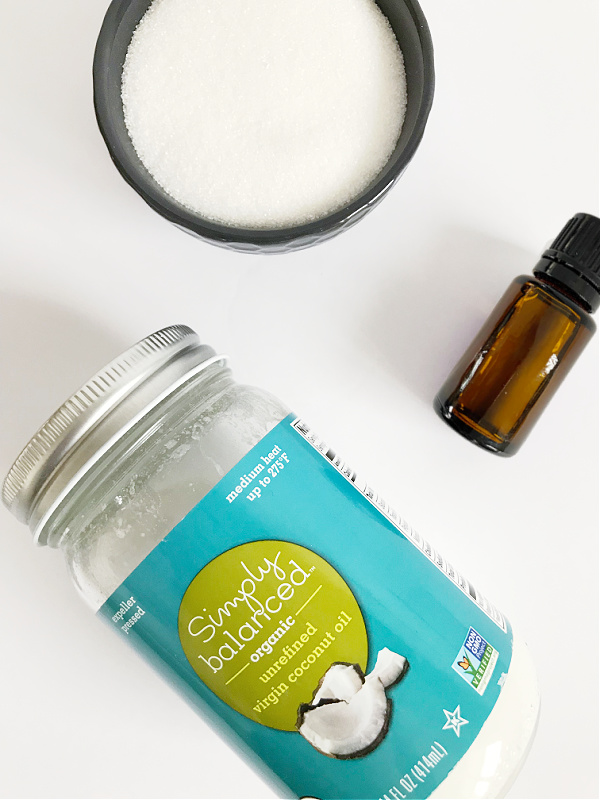 Affiliate links may be used. Please see our advertising disclosure for more information.
Ingredients Needed for DIY Lavender Sugar Scrub
Supplies Needed For DIY Sugar Scrub
How to Make Lavender Sugar Scrub
Start by combining 1/3 cup fractionated coconut oil and 2 Tablespoons of olive oil in a glass mixing bowl. Then add 1 cup sugar and stir until combined.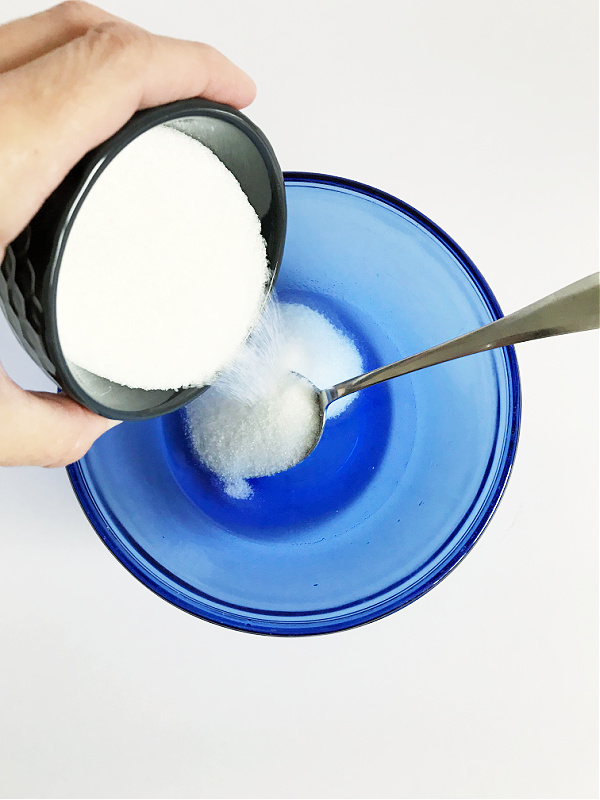 Then add in 15 drops of lavender essential oil and, again, stir to combine. (If you like a stronger lavender scent, you can certainly add a few more drops.)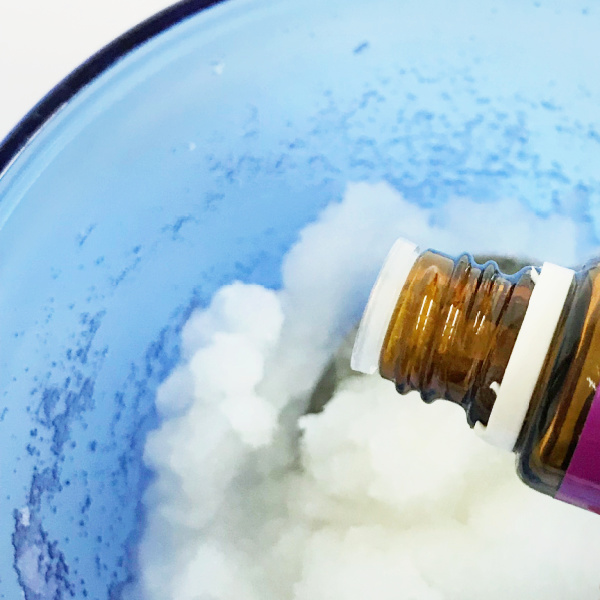 If you find the mixture too runny, add a little more sugar. Too course? Add a bit more olive oil.
Scoop the sugar scrub into an airtight glass container for storage and add a little wood scoop if you'd like.
Please Note: When working with essential oils, it is always recommended to store products in a glass container vs. a plastic one. Some essential oils will actually break down plastic, and no one wants plastic seeping into their sugar scrub.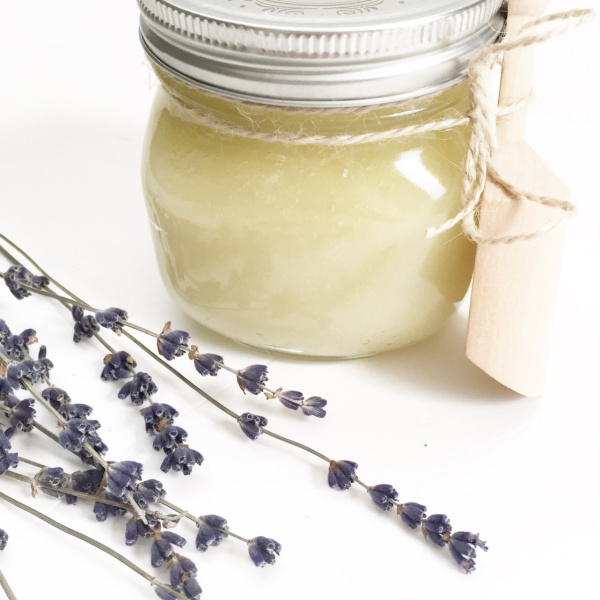 Prior to trying any skin care product, it is strongly recommended that you test the product on a small patch of skin to make sure there is no reaction. Please see our disclaimer statement for more details.
Apply a small scoop (approximately 1 Tablespoon) to dry hands and/or feet, and massage it into the skin for a minute or two. (You can even wrap a warm, damp towel around your hands and/or feet for extra pampering; allowing the scrub to sit on the skin for awhile). Rinse off with warm water and dry hands and/or feet with a clean towel. They should feel silky and smooth.
Other Recipes You May Enjoy
Common Questions About Homemade Sugar Scrub
What Are the Best Essential Oils for Sugar Scrub?
When it comes to putting essential oils on your skin, you need to make sure to always dilute them in a carrier oil. It is also recommended to patch test any skin-care product prior to use to make sure it does not cause redness or irritation. Same goes for homemade skin-care products. This recipe contains quite a bit of carrier oil (approximately 1/2 cup), which mean the dilution rate is less than 1%. (Products used daily should be diluted to 1% or less and those used short-term should be diluted to 2-3% or less… meaning 1 drop/teaspoon for daily use and 2-3 drops/teaspoon for short-term). As long as you follow the dilution ratios, the essential oils listed below are great for skin.
Rose (Diluted Rose)| Frankincense | Neroli | Bergaptene-Free Bergamot | Juniper Berry | Geranium | Eucalyptus | Blue Tansy
Rose and Neroli are incredibly expensive essential oils, so I included links to diluted versions which are more affordable. For Bergamot, make sure you get a Bergaptene-Free version, otherwise it is highly photosensitive.
Source Used- Marie Claire
Avoid using citrus essential oils in skin-care (orange, lemon, lime, grapefruit, etc) as they are photosensitive. And honestly, citrus oils tend to have a more mild scent which doesn't come through as much as other essential oils.
How Long Does Homemade Sugar Scrub Last?
Because this sugar scrub recipe uses natural ingredients, it will eventually expire. Most sugar scrubs last about 6 months. To make sure you get the longest shelf-life possible, always use a clean scoop or spoon to remove the scrub from the jar. This lessens the possibility of introducing bacteria into the scrub. It is also best to store homemade sugar scrub in a cool area. If you ever notice a change in color or scent, it's time to toss it out and make a new batch. If you don't think you'll use the entire recipe before it expires, you can always half the recipe.
Can I Use Sugar Scrub on My Face?
This particular sugar scrub recipe should not be used on your face. Granulated sugar tends to be quite coarse, which could cause redness and irritation if used on the face. Stick with hands and feet for this recipe.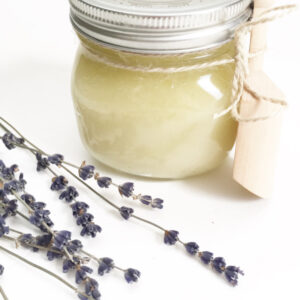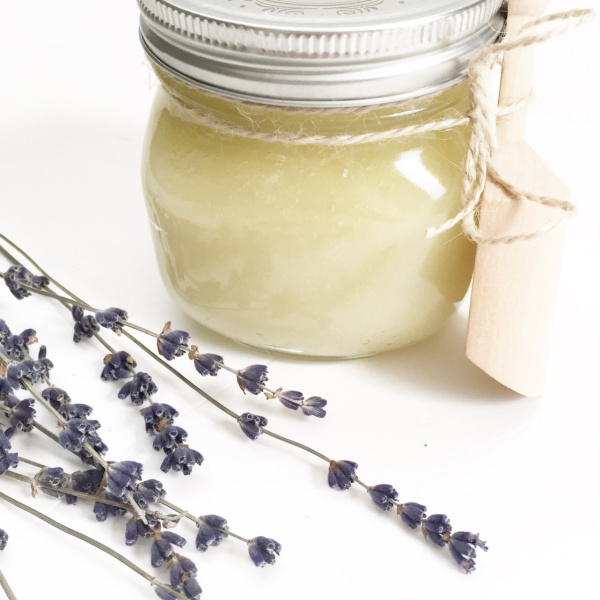 Lavender Sugar Scrub
This easy sugar scrub recipe uses just 4 simple ingredients to exfoliate and moisturize skin on both hands and feet.
Ingredients
⅓

Cup

Fractionated Coconut Oil

2

Tbsp

Olive Oil

1

Cup

Granulated Sugar

15

Drops

Lavender Essential Oil
Supplies
Glass Mixing Bowl

Glass Jar with Lid for Storage

Wood Scoop (optional)
Instructions
Stir the olive oil and fractionated coconut oil together in a glass mixing bowl

Add in sugar and stir to combine

Add 15 drops lavender essential oil and stir once more

If the mixture is runny, add a bit more sugar. If it's too coarse, add a bit more olive oil.

Scoop mixture into a glass jar (with lid) for storage

To use, massage a small scoop of sugar scrub into hands and/or feet for a minute or two. Rinse with warm water and dry with a clean towel.
Love it? Pin it!