One of my favorite smells is coffee, so testing homemade coffee scrub recipes was pretty much the best thing ever 🙂 … This particular DIY coffee scrub combines five ingredients that not only moisturize your skin, but also exfoliates and enhances your skin's appearance.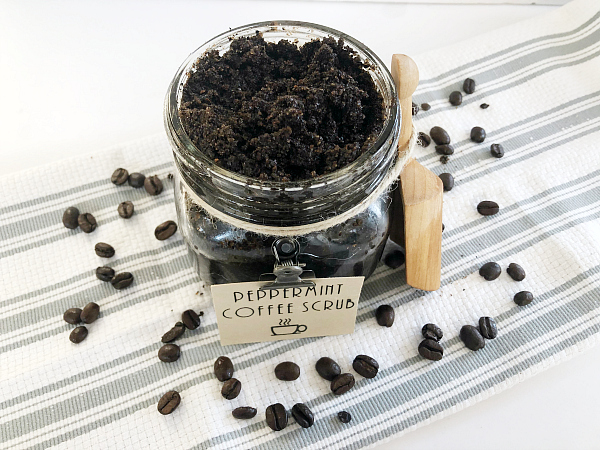 This isn't my first go-'round with making a scrub. A couple years ago I made a lavender sugar scrub that I absolutely love. However, the scent of lavender reminds me more of spring, and I wanted to find something with a cozier vibe. Enter Peppermint Coffee Scrub.
What You Need to Make DIY Coffee Scrub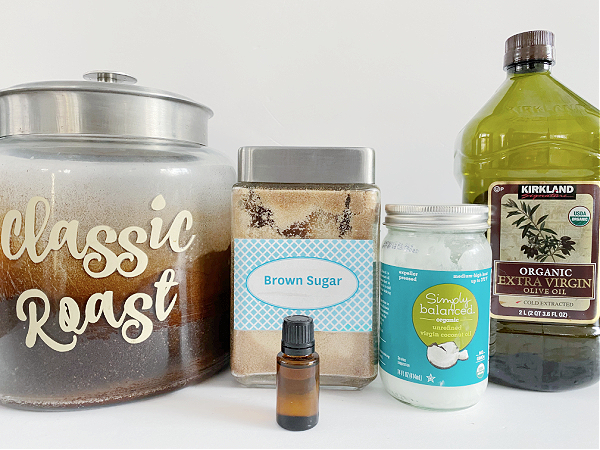 Affiliate links may be used. Please see our advertising disclosure for more information.
Ingredients Needed to Make A Body Scrub with Coffee
Supplies Needed to Make A DIY Coffee Scrub
How to Make DIY Coffee Scrub
Start by adding 1/3 cup fractionated coconut oil and 2 tablespoons of olive oil into a glass mixing bowl. Stir to combine.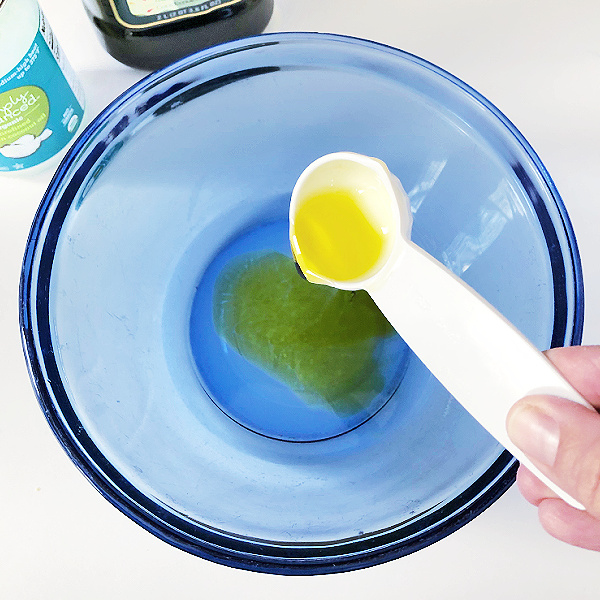 Next, add in 1/2 cup brown sugar along with 1/2 cup fresh coffee grounds. Stir.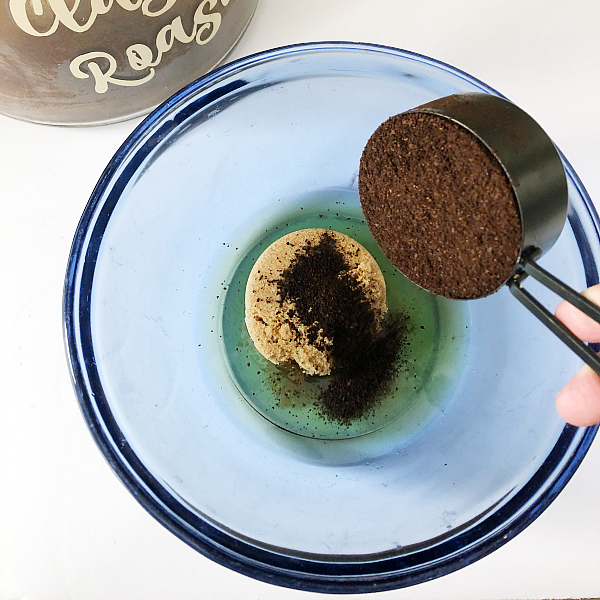 The last step is to mix in 15 drops of Peppermint essential oil.
If the mixture seems a bit dry, add up to 1 Tablespoon Olive Oil to improve the consistency.
Once the mixture has been thoroughly combined, scoop it into a glass jar.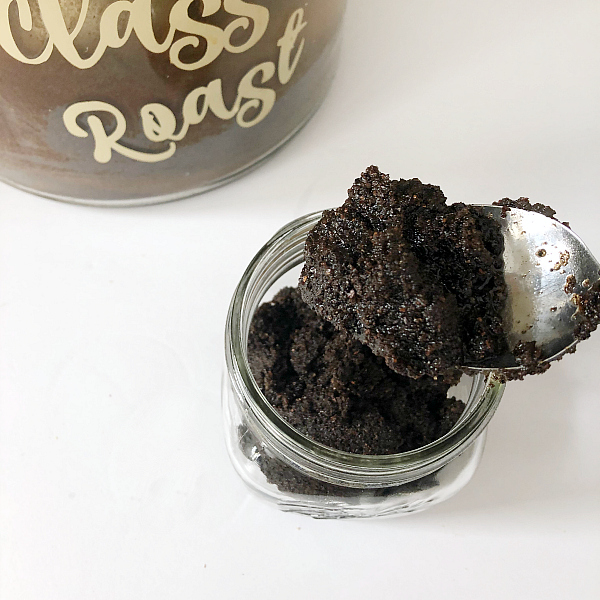 Prior to trying any skin care product, it is strongly recommended that you test the product on a small patch of skin to make sure there is no reaction. Please see our disclaimer statement for more details.
To use, simply scoop out some of the mixture with a small scoop (not your fingers, which can introduce bacteria into the scrub) and evenly apply to wet (or dry) skin using a circular motion. Make sure to avoid delicate areas. Thoroughly rinse off the scrub and dry with a clean towel.
If you want to spruce things up, you can add a small wooden scoop and attach a label. I simply used my Cricut for the lettering and coffee cup, which I applied to a piece of cardstock. I then used a hot-glue gun to attach a small clip onto the jar to hold the label in place.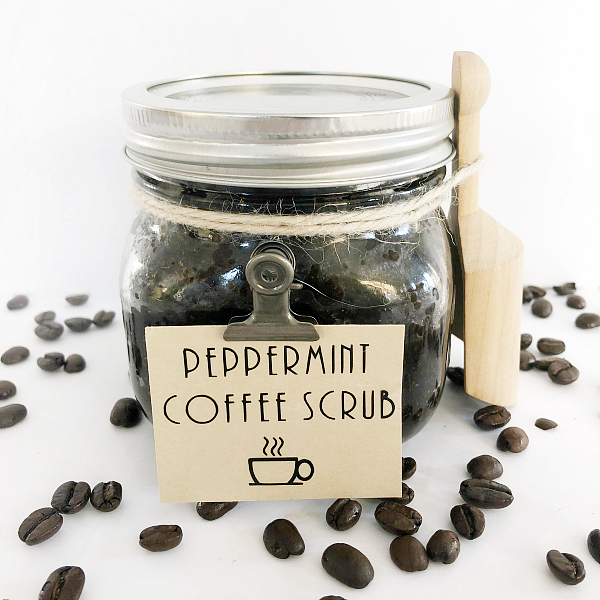 Common DIY Coffee Scrub Questions
Can I Use "Used Coffee Grounds" to Make A Scrub?
I would recommend only using fresh coffee grounds in this recipe. Because used coffee grounds are wet, they may affect the consistency of the scrub. A greater concern, however, is shelf-life. When water is added to a recipe, it greatly reduces the shelf-life as water contains impurities that can aid in bacteria growth… and no one want a bunch of bacteria growing in their coffee scrub.
Does DIY Coffee Scrub Expire?
Like all homemade recipes using food ingredients, they will eventually expire. A DIY coffee scrub should safely last up to 3 months. If you don't think you'll use it often, you can certainly half the recipe to make a smaller batch and store it in the refrigerator. If you notice a change is color or scent, it's time to toss it out.
Can I Use This Coffee Scrub Recipe on My Face?
I would not recommend using this particular coffee scrub recipe on your face, and here's why… First, coffee grounds are a bit abrasive for exfoliating the more delicate skin on your face. Second, this recipe uses peppermint essential oil, which can cause eye irritation. While the peppermint oil is diluted quite a bit in this recipe, I would still avoid getting it close to the eyes.
Can I Use A Different Essential Oil in This Recipe?
Of course! I, personally, love the scent of peppermint and coffee, but feel free to use a different essential oil if you'd like. Just a quick word of caution, however. There are certain essential oils that can irritate the skin, especially when not properly diluted. While the essential oils in this recipe are quite diluted, you may want to steer clear of "hot oils" like cinnamon, oregano, etc. as they may cause redness and irritation.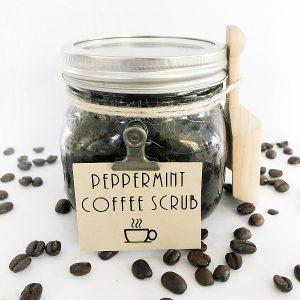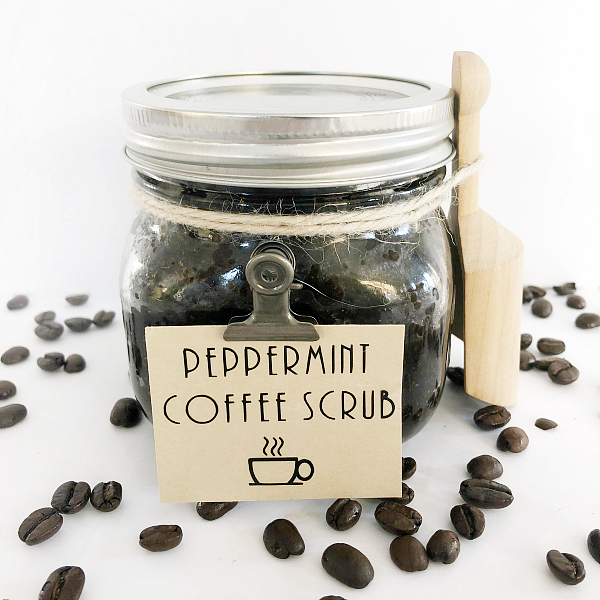 Natural Homemade Coffee Scrub Recipe
This coffee scrub recipe is easy to make, requiring only 5 ingredients. Benefits include moisturizing, exfoliating, and enhancing skin's overall appearance.
Ingredients
⅓

Cup

Fractionated Coconut Oil

2-3

Tablespoons

Olive Oil

½

Cup

Brown Sugar

½

Cup

Fresh Coffee Grounds

15

Drops

Peppermint Essential Oil
Supplies
Glass Mixing Bowl

Mixing Spoon

Glass Jar with Lid for Storage

Scoop (Optional)

Hot Glue Gun (Optional)

Bulldog Clip (Optional)
Instructions
Start by adding 1/3 cup Fractionated Coconut Oil and 2 Tablespoons of Olive Oil to a glass mixing bowl. Stir to combine.

Add in 1/2 cup Brown Sugar and 1/2 cup Fresh Coffee Grounds. Stir.

Add in 15 drops of Peppermint Essential Oil and stir once more.

If mixture seems too dry, add up to 1 Tablespoon of Olive Oil to improve consistency.

Scoop mixture into a glass jar with an airtight lid for storage.
Love it? Pin it!