I'm going to start with a little confession: I struggle with time-management. There. I said it. If you find it hard to fit everything into 16 waking hours, join the club. Here are some time management strategies I have been trying lately, and all you need is a notebook.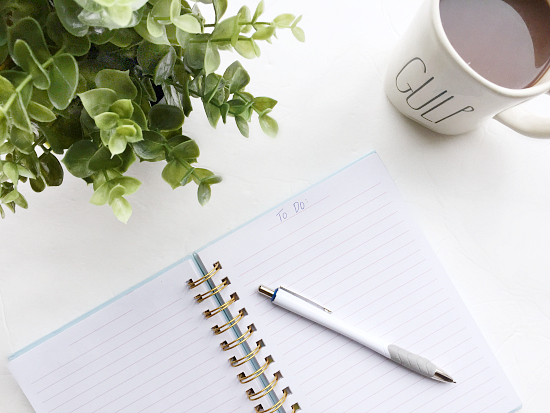 I typically wake up, drag myself out of bed, and quickly grab a cup of coffee before people start talking to me (I'm not pleasant before coffee… Another confession). Once I'm fully caffeinated, I start thinking of everything I'm going to accomplish during the day: 10 loads of laundry, iron all 27 shirts currently hanging in the "to be ironed" spot, wash all the dishes, cook a 5 course meal, plan meals for a month, clip coupons; all before noon 🙂
Noon rolls around, and, honestly, I'm lucky if I've showered. (When you work from home, and no one sees you until 4pm, showering isn't a priority.) Dinner time rolls around and I'm scrambling to figure out what I can make with 1 pound of hamburger, half of a box of noodles, a carrot, and 2 slices of bread (one of those being the dreaded "end piece").
What did I do all day? How did I get nothing done? Truth. I do stuff. I work on my blog (which really is my job), but I become easily distracted. I keep tabs open on my computer and it's like, "Oh. Someone just emailed me. Better see who it was. Michaels is having a sale. Nice. Cardstock is on sale. Wonder if I can get it cheaper on Amazon." Go to Amazon… Check cost of cardstock. Cheaper on Amazon, but it's an add-on item. Shop around so I can buy more and get my cardstock by Monday… You get the picture. Distractions.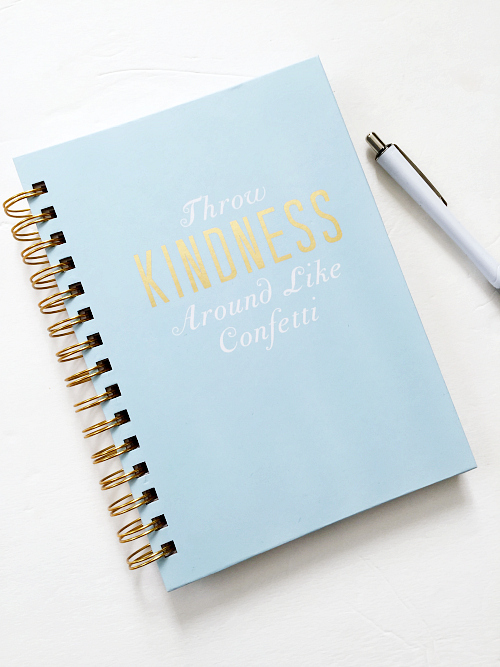 I've tried to stay on track. I mean, I have really tried. I have bought those planners with the hours written in for the day, trying to plan my life in 30 minute increments, but life never follows the plan! The dog gets sick and I need to take him to the vet. My kids get sick and stay home from school. Someone calls and 89 minutes later I'm still on the phone… accomplishing absolutely nothing.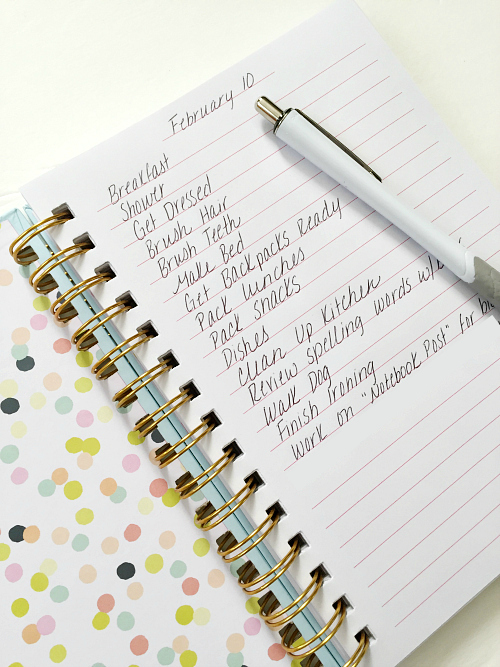 Then I decided to try something. It was so incredibly simple. So incredibly easy… and it worked. I grabbed a little notebook. Nothing fancy. Just a little notebook from Target. I started to write down what I needed to do each day. Everything I needed to do: Get the kids' backpacks in order, pack lunches, shower (before noon 🙂 ), make the bed, brush my teeth… you get the idea. All the chores went on the list too: dishes, make dinner, do a load of laundry, iron 3 shirts (Yes. Much more realistic goals than my "after coffee grandeur"). I also added any appointments I had that day: dentist appointment, lunch meeting, etc.
Here's why I do this, why I write down everything.
I can see everything I need to do, all at once.
I get to cross a lot of stuff off my list… and crossing stuff off a list gives me the feeling of accomplishment. Not only that, crossing off completed tasks pushes me to get more done so I can cross off more stuff.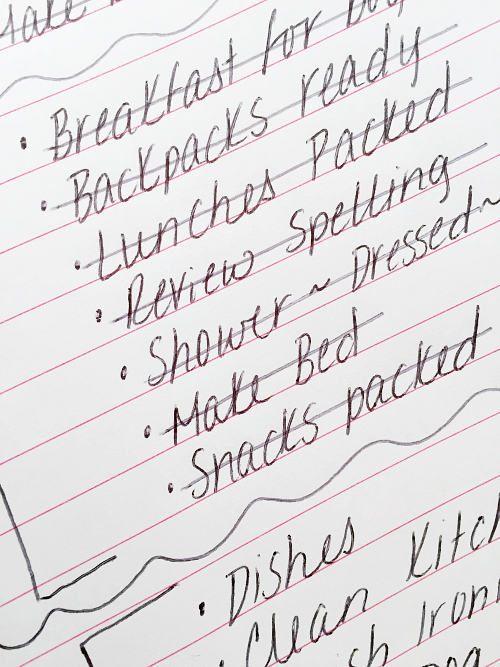 I don't know about you, but my life is too crazy for 30 minute increments. Anything can happen, and I don't want to necessarily miss what I had planned because an important phone call comes in. So I learned to schedule my day differently. Instead of 1/2 hour segments, I schedule my day in "time chunks". (There has got to be a better phrase for that. Time chunks? Help me out here.) Some of these, so called, chunks of time are 15 minutes, others are 3 hours. It just depends on what I'm doing. Here's my approach…
Time Management Strategies With A Notebook
Break Down Your Day
My typical weekday comes in four parts. I have about an hour from the time I wake up until my daughter leaves for school and my husband leaves for work. Then, there's two hours until my boys head out the door. I then have about 6 hours before kids start coming back home from school. The last segment is about 5-6 hours long, from the time my kiddos come home until everyone goes to bed. Your day might look different. Maybe you work at an office, and those 8+ hours are one chunk of time. Maybe you go to the gym every day and that's a chunk of time. Whatever your day looks like, break it down.
Figure Out What Needs to Be Accomplished in Each Time Slot
During each time slot, there are things to be accomplished, and you want to prioritize those things within each given section.
Scheduled Appointments Take First Priority
No doctor wants you to miss your appointment because you got behind with laundry, and no friend wants to wait an extra 42 minutes to have coffee with you because you were finishing up the dishes. Scheduled appointments take top priority. These appointments and meetings were set up, in advance, to ensure you are able to attend.
Time-Sensitive Activities Come Next
My children need to get out the door for school, so packing their lunch after they leave won't work. Therefore, I need to make sure backpacks are ready, lunches and snacks are packed, permission slips are signed, and homework is complete before they walk out the door.
Work Before Play
I struggle with this one. Who wants to clean toilets before checking Facebook? Not this girl. But, here's the problem. I know myself. Once I sit down at the computer, I'm done. I find it difficult to peel myself away to go do chores. I love blogging and I'd rather work on my blog than scrub the tub, but I can't. If I start blogging first, the day will slip away, and that tub will never get cleaned. Therefore, scheduling chores before play works better; at least for me.
Plan Out Your Evening
Evenings are stressful; at least in our house. There is dinner-making, dinner eating, sport practices, church events, homework, kitchen cleaning, bedtimes. Crazy. Therefore, planning out the evening is a must. What are we having for dinner? What time do I need to start making dinner? How do we schedule dinner between basketball practice and parent/teacher conferences? (That was our dilemma last week.) With dinner planned, and timing worked out, the stress is minimized; not absent… minimized.
(Just in case you struggle with menu planning (like me), here is a menu-planning strategy you could try.
Schedule Time to Rest
Sure. I love days where I feel accomplished. I love when I can scratch everything off my "to do" list, but we all need rest. We need down-time, so make sure you get it in there somewhere: Take the dog for a walk, listen to some music, read a good book, watch your favorite show, maybe even take a little nap. Remember to spend some time doing something you love.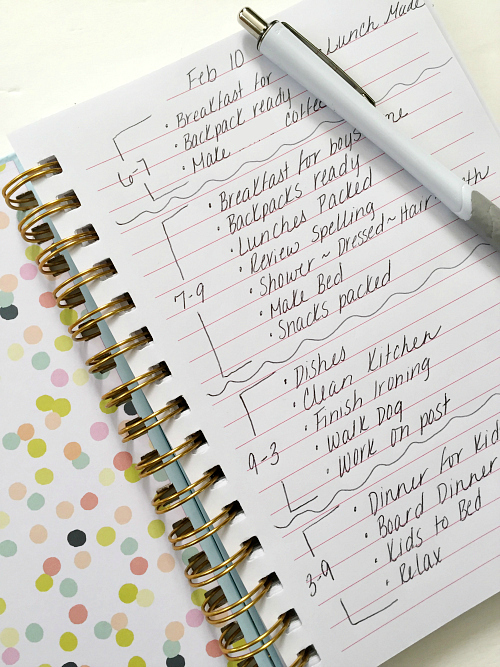 Follow Your Plan
Once you have your day laid out, try your best to follow your plan. The nice thing about breaking your day into segments, versus 30 minute increments, is it allows for more flexibility. If I have a list of 5 things to accomplish over then next 4 hours, I can plan my time accordingly. I can race through it so I can have some down-time at the end, or I can work on my list for awhile, call a friend to chat, and then return to the list. This open time-frame allows for plans to change, without taking away from your ability to accomplish things.
Rules for Using the Notebook
Use Your Notebook As A Guide
Sometimes we make a "to do" list and feel like we can't deter. Untrue. Life happens and we don't always have control over it. Use your list as a guide. If your next "time chunk" arrives and there's still a few things on your "to do" list, don't worry about it. (See below)
It's Okay If You Don't Get Everything Done
It's a rare day that I accomplish everything. R-e-a-l-l-y rare. I have high hopes, I think big, and it doesn't happen. That's okay! If it's important, add it into the next day and set it as a higher priority. And instead of focusing on things you didn't get done. Think of all you did accomplish.
Add Reminders Along the Way
One thing that distracts me (besides email and Facebook) is remembering things I need to do that I forgot to add to my list. Suddenly, I feel like I need to get it done right then and there. Not true. Add it as a side note. If it's really important, work it into the day. If not, it's written down and can be scheduled for tomorrow. Don't let everything that comes to mind distract you from staying focused.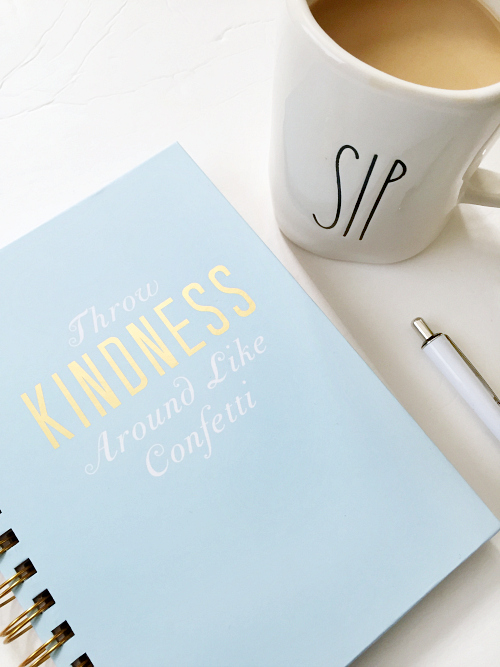 I now look forward to the first 5-10 minutes of my morning, where I sit down with my cup of coffee and plan out my day in this notebook. Instead of 114 things floating around in my head, I have them all laid out in front of me. I have a plan and I can stay focused.
Do you have any time management strategies that work well for you?
Love it? Pin it!