Did you know there is a list of every ingredient used in making "fragrance"? Care to guess how many items are on that list? 100?… 1,000?… Try 3,999 (as of December 2017). And here's the crazy thing: companies do not have to disclose which of these 3,999 ingredients they use in their fragrance formulations because they are considered proprietary. If you look at a bottle of hand soap or lotion or cleaning spray, more than likely you are going to see the word "fragrance" on the ingredient list, which means each time you apply that product to your skin or spray it in the air you are exposing yourself to any number of the 3,999 ingredients on The International Fragrance Association's transparency list. While I have figured out how to switch out many of my cleaning products and personal care items that contain unknown fragrance ingredients, one thing I still needed to change out was my perfume and body spray. When I started researching how to make perfume, I realized making your own signature scent was incredibly easy to do.
Before we begin talking about how to make perfume, let's discuss the art of combining different essential oils to create your own unique scent. It's not quite as simple as taking a few of your favorites oils and adding in some drops at random; there's an actual science to it. Different scents are assigned to one of three categories: top notes, middle notes, or base notes. In order for a perfume to "work", there needs to be the right combination of each of these notes, so let's break them down.
*Please note that the following information can be used to make both perfume or cologne. Simply choose oils that work well for the person for whom you are making the scent.*
Top Notes in Perfume
Top notes are your "first impression"; the first scent we smell upon application. While there are always some exceptions, top notes tend to consist of citrus oils and herb-y oils. The thing about top notes is they tend to evaporate rather quickly; typically within 30 minutes of application. Top notes should comprise about 30% of your perfume oils.
Middle Notes in Perfume
Middle notes are the heart of the perfume, making their entrance just as the top notes are wearing off. Middle notes often mask any unpleasant odor that comes from the base notes, as base notes tend to smell better over time. Middle notes are often made up of floral and spice oils. Middle notes should make up about 50% of your oil combination.
Base Notes in Perfume
If top notes are your first impression and middle notes are the heart, base notes are the depth. (Kinda sounds like we're walking through the stages of a relationship, doesn't it?) Base notes are often made up of earthy and woodsy oils, making up the last 20% of your perfume.
Oils to Avoid Using in Perfume
One last word of caution before we begin. Certain essential oils are considered "hot oils". Because of their chemical make-up, they can cause a burning sensation, irritation, and/or redness. I would not recommend the use of these particular essential oils in perfume-making, unless you use only a drop or two in a carrier oil base (not an alcohol base, like vodka).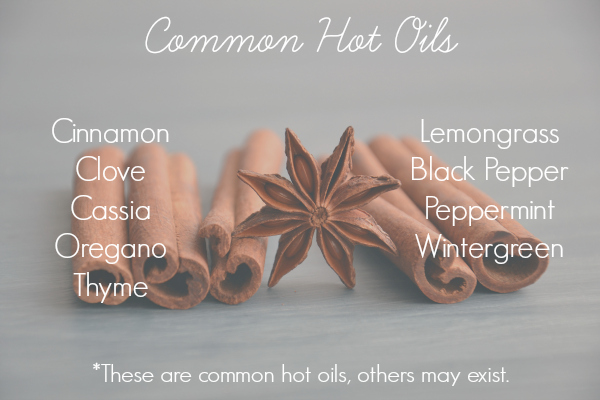 If you experience any irritation after application, apply a carrier oil like olive oil or fractionated coconut oil to the area, and continue to do so until irritation subsides.
Now that we know the formulation and which oils we want to try (as well as those we should avoid), let's get started.
What You Need to Make DIY Perfume
Affiliate links may be used. Please see our advertising disclosure for more information.
Vodka or Odorless Carrier Oil- This recipes uses Vodka, however, you can use an odorless carrier oil (such as fractionated coconut oil) in its place; just note that you will need to use a roller ball (vs a spray bottle) and the mixture will be oily on your skin when applied.
Top Note Essential Oil(s)- See list above for some suggestions
Middle Note Essential Oil(s)- See list above for some suggestions
Base Note Essential Oil(s)- See list above for some suggestions
(Not sure where to buy essential oils? Check out this post.)
Pure Vanilla Extract (Optional)- Can be used as a base note
Small Dropper (Optional)- Best for use with Vanilla
Glass Roller Ball Bottle or Glass Spray Bottle– I would recommend going with 10ml roller balls or spray bottles to start as this allows you to experiment with different scent combinations. Once you have your signature scent, you can buy a larger perfume bottle and make a bigger batch. ***Please see notes re: larger spray bottles.
How to Make Perfume
Start by picking out one or two favorite essential oils from each category: top note, middle note, and base note. If you can't decide which oils might smell nice together, try putting the combination in a diffuser using 3 drops of the top note, 5 drops of the middle note, and 2 drops of the base note. Diffusing will help you experience the full essence of the oils when combined.
Once you have your selection, place 6 drops of your "top note" choice(s) into your bottle. If you are selecting more than one oil for your top note, simply divide up the drops so the total is equal to six.
Next, add in a total of 10 drops of your middle note choice(s).
And lastly, add in a total of 4 drops of your base note choice(s).
If you choose to use pure vanilla extract in your base, simply pour a very small amount into a finger bowl and use a dropper to add the exact number of drops desired to your perfume.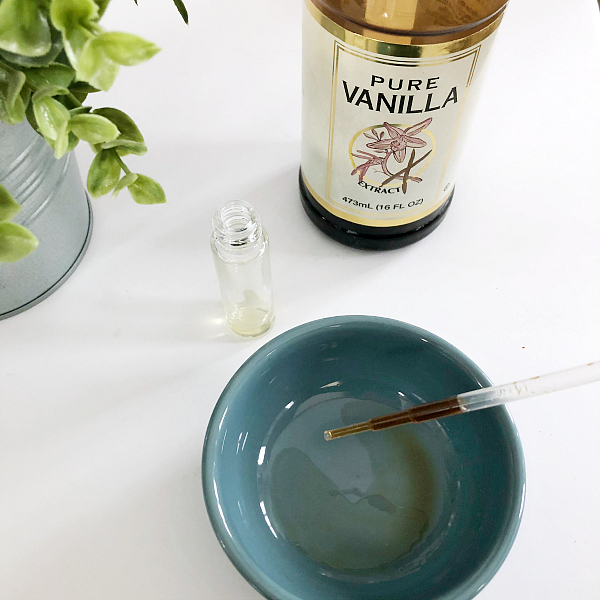 Once all your oils are added, use a small funnel (or dropper) and fill the remainder of the bottle with vodka (or a carrier oil if you choose to go that route). Remember to be careful and pour slowly 🙂
***For larger spray bottles: When using containers larger than 10ml, add your oils and then add 1 oz. of vodka. Give this a little stir and fill the remainder of your container with distilled water.
Pop the roller ball onto your bottle or attach the spray mechanism and give the mixture a good shake.
For best results allow the perfume to sit for at least 24 hours as this allows all the scents to meld together. I have read in some places to allow it to sit for up to a month! I'm not sure I'm that patient 🙂
Of course you can name your signature scent and apply a label to the bottle if desired. When ready to use, give it a little shake and apply as you would any perfume.
Love it? Pin it!