Envision yourself in your car or van… or SUV or truck; whatever you happen to drive. You are sitting in a traffic jam. Like, you haven't moved in 17 minutes… and you're late. You have little ones in the back seat playing a game of "MOM! He touched my side." You take a deep breath, and you smell old fries and sweaty gym socks. Okay. Clearly, I am terrible with meditation exercises.
I actually have no cure for traffic jams or screaming children, but I do have an idea for car odors.
What You Need To Make A DIY Car Freshener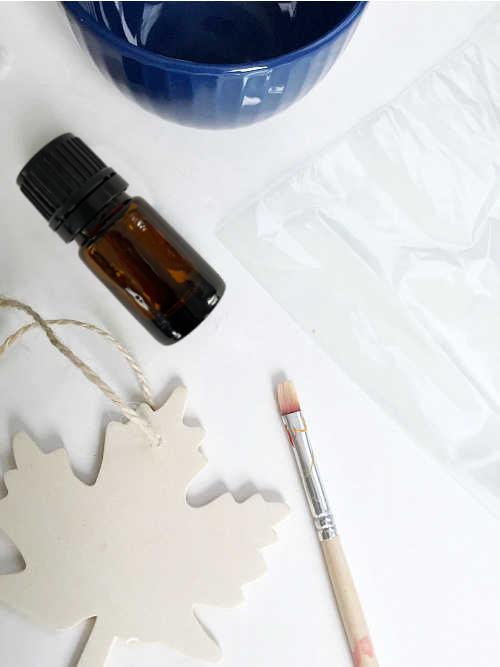 Affiliate links may be used. Please see our advertising disclosure for more information.
*I link to essential oil brands I believe provide high quality oils and are transparent with their testing (in other words, the company publicly provides GC/MS results). I also try to link to the essential oil that will give you the "biggest bang for your buck" (often times buying a 30ml bottle of oil means greater savings per ml than purchasing a 10ml bottle). I provide more information on where to buy essential oils so you can choose a brand you feel is right for you.
How to Make A DIY Car Freshener
This is one of the easiest DIYs ever. Place 1 Tablespoon of carrier oil into a small glass bowl and add about 15 drops of essential oil. (Make sure to use a glass bowl as some essential oils eat away at plastic). Using a small paintbrush, brush the oil onto the wooden ornament.
Place the wooden ornament into a Ziploc bag and allow it to absorb the oil for a few hours (or overnight).
You can then use a small Command hook and hang this in front of the air vents to allow the scent to fill the car. Essential oils do not last forever, so when the scent fades just add a couple drops directly to the wood. No need to paint it on each time.
Please check local laws as some areas do not allow you to hang anything from your rearview mirror.
Love it? Pin it!