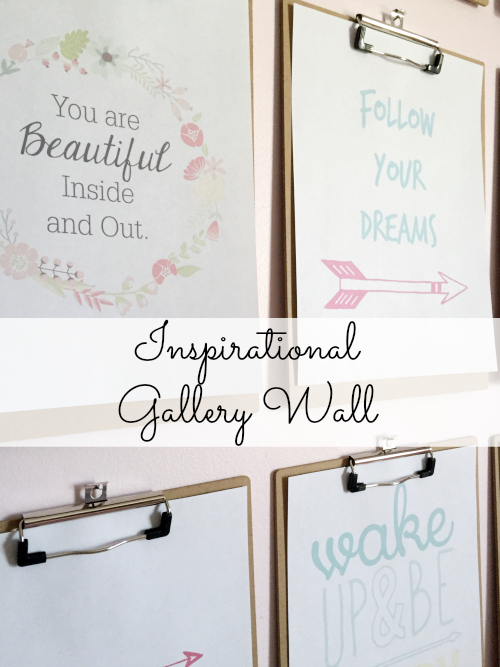 This week is Eating Disorders Awareness Week, and unless you've read my "About Me" page, you may not know that I work with those struggling with Eating Disorders, and have done so since I graduated college.
Every year I receive an email, or maybe even 2, letting me know that one of our patients has passed away from their illness. Many times I don't know them, but last month was different. I opened the email and read the name. My stomach cringed, and my heart broke. I knew her. I had spent countless hours with her, talking and discussing life. It hurt.
I have never met a patient that told me they just woke up one day and decided to engage in an eating disorder. It almost always starts with a diet. They cut out desserts and then add a couple hours of exercise into their week. People begin to compliment their changing body and they feel compelled to do more: Restrict. Run. Purge. And it happens. They develop an eating disorder; and this eating disorder lies to them all day long. It tells them it will comfort them. It will keep them safe. It will protect them from thinking about traumatic experiences. If they can just obsess about the calories consumed and calories burned and the number on the scale, they will feel numb.
When a patient enters our program, they are often as I described above: Numb. They have lost their identity to their eating disorder. As they begin their journey to recovery, one of the hardest things they must learn is to love themselves for who they are; to recognize they are worth more than the number on the scale. By the time we see a patient in our center, the messages from their eating disorders are ingrained in their minds. They believe they are worthless, and without the eating disorder they will be lost. Those message need to change. They must re-train their their way of thinking. We often have them write affirmations on index cards they can take with them. Reminders as to why life is worth living, without the eating disorder in tow.
Have you ever thought about how long a negative comment stays with you? Can you remember something someone once said to you that made you feel like you were worthless? I have patients that can recall negative messages they heard at the age of five. Five. Why do we always remember the negative, yet quickly brush off any positive message that comes our way?
I look at my daughter and I want the positive messages to outnumber the negative. I want her to know that she is enough, just as she is right now. Every day I want her to see positive messages, and I figured a gallery wall, full of affirmations, would be a great place to start.
Here's What You'll Need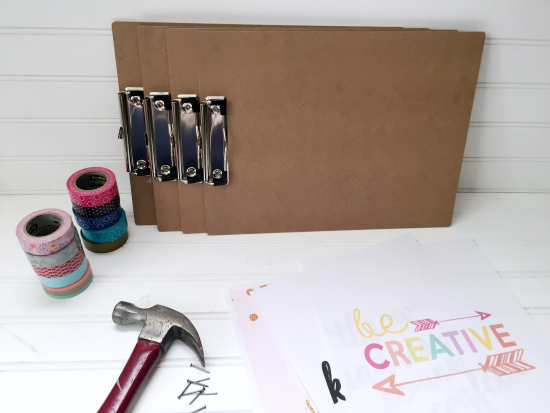 Clipboards- I got mine at the Dollar Tree for $1 each
Washi Tape- Optional
Printables- You can certainly create your own printables, otherwise, there are hundreds of free printables you can use on Pinterest. (I have a Pinterest Board dedicated to printables and I'd be happy to have you follow along).
Hammer
Nails
Level
Masking Tape
Tape Measure
Directions
These directions could not be easier. Simply find some printables, or make your own. I used the majority of mine from Pinterest, but I did make a couple in PicMonkey.
Once you have all your printables, arrange them on the floor so you know how you want them laid out when they go on the wall.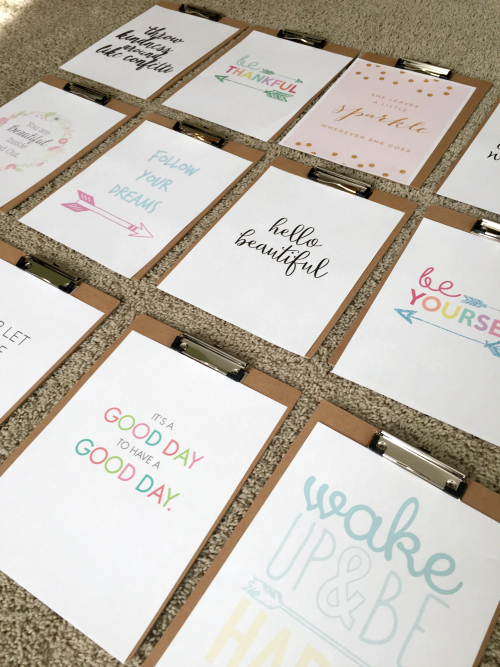 If you want to add washi tape for a little added pizzazz, go for it. I tried it out, but ended up liking the gallery better without it.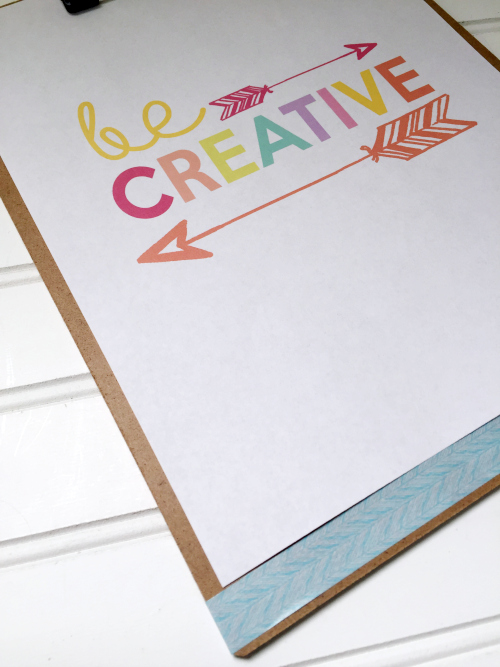 In order to get them evenly hung on the wall, I arrange them how I want them on the floor, and use a piece of masking tape to run along the top hooks.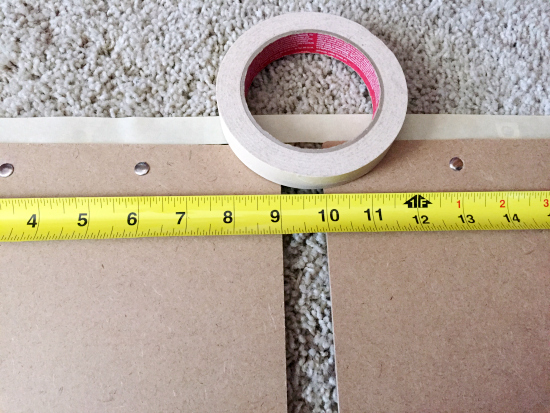 Once I make sure everything is level, and spaced appropriately, I poke a hole in the masking tape where the nail needs to go.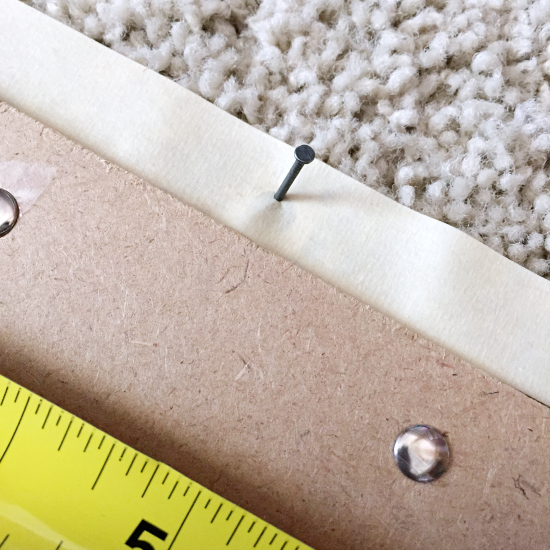 I remove the masking tape from the back and adhere it to the wall, again making sure it's level. Then I pound in the nails where the holes have been poked and hang up the clipboards.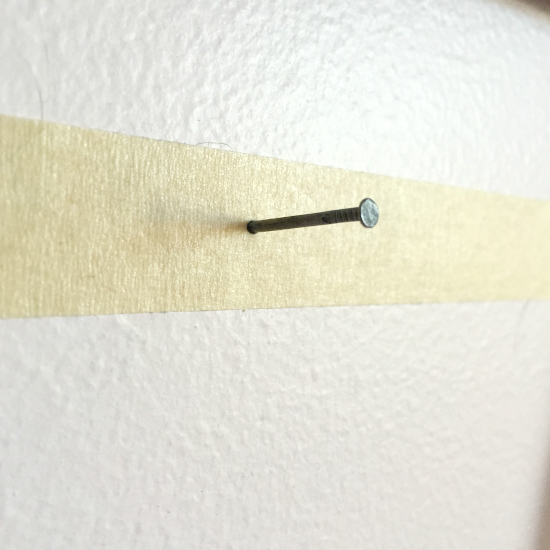 And here's the gallery wall when it's finished.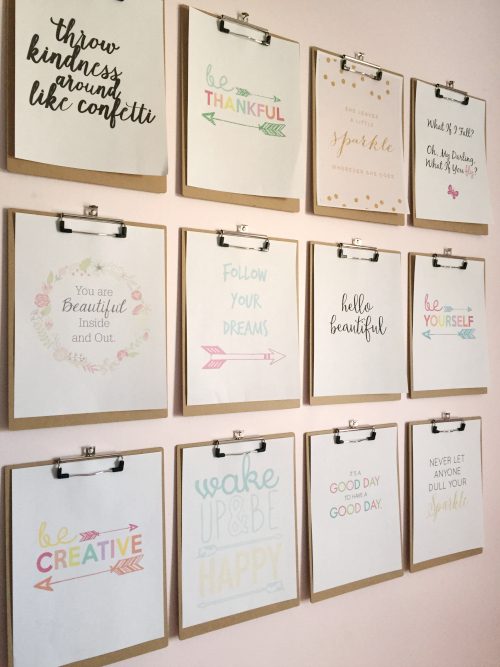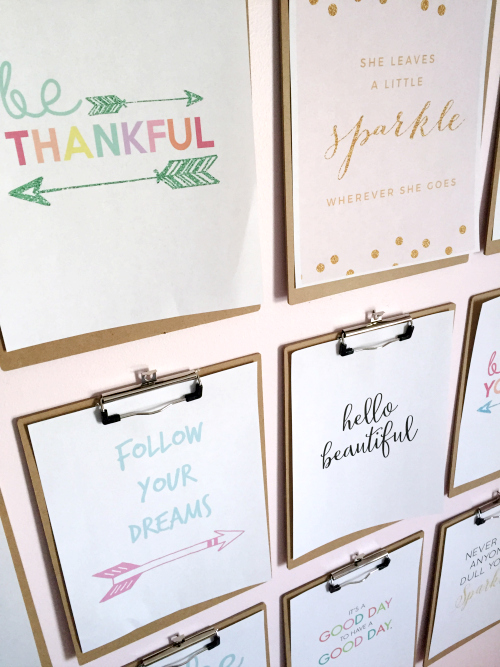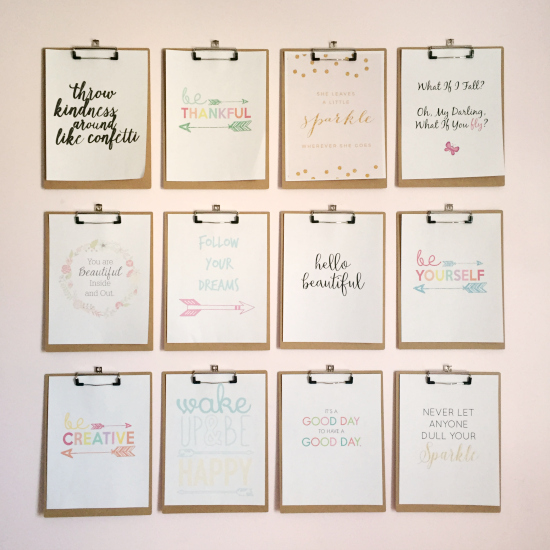 Tomorrow marks my one year blogging "anniversary". I don't typically post on Saturdays, but you gotta celebrate, right? I'll hope you'll stop over as I've got my very first giveaway happening.
Enjoy your weekend!
Erin
***Did you know that eating disorders have the highest mortality rate of any mental disorder? If you, or someone you know, is suffering from an eating disorder, please seek help. You can contact the National Eating Disorder Association by calling 1-800-931-2237. If you have questions or comments, please feel free to contact me.
Want to Follow Along with Lemons, Lavender, & Laundry?
Subscribe!
Social media more your style?
Facebook // Pinterest // Instagram // Twitter
Love it? Pin it!