It's reveal day for the $100 Room Challenge! For the past month, dozens of bloggers have been working on transforming various rooms in their homes with only $100 to spend. I decided to take our (very) boring entry nook and give it a farmhouse entryway makeover. Let's take a look at what has transpired over the past few weeks.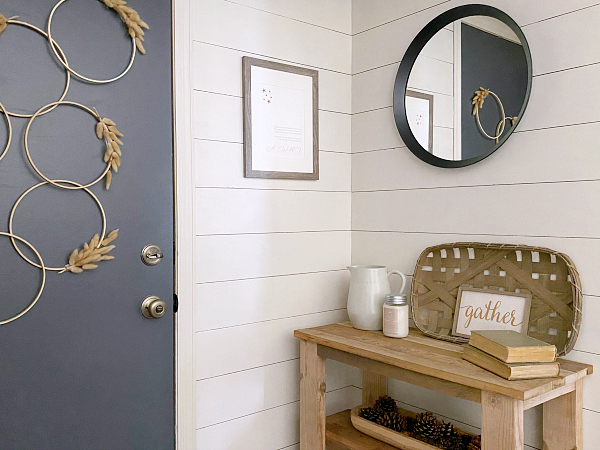 I started the $100 Room Challenge in September 2015. The intent of the challenge is to share with you how much can be accomplished with only $100 to spend. This entry nook is the 18th space I have transformed with a mere $100. The key is to shop smart and use items you already have on hand (I'm talkin' about you, can of old paint in the basement). I always like to start with a before picture, so let's take a look at what this entry area looked like 4 weeks ago.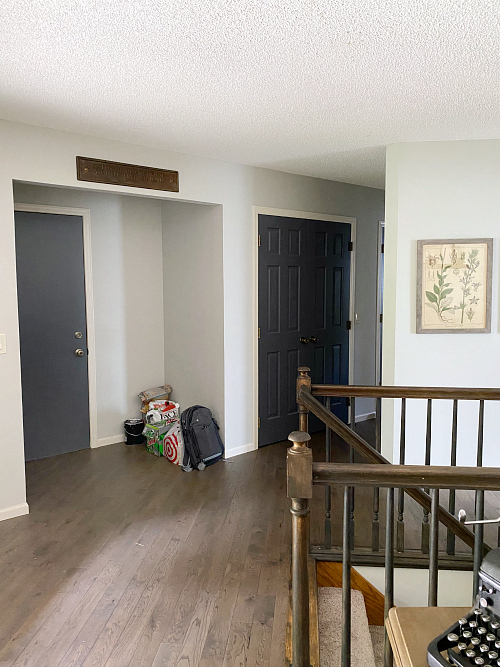 and here it is today…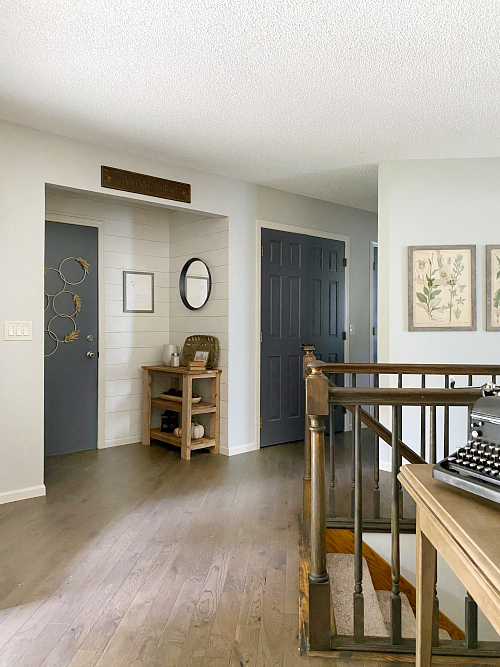 This farmhouse entryway makeover was one of our easiest makeovers, but what a difference it has made.
I always like to take a look back at the original goals from week 1 to see just how far we got with our $100. Ready?
Goals For This Farmhouse Entryway Makeover
Goal 1: Shiplap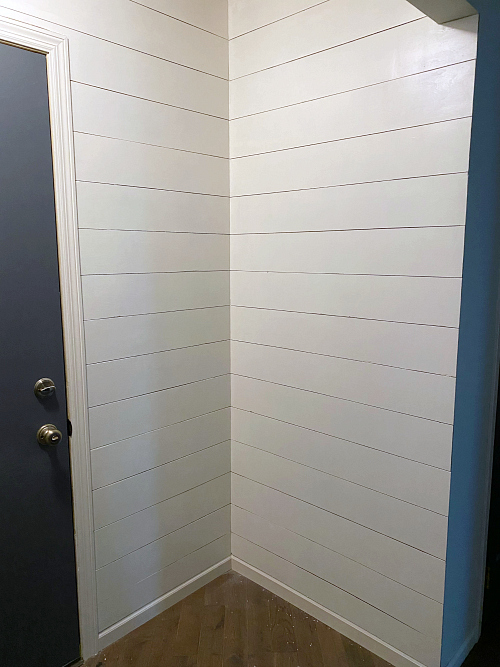 The very first item on the list was to add shiplap to the walls. This entire project cost about $30. You can find the how-to here.
Goal 2: Add A Small Console Table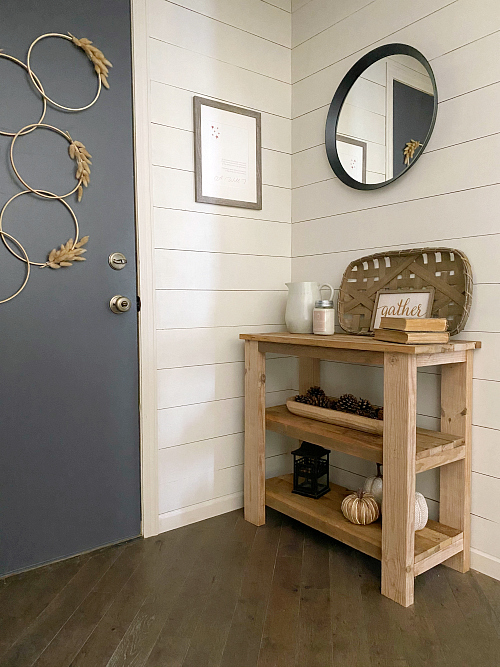 I have to give my husband all the credit for this addition (I mean, I did sand, but other than that…). My original thought was to stain this table with a dark stain, closer to the color of the floor, but when we brought it inside I started to question my choice because I love the rustic look of the raw barnwood. In the end, we decided to leave it natural and I love how it cozies up the entry.
To decorate the table, I shopped my house for items I already had on hand. While I struggle with decorating, I do love layers of textured neutrals, which is what I was going for with the tobacco basket, old books, pinecones, and fall pumpkins.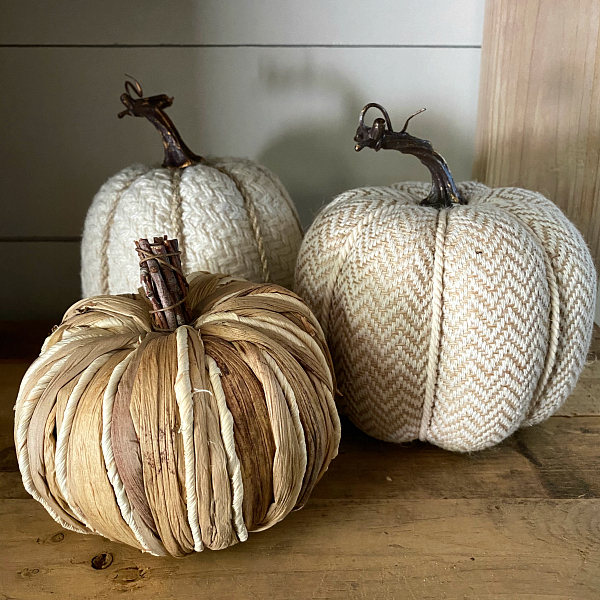 Goal 3: Wall Décor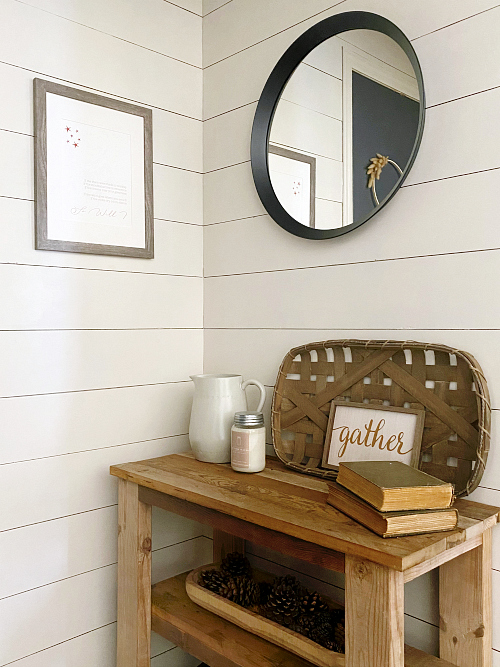 In addition to a mirror, I wanted to add some wall décor to the right of the door. Originally, I thought about framing a free printable, then I thought about doing a DIY Scroll (which I may still do at some point in the future). Then I went out a gathered a bunch of fall leaves and put them in a frame, and this hung for a few days before I finally decided to create my own "print". I absolutely love the song "So Will I", so I used some of the lyrics to create a framed print.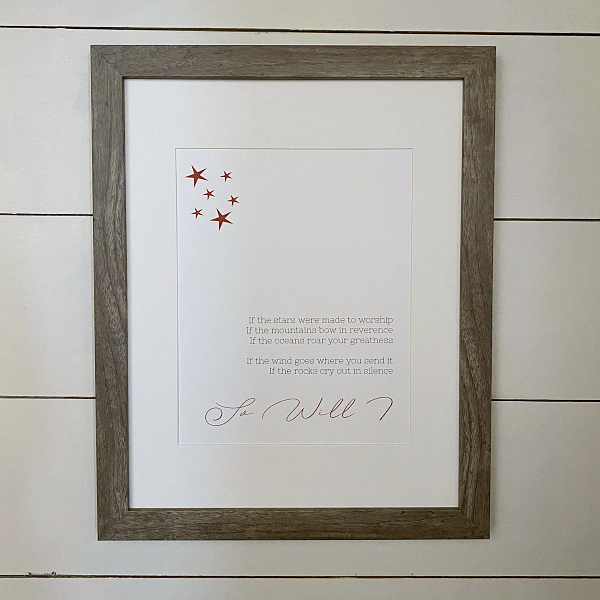 UPDATE: While this frame print lasted quite awhile, I always thought it looked a little plain and lonely on the wall, so I grabbed several clipboard from the dollar store and created one of my favorite projects. See our vintage clipboard gallery wall here.
Goal 4: Spruce Up the Door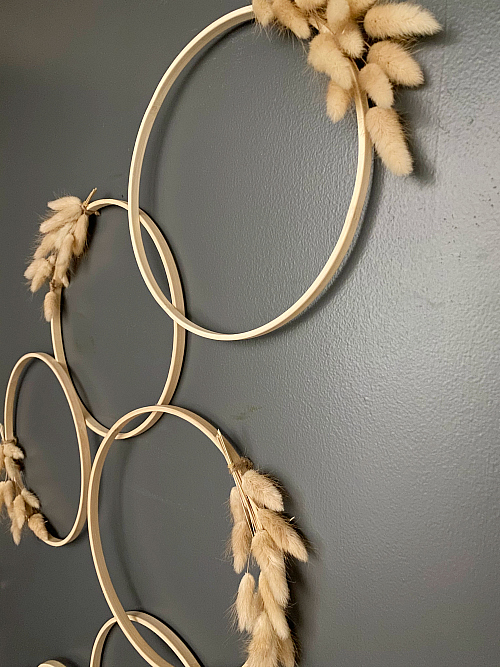 I honestly wasn't sure what I was going to do to give our very plain door a facelift. I looked through some of my crafting supplies and found two embroidery hoops and some faux wheat… eventually creating a fall feel on our door. This will be changed out with the seasons, but it works well for now. You can find the tutorial for this project here.
Goal 5: Light Fixture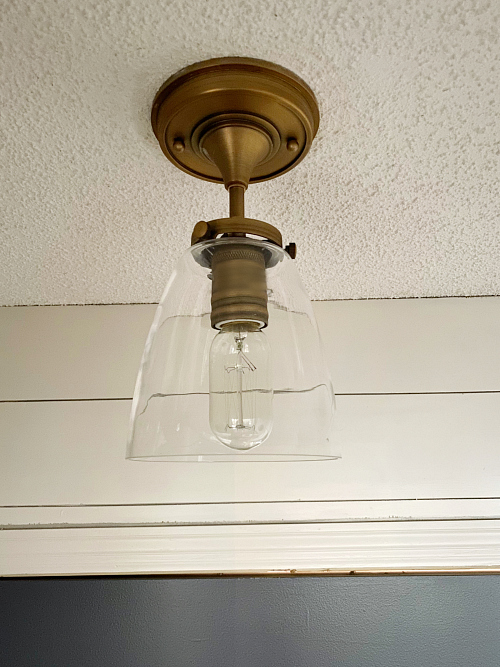 I didn't know if my budget would allow for a new light fixture, so I scoured Pinterest looking for ways to update what I already had… but after week 3, I still had $40 left in the budget (plenty for a new light fixture). I ordered two different styles, but ended up liking the cheaper one better in this space. So, for $19.99, we changed out the old (boring) fixture for this antique brass one.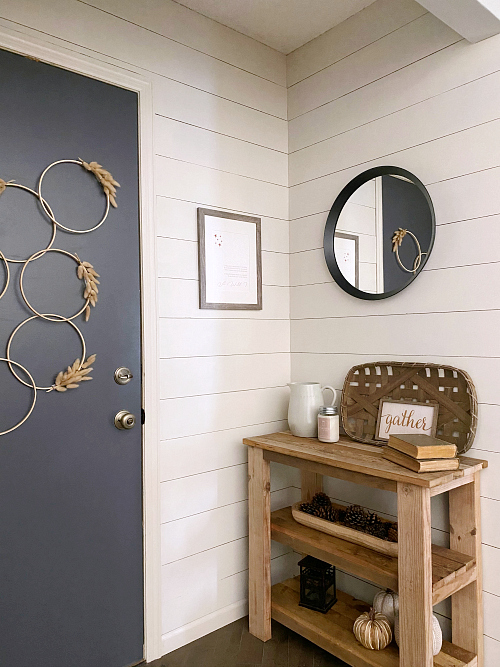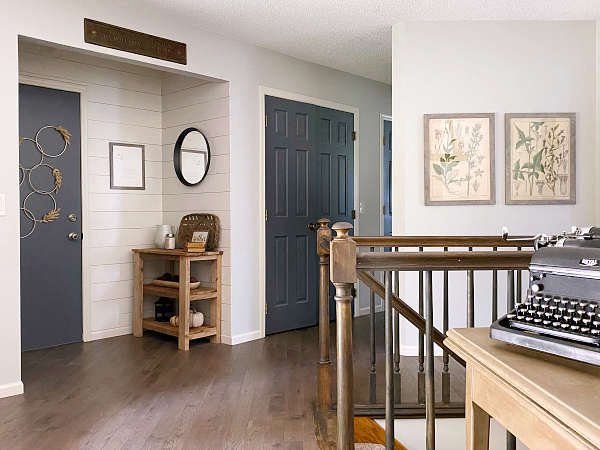 The Budget
Entering this final week, I had spent $59.46: $27.96 on the shiplap wall, $0 on the table (because we used things we already had), $29.99 on the mirror and $1.51 on the door décor
This week, the only thing I bought was a new light fixture for $19.99
The framed printable was made using cardstock and a frame I already had on hand. All the décor on the table was items I already had.
Total Spent on this Entryway Makeover: $79.45
Wanna Catch Up?
Week 1 // Week 2 // Week 3 // Week 4 // Week 5
Make sure to check out what other bloggers did with their $100 budget!
Check Out Other Participants Here
Love it? Pin it!