I am currently working on redoing our porch for the $100 Room Challenge. As you may recall from week 1, I really wanted a blue front door, and how perfect it is that the red paint started peeling off the door and it needs new paint anyway. As I went through the process of painting our front door, I learned a few things I thought I'd share with you.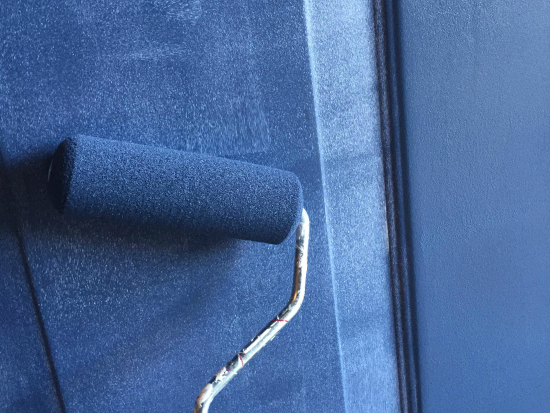 I always like to share where a project starts… so, here is our front door prior to painting. Lovely, huh?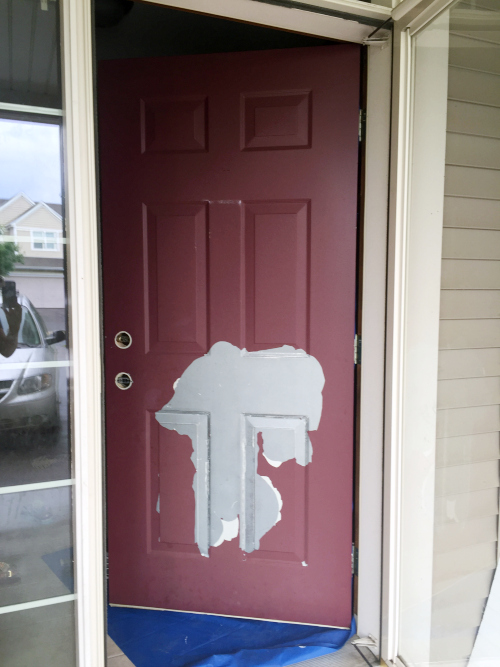 First, I didn't love the color. It had faded somewhat in the morning sun, so it was kinda "rosy red". Then, over the winter, the paint literally started peeling off in big sheets. Problem is, you can't paint while it's snowing, so we had to wait it out 'til spring.
How to Paint A Front Door with Tips I Learned Along the Way
Step 1: Prep the Door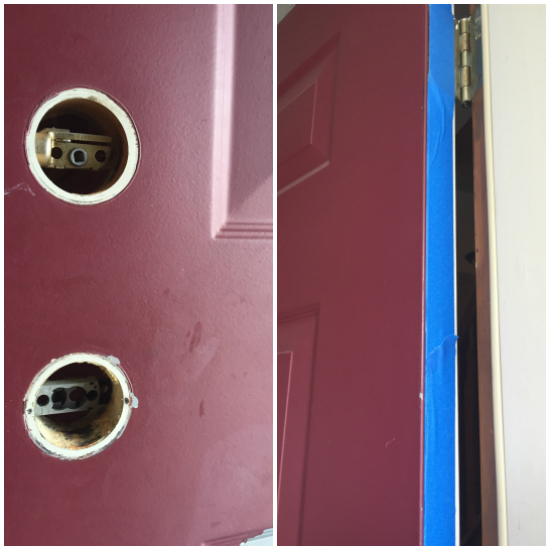 Start by removing the door knob and lock. Then apply painter's tape to the areas you don't want stripped and painted.
Step 2: Strip Old Paint Off The Door If Needed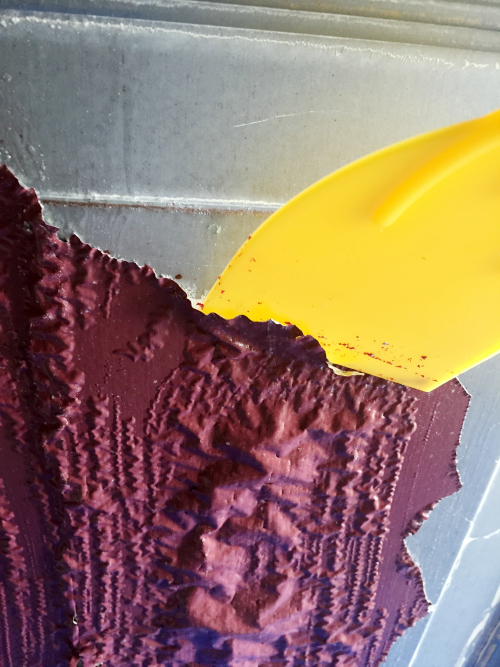 Because the paint had peeled in some sections, we couldn't just paint over it; we had to strip off all the old paint. This was the first time I'd ever stripped paint, and I learned a few things I want to share.
Things to Consider When Stripping Paint
Use Proper Protection
Wear gloves that prevent chemical burn- I started out thinking some vinyl gloves would be sufficient, and I was totally wrong. Every time the paint stripper touched my skin, it burned. I'd run to the sink and wash it off, but I'm sure this wasn't good. I had to go back to the store, so I purchased some disposable gloves that were supposed to work with chemicals, but they would tear easily. I made it through with those, but next time, I'm investing in a better pair of gloves.
Wear a respirator/mask- I didn't do this because I was working in a well ventilated area, which was what the directions said to do, but my throat got pretty irritated… admittedly, this could just be my seasonal allergies, but I'm pretty sure those fumes are not great for breathing. I will absolutely use a respirator if I ever strip paint again.
Wear Safety Goggles- I did wear safety goggles to prevent eye irritation, which I also recommend, and so did my can of stripper.
Prepare the Area
Use this product with adequate ventilation. I opened the door to the outside, and opened all the windows on the main floor. I put down a plastic tarp so all the paint would fall onto it, making for easy clean-up. Make sure you follow the instructions on the can of stripper. I poured mine into a metal can (an old coffee can) and used a plastic putty knife to remove the paint.
Apply A Thick Coat of Stripper
Since this was my first attempt at stripping paint, I didn't realize you needed such a thick coat of stripper. When I applied a thinner coat, the stripper dried so quickly, it didn't have a chance to do its job. So really lather the stuff on there.
Dispose of Paint Properly
Check with your state/county to see what you should do with your stripped paint. Our home was built in 2002, so I wasn't worried about lead-based paint on our door, but, for proper disposal of the paint chips, I was to double bag them, and put them in the trash. Unused paint thinner cannot be placed in the trash, so I'll store it, but you can also bring it to a recycle center.
Step 3: Prime The Door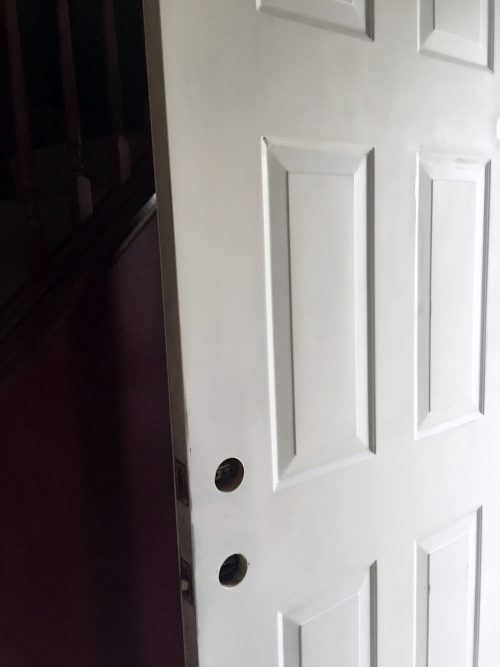 Once all the paint has been removed, thoroughly wash the door to remove any dust/dirt, etc. Now you are ready to prime the door with primer. I asked some trusted bloggers what they use for primer, and most suggested Gripper Primer, so that's what I used. (UPDATE: Gripper Primer has been discontinued, so I would suggest trying a bonding primer instead.)
Step 4: Paint The Door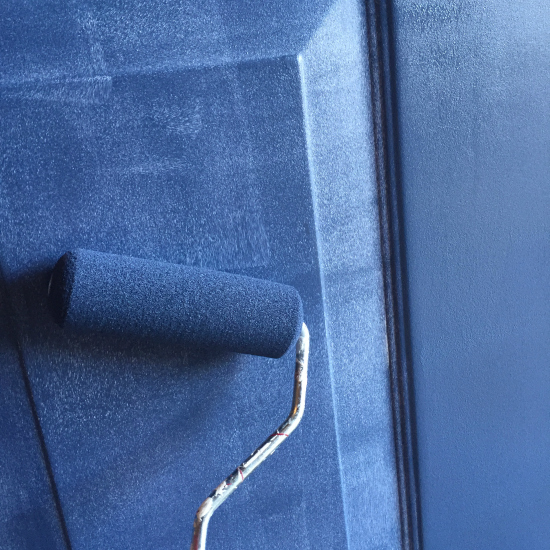 If you are an Instagram follower, you got to help choose the color for the door (and got a sneak peek). I went with the majority and bought English Channel by Behr in an exterior satin. Using a small foam roller, I applied 3 coats, and… ta da!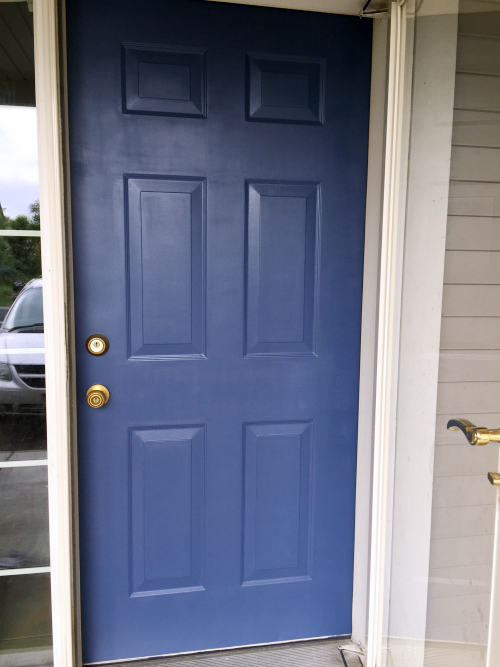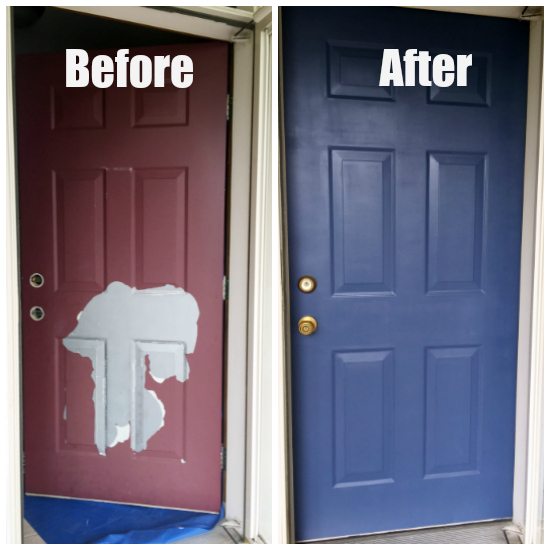 Budget… So Far
For Stripping the Paint: $14.43
1 Quart Paint Remover- $8.98
Plastic Scrappers (3 pack)- $2.97
Plastic Table Cloth (To catch paint chips)- FREE (Already Had)
Paint Brush- FREE (Already Had)
Metal Can- FREE (Already Had)
Disposable Chemical Gloves- $2.48
Primer– FREE (Already Had)
1 Quart Exterior Paint– $17.54
Foam Rollers– FREE (Already Had)
Total So Far- $31.97
Wanna Catch Up or Jump Ahead?
Week 1 // Week 2 // Week 3 // Week 4 // Week 5
Love it? Pin it!