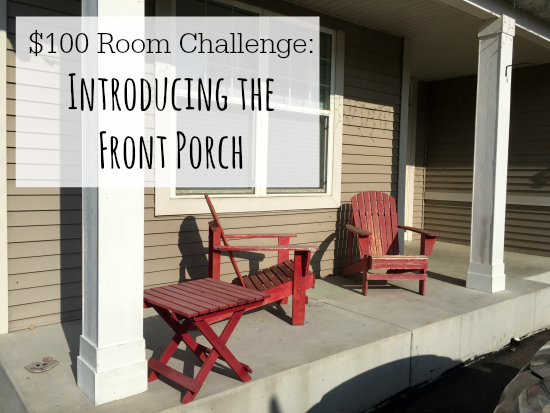 It's the first Wednesday of the month, and you know what that means: Time to start another $100 Room Challenge! For those of you that may be new to this blog, let me give a quick overview of the $100 Room Challenge. Basically, I give myself 1 month to transform a space with a budget of $100. Every Wednesday, I update you on the things I've completed (and share tutorials for any DIY projects I've worked on). For a more in depth description of the challenge (and to see all the spaces I've completed) you can click HERE.
Now that summer has arrived, I thought we'd head outdoors for this "room" challenge, and take on the front porch. So, here's where I'm starting…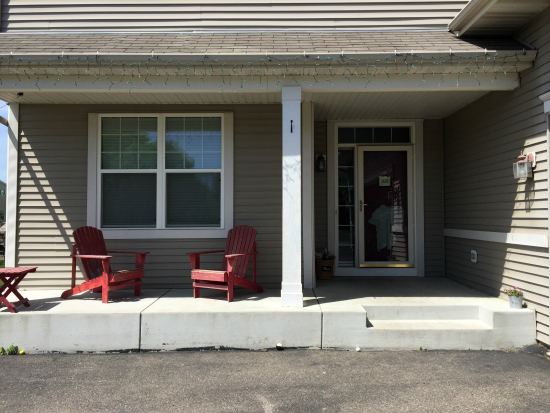 I always share my list of goals because it helps keep me focused on what I need to be working on, so here it is…
Goals for Our $100 Porch Makeover
Goal 1: Repaint the Front Door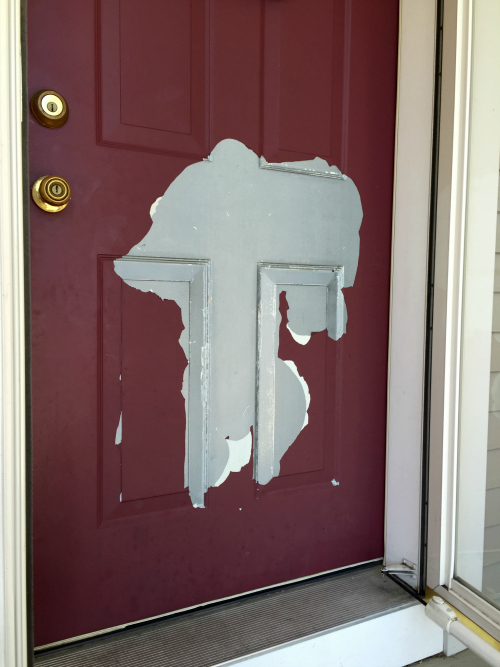 Over the winter, all the paint on our door started to peel off in huge chunks. (Super attractive.) The problem is: painting in sub-zero temperatures isn't a great idea, so we decided to wait until warmer weather arrived. Now that I can count on temperatures to remain above 60 (hopefully), I want to tackle this project.
Goal 2: Update Seating Area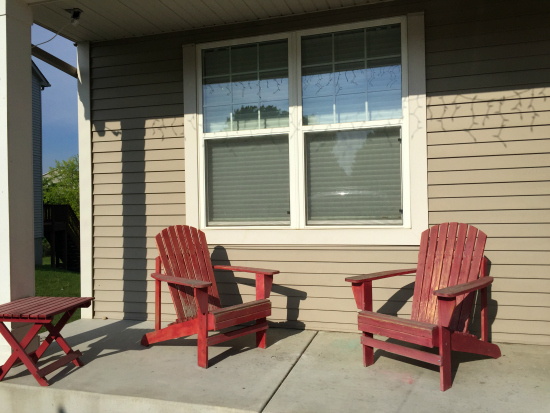 Remember, I don't stage for "before pictures", I just point and shoot. So, the table is not normally about to fall off the edge. (I blame my children.) The paint is chipping off the our chairs (seems to be a theme) so I want to repaint those and add some outdoor pillows to add a pop of color.
Goal 3: Welcome Mat
Do you see what's missing here? (Besides a coat of paint on the front door?) A welcome mat. Everyone needs a welcome mat, right? I feel like it'll cozy up the space, and actually make people feel like they are being welcomed into our home. I've seen a couple DIY welcome mats, and they may be just what I need to stay on budget.
Goal 4: Clean Up
This porch needs some major cob-web and dirt removal, so I'll be gettin' out my broom and hose to make it pretty. I feel like I should save that for the end though because how long does a porch remain cobweb free? Like 34 seconds?
And, seriously, it's June. Enough with the Christmas lights. (Truth: Those have been up for 18 months. We never took them down last summer.) It's truly time for them to be taken down.
Goal 5: Other Miscellaneous Items?
I feel like this porch is about as boring as they come, so I'd love to add some elements to create a more homey feel… lanterns… ??? What else? Any ideas? Remember, my budget is only $100, so it can't be anything crazy expensive.
I think that's about it. I'm so excited to get to work outside and enjoy the warmth and sunshine this month!
Wanna Jump Ahead?
Week 1 // Week 2 // Week 3 // Week 4 // Week 5