A porch is the first thing people see when visiting your home, so it's nice to find a few ways to keep it warm and welcoming. Today I'm sharing our budget-friendly porch makeover… done for just $100!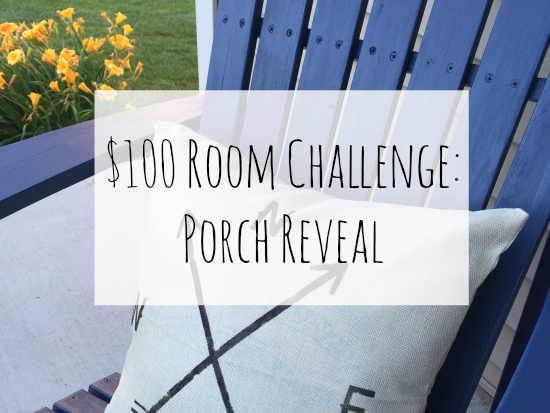 Woohoo! It's reveal day! Another $100 Room Challenge is on the books. This month I took on our front porch, which was in desperate need of some TLC. We had paint peeling off our front door and chipping off the Adirondack chairs. It was definitely not a space that felt warm and welcoming. Let's take a look back at where we started…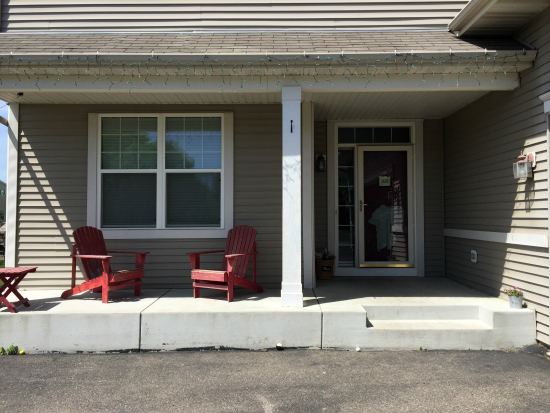 Goals for Our Budget-Friendly Porch Makeover
If you take a look back at week 1, here were the goals I had for this space:
Goal 1: Paint the Front Door
Our front door had paint peeling off in sheets throughout the winter. Because painting in subzero temperatures is strongly discouraged, I waited until it was warmer. I had always wanted a blue door, so a blue door is I got. You can read all about how this door went from red to blue here.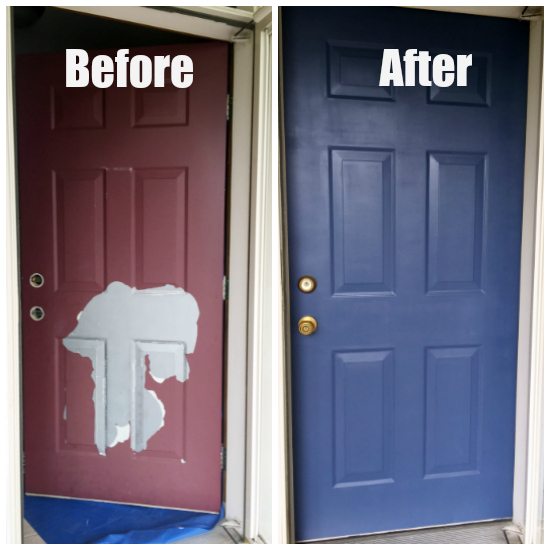 I also found a gorgeous wreath (on clearance) at Target, so I added it to the door.
Goal 2: Update the Seating Area
As I mentioned above, the paint on our Adirondack chairs was chipping off. If I recall correctly, they had been spray painted years ago, and I'm sure that was not the best choice. I went back and forth on what to do: Stain them? Paint them? In the end, I decided to paint them the same color as the front door.
I also added pillows to create a homey feel.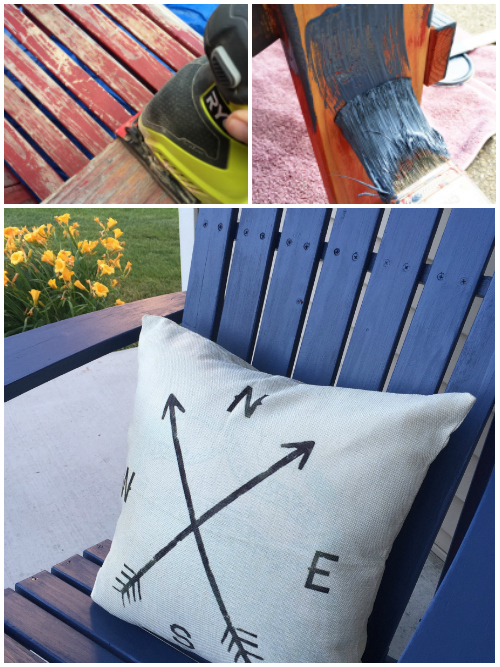 If you recall from last week, I actually bought outdoor pillows on clearance at Target (similar), and purchased pillow covers from Amazon.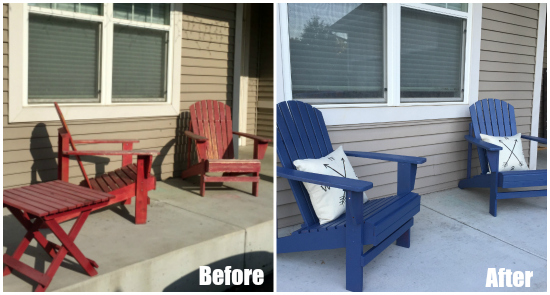 Goal 3: Add A Welcome Mat
The front door space was bland and boring, so I wanted to add a welcome mat. My original idea was to make one with a plain mat and spray paint, but I found one at Target (on sale) for less than my DIY version would have cost. (Here's one that's very similar on Amazon. Target doesn't seem to carry them anymore). One reader also threw out the idea of spray painting a design on the cement. I thought the idea sounded fun, but knowing me, I'd somehow mess it up, or not like it, and wouldn't know what to do at that point.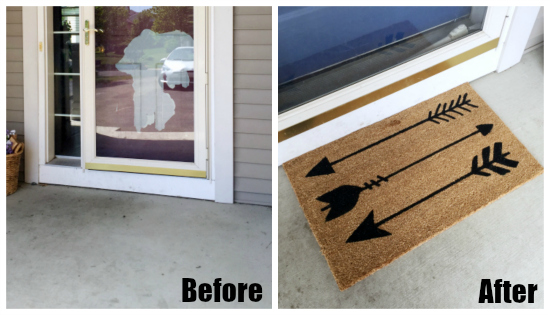 Goal 4: Clean Up
A simple spray of the porch with our air compressor did wonders. And, yes, the Christmas lights were taken down… 18 months later 🙂
Goal 5: Add Some Character
One reader suggested doing a sign of some sort, and I fell in love with the idea. Last week I shared how I made this welcome sign… for free!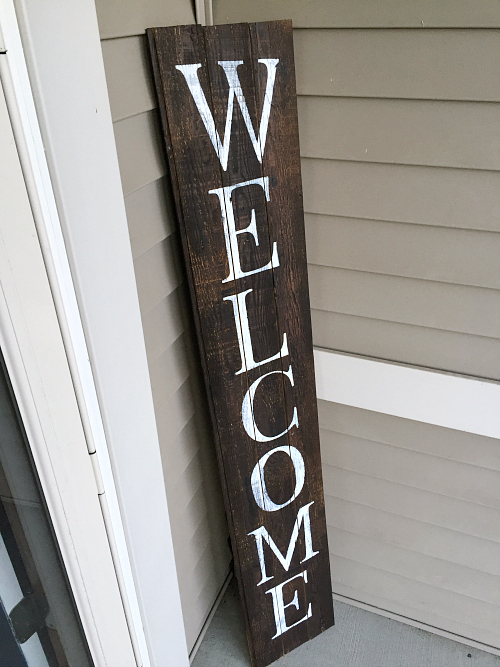 I also "stole" some lanterns off my fireplace mantle and put them out. I realize this won't be an everyday thing, as the lanterns are glass, and I wouldn't want them to break during a storm, but when guests are arriving, they sure do cozy up the place.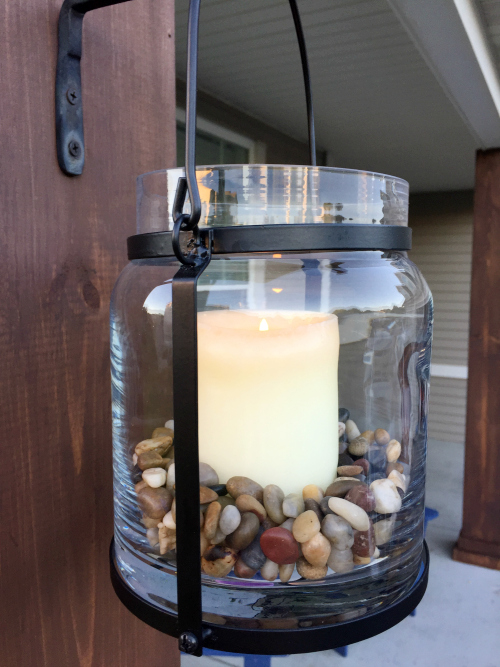 This was what I was able to accomplish for $100… and 19¢, but…
…there's an additional "surprise" to this porch. As my husband was watching me work, he got inspired to redo the poles on our porch. You can see here that they were white… and dirty.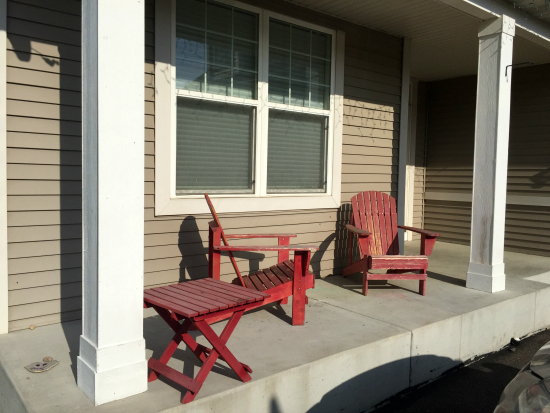 We peeled away the cement board hoping we could just stain the poles underneath, but the builder had used the worst wood possible. It had huge gouges in it, so my hubby rewrapped the poles in pine and stained them.
Here's what they look like now.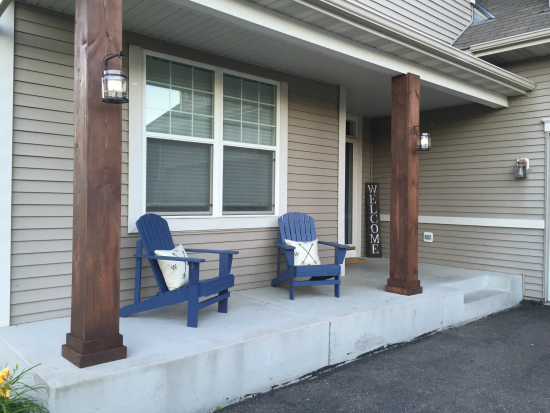 Such a HUGE improvement! I'm so proud of him!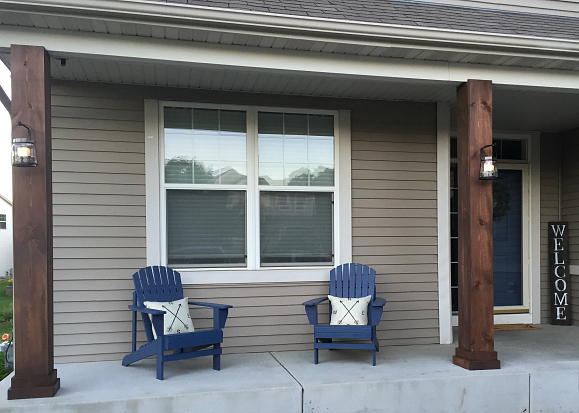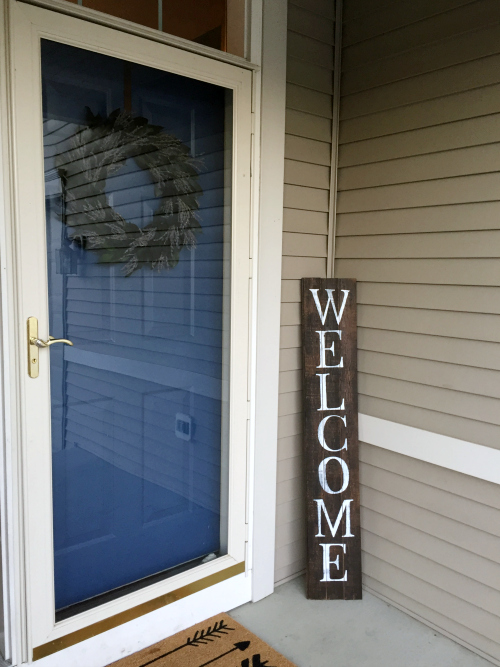 And some Before and Afters: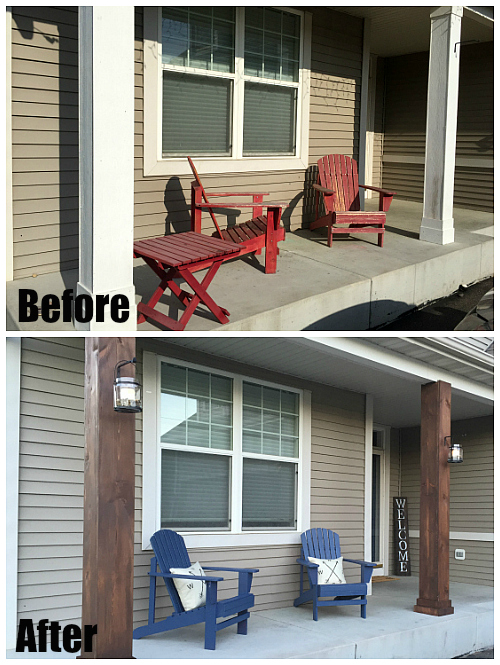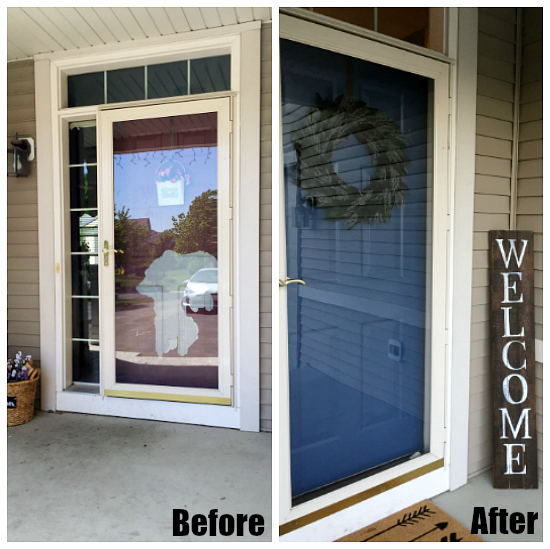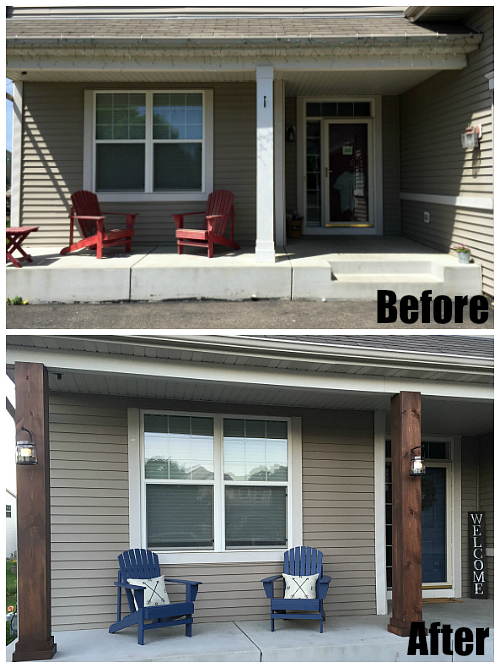 The Budget:
I spent no money this week, and while I really tried to find cheaper pillow inserts (so I wasn't 19¢ over), I couldn't find any, so this whole porch (not including the posts that my husband did) cost… Drumroll please…
Total Cost of this Porch Makeover: $100.19!
Not bad.
Wanna Catch Up?
Week 1 // Week 2 // Week 3 // Week 4 // Week 5
Love it? Pin it!