It is week 4 of the $100 Room Challenge, and I'm not gonna lie… this post is late! I typically post progress on Wednesdays, and I'm writing this on Saturday. Doing a makeover at someone else's house presents the challenge of travel. I've been over at the house almost every day this past week with no time to actually sit down to write about what we've been up to.  While we've accomplished a lot, I'm going to keep it super simple and talk about one of the craziest changes we've made in this room… changing the light bulbs. You heard me right. The power of a $6 pack of light bulbs is going to blow your mind. Ready?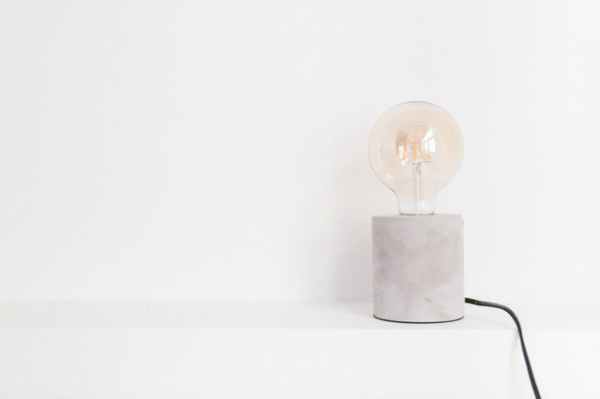 Let's cut right to the chase and talk about light bulbs. It seems so simple, but it made a huge impact in the room. The whole reason for changing the light bulbs was because the ones that were currently in the light fixture were casting a very yellow glow in the room. In order to brighten up the room, I thought I'd try switching out the yellowish lighting for something cooler. Check out the difference of warm vs cool light bulbs below.
*Please Note: The images below have not been altered (except to resize them to fit this page).
Warm Light Bulbs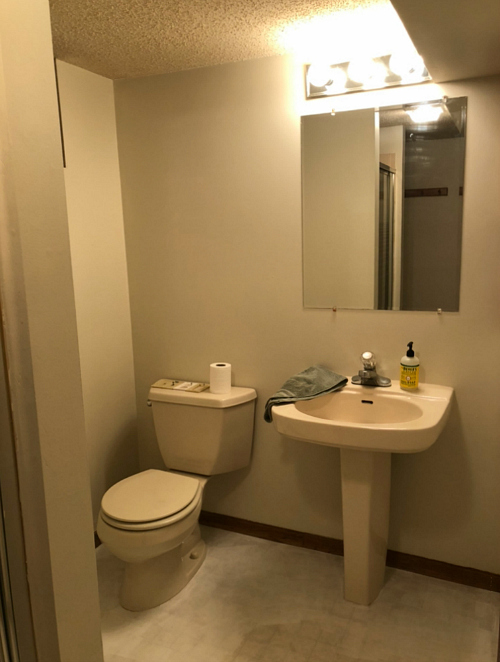 Cool Light Bulbs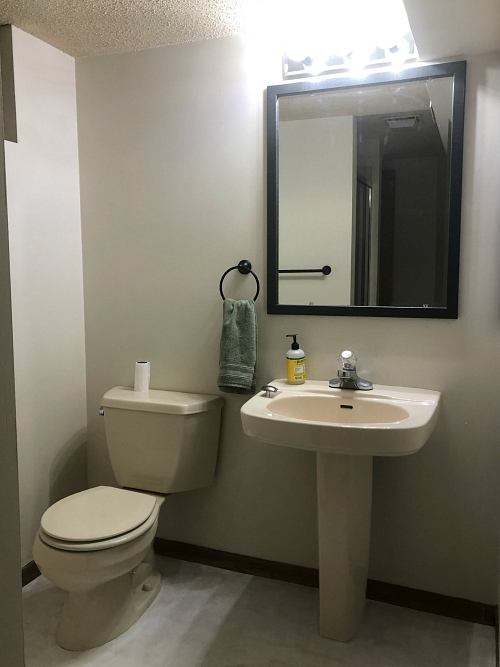 Home Depot has these light bulbs in "Daylight" which casts a much cooler light.
Side-by-Side: Warm Vs Cool Light Bulbs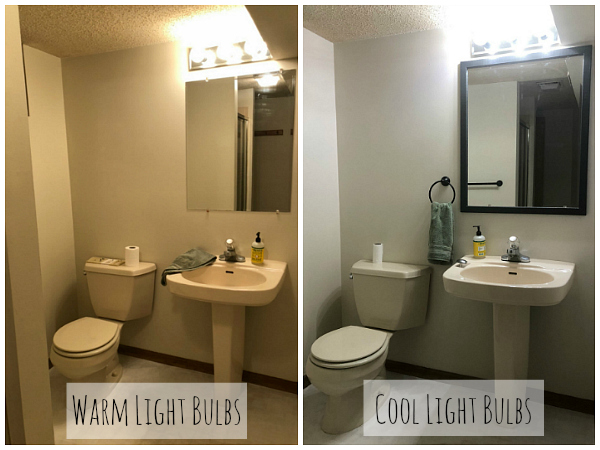 Isn't that crazy?!
Other Accomplishments
We hung the new towel bar, towel ring, and toilet paper holder.
We framed the mirror (as you can see in the images above). Then I looked at it and couldn't handle the size. I knew if I bought a new mirror, it was going to put me over budget, but I had to do it. It was going to work so much better in this space. You'll see the new mirror on reveal day 🙂
We worked on the cabinet makeover.
My cousin did some awesome free-hand script writing that we framed and hung on the wall (another surprise for the reveal).
Here's a sneak peek at the cabinet makeover thus far (a full tutorial will be coming soon).
Before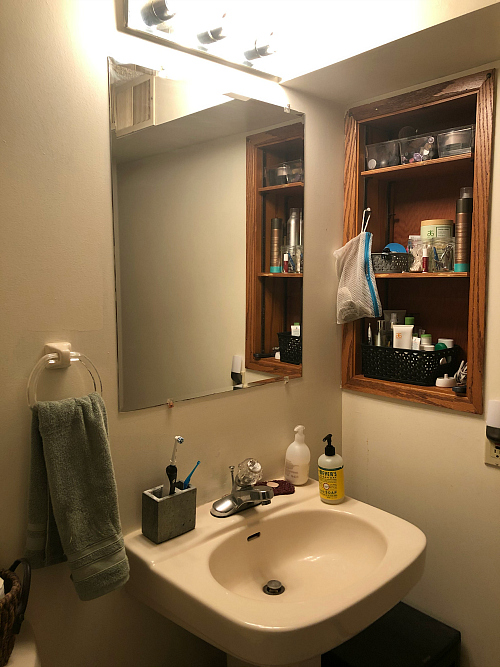 Where We Are Currently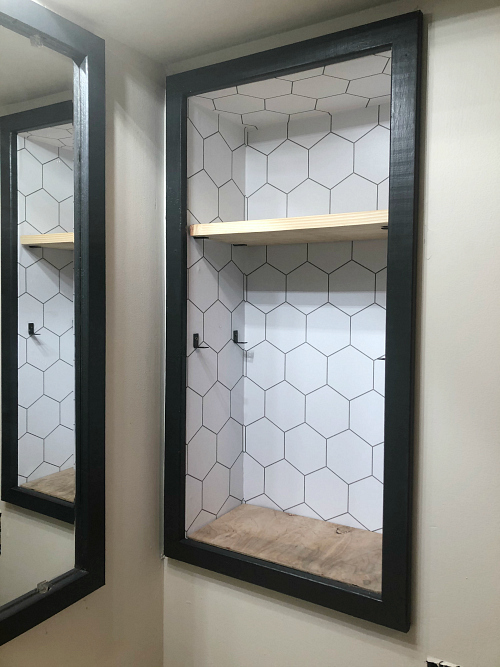 We put a hexagon tile removable wallpaper on the back and two sides, and then we added L-brackets to hold the shelves. We still need to trim one of the shelves and stain them, but at least you can see where we're going with this project.
That's all for this week, but make sure to come back for next week's reveal! And check out what other participants are up to using the links below the Pinterest image.
Wanna Look Back or Jump Ahead?
Week 1 // Week 2 // Week 3 // Week 4 // Week 5
Want to Follow Along with Lemons, Lavender, & Laundry?
Subscribe!
Social media more your style?
Facebook // Pinterest // Instagram // Twitter
Love it? Pin it!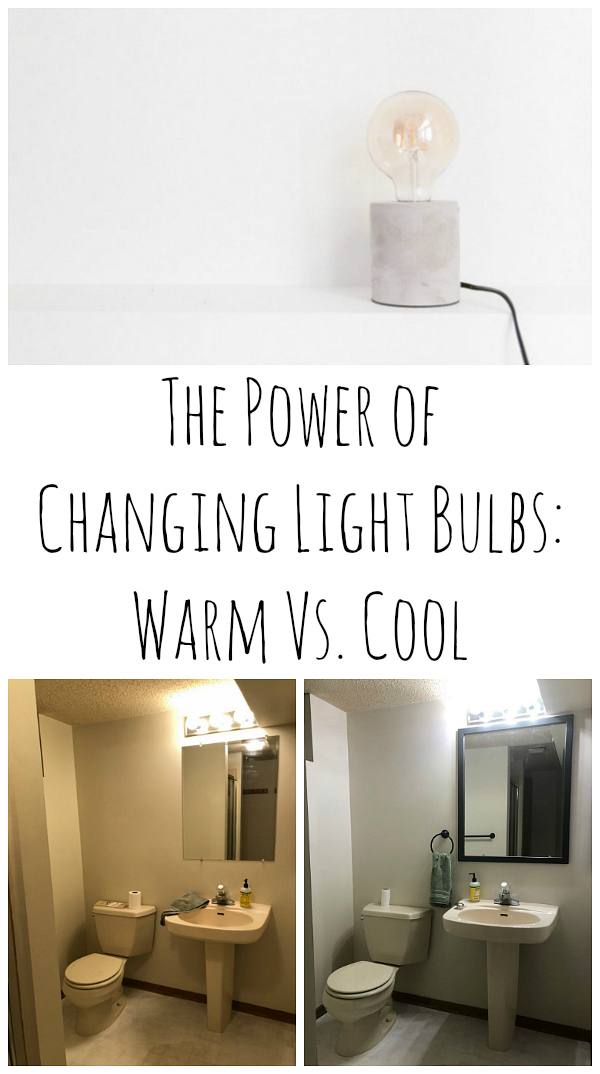 You are invited to the Inlinkz link party!