The $100 Room Challenge is back for the New Year and this time I'm doing something I have never done before: I am taking on a space that doesn't belong to me 🙂 Instead, I'm heading over to my cousin's house to take on her bathroom while her husband is on deployment in the Middle East.
Let me give you a little background into this month's challenge. Back in October, my cousin's husband left for a one year deployment in the Middle East. Prior to his departure, he built a bedroom in their basement, as my other cousin will be staying in their home to help with the kiddos while he is away. I know he would have loved to have updated their basement bathroom for her as well, but there just wasn't enough time. My cousin called me over to ask for some decorating advice, and I asked if I could just make over the space for her. As it turned out, January was a perfect time to get started, so I thought I'd take it on for the challenge. I am so excited to be able to do a room for someone else… and also terrified. I mean, if I mess up in my own house, oh well… but if I mess up in someone else's house? Ummm… Let's hope that doesn't happen, right?
Here's a look at what we're starting with: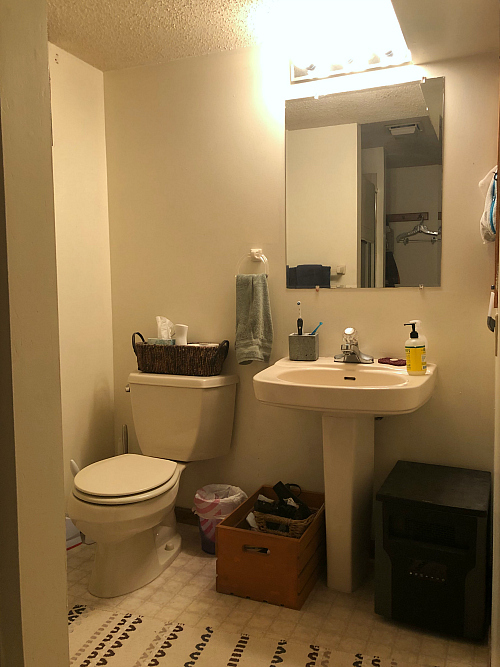 Goals for This $100 Bathroom Makeover
It's interesting taking on someone else's space because what I like, and what they like could be very different. In order to get a feel for their taste and style, I sat down and discussed their goals for the space. Here's what we'll being doing.
Goal 1: Paint
This bathroom used to be a salmon color, and the previous owners must have done a quick painting job prior to putting the house on the market because you can still see some of the darker paint peeking through the creamy yellow color that's currently on the walls. While better than salmon, it still appears very yellow, so we'll be giving the bathroom a fresh coat of paint. And it just so happens that they have a full can of unused paint (leftover from the bedroom addition) that will work perfectly in the space: Natural Choice by Sherwin Williams.
Goal 2: Update Fixtures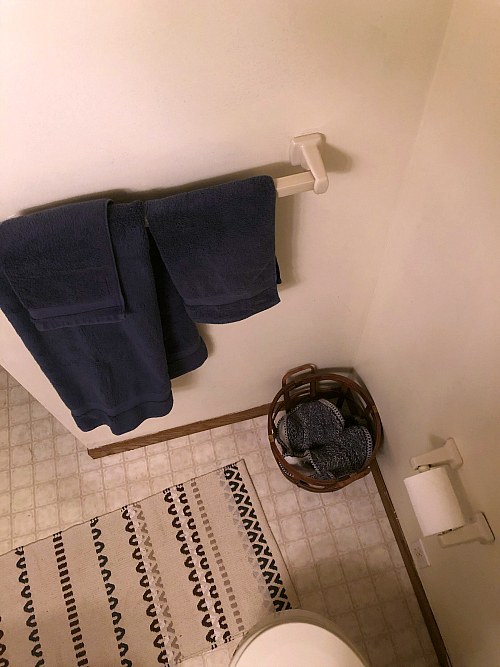 The towel racks and toilet paper holder are very outdated (like plastic and porcelain outdated), so our plan is to remove and update all of them. The vibe in this bathroom will be a black and white contrast with a touch of boho, so I'm looking to replace the outdated fixtures with something like this:
The mirror also needs an update, and while it would take up half the budget, I'm eyeing one from IKEA.
Goal 3: Update Inlaid Cubby
On the wall by the sink, there is a cubby inlaid in the wall. While it provides some much needed storage, it is an eye-sore with the metal shelf brackets and plywood shelving. We plan to update it with a little texture/pattern on the walls of the cubby and new shelves. Stay tuned 🙂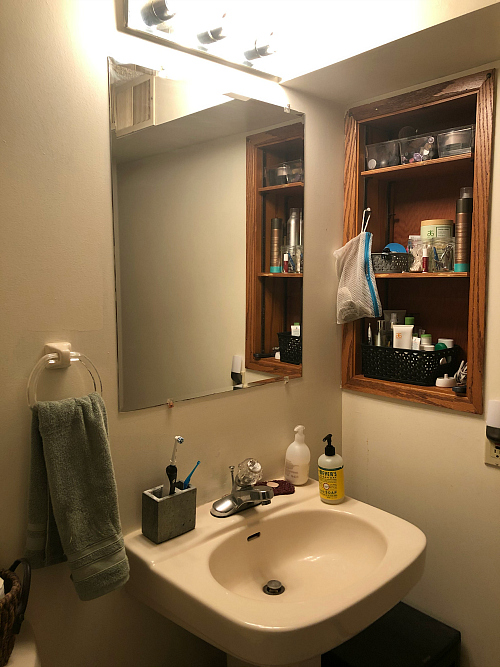 Goal 4: Take Down Valence. Add Privacy
I am pretty sure I've taken down a valence in almost every room I've made over… and this one is no exception. However, this is a bathroom, so privacy is important. We'll be thinking of a creative way to add privacy while allowing the natural light from the window to shine in. (Oops… forgot to take a picture of that window.)
Goal 5: Add Shelving
Like many small bathrooms, this one lacks storage space. Adding a few shelves behind the toilet will not only fill the blank wall, but add extra surface area. I am using this shelving from Urban Outfitters as inspiration:

Goal 6: Add Color and/or Texture with a Rug
Looking around this home, I can see a boho vibe in a lot of places: rugs, backsplashes, etc. I want to bring some of that into this bathroom and I think the best way to do so will be with a new rug. Maybe something like these?
I realize these are black and white, but they add pattern.
Otherwise, we could go with pattern and color with something like this:
Goal 7: Add Décor
The last thing on the list is to add some décor to the space. My cousin happens to be a crocheting genius, so I might put her to work to make a macrame plant holder. She also does incredible free-hand lettering, which might come in handy as well.
If Budget Allows…
There are a couple other ideas we have, but only if the budget allows for it.
The light fixture needs updating for sure. Even if we can't update the fixture, we may want to replace the lightbulbs as the current bulbs cast a very yellow hue to the room.
The faucet is also outdated, and I'd love to change it out for black to match the fixtures we'll be replacing.
Think we can do all this for $100? I think we can 🙂
Wanna Jump Ahead?
Week 1 // Week 2 // Week 3 // Week 4 // Week 5
Make sure to check out what all the other participants are working on this month!