We are making an easy DIY boot tray with river rocks… and the best part is, this project only cost me $8!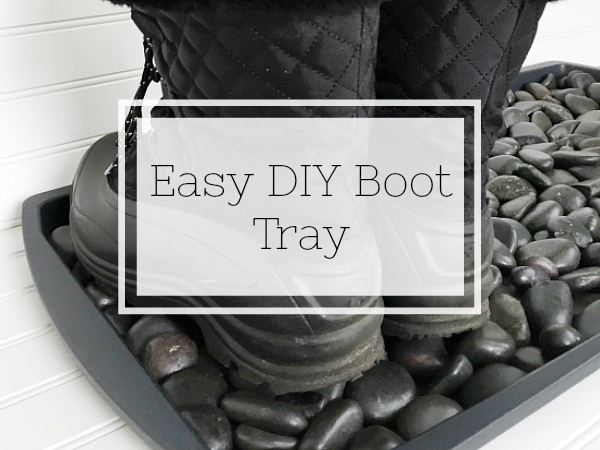 It's Wednesday. $100 Room Challenge update day. Honestly, my progress was less than amazing this week. I did, however, manage a little update to the plastic boot tray that was in my closet. Remember this?
I had seen the idea of adding river rocks to the tray for a simple, inexpensive upgrade, and thought it would be perfect. The nice thing about adding the rocks is they allow the moisture from the bottoms of the boots to go somewhere. When boots are set directly on the tray, the snow melts and they sit in water. With the addition of rocks, the water can seep down the rocks, allowing the bottoms of the boots to actually dry.
What You'll Need to Make A DIY Boot Tray
Boot Tray– I would say plastic is the way to go because you don't want metal to rust or wood to rot.
I found river rocks at the Dollar Store, and they have a few colors to choose from. I would suggest getting rocks that are similar in color to the tray, as you will see bits of the tray through the rocks. The other option would be to create another layer of rocks to cover any gaps.
Directions: How to Make A Boot Tray
Pour all the river rocks into the boot tray. I needed 8 bags to cover the entire tray. Once they are all poured in, smooth them out into a single layer. I found that some rocks needed adjusting and gaps needed filling, but it only took a minute or two to get everything in place. And that's it.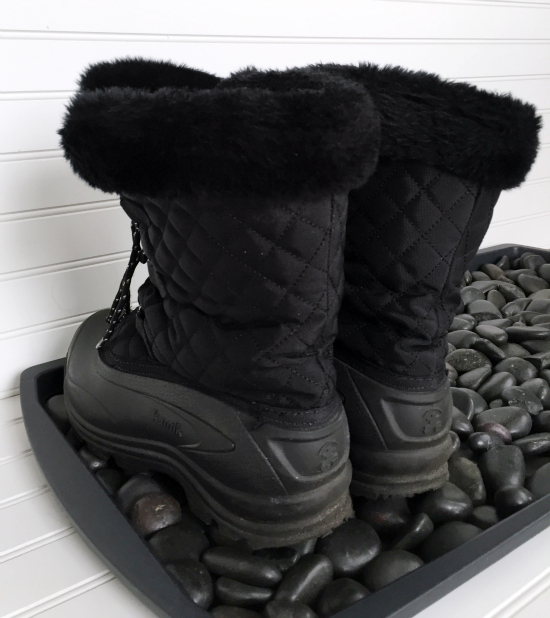 The Budget… So Far
Since not a whole lot was done, not a whole lot was spent.
Boot Tray: Free (Already had.)
River Rocks x8 Bags: $8.00 ($1.00 per bag)
Total Spent: $8.00
Wanna Catch Up or Jump Ahead?
Week 1 // Week 2 // Week 3 // Week 4
Love it? Pin it!