I just love the last Wednesday of the month because it marks another completed space… done for $100 or less. As you may recall, during the month of February, I worked on our coat closet. While it didn't need anything major, I did have a few goals to work on:
Paint
Cover Up The Wire Shelving
Create Coordinated Storage
Update the Boot Tray
Find A Hook to Hang My Purse
Before we start, let's go back to the before shot: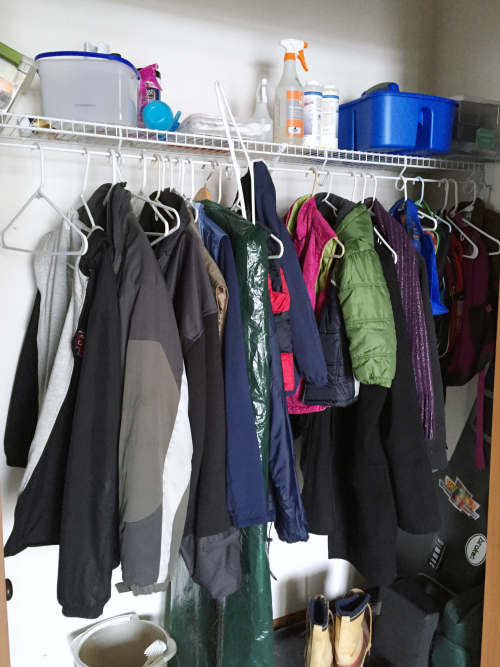 The first thing this closet needed was a good cleaning, and I did that during week four the 8 Week Cleaning Challenge. So here's where I started with this project: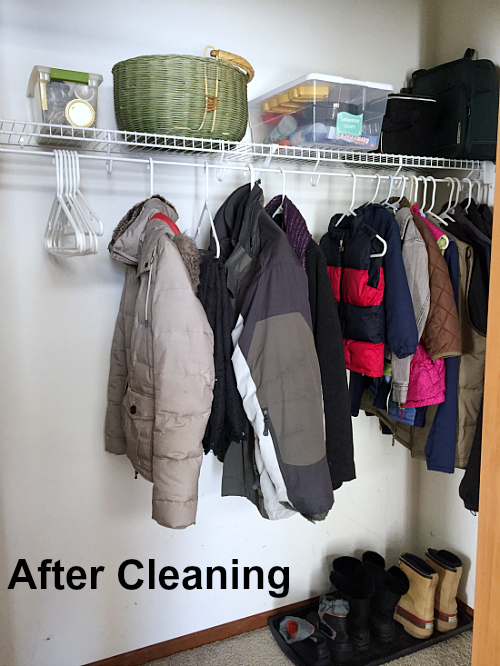 In week 2 of this challenge, I shared my updated boot tray, which was simply an addition of some river rocks from the Dollar Store (one goal checked off the list):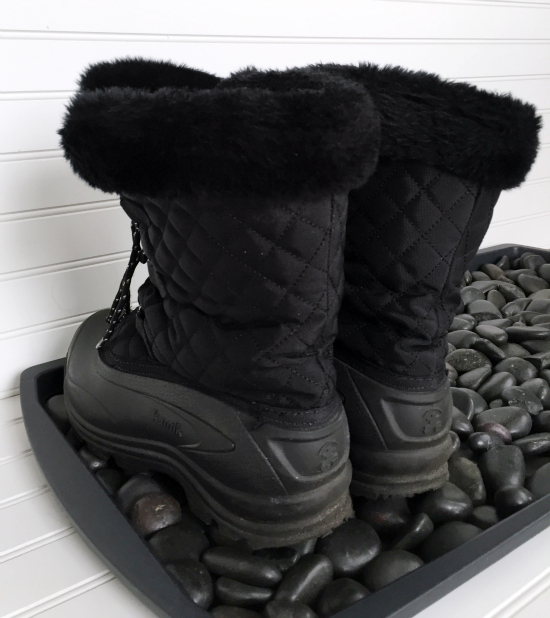 Last week I shared how I turned some blue Dollar Store bins into faux metal bins, which helped create the cohesive storage I was looking for (another goal checked off):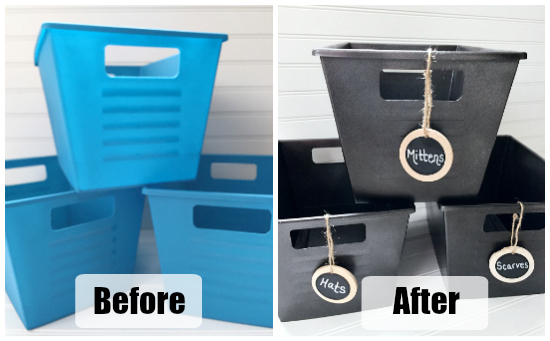 This week was a big one. I painted the closet (again using the same gallon of paint I used in my kids' bathroom and cleaning closet… it's never-ending paint I tell ya), and we did another wood overlay for the wire shelving. At first, I thought I'd go with a white overlay because the wire shelving had a piece for hanging coats that wouldn't be covered (and it was white), but the truth is I love the look of stained wood, so I spray painted the wire shelving with Oil Rubbed Bronze spray paint, and then we created the wood overlay to go on top. Unlike the overlay we made for the laundry room, we couldn't use cedar fence posts because they are too short. We instead bought two 8′ x 8″ x1″ common boards. The remainder of the process was the same. (So, now I can check off painting and shelf overlay. Check and check.)
Here's how it turned out: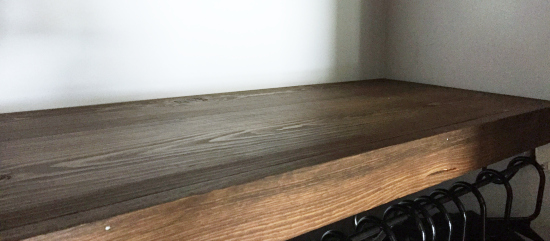 The last thing I wanted was a place to hang my purse, and I found this knob at Hobby Lobby. Perfect.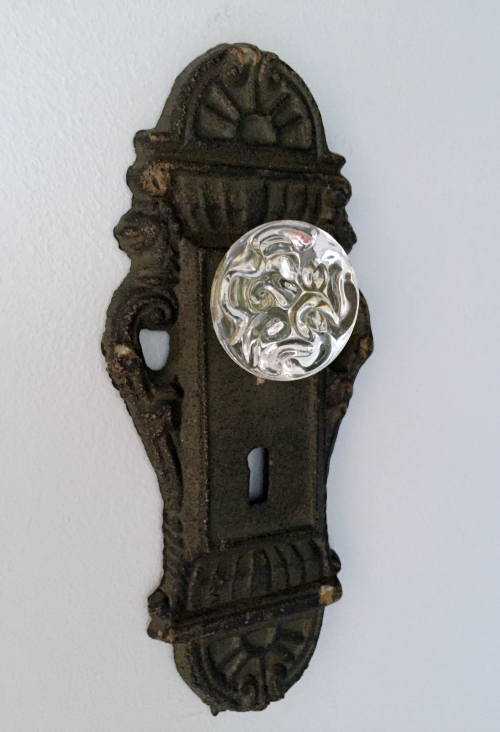 With all goals accomplished, here is the coat closet: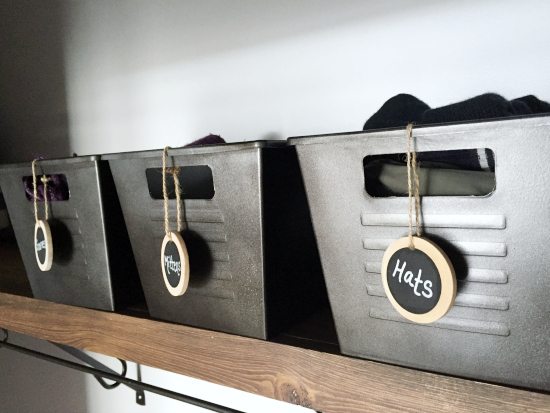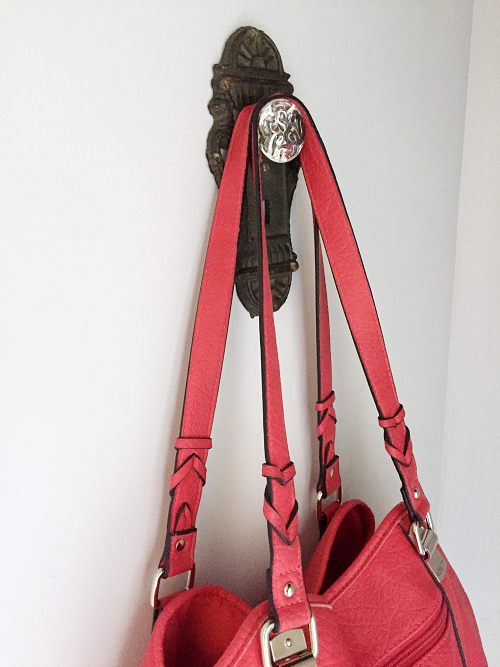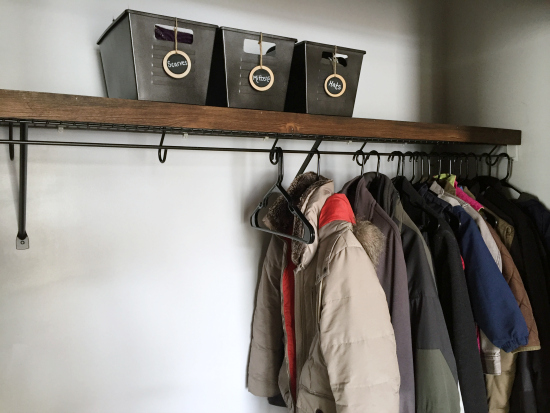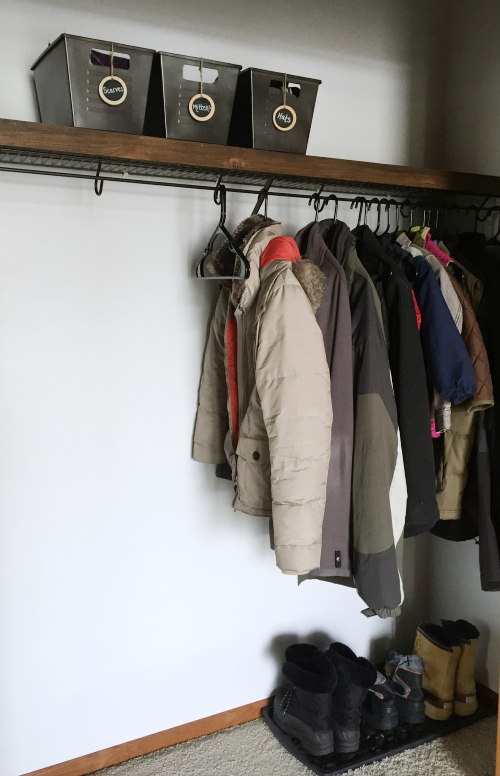 One other thing I bought was black hangers. The white ones that were originally in there looked weird with all the dark metal and shelf.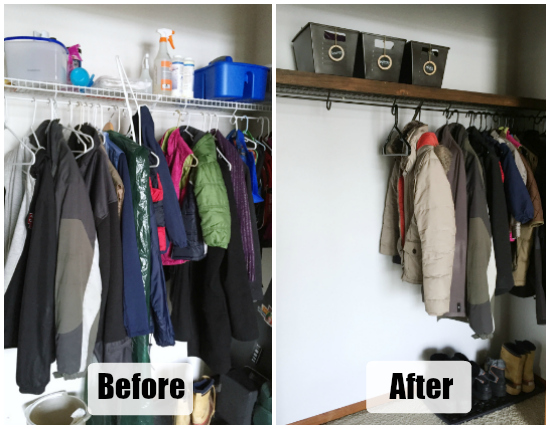 I almost feel like the closet is too empty now, but I'm sure we'll find things to fill it with time.
The Budget
Last week I had spent a total of $22.76. Here are the final costs:
Wood Shelf Overlay:
8′ x 8″ x 1″ Common Boards x2: $8.86 ($4.43 each)
Stain: Free (I already had it)
All Other Supplies: Free (I already had them)
Paint:
Paint: Free (I already had it)
Painting Supplies: $5.63 (I had everything I needed except I ran out of painting tape)
Hook for My Purse: $5.99 (On sale at 50% off)
Black Hangers: $2.99 for a pack of 18
Total Cost: $46.23. That is $53.77 under budget!!!
Best I've ever done. I should totally take myself out to lunch 🙂
The next $100 Room Challenge starts in one week, and I need your help to decide which room to tackle next. I mean, enough with the closets. Here are the options:
Master Bedroom
Home Office
Leave your vote in the comments section below.
Erin
Week 1 // Week 2 // Week 3 // Week 4
Want to Follow Along with Lemons, Lavender, & Laundry?
Subscribe!
Social media more your style?
Facebook // Pinterest // Instagram // Twitter
Love it? Pin It!