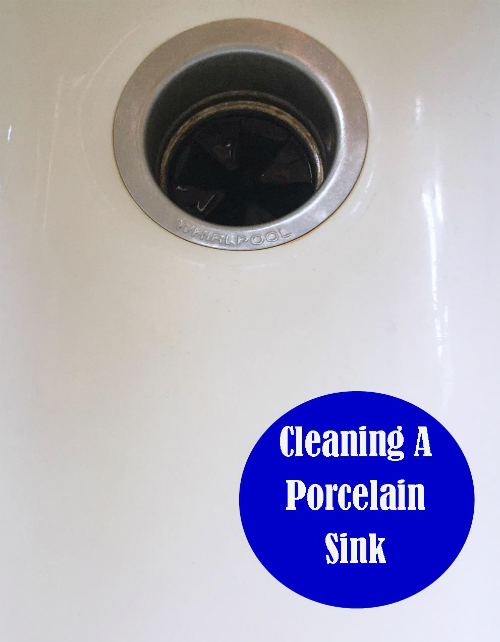 Welcome to another "Cleaning Tip Tuesday"! Today we're talkin' sinks. I have a porcelain sink in my kitchen and it seems to stain and scratch so easily. This may, or may not, have something to do with the fact that I pile all sorts of dirty dishes in it. For the longest time, I used diluted bleach to clean it, but I really didn't love using such a harsh chemical, and it didn't remove the scratches, so I thought I'd look for an alternate cleaning solution: Pinterest to the rescue! I have two sides to my porcelain sink, so I tried out two different methods. My intention was to share both cleaning solutions with you, but one was FAR superior in cleaning the sink, so I'll just share the one that actually worked! (I'll share what didn't work as well, so you don't waste time with that method.)
Here's What You'll Need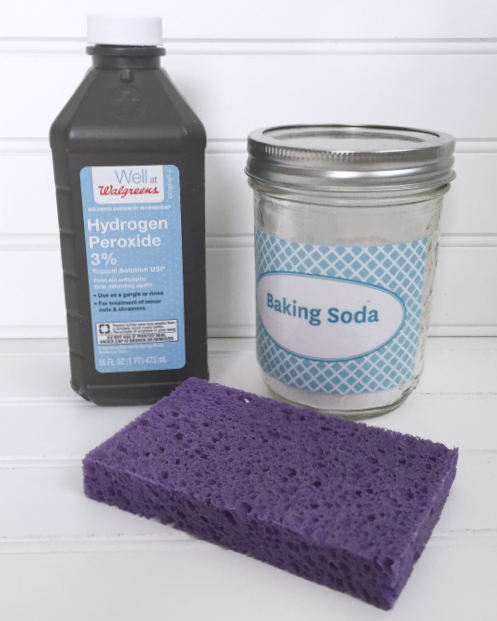 Baking Soda
Hydrogen Peroxide
Sponge
Directions
If you are like me, you will need to start by removing any dirty dishes from the sink. If you keep your sink "dish-free", you can move right onto the next step. Begin by rinsing the sink to wet down the bottom and sides. Food particles in your sink? No? Just me? Get those out before moving on if you happen to have some. Once the bottom and sides of the sink are wet, plug the drain and sprinkle on some baking soda. You want a fine layer of baking soda; no need to heap it on.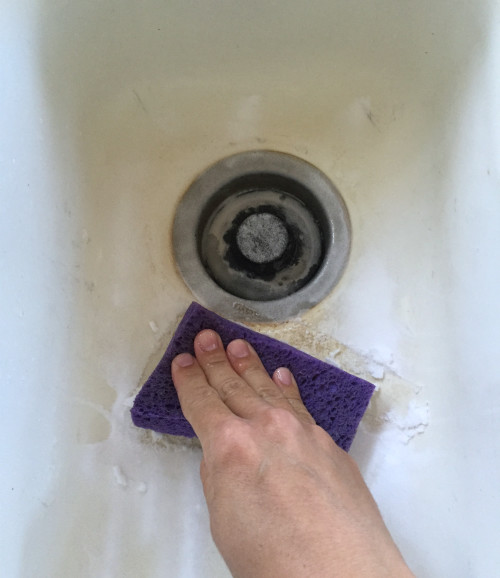 Scrub the sink using a sponge. This is like a magic stain eraser. The brownish color in the sink literally started disappearing before my eyes and was soaked up in the baking soda. This did not require a ton of scrubbing at all. Yay! Now, add a small amount of hydrogen peroxide to the sponge and scrub some more.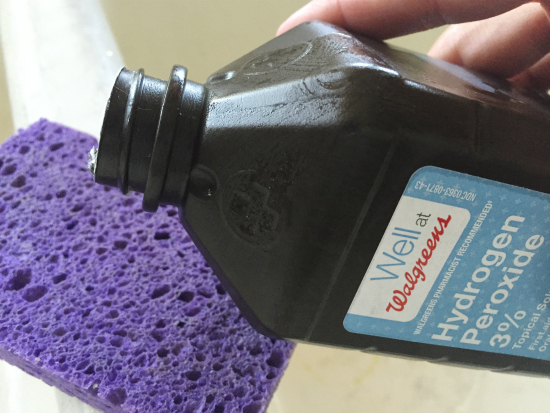 The scratches start to disappear and things are looking good. You will have baking soda clumps in the sink. No worries, this is normal. After thoroughly scrubbing with the hydrogen peroxide, walk away and let the sink sit for 15-20 minutes. Read a good book or drink a cup of coffee. (This is actually part of the directions, so no feeling bad for taking some time for yourself). Once the time is up, rinse everything down the drain.
Results
Before and After pictures are always a good way to see the results, so here you go: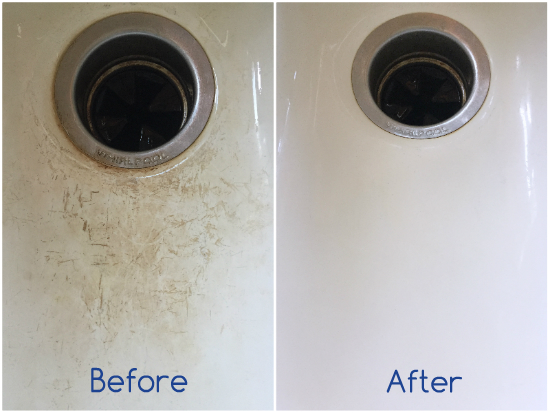 Wanna see this cleaning tip in action?
As I mentioned, I tried an alternate method using equal parts Cream of Tartar and Vinegar. I scrubbed and scrubbed, and while it worked a little, it was nothing like the method described above. Here's the process on the other side of the sink.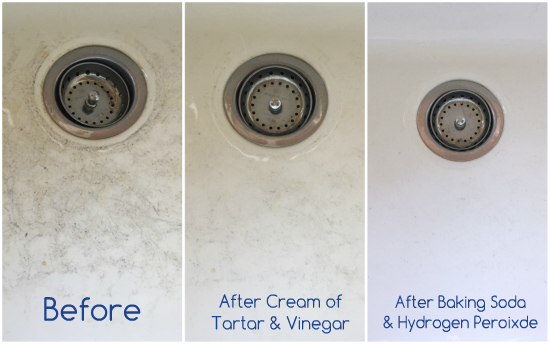 How Much Do You Save?:
Buying Sink Cleaner on Amazon:
Bar Keepers Friend= $4.90 for 12 oz. The reason I chose this particular sink cleaner is because it had a lot of great reviews on Pinterest. It looks like it does an amazing job, so if you are interested, go for it. However, I am looking for a more natural, cheap version.
Making Your Own Sink Cleaner:
Approximately 1/4 Cup Baking Soda=  7¢ (based on Walmart's price of 54¢ for 16 oz.)
Approximately 2 Tbsp. of Hydrogen Peroxide= 3¢ (based on Target's price of 97¢ for 32 oz.)
The total amount made was 3 ounces, based on 2 oz. of Baking Soda and 1 oz. Hydrogen Peroxide.
Savings:
This means that for 12 ounces of sink cleaner from Amazon for $4.90, you could make 12 ounces of your own for 40¢, saving $4.50.
I may now be forced to keep up with doing dishes, just so I can admire how clean and shiny my sink is!
Want to Follow Along with Lemons, Lavender, & Laundry?
Subscribe!
Social media more your style?
Facebook // Pinterest // Instagram // Twitter
Love It? Pin it!