Smelly garbage? Sometimes the stuff we throw away smells terrible. I cannot even count how many times I've staggered into the kitchen to grab my morning coffee and I'm hit by an aroma that wakes me up faster than the coffee I was about to drink. Raw chicken wrappers are the worst… and broccoli. Here's a super quick and easy tip that can help freshen trash cans naturally.
Have you ever bought scented trash bags? The smell is absolutely overwhelming. The trash bags simply mask the odor of your trash with the overpowering smell of perfume. I much prefer the method below to keeping things smelling fresh because it does so in a natural way that's not so strong.
What You Need to Freshen Trash Cans Naturally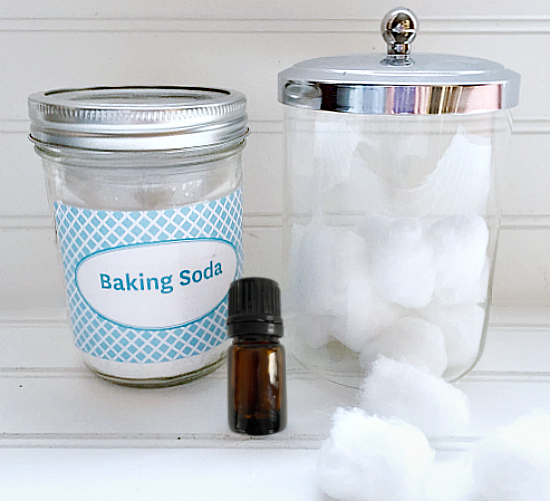 Affiliate links may be used. Please see our advertising disclosure for more information.
Essential Oil- I used a "Purifying Blend", but if you have a favorite, go ahead and use it. (Not sure where to buy essential oils? Check out this post)
How to Freshen Trash Cans Naturally
If your trash can already has an odor that isn't going away, wash it out with dish soap and water; then allow it to air dry (preferably outside where there's fresh air flow). Once dry, put in a fresh trash bag. Sprinkle 2-4 Tablespoons of baking soda into the bottom of the trash bag. The baking soda will help absorb odors. Then add 4-5 drops of your favorite essential oil to a cotton ball and toss that into the bag as well. As I mentioned I used a "Purifying Blend" as it was created to help freshen the air. When the bag is full everything goes out to the trash and you can start again. I actually have baking soda, along with some cotton balls and essential oil, right by my kitchen sink so it's ready to use.
See. I told you. Quick and easy. The best kind of cleaning tip.
Love it? Pin it!