I have made quite a few DIY cleaners in my life… everything from cleaning wipes to laundry soap to all-purpose spray, but there are two things I have hesitated to try: dish soap and dishwasher detergent. Truth… I love my Dawn dish soap. It works! It gives me suds (which I know don't necessarily equal clean, but they make me feel like things are getting clean), it cuts through grease, and it has worked so well in many of my DIY cleaning recipes; but I also like knowing what is actually in my cleaning products, and I don't get that luxury with Dawn. So, today we're going to try some DIY Dish Soap. Ready? I sure am!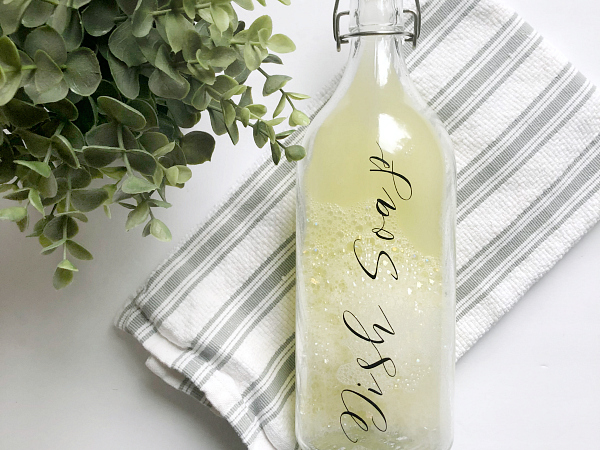 Let's talk about Sal Suds for just a second.
"Dr. Bronner's Sal Suds Liquid Cleaner is not a soap but instead is a concentrated hard-surface all-purpose cleaner. It is made with plant-based surfactants and natural fir needle and spruce essential oils (no cheap, harsh pine stump oil), without any synthetic dyes, fragrances or preservatives. Perfect for general household cleaning (dishes, floors, laundry, etc.), it cleans and rinses with exceptional power, yet it is mild and gentle on the skin. Sal Suds Liquid Cleaner is equally effective in hard or soft water, rinsing freely, hot or cold. It is 100% cruelty-free, as certified by the Coalition for Consumer Information on Cosmetics, and it will biodegrade rapidly after doing its job." -Quote found here on Dr. Bonner's shop page
The one thing about Sal Suds is it contains SLS (Sodium Lauryl Sulfate). Admittedly, I have read a few negatives about the use of SLS in cleaning products (mainly that it can cause skin irritation), however, after reading through this article, I feel comfortable using it.
One more thing to note: I have seen versions of DIY dish soap that use Castile Soap (I love Castile Soap… I use it every single day in my DIY Foaming Hand Soap), but Castile Soap is meant for personal hygiene, not for cleaning. Many report that using Castile Soap for cleaning purposes creates a lot of white, filmy residue… not what you want when you're trying to clean your dishes.
What You Need to Make DIY Dish Soap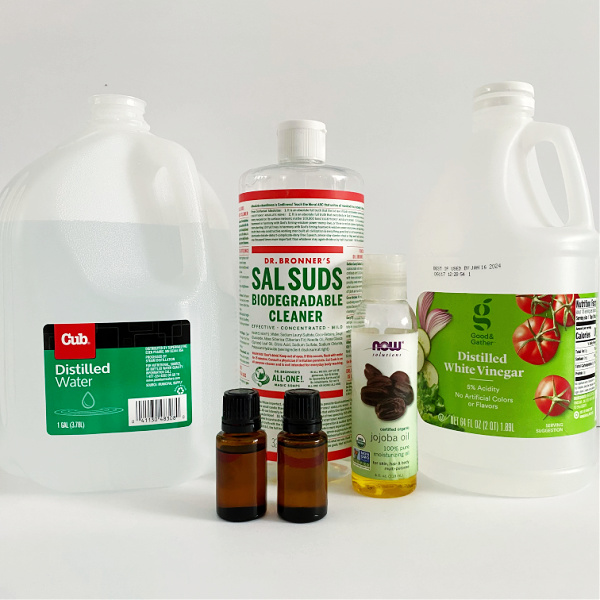 Affiliate links may be used. Please see our advertising disclosure for more information.
Distilled Water (Tap water contains impurities that can lead to bacterial growth, so using distilled water is recommended)
Essential Oil of your choosing (Optional)- I used both Grapefruit and Pine (because Sal Suds already has fir and spruce essential oils, so I thought Pine might enhance those a bit)- If you are not sure where to buy essential oils, check out this post.
Dish Soap Dispenser- I used a glass bottle with a stopper because that's what I had on hand 🙂
How to Make Homemade Dish Soap
In a small bowl, combine 1 Tablespoon Jojoba oil with 20 drops of essential oil. I used 5 drops of Pine and 15 drops of Grapefruit. Stir.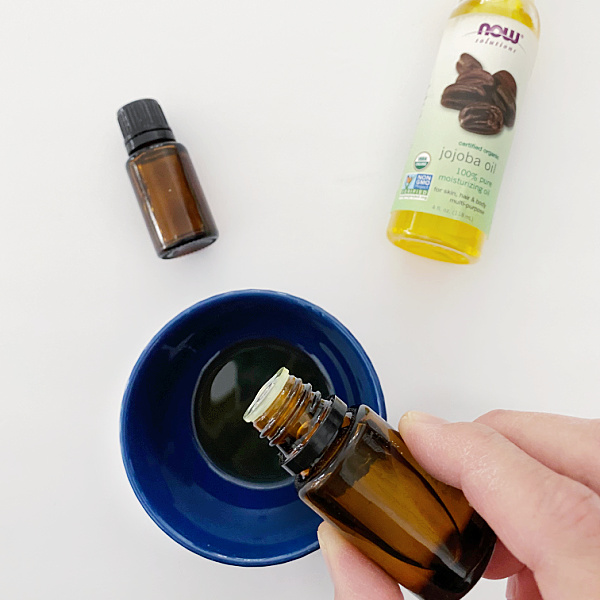 Pour your jojoba/essential oil combination into a glass measuring cup, then add 3/4 cup Sal Suds. Stir.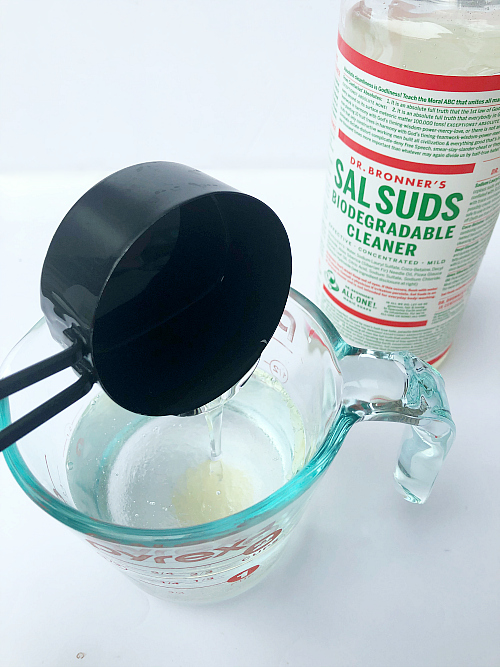 Once mixed, add in 2 Tablespoons of vinegar and 3/4 cup distilled water. Gently stir and then pour your mixture into your soap dispenser.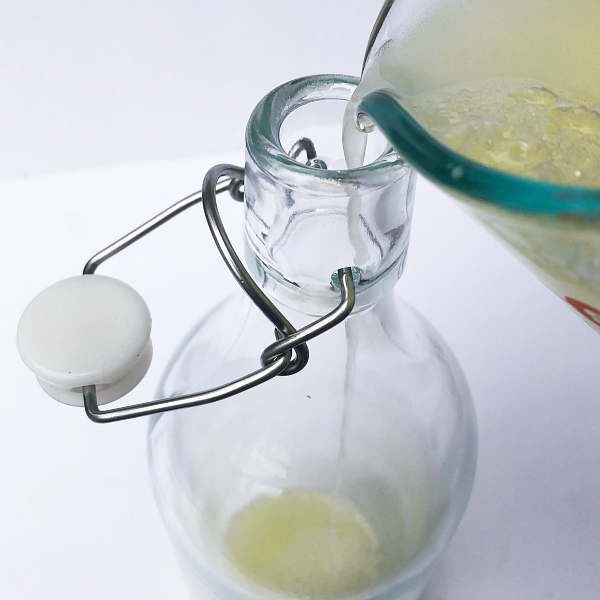 When doing dishes, add a splash of dish soap to warm running water. (Check out those suds!)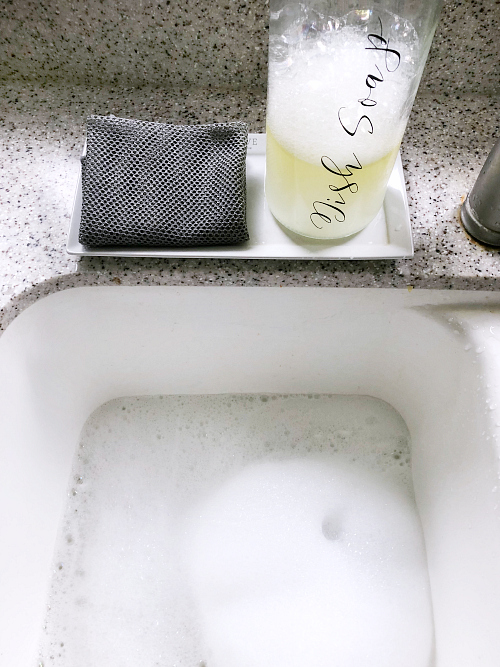 This DIY Dish Soap is not thick like the Dawn I'm used to, however, it smells amazing, has a high "suds factor" that lasted throughout the entire sink-full of dishes, and cleaned dishes like a champ. This DIY Dish Soap recipe is a definite winner!
*Helpful Hint: As you know, oil and water don't mix, so if you notice your oil separating , simply give the bottle a gentle shake before adding it to your sink.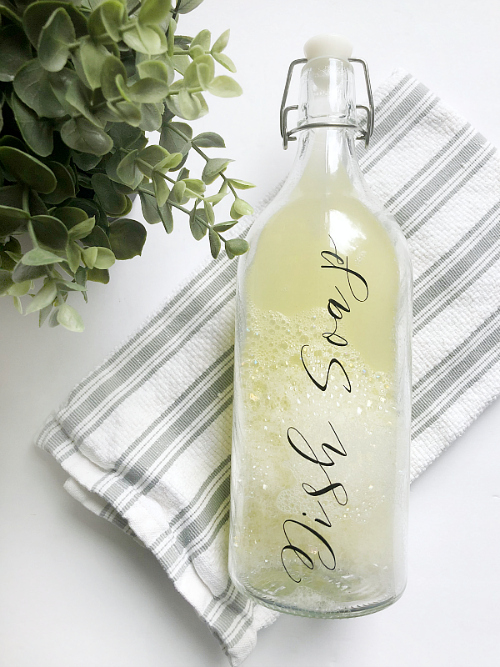 Love it? Pin it!