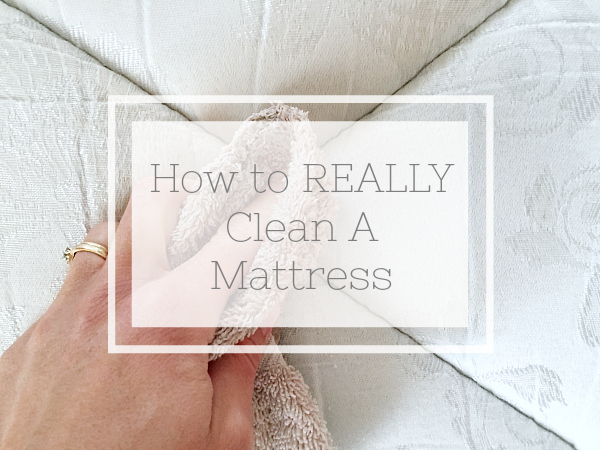 I'm going to confess right now that I had never cleaned my mattress until yesterday. I had never even thought about it, but I should have. We spend hours on our mattress every night… think of what's lingering on it… sweat, dead skin cells, puke & pee from our kids and/or pets. It's gross! I do have a mattress pad on our bed, and I guess I just thought that was enough. I mean, I do wash it with the load of sheets. Then I read somewhere about actually cleaning the mattress. Huh? Luckily, it doesn't require much effort; just a few quick steps, and your mattress will be clean and fresh. So, here we go!
Here's What You'll Need to Clean A Mattress
Directions: How to Clean A Mattress
Start by removing all the bedding: pillows, sheets, blankets, mattress pad… everything. While these are removed, you might as well wash them… no need to put dirty sheets on a clean mattress.
With all the bedding removed, vacuum the mattress to remove any crumbs from late night snacking.
If there are any noticeable stains on the bed, you can use a DIY Stain Remover, consisting of 2 parts Hydrogen Peroxide & 1 Part Dawn Dish Soap, to remove them. Simply spray the Stain Remover on the stain and gently work it in with a toothbrush (not your own).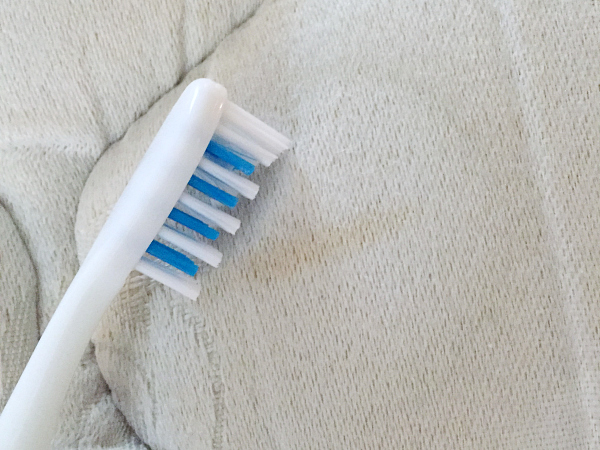 Wait 5 minutes, and blot the area with a cold, damp cloth. (I'm telling you, this stuff works so well, I couldn't even find the stain. I just had to look for the wet spot that I'd sprayed.)
Once you're done removing any stains, sprinkle a generous amount of baking soda directly onto the mattress. Baking soda works wonders at removing moisture and absorbing odors. (For a little something extra, try mixing 10 drops of Lavender or Purification® essential oil to 1/2 cup baking soda and sprinkling it on the mattress.) Gently move the baking soda around with your hands so the entire mattress has some of the baking soda on it and allow the baking soda to sit on the mattress for a couple hours (maybe until that load of laundry is done).
Vacuum up the baking soda and check out your fresh, clean mattress. Put your bedding back on and you're done.
If you do not own a mattress pad, I would highly recommend getting one. It's a layer of protection for your mattress, and you can throw it in the wash to get it clean.


Love it? Pin it!