Finding DIY versions of everyday cleaning products can be hit-or-miss. Sometimes they work amazingly well (like the time I tried cleaning a porcelain sink or removing hard water stains from my faucet), and other times, it just doesn't work out at all (I'm talkin' about you soap scum remover!). One huge win in the homemade cleaning department is the following DIY stain remover recipe. This stuff is incredible at removing a variety of stains, including set-in grease stains. I'm telling you, this stain remover is amazing… and you only need two ingredients!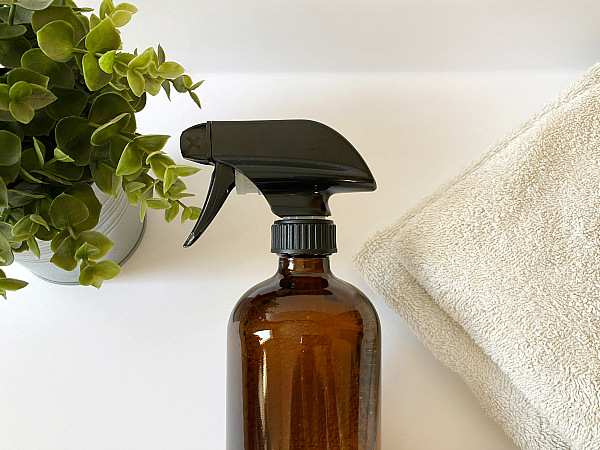 This week we're conducting a little experiment. I am always on the look out for DIY versions of common household cleaners because they cost a whole lot less!
I discovered this DIY stain remover while doing research on cleaning a mattress, so I thought I'd try it out on some of the stains I commonly see in our laundry. Let's see how well this homemade stain remover works, shall we?
What You Need to Make DIY Stain Remover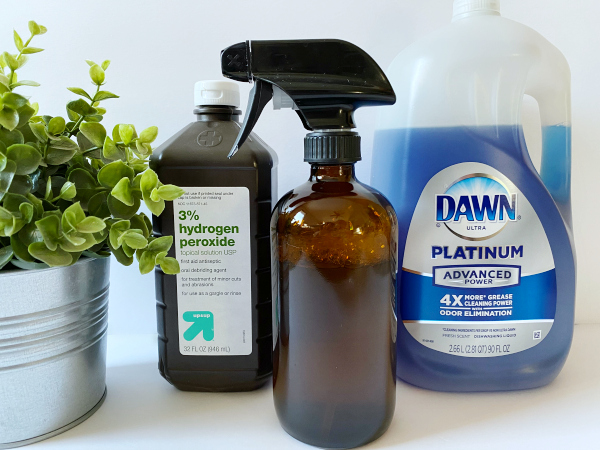 Affiliate links may be used. Please see our advertising disclosure for more information.
Ingredients Needed for DIY Stain Remover
Supplies Needed for Homemade Stain Remover
Dark Spray Bottle (These are my favorite)- The reason you want to use a dark spray bottle is because you are using hydrogen peroxide, which will break down in sunlight.
IMPORTANT: I once tried this DIY stain remover with a natural dish soap, and after a couple days the spray bottle had pressurized and the stain remover was all over my counter. After doing some research, I believe an ingredient in the dish soap (Sodium Carbonate) was the cause. Because of this issue, I am going to recommend that you use Dawn as I know this works very well without any issues.
How to Make DIY Stain Remover
This stain remover recipe could not be easier.
Simply combine 2 parts hydrogen peroxide with one part Dawn dish soap in a liquid measuring cup and give it a stir. The amount you use will vary depending on the size of the bottle you will be using for storage. Here are the easiest amounts based on common sizes:
8 Oz. Bottle: 1/4 cup Dawn Dish Soap mixed with 1/2 Cup Hydrogen Peroxide
16 Oz. Bottle: 1/2 cup Dawn Dish Soap mixed with 1 Cup Hydrogen Peroxide
24 Oz. Bottle: 1 cup Dawn Dish Soap mixed with 1 1/2 Cup Hydrogen Peroxide
Once the mixture is well stirred, pour the solution in a dark spray bottle.
When ready to use, simply spray the solution onto the stain, working it in with a toothbrush for maximum benefit. Allow the stain remover to sit on the garment for a minimum of one hour and then launder according to the washing instructions.
How Well Does This Homemade Stain Remover Work?
I grabbed an old t-shirt and applied ketchup, mustard, canola oil, spaghetti sauce, ink, & red Kool-Aid. I allowed the stains to set in for 1 hour. As you will notice, I have two blobs of stain on the shirt because I applied the stain remover to one side and not the other, so we could see what you'd get with laundry detergent alone.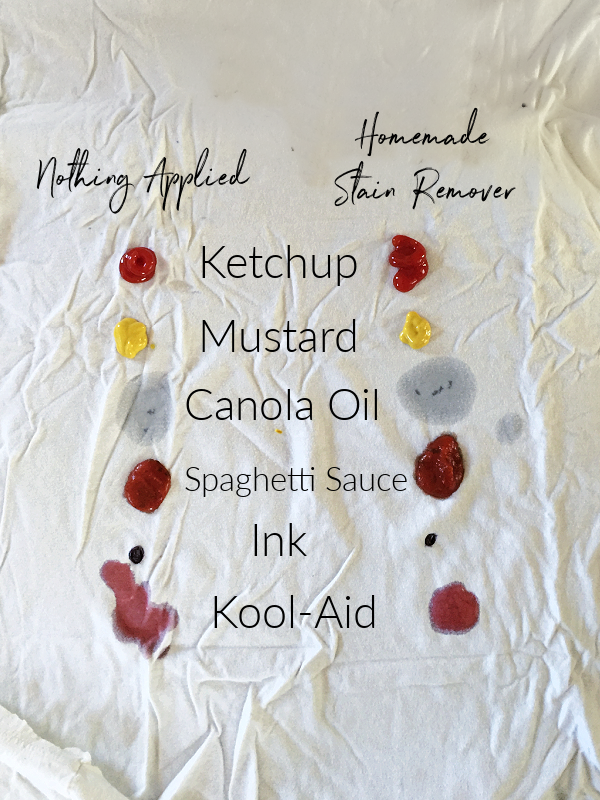 I sprayed the stains on the right side of the shirt with the DIY Stain Remover.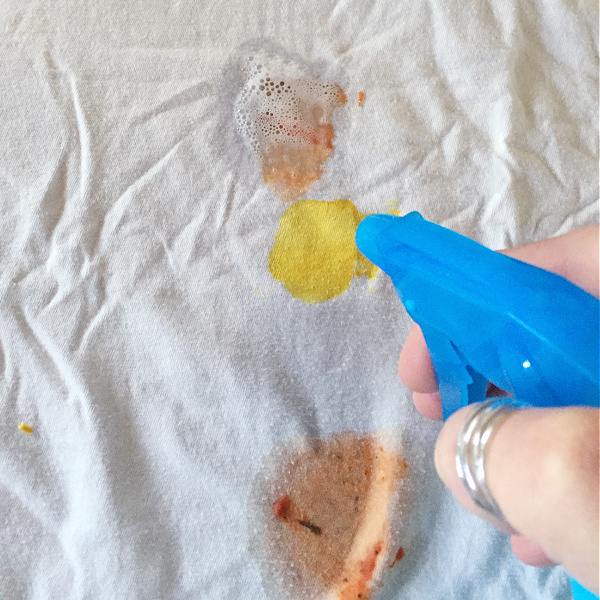 I used a toothbrush to really work the stain remover into the stain and then allowed it to sit for one hour. After the hour was up, I laundered the t-shirt as I typically would. Here are the results.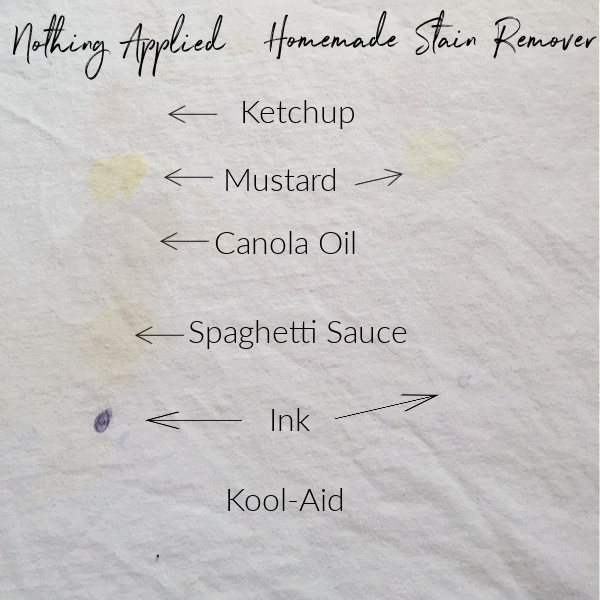 Without the stain remover, I can still see everything except the Kool-Aid. With the stain remover applied, I will admit, I do still see faint mustard and ink stains, but I'm pretty impressed with the results. To be honest, I wasn't sure a store-bought brand would do any better, but I thought I'd check it out. I went through the exact same process with a name-brand store-bought Stain Remover: I applied the items for staining and let them sit for one hour. I then sprayed on the name-brand stain remover and scrubbed it in with toothbrush, waited 1 hour, and washed.
Here are the results of the DIY Stain Remover vs. Store-Bought.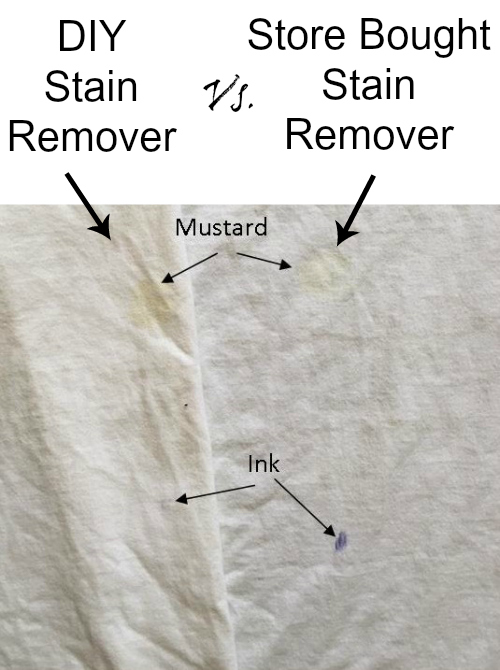 I can still see mustard with the store-bought version, but I'd say it performed slightly better than our DIY version on that stain. However our name-brand stain remover hardly got the ink out at all, and the DIY Stain Remover got it almost all the way out. As for the other stains, I think both stain removers performed equally well. I'm going to stick with the DIY stain remover myself, especially for ink stains!
Looking for More Laundry Room DIYs? Try These Recipes!
Homemade Laundry Soap | DIY Dryer Balls
Common Questions About This DIY Stain Remover Recipe
Does this Homemade Stain Remover bleach clothes (due to the added hydrogen peroxide)?
This may be the most frequently asked question I get about this stain remover recipe. Here is what I will say: I have applied this DIY stain remover to all kinds of fabrics in a variety of colors… and sometimes I have left it on for days before I put it in the washer! The only time I ever noticed a change in the color of a garment was when I applied this stain remover to a white t-shirt and left it on for over a week. The areas in which the stain remover was applied became more white (which may have been a good thing being that the shirt was white to begin with). I have never noticed any lightening of color on any other item of clothing. With that said, I always recommend testing any homemade cleaning product (or store-bought, for that matter) to make sure there is no unwanted change.
Do I Have to Use Dawn Dish Soap? Is there an Alternative?
I always try to go with the most natural route possible when making my own cleaning products… and I know Dawn is not exactly known to be the most natural dish soap out there. I did try this stain remover recipe with a natural dish soap (as mentioned above). The issue with natural dish soaps is they often contain baking soda or washing soda; when those ingredients are mixed with the hydrogen peroxide, the bottle pressurizes and you end up with stain remover all over the place. If you really want to make your own stain remover with a natural dish soap, you can do it one batch at a time. So, you could mix 1 Tbsp. dish soap with 2 Tbsp. of hydrogen peroxide in a ceramic dish and then apply the stain remover with a toothbrush. This, however, could not be store for future use.
Does this Stain Remover Recipe Work on Set-In Stains or Stains that have been through the Dryer
YES! I cannot tell you how many times I am folding my clean laundry only to find a huge grease stain I didn't notice prior to washing (and drying). I have probably used this DIY Stain Remover a hundred times on set-in grease stains and they have all come out every single time.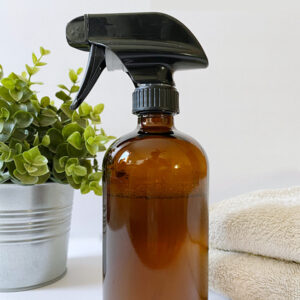 Homemade Stain Remover
This stain remover is better than store-bought and requires only two ingredients
Ingredients
1

Part

Dawn Dish Soap

2

Parts

Hydrogen Peroxide
Supplies
Liquid Measuring Cup

Dark Spray Bottle (For Storage)
Instructions
In a liquid measuring cup combine 1 part Dawn dish soap and 2 Parts Hydrogen Peroxide. The amount used will vary depending on the size of the bottle you are using for storage. Refer to post above for best amounts to use for common bottle sizes.

Stir the mixture and pour into a dark spray bottle for storage.

To use, spray the stain remover onto stain and allow to sit for one hour (minimum). For best result, use a toothbrush to scrub the stain remover into the stain. Launder per garment instructions.
Love it? Pin it!