This week we're conducting a little experiment at Lemons, Lavender, & Laundry. I am always on the look out for DIY versions of household cleaners because they cost a whole lot less!
I just discovered this little homemade brew on Pinterest while doing research on cleaning a mattress. I thought I'd try it out on some of the stains I commonly see in our laundry. Let's see how well it works, shall we?
Here's What You'll Need
One Part Dawn Dish Soap
Two Parts 3% Hydrogen Peroxide
Dark Spray Bottle
IMPORTANT: I recently tried this stain remover with a natural dish soap (Thieves), and after a couple days the spray bottle I was using had pressurized and the stain remover was all over my counter. Hmmm… After doing some research, I believe an ingredient in the dish soap (Sodium Carbonate would be my guess) was the cause. Because of this issue, I am going to recommend that you use Dawn as I know this works very well without any issue.
The Stains
I grabbed an old t-shirt and applied ketchup, mustard, canola oil, spaghetti sauce, ink, & red Kool-Aid. I allowed the stains to set in for 1 hour. As you will notice, I have two blobs of stain on the shirt because I applied the stain remover to one side and not the other, so we could see what you'd get with laundry detergent alone.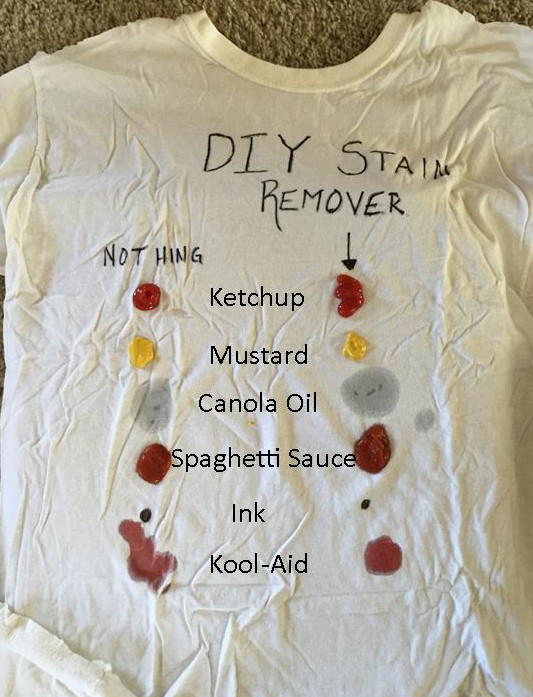 Directions
Mix 1 part Dawn Dish Soap with 2 parts Hydrogen Peroxide in the spray bottle. Gently shake to combine. I sprayed the stains with the DIY Stain Remover and allowed the stain remover to sit on the stain for 30 minutes. I would recommend allowing the stain remover to sit longer so it has a better opportunity to work on the stain (see results below).
I laundered the the t-shirt as I normally would. Here are the results:
Ketchup: Looks better with the stain remover, but not a huge difference.
Mustard: Although more faded with the stain remover, you can still see it.
Spaghetti Sauce: Much more faded with stain remover, but still slightly visible.
Ink: Much more faded with stain remover, but still somewhat visible.
Kool-Aid: Did well regardless of whether stain remover was used.
Canola Oil: I know it looks like the stain was gone whether stain remover was used or not, this is not the case- the oil that was not treated is highly visible when under indoor lighting. Can you see it between the mustard and spaghetti sauce?
So, I decided I'd reapply the stain remover a second time to those stubborn stains, but this time I scrubbed it in with a toothbrush to really work it into the shirt, and allowed it to sit for an hour (honestly, I should have done this first. I usually spray known stains when I remove the clothing item and let it sit until I do laundry- sometimes that's days later, giving the stain remover a ton of time to really work on the stain). I re-laundered & here's where we're at now: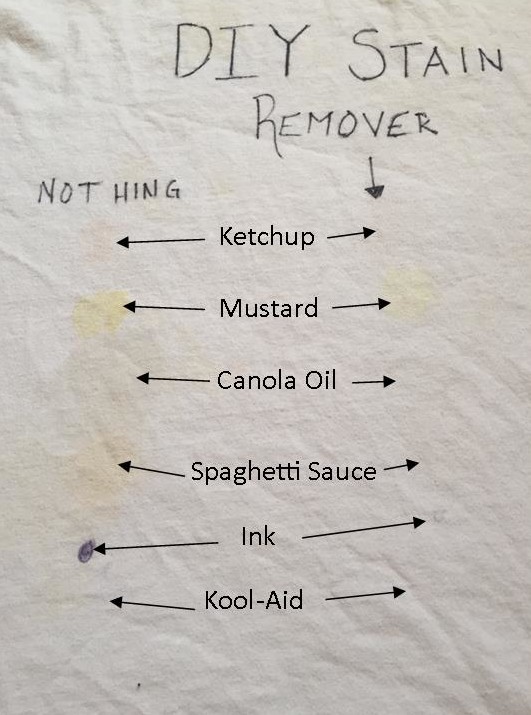 Without the stain remover, I can still see everything except the Kool-Aid, which came out the first round. With the Stain Remover applied, I will admit, I do still see faint mustard and ink, but I'm pretty impressed with the results, and to be honest, I wasn't sure a store-bought brand would do any better, but I thought I'd check it out. I went through the exact same process with Shout Stain Remover (applied stains & let them sit for one hour, sprayed on Shout & waited 30 minutes, washed, applied Shout again and scrubbed in with toothbrush, waited 1 hour, washed again.) Here are the results of Shout vs. the DIY Stain Remover:
I can still see mustard with Shout, but I'd say Shout performed slightly better on this stain. However, Shout hardly got the ink out at all, and the DIY Stain Remover got it almost all the way out. As for the other stains, I think both stain removers were able to perform equally well. I'm going to stick with the DIY stain remover myself, especially for ink stains!
How Much Do You Save?
Buying Stain Remover at the Store
Stain Remover= The cheapest stain remover I could find was Shout Laundry Stain Remover at Walmart for 9.5¢ per fluid ounce ($2.84 for 30 fluid ounces).
Making Your Own Stain Remover (we'll make 30 oz. as well for easy comparison)
20 oz. Hydrogen Peroxide= about 60¢ (based on Target's price of 97¢ for 32 oz. or 3¢ per fluid ounce)
10 oz. Dawn Dish Soap= 93¢ (based on Target's price of $2.24 for 24 fluid ounces, or 9.3¢ per fluid ounce)
Savings
This means that for the 30 oz. of stain remover you would get at Walmart for $2.84, you could make your own for $1.53, saving yourself $1.31. And remember that Walmart price is the cheapest price I could find!
Want to Follow Along with Lemons, Lavender, & Laundry?
Subscribe!
Social media more your style?
Facebook // Pinterest // Instagram // Twitter