Dust is simply a part of life. It's like dirty dishes and piles of laundry… unending. Since we are cleaning the office for our 8 Week Cleaning Challenge, I thought I'd share a couple cleaning tools that are great for electronic screens and keyboards.
Awhile ago, I was asked to try out some of Casabella's products, and write a post for them. Free cleaning products? Um, yes please! (Please note that Casabella is not sponsoring this post in any way. They simply sent me free product for the post I wrote for them. The products worked so well, I wanted to share them with you.)
For Computers & Televisions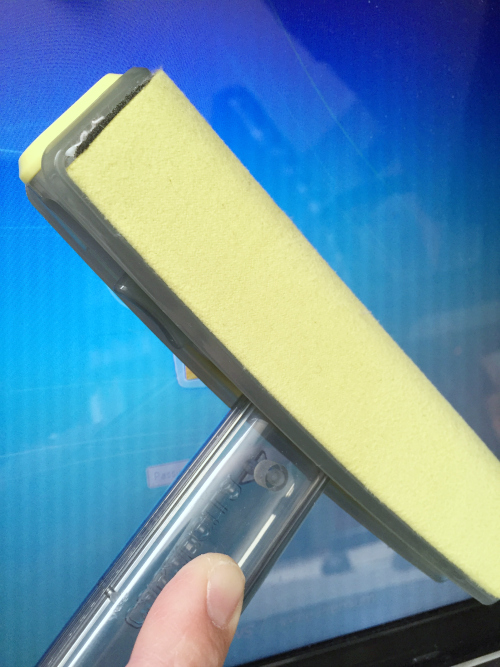 This microfiber screen cleaner works like a dusting squeegee on any electronic screen. Simply wipe the screen cleaner across the screen using light pressure, and the microfiber will trap the dust. So simple.
This handy tool also has a small brush that you can use to get the crumbs/dust out of your keyboard. I am notorious for eating crackers while I blog… or read Facebook commentary… or pin the day away. Ahem, anyway… With all this munching, I get crumbs in between the keys. The brush attachment works to scoot all those crumbs out of the way. Again. Simple.
For Cellphones
This little ball is, again, made of microfiber. While it can be used on any electronic screen, I use it for my cellphone. It's the perfect size to get the screen clean. All you do is wipe the ball on the screen and it attracts the dust. Done.
Favorite Dusting Products
For Your Cellphone: Casabella i clean Eyeball Microfiber Cleaning Ball
General Dusting: Arett Sales Micro Fiber Mitt
For Blinds: Casabella Microfiber Window Blind Glove
For Electronic Screens: Casabella i clean Microfiber Screen and Detail Cleaner
Enjoy your Tuesday!
Erin
Want to Follow Along with Lemons, Lavender, & Laundry?
Subscribe!
Social media more your style?
Facebook // Pinterest // Instagram // Twitter
Love it? Pin it!