I received the pureWash Pro free of charge for review. All opinions are my own.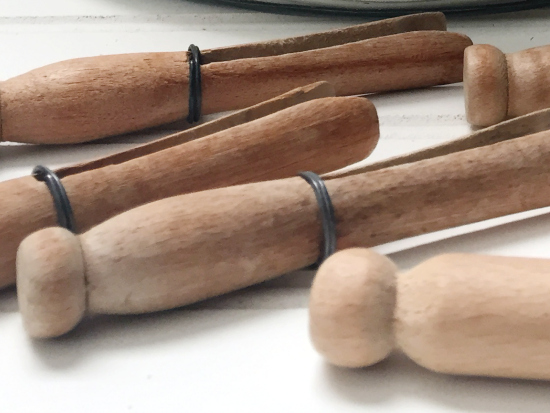 Recently, our dishwasher started to die: pieces are falling apart, my dishes aren't getting clean. Totally annoying. So, of course, I started up a conversation with my good friend Google to ask about the best dishwashers out there. I found a lot of information from consumer reports, but I wanted real people telling me their experience.
Today I'm sharing a product review with you because I think it's important to find honest reviews from real people.
A few months ago, I received an email from a company called pureWash. Ever heard of them? (If not, no worries. I hadn't either.) The email didn't give a ton of information about their product, but I was informed of the retail price: $297. Say what? $297! (Please note: price may change since review of this product.) I almost passed over it, thinking to myself, "I am a blogger trying to SAVE money for myself and my readers". I couldn't think of any "laundry product" worth that much… but, I decided to pop over to their site just to see what they were talking about… and what I saw totally caught my attention. Here is what their website claims:
The pureWash Pro system will:
Eliminate 99.9% of bacteria and mold (Update: As of 3/24/21, I no longer see this claim made)
Use little to no laundry detergent
Use only COLD water
Save you money
I was definitely intrigued. I am all about saving money and creating safer cleaning methods for my family, so I decided to try it out.
My Honest PureWash Pro Review
PureWash Pro Installation
The Claim: Easy Install in 15-20 Minutes
My Experience: Ummm… not so much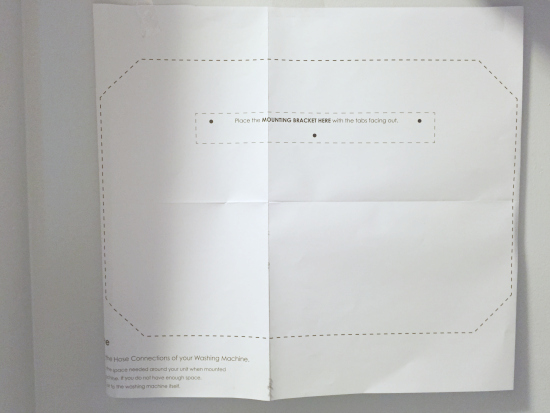 I will start by saying I was thrilled to see there was a printout to help with easy installation. We simply taped the print to our wall, making sure it was level, and screwed the mount to the wall. Super easy. The instructions says to mount it behind your washer, but we couldn't configure it in that space.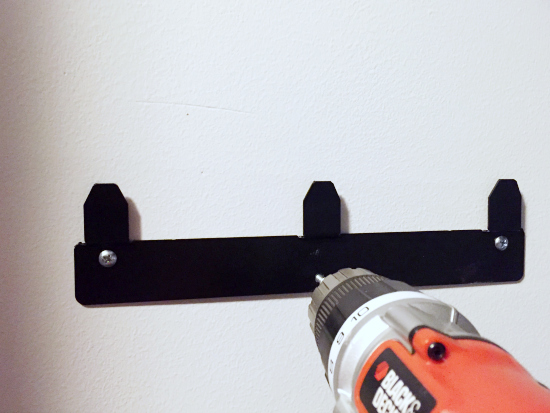 The pureWash Pro slipped onto the mount without any problems.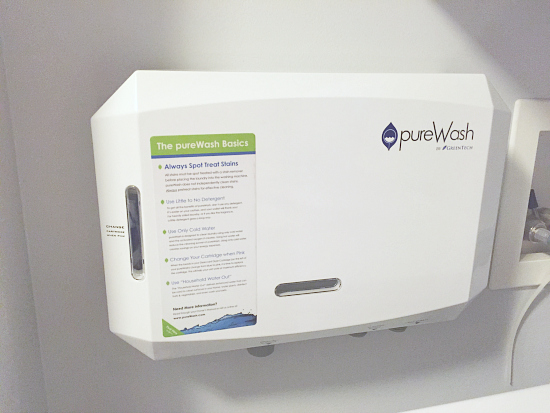 We ran into a few issues with the hose attachments; they're plastic and did not seem to fit securely in place, thus leaking. We ended up having to jimmy-rig our own system in order to prevent drips. We probably spent 45-60 minutes, in total, before getting everything set up and functioning properly.
Update (11/17/2021): This seems to have been updated to stainless steel (according to the replacement images I'm seeing on the website), so this may no longer cause any issues.
Cleaner Clothes From the PureWash Pro?
The Claim: Kills 99.9% of Bacteria and Mold (Update: As of 3/24/21, I no longer see this claim made on their site.)
My Experience: I don't actually have a laboratory in my house (shocking), so I cannot tell you, with certainty, that the pureWash Pro eliminates 99.9% of bacteria and mold. I'm going to have to go with their laboratory testing on this one 🙂
The Claim: Fresher Smelling Clothes
My Experience: Absolutely true! After washing my first load of laundry with the pureWash Pro, I noticed a significantly fresher smell. I had actually washed one load of laundry prior to installation, so I grabbed a shirt from each load (one from my typical "detergent laundered load", and one using the pureWash Pro). HUGE difference. I even asked my husband to smell them (weird?) and he agreed that the shirt coming from the pureWash Pro smelled A LOT better. I have now been doing laundry for months with the pureWash Pro and the fresh smell continues.
The Claim: Little to No Laundry Detergent Needed, but you DO need to Treat Stains
My Experience: 100% True. I'm going to admit that, at first, I didn't know if my clothes were really getting as clean. Granted, they may be bacteria-free and mold-free, but if they weren't visibly clean, what was the point? So, I decided I'd do a little experiment. (At first, I thought I wouldn't be able to do a "true experiment" unless I uninstalled the pureWash Pro in order to test stain removal with regular detergent. Then I remembered I had done a stain removal experiment comparing a store-bought brand of stain remover with a DIY version. Perfect. Here's what I did. I applied the same stains to 4 strips of t-shirts (please don't tell my husband I cut up one of his undershirts). So, we had ketchup, mustard, canola oil, spaghetti sauce, ink, and red Kool-Aid on every strip.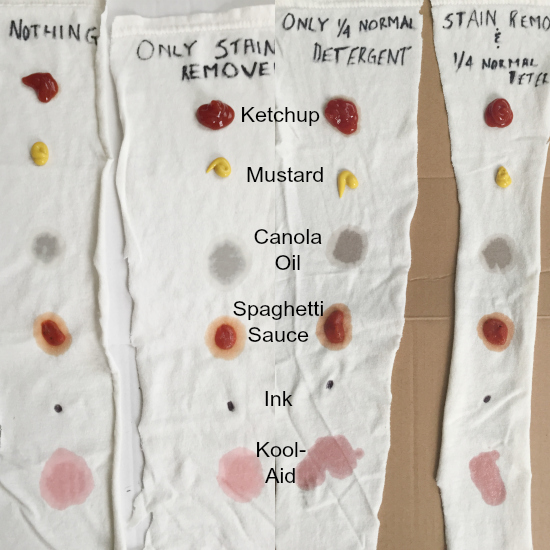 Then I washed each strip differently, however all were washed in COLD water using the pureWash Pro:
Nothing Done to the Stains
DIY Stain Remover Applied
No Stain Remover, but 1/4 Detergent Amount (which is what pureWash suggests for soiled clothing)
DIY Stain Remover AND 1/4 Detergent
Here are the results: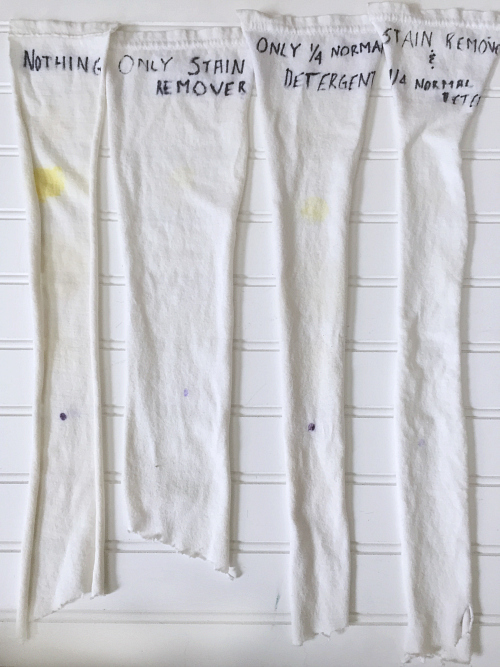 Here is how that compared to using both DIY stain remover AND laundry detergent in HOT water prior to having the Purewash Pro installed: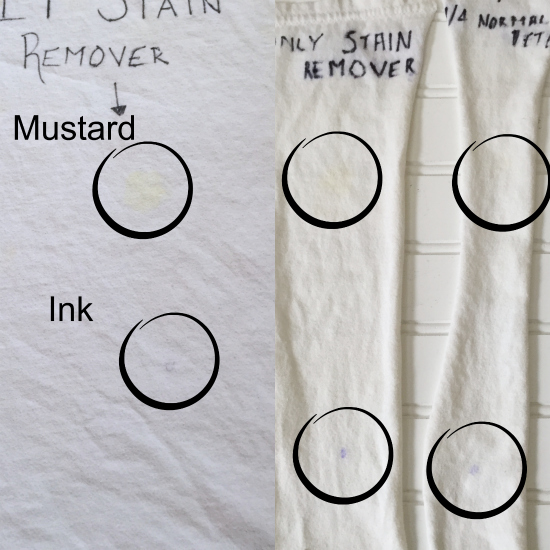 Left: DIY Stain Remover washed in hot water with regular amount of store-bought detergent Center: DIY Stain Remover washed in cold water with pureWash Pro Right: DIY Stain Remover washed in cold water with pureWash Pro and 1/4 normal amount store-bought detergent.
Not bad. I actually think the stain remover did most of the work, but the detergent did lighten the mustard and ink, which are the only stains I can see in any of the trials above.
The Claim: Only Uses Cold Water
My Experience: As you can see from above, the pureWash Pro did just as good of a job in cold water as I previously was getting with hot water and detergent (maybe even a little better on the mustard).
Does the PureWash Pro Really Save You Money?
The Claim: The Product Saves You Money
My Experience: Obviously this number is going to be different for everyone depending on a number of factors: front-loader vs. top loader washing machine, number of hot water cycles currently used, cost of detergent used, number of loads washed each week, etc. I decided I'd see for myself how much I would save, and here's what I found. (You can try this "laundry cost calculator" here.)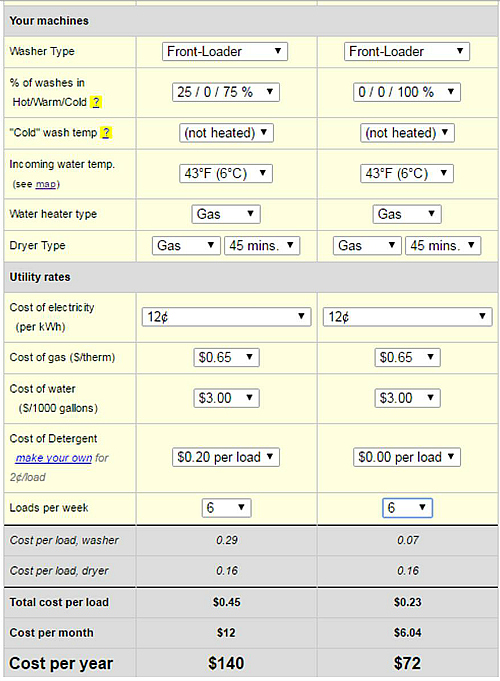 Left: Laundry Cost with 25% loads done in hot water, using laundry detergent Right: Cost when using pureWash Pro: cold water 100% of the time and $0 in detergent
I typically wash only towels/undergarments in hot water and everything else in cold, and I cannot say, with certainty, what my cost/load is for my laundry detergent because I make my own (so I used the estimate that was already there). If you are using a store-bought brand of detergent, just make sure you don't always go by the loads listed on the front of the container; this is typically how many "small loads" you can do with their detergent. I would say most go to a higher fill line, thus using more detergent. Also, if you are using fabric softener (which I don't), you should factor that into your equation. With the pureWash Pro, you may not need any, and can eliminate that cost as well.
If this "laundry calculator" is accurate, I'm saving myself $68 each year.
You will save much more if you:
Use a top-load washing machine
Wash more than 25% of your loads in hot water
Have an electric water heater
Use more expensive laundry detergent
Use fabric softener
Do more than 6 loads of laundry each week (Just for experiment's sake, I typed in 8 loads, and I suddenly went from a savings of $68 to a savings of $91)
Have higher utility costs (I actually got out all my utility bills so mine are accurate for my home)
Here's the other factor: there is a filter cartridge on the pureWash Pro that needs to be changed, and the cost is $30. According to pureWash, this filter is typically only replaced once each year, so my savings go down to $38 each year. Over the course of 10 years, after spending $297 on the machine, and purchasing a filter each year, I would save $83, or $8.30 a year.
I would highly recommend doing the calculations for your own home, however, as it quite possible you'd save much more than that.
Pros & Cons of the PureWash Pro
Pros:
Fresher Smelling Clothes
Environmentally Friendly- By using only cold water and no more detergent containers
Saves Money in the Long Run
No More Buying Laundry Detergent
Bacteria/Mold Elimination
Better for Sensitive Skin (I have a child that gets rashes with many types of detergents, and since this doesn't use detergent, his skin fares much better)
Clothes last longer because they are being washed in cold water without detergent
Household Cleaning Option- There is a spigot in which you can use the oxygenated water for household cleaning purposes as well. Do NOT drink this water!
My favorite thing! I have totally changed my laundry routine. I now grab one person's laundry and throw everything in the washer. Since I'm no longer washing underwear and socks in hot water, and I don't worry about colors bleeding in cold water, I keep each person's laundry together from washer to dryer to folding and putting away. It makes it SO much easier. I now wash one load each day vs. sorting everything and doing all my loads in one day. Game-changer.
Cons:
We experienced a tricky install, but many others state they experienced no problems
High Upfront Cost
Need to be extremely vigilant of stains, and treat them
Buy Your Own PureWash Pro From Amazon- Affiliate Link
Overall, I would give this product 3.5 stars out of 5. I think the pureWash Pro is a good product. I love that it is environmentally-friendly, but it is pretty spendy; and the need to treat even the slightest of stains is a lot when I have 3 little ones at home. If you have kids that are continuously spilling spaghetti sauce on their shirts or coming inside with grass stains on their jeans, this may not be the right choice for you as stain-treatment is absolutely required, but if you only spill coffee on yourself occasionally (or is that just me?), then I would recommend this product… (but treat that coffee stain 🙂 )
Questions? Comments? Leave them below.
Love it? Pin it!