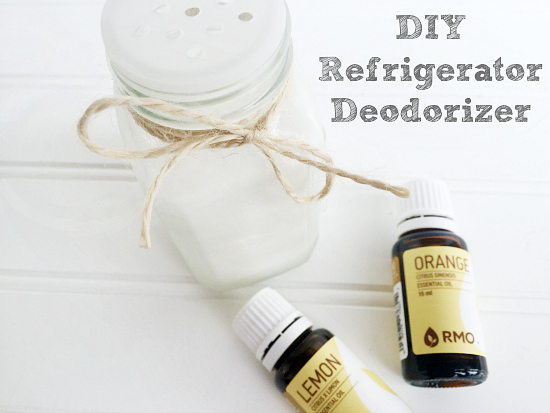 I've got a super quick, super easy cleaning tip for you today. Have you ever opened your fridge to the smell of garlic, or worse, something rotting? For whatever reason, these smells seem to invade all the other food in your fridge and, in turn, affects the taste. For example, have you ever had a glass of lemonade that tasted "off" because it was "flavored" by other foods in the fridge? Not so good. Here's an idea to try: Refrigerator Deodorizer.
What You Need to Make Refrigerator Deodorizer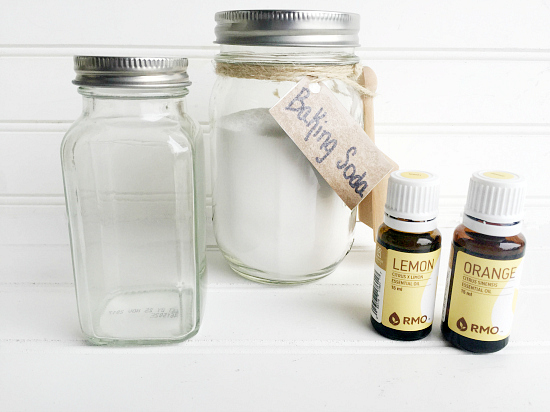 Affiliate links may be used. Please see our advertising disclosure for more information.
Baking Soda– Wonderful for absorbing odors
Essential Oil- Be careful on which type of essential oil you chose. While I love the smell of lavender, I don't really want my fridge to smell like a lavender field. I would recommend a citrus oil, like lemon or orange… Not sure where to buy essential oils? Check out this post.
How to Make DIY Refrigerator Deodorizer
Grab a small bowl and add some baking soda. The amount of baking soda needed will depend on the size of the spice jar you're using. It will be easiest to fill the spice jar with baking soda and then dump it into a bowl so you know you have the right amount.
Add a few drops of essential oil. I would recommend 3 drops for each 1/4 cup of baking soda. I had about 1/2 cup baking soda and added 3 drops lemon essential oil and 3 drops orange essential oil. You want the essential oil to provide a fresh scent for your fridge, but you don't want it to be overpowering and make everything in your fridge taste like citrus. Thoroughly mix the baking soda and essential oil, and pour it back into the spice jar.
Place it in the back of your fridge with the lid removed, and you're done. How easy was that?
Love it? Pin it!