Hello, hello! If you are visiting for the first time, welcome to Lemons, Lavender, & Laundry. I am so happy to have you here! If you've been around for awhile, I just want to thank you for being a part of this organizing/cleaning/blogging journey. I hope you'll grab yourself a drink, or a bite to eat (or both), and stay awhile.
I know today typically marks the start of another $100 Room Challenge. While I will still be transforming a room for $100, this month (and next), I am going to be participating in the One Room Challenge, hosted by Linda, over at Calling It Home. If you were around back in April, I participated in the One Room Challenge, and had a blast redoing our powder room.
The One Room Challenge is a 5 week challenge (with a total of 6 posts) in which 150+ bloggers all join together and makeover one room in their homes. Each week's progress is documented, and linked up, so you can watch the transformations from start to finish. Because I had so much fun coming up with cost-effective ways to transform the mudroom, I am going to maintain my $100 budget while participating in the One Room Challenge.
Okay, introducing my space. This is my laundry "room"… closet. Please be advised that I didn't clean this space before photographing. I wanted you to see it in all its messy, dirty glory (this also helps make the after pictures look better 🙂 ).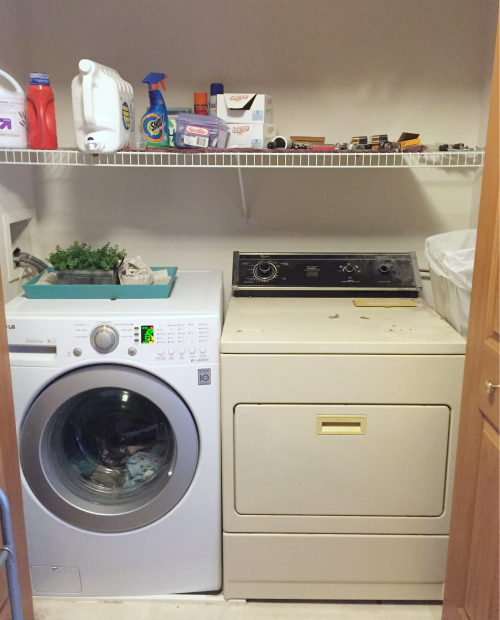 It is disgusting! No. Really. It's gross. When I think of what a laundry room should be, these are the words that come to mind: fresh… clean… crisp. When looking at this space, I think: lint-infested… boring… "Why do the washer and dryer not match?"… "Please close the doors."
Next week, I'll share all my thoughts and ideas on how I plan to transform this space with a limited budget. Just to give you an idea of what I like (but will never achieve with $100), you can check out my Laundry Room Inspiration Board on Pinterest 🙂
Are you participating in the One Room Challenge? Please let me know about it in the comment section below, so I can stop over and have a look!
Enjoy the rest of your day, and as I said, please stay and have a look around.
Erin
The One Room Challenge Week-by-Week:
Week 1 // Week 2 // Week 3 // Week 4 // Week 5 // Week 6
You can find more rooms being made over during the One Room Challenge here (professionals) and here (linking participants).
Want to Follow Along with Lemons, Lavender, & Laundry?
Subscribe!
Social media more your style?
Facebook // Pinterest // Instagram // Twitter