Welcome back to week two of the One Room Challenge, where 150+ bloggers, including myself, tackle one room in our home, transforming it in just 5 weeks time! It's a whirlwind of an event hosted by Linda over at Calling It Home.
Just a brief recap: I chose to take on my laundry room, which, in fact, is just a closet. If you want to see the, rather disgusting, before pictures, you can head over to week 1 and capture all those pinnable images. Please keep in mind that I have given myself a budget of $100. Say what? I know. $100 is not much. I actually like having a (very) limited budget because I am forced to think outside the box and get creative!
This week I'm sharing my plans for this space. There are a total of zero things I like about this closet, which means I need to do some major overhauling. *Please note that I did not "spruce up" the laundry room in any way prior to these pictures (which you will know is the absolute truth once you see them). I am all about giving an honest picture of what I'm about to deal with… So here we go… and… prepare yourself for a rather disturbing picture at the end… seriously folks, it's about to get real…
Goals
Paint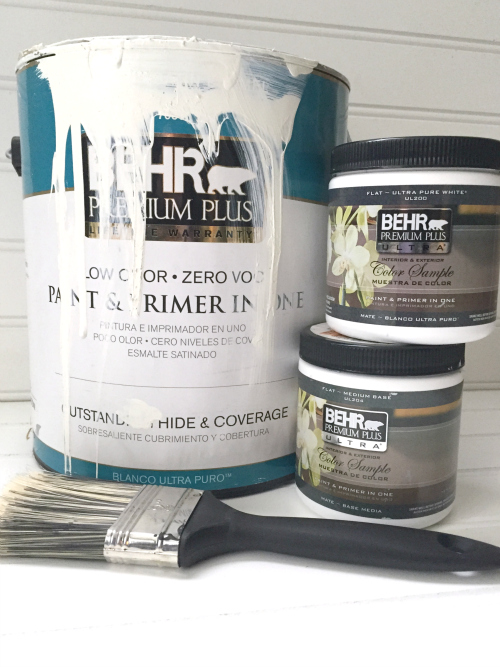 As is true for most (maybe all) closets in a builder-grade house, they are painted semi-white, creamy, blah. If you recall from week one, I want my laundry room to be clean, fresh, and crisp, so I need a clean, fresh, crisp color. I know what you're thinking. Paint costs money, and your budget will be gone after buying paint… Fear not. I have a plan that should allow me to paint this closet for free. I want a very light bluish color in here. I happen to have two bluish paint samples that I bought for the last One Room Challenge, as well as about 1/2 gallon of white paint. (I knew there was a reason for keeping those little sample cans!). I think I can do a little combination experiment, and since this is such a small space, I should have enough paint to cover it. Anyone out there mix paint before? I am open to any, and all, advice because this is something I have never done before.
Shelving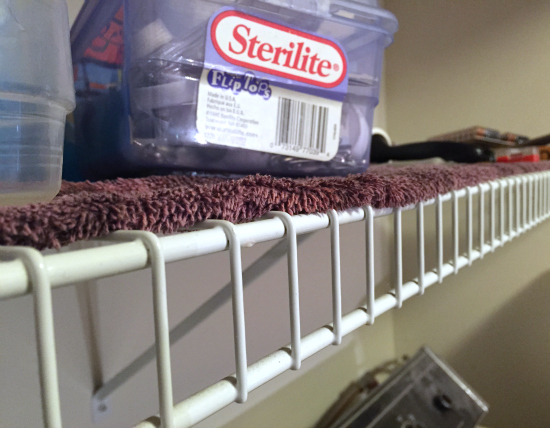 This shelf is pretty much non-functional. Notice how I have cleverly laid an old towel on it? This is to prevent items from slipping through the wire shelving. Doesn't it just look adorable? Nope! It looks terrible! I wash the towel every 2-3 years (yep, I did say years) to keeps it looking fresh, but it's time to say goodbye. Again, I'm working with $100, so I'm not adding new shelving; I'm going to try to problem solve with some sort of wood overlay… which I may, or may not, paint… and which may, or may not, get some sort of treatment with washi tape (isn't that stuff the best?)
Storage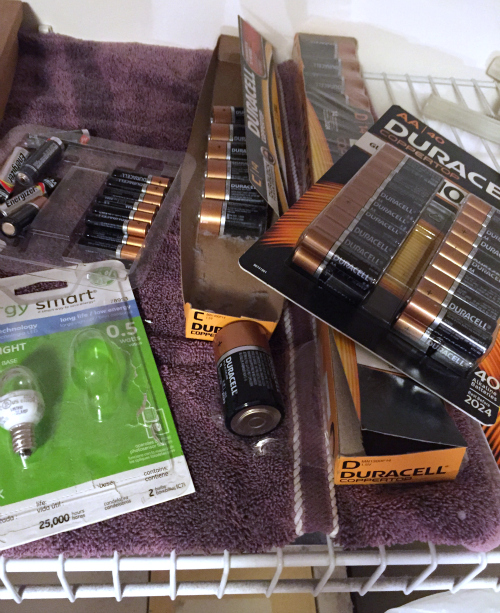 I know the packages of batteries spewing their contents is cute and all, but really, let's get some baskets to contain the madness. Baskets are definitely on the list of needed items, so I'll be scouring my local Goodwill for some ideas. I also bought a tray, like 6 months ago, that I was contemplating using in my kitchen. Time passed, I could no longer return it, so I brought it up to the laundry closet thinking I might find a use for it. It's been sitting on my washing machine ever since. I'm thinking it's time to put that to use as well.
Décor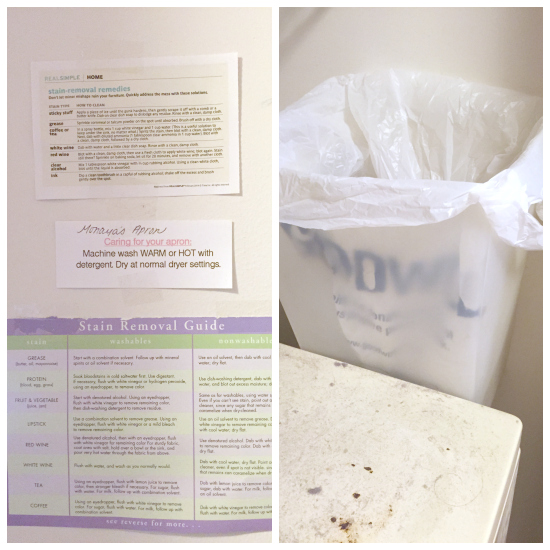 Again with the cuteness factor going on in here… This is my current "décor". I know you're jealous. These washing instructions are truly impressive taped to the wall, but it's time to upgrade. I already bought my favorite gallery frames, and I've got some ideas for using free printables on Pinterest. (Thank you to all of you that create these for our use, like Emily from Grace and Good Eats, whose printable I used in my inspiration board!) I also need to do something about the over-sized trash can stuck in between the dryer and the wall. I'm thinking a small box of some sort hanging on the wall (for the purpose of lint) would be much more suitable.
Washer & Dryer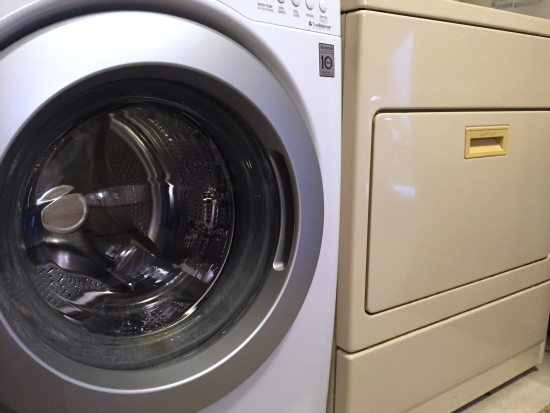 Soooo… maybe you noticed that my washer and dryer don't match… Here's the deal with that. When we moved into this house, there was a washer and dryer already here. After a couple months, I was confused as to why, after pulling clothes from the washer, there were areas of my clothing that were still dry. I decided to investigate and realized my washer was simply filling with water (wash cycle), draining the water, and filling back up with water (rinse cycle). Hmmm… we're missing something… like the agitation that actually cleans the clothes. We needed a new washer STAT. The dryer was working well, and our budget at the time didn't allow for us to buy both. I figured since this room was hidden behind closed doors, it wouldn't really matter. Honestly, it really doesn't bother me a whole lot, but since we're overhauling the space, my husband suggested painting the dryer to match the washer. (Thank you Hubby! I know you love working on projects to help my blogging "career"). If you live close by, and would like to help haul this beast down our staircase (with a 180° turn), please let me know. Sounds like a blast, doesn't it? I may have to turn people away… We'll see how this idea turns out.
Clean It Up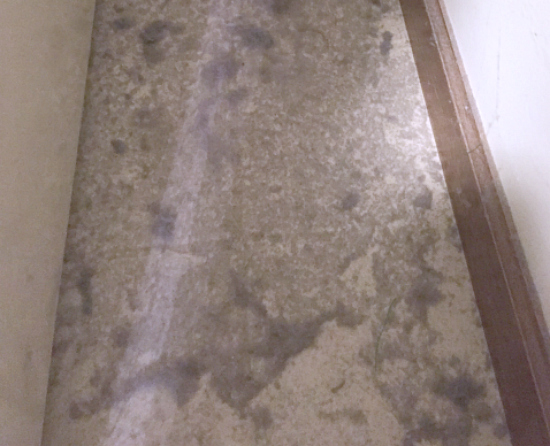 Did I seriously just put up a picture of my lint carpet? That may be the most embarrassing picture I've ever put on this blog (although the before pictures of my mudroom were pretty bad as well). But seriously, who can get into such a tight space to vacuum that up? I realize cleaning really needs to be my first step (ya think?), but I'm dreading it, so I'm putting it at the bottom of the list. That way, I somehow feel like it's less important and I don't have to think about it. I'll be sharing some laundry room cleaning tips for "Cleaning Tip Tuesday" as a way to motivate myself to actually clean my dryer (for the first time ever… yikes!), amongst other things.
Here is a VERY basic idea for this laundry closet… drumroll please…
Okay, with all those plans, I best get to work. There is a whole lot to do, and just about zero time to get it all done.
Have a good week!
Erin
The One Room Challenge Week-by-Week:
Week 1 // Week 2 // Week 3 // Week 4 // Week 5 // Week 6
You can see a whole lotta room transformations happening here (professionals) and here (linking participants)!
Want to Follow Along with Lemons, Lavender, & Laundry?
Subscribe!
Social media more your style?
Facebook // Pinterest // Instagram // Twitter