When our washing machine died, we had to make a choice: either buy a washer and dryer (despite the fact that our dryer worked just fine) or live with a mismatched pair. Little did we know at the time, there was a third option available to us. Paint the dryer to match the washer! It was such an easy process (aside from hauling the dryer up and down the stairs). Here's a full tutorial on how to paint appliances.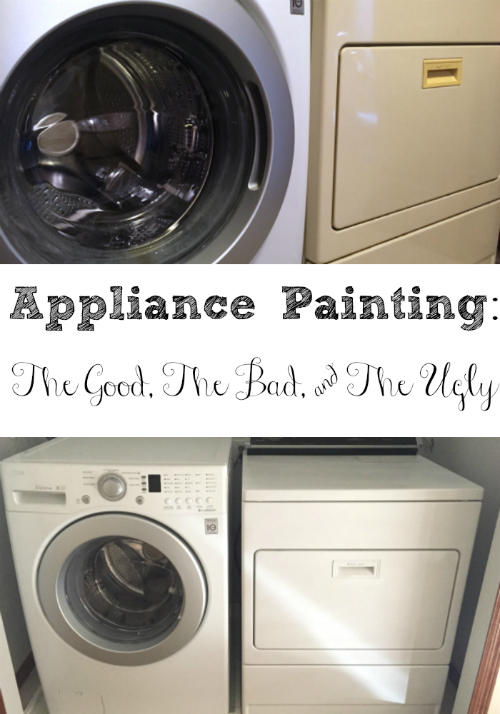 As you may (or may not) know, I am working on making over our laundry room for the One Room Challenge… with a $100 budget… and it just wouldn't be a challenge without hauling the dryer up and down the stairs to paint it, right?
I'm going to walk you through the process of painting our dryer step-by-step… and tell you all the lessons I learned along the way. I'll end with my honest review of the product I used to paint the dryer. (*This is NOT sponsored.)
Here's Where We Started…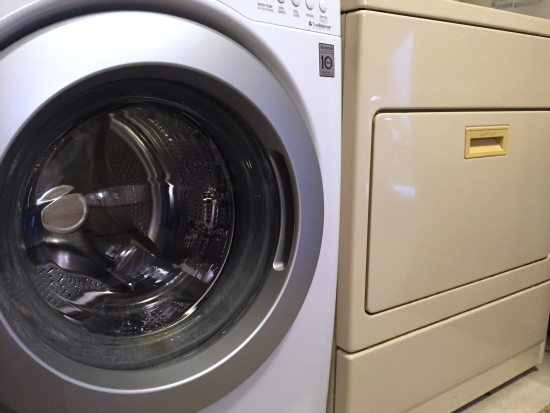 Ummm… what can I say? The washer and dryer don't match. If you want the story behind the mismatched pair, you can read about it here.
While the dryer was still upstairs, I thoroughly cleaned it, both inside and out. We then got some help moving it down to the garage. (Remember to put the appliance on tarps so you don't paint your garage floor.)
How to Paint Appliances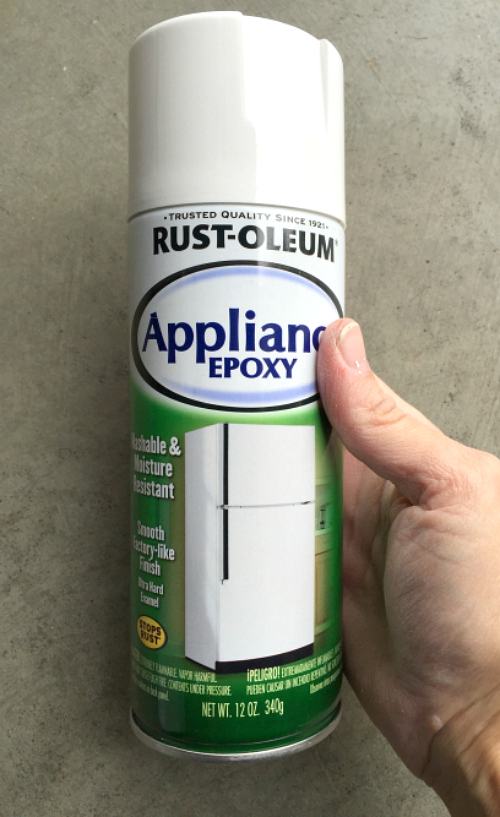 I bought a can of Rust-oleum Appliance Epoxy.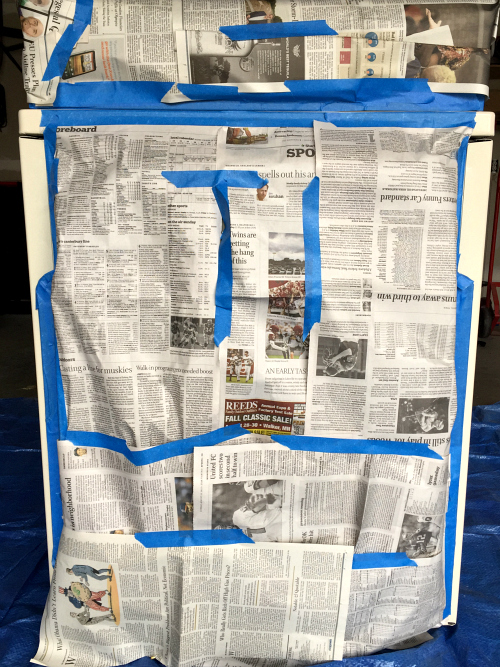 I then covered the back and top of the dryer with a combination of newspaper and painter's tape. While I would love nothing more than to get rid of the dark brown control panel, it has all the settings marked, so I can't.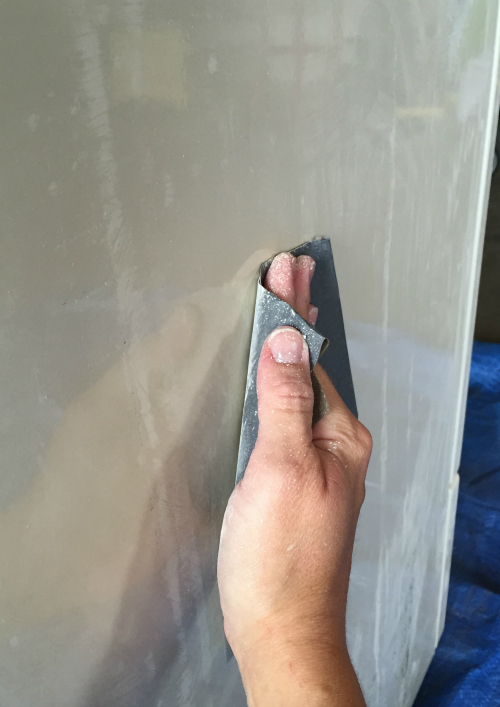 The next step was lightly sanding the dryer with fine grit sandpaper…
Lesson 1: I would NOT recommend doing this! I did it because the directions say to do it, and I'm a rule-follower. However, there was a small strip I forgot to sand down on the back and the paint looks bright white and glossy. Over the parts I sanded, it's more of a matte finish and not nearly as bright.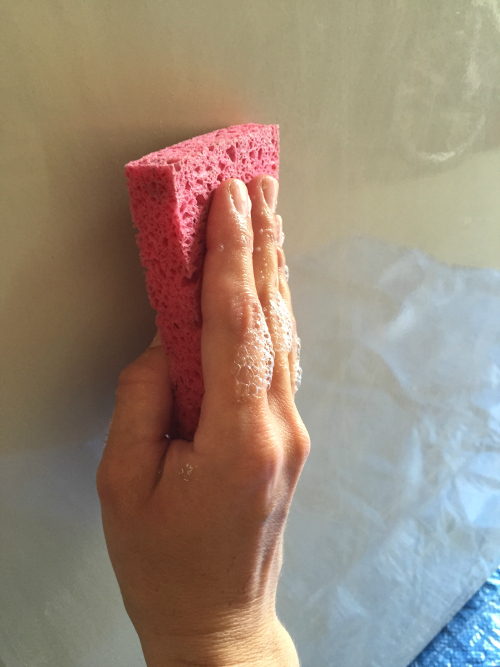 Whether you decide to sand or not, thoroughly wipe down the appliance with soapy water to remove any dust and dirt. Then allow it to dry.
Let the painting begin! First and foremost, make sure you are painting somewhere with good ventilation. Shake the epoxy paint can for 1-2 minutes, making sure the balls are rattling to mix the paint. Start spraying in sweeping motions back and forth across the surface.
Lesson 2: The can of paint states that you are supposed to spray continuously as you sweep back and forth, but when I did this I would get little drops of paint splattering out versus a mist (see image below). I found it worked better to do one sweep across, stop spraying, and do another sweep across right under the previous sweep.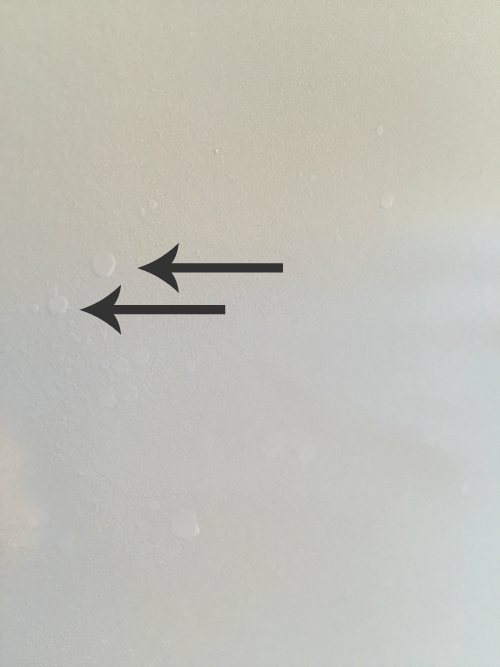 After painting the entire dryer, I let it dry for 24 hours. I noticed there were a couple spots that needed touching up, and I thought the whole thing could use one more coat, as there were areas that didn't look quite as white. While applying the second coat, I noticed this happening in a couple spots ↓ ↓ ↓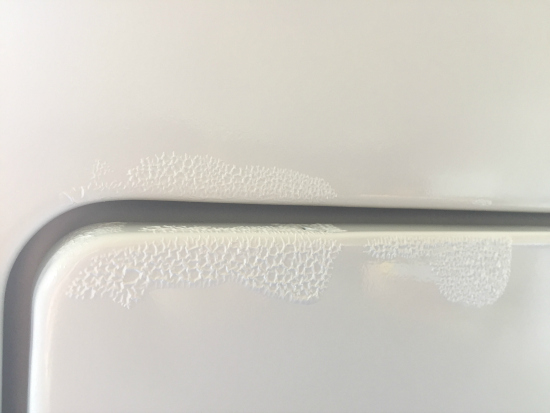 Well, that stinks! I tried wiping off the paint, and not only did the wet layer of paint come off, but the first layer came off too. When I tried going over it with the paint again, it would just continue to bubble. I realized I needed to stop trying to fix it and allow it to completely dry for another 24 hours, sand it down, and start over. I did a little research, and found I was not the only person that had this happen when applying a second coat of paint. One person on Amazon recommended applying Weldbond, which would adhere to the dryer and you would essentially paint over the layer of Weldbond instead of the dryer. It seems trying to paint over the same area on the dryer results in continued bubbling.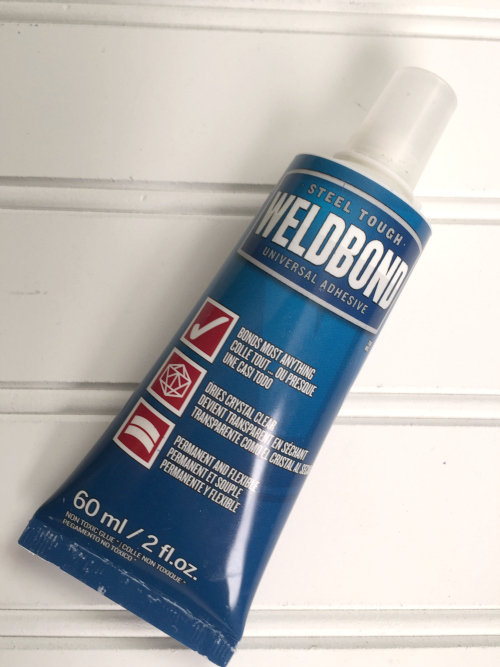 After the paint had completely dried, I sanded down the areas where the paint had bubbled and applied the Weldbond. I allowed that to dry and then sprayed over it with the epoxy paint. While the paint did stick to the Weldbond (no bubbling), the surface isn't smooth. So, I've got a couple uneven spots on the dryer.
Lesson 3: If you don't need a second coat, avoid it.
Lesson 4: If you do get bubbling, don't go wiping off the paint and trying to fix it right away. Let it dry completely (24+ hours), then sand, apply Weldbond, and repaint. I think wiping it down and trying to fix it in the moment attributed to the less-than-smooth surface I ended up with.
My husband and I got the dryer up the stairs and reattached the gas line and vent. Can I just say, I have never been so excited to do laundry!
Lesson 5: Laundry continues to pile up, even if your dryer is out of commission.
Here is what the washer and dryer look like now… the "after picture":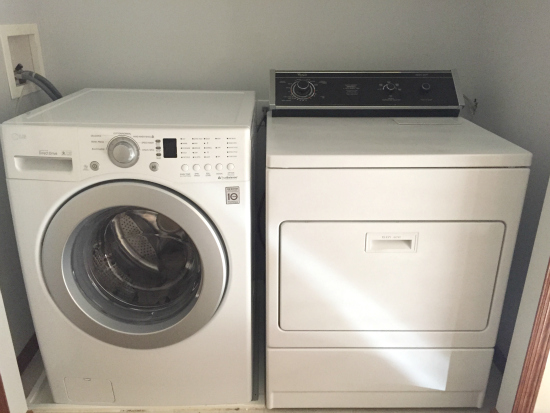 SO much better!!! And being that it's a bright, sunny morning, I even got enough natural light to take this picture without the yellowy lighting!
My Review Of Appliance Paint
I would give this product 3 1/2 out of 5 stars.
Pros
The cost of painting the dryer with 2 cans of paint and Weldbond cost me $9.51. This sure beats buying a new dryer.
The white paint actually matches the washer. In the garage, it still looked a little creamy, but once upstairs next to the washer, I realized it was a great match.
The total time I invested in painting was about 90 minutes (this included hauling it up and down the stairs, covering it with newspaper/tape, and painting). Super fast. Super easy.
Cons
Not a fan of the paint splatter that happened from time to time.
Hated that the second coat bubbled in some places, resulting in an uneven surface.
Overall, I would absolutely do this again, and with the lessons I learned the first time around, I think I would be able to avoid some of the "cons".
The Budget So Far
Total So Far: $9.51
Wanna Catch Up or Jump Ahead?
Week 1 // Week 2 // Week 3 // Week 4 // Week 5 // Week 6
Love it? Pin it!